Ford Motor Co. (NYSE: F)
In the past few weeks, global automobile manufacturer Ford Motor Co. seems to be caught amidst conflicting currents. On one hand, the news from the US is frigid to say the least. News from Europe on the other hand has been surprisingly warm, but there appears to be a long way to go before Ford finds Europe actually filling its purse. However, as we shall see below, the cold wave in Ford's American sales is temporary, while the European news truly has something to cheer about. Combined with Ford's performance in the past year, we shall see that Ford's future holds more promise than pain.
The dip in American sales
Ford would have liked to sign off the past year on a high note, but the past three months have seen the company struggle. Sales fell by 10% and the growing number of vehicles piling up in dealer lots does not bode well for Ford. Fears have been raised regarding a war of incentives with arch rival General Motors (NYSE:GM) that would suck off profits and plunge the automobile industry into crisis.
However, it should be noted that the polar vortex that tore through the US has forced many people to avoid or postpone automobile purchases. This has hurt GM equally, and though a war of incentives may indeed erupt, this will be a temporary correction rather than the start of a crisis.
News from Europe
Europe has been a financial black hole for Ford, since it has failed to generate profit there. However, in 20 European markets Ford's sales surged 9.2% YoY for January 2014. Retail market share has risen to 7.8%, marking the 12th consecutive month of growth. Share of the total vehicle market also rose by 30 basis points to 7.5%. Commercial vehicle share stood at 10.4%, the highest since 1998.
These have been accompanied by a shift towards a healthier mix of sales to customers and sales to dealers and rentals, which tend to lower margins. Further, 43% of total sales comprised of new or substantially refurbished models, thus indicating that Ford is building a better image for itself.
This does not mean that Ford will return to profitable ways immediately. Further, counting on foreign markets isn't always the best strategy. Still, Ford's growth will surely help its balance sheet and hence offset the temporary chill in American sales.
Dividends and the balance sheet
Ford's stock price has soared by 14.11% over the last one year, and this provides a total return of 17.45%. Though GM has been rising much faster, Ford provides $0.12 as dividend and is cheaper than GM. Further, its payout ratio is significantly lower and this, along with sufficient cash levels, ensures that Ford will be able to pay rising dividends.
One problem for Ford though is that it has a debt to equity ratio of 540.49. However, with cash levels of $25 billion, this should not spook investors.
What do the Charts Say?
The stock price has seen a large spike up to around 16.50 levels after hovering between $15 and $16 for the past couple of months. The volume seems to have also dramatically increased over the past couple of days. Ford has seen long-term support at around $14.50, however it doesn't appear to be heading there any time soon. The 16.50 price looks like a pivotal level. If Ford can make a substantial move upward on large volume it may be wise to stay long until 17.50 levels. If the stock cannot breach this pivotal point, it could drop back down to the 15 levels. It seems as though the stock has been in a steadily declining channel over the past few months. The recent spike may just be an illusion.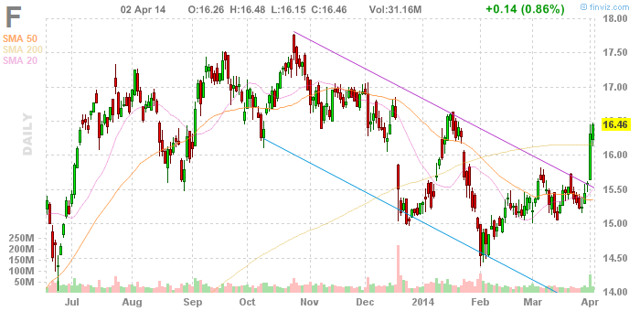 What should the investor do?
The dip in American sales, though temporary, has caused a fall in Ford's stock price. As seen above, this dip is not likely to last, and when the markets factor in the European numbers, prices will rise again. Considering the possibility that European growth will be more steady and the decent dividend given by the company, it makes sense to utilize the temporary dip in stock price to pick up some of Ford's stock. Hence, those seeking a decent dividend yielding stock should invest in the company's stock right now. Those who do have Ford's stock are advised to hold and see where Ford heads to.
Disclosure: I have no positions in any stocks mentioned, and no plans to initiate any positions within the next 72 hours. I wrote this article myself, and it expresses my own opinions. I am not receiving compensation for it (other than from Seeking Alpha). I have no business relationship with any company whose stock is mentioned in this article.