Momentum is a very strong market anomaly that still remains unanswered by EMH proponents. It should most certainly be a part of every active investor's portfolio due to its persistence and long standing track record of outperformance.
Portfolio123 is a powerful tool that allows investors to backtest any combination of strategies dating back to 1999. Certainly a longer time frame could lead to different results; however, momentum has been proven to persist even back to the early 1900s. So while the results in the following strategy have performed extremely well over the past 15 years, it can be safe to assume that it is indicative of all past time frames. Also, 15 years is a relevant time frame considering it has lived through two booms, two busts, and two subsequent recoveries, one of which is the worst since the Great Depression. The results are just as strong when excluding the euphoric tech bubble.
Valuation, through my experience, of momentum stocks has proven to be futile. They tend to be high growth stocks (which are difficult to value) that have had recent fundamental performance that exceeded expectations and maintain a strong technical base.
I have created a ranking system that includes the following:
-Previous earnings surprises
-Earnings growth/acceleration/persistence
-Outperformance relative to a benchmark
-Strong fundamentals relative to the industry
-Analyst estimate revisions (to the upside)
The system then ranks the stocks in accordance with the variables above.
It would be a profitable strategy to choose the top stocks in this rank; however, we have incorporated a timing mechanism as well. These include:
-Eliminating the most illiquid stocks
-Choosing only stocks from the NASDAQ
-The stock has outperformed over the past 120 days
-Earnings per share growth has accelerated over the past two quarters relative to the same two quarters a year earlier.
We have chosen not to use any hedge in the backtest. Here are the results: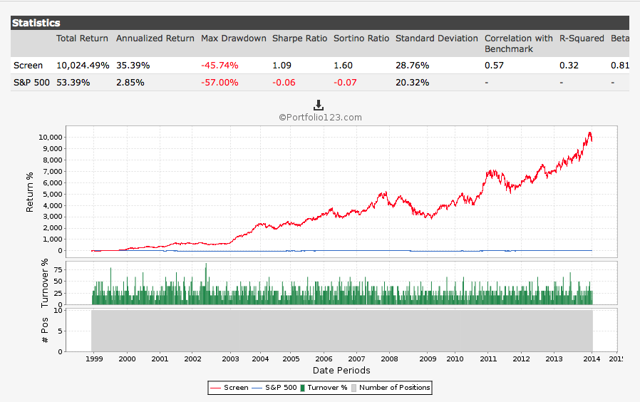 The results are certainly robust. The rebalance period is weekly. This is due to the fact that momentum stocks have the tendency to whipsaw and reverse quite rapidly. Although the Sharpe ratio is greater than 1, the backtest is volatile and should only be used if the investor has the risk tolerance to accept it.
I had mentioned earlier, that a strong technical base is also important.
After the backtest, you have the ability to run a screen that produces the stocks that match the above criteria. Starting from the top, these stocks must pass another ranking system that is technically oriented and utilizes technical indicators created by Marc Chaikin. These include:
-Money Flow
-Accumulation/Distribution
-I have also included On Balance Volume
I then take the top stocks and find out their rank within the Chaikin ranking system. If they are above 85, they will be chosen for investment. If not, the stock next in line will be ranked and chosen if it passes.
Below are the top 5 stocks that have passed this rigorous test and depending on your portfolio and risk tolerance, should be observed further for a spot in your portfolio:
-Lionbridge Technologies Inc. (NASDAQ:LIOX)
-Spirit Airlines Inc. (NASDAQ:SAVE)
-Patrick Industries Inc. (NASDAQ:PATK)
-Brocade Communications Systems Inc. (NASDAQ:BRCD)
-Amkor Technology Inc. (NASDAQ:AMKR)
Suggestions and questions are encouraged.
Disclosure: I have no positions in any stocks mentioned, and no plans to initiate any positions within the next 72 hours. I wrote this article myself, and it expresses my own opinions. I am not receiving compensation for it. I have no business relationship with any company whose stock is mentioned in this article.