The old saying goes, "You can shear a sheep many times, but skin him only once."
I'm starting to think that we're approaching "skinning" territory for those who have been shorting volatility and likely been making a pretty penny on it over the last couple of years. Prompted by a Seeking Alpha report on volatility sales drying up, I've considered the circumstances and would not be short any type of volatility at this point.
Those who read me know that I've been short on the iPath Short Term VIX Futures ETN (VXX) (a volatility futures ETN) since the debt deal was imminent in October of last year. I recommended that if you were bullish on 2014, to short volatility along with making your regular trades. So far, it's been a winning strategy.

We hadn't heard much about volatility until Seeking Alpha reported yesterday:
Selling volatility in 2012 and 2013 has funded many a vacation home, but one favorite - the VelocityShares Daily Inverse Short-Term Futures ETN (NASDAQ:XIV) - is down 5% this year
"The absence of net sellers of VIX is remarkable," writes the team at SocGen, noting historically, hedge funds - with long equity positions elsewhere - "have a strong natural bias toward net selling the VIX." Given a market in contango, it pays even more to be short, yet they still aren't.
The risk of a spike in volatility thanks to geopolitical tensions with Russia may be having an influence, but alone don't explain the trend, says SocGen, which concludes the period of low volatility is coming to an end.
For my volatility plays, I usually stick with the ticker VXX. The VXX is one of the most curiously traded securities on the street, and it might be time to take a look at going long for the short term. Shorting this instrument was one of my better calls in 2013.
As you can see from the split-adjusted chart below, shorting VXX has been a lucrative investment. VXX has been on the decline for years (on the long term), yet, billions continue to pour into the note every single year.
Why? Traders use VXX as a short-term instrument to hedge and play volatility.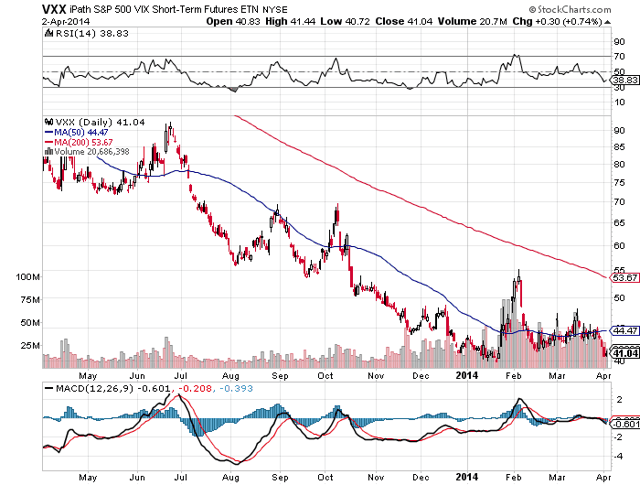 What is VXX and how does it work?
The VXX is an Exchange Traded Fund used to replicate, net of expenses, the S&P 500 VIX short-term futures total return index. It's an index that offers exposure to a daily rolling long position in the first and second-month VIX futures. In addition, the VXX reflects the implied volatility of the SPY index at points along the volatility forward curve.
The index futures roll continuously throughout each month from the first-month VIX futures contract into the second month VIX futures contract.
The VIX (Chicago Board Options Exchange Market Volatility Index), commonly referred to as the Fear Index, measures the implied volatility of index options traded. Basically, it represents the market's expectation of volatility in the coming thirty-day period.
In a bull market, like we've currently been in over the last five years, the VIX generally rides nice and low. In a bear market, or in the midst of global unease of some sort - like the government shutdown - the VIX is capable of spiking upwards.
The VXX is a good short-term tool - read it again, short-term tool - to make money off volatility that you may see coming.
The interesting news out of Seeking Alpha is that for the market to be in contango, we should be seeing net sellers - it's the obvious trade. Investopedia defines contango as:
A situation where the futures price of a commodity is above the expected future spot price. Contango refers to a situation where the future spot price is below the current price, and people are willing to pay more for a commodity at some point in the future than the actual expected price of the commodity. This may be due to people's desire to pay a premium to have the commodity in the future rather than paying the costs of storage and carry costs of buying the commodity today.
So, that means the "default" trade, especially for those that are short volatility in general, would be to be a seller.
Investment Thesis: So, why is selling drying up, and why should you not be short volatility right now?
One reason is simply a non-evidence based hunch. The trade has played out so well over the last couple of years, and as one Seeking Alpha commenter put it, "there are only so many times you can go back to the well." Timing is everything in the market, and the time might not be right to keep the gas pressed to the floor on the short volatility trade.
The second reason is this little mess we have brewing overseas with Mr. Putin. While things have certainly seemed to be calming down for now, nearly every commentator on CNBC over the last 3 weeks reporting from Ukraine or Russia have all said the same thing - the sentiment overseas is that Putin wants more of Ukraine, he's just waiting.
Sure, the VXX bears have Janet "the Stimulator" Yellen on their side, who has done a good job thus far of keeping the markets cool, calm, and collected. But she's still relatively new, and the risk lies in situations over which she has no control.
Now, I'm not a geopolitical expert, but that says to me that there's a bit more heightened risk for volatility shorts now than there was in say, 2012. If I was, I'd stop shorting volatility right now.
Other Ways to Trade Volatility
Buy ETPs that track the VIX, like CVOL or VXX
Buy VIX call options
Buy call options for VXV
Buy S&P VIX Mid-Term Futures VXZ
Buy S&P 500 VIX ETF listed as VIXS
Disclosure: I have no positions in any stocks mentioned, and no plans to initiate any positions within the next 72 hours. I wrote this article myself, and it expresses my own opinions. I am not receiving compensation for it (other than from Seeking Alpha). I have no business relationship with any company whose stock is mentioned in this article.