When it comes to the offshore drilling sector the securitization of jack-up related contracts could very well benefit the long-term growth of a particular company. With that said, I not only wanted to highlight the recently announced jack-up deals by Seadrill (NYSE:SDRL), but also note a number of additional reasons behind my decision to remain long on the company's stock.
Company Overview
Based in Hamilton, Bermuda, Seadrill Limited operates a versatile fleet of 69 units that comprises of drill-ships, jack-up rigs, semi-submersible rigs and tender rigs for operations in shallow to ultra-deepwater areas in harsh and benign environments.
When the partnership's operations are broken down, we can see there are a total of three operational segments. Seadrill's Floaters segment offers services, such as drilling, completion, and maintenance of offshore exploration and production wells under contracts relating to semi-submersible rigs and drillships for harsh and benign environments in mid-, deep-, and ultra-deep waters. Its Jack-up Rigs segment provides services, which include drilling, completion, and maintenance of offshore exploration and production wells under contracts relating to jack-up rigs for operations in harsh and benign environments while its Tender Rigs segment operates self-erecting tender barges and semi-submersible tender rigs, which are used for production drilling and well maintenance.
New Jack-Up Deals Could Equate Into As Much As $319M In Near-Term Revenue
On Wednesday, April 2, Seadrill announced that it had secured several new contracts for the following jack-up units: West Tucana, West Telesto, West Ariel and West Prospero, as well as a four-month contract extension for the West Mischief. Based on the company's contracts the total revenue potential for the four new contracts and the one contact extension equates to an estimated $319M. If Seadrill can successfully negotiate contract extensions prior to the expiration of the above mentioned contracts there's a very good chance all five of the jack-up deals could result in much higher revenue over the next several years.
One of the things both unitholders and potential investors should note is the fact that the company now has 92% of its jack-up capacity contracted for 2014 and 64% for 2015, with a total order backlog for the jack-up fleet at $4.4B. If the company can continue to enhance its jack-up capacity over the next 24-36 months there's a good chance both revenues and order backlogs could increase by a considerable margin.
Recent Performance & Trend Behavior
On Wednesday, units of SDRL, which currently possess a market cap of $16.52 billion, a forward P/E ratio of 9.10, and a dividend yield of 11.04% ($3.92), settled at a price of $35.52/unit.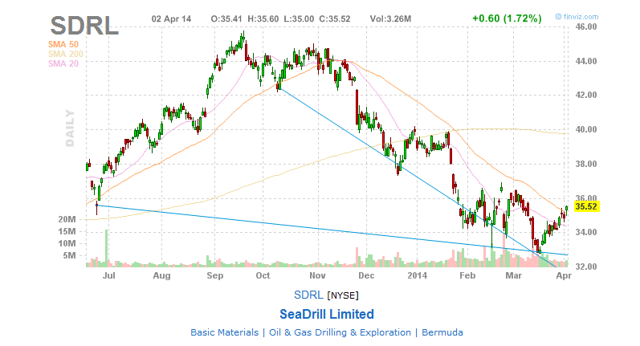 Based on their closing price of $35.52/unit, shares of SDRL are trading 3.08% above their 20-day simple moving average, 0.73% above their 50-day simple moving average, and 10.73% below their 200-day simple moving average. It should be noted that these numbers indicate a short-term uptrend and a mid-to-long term downtrend for the stock, which generally translates into a buying mode for most near-term traders and a slight selling mode for many long-term investors.
Although units are currently in somewhat of a long-term downtrend, the fact they are trading at just over 11x forward earnings and carry a PEG ratio of 0.32 should place this particular oil & gas play on the radars of both long-term growth and long-term income-driven investors.
Risk Factors
According to Seadrill's most recent 20-F, there are a number of risk factors all investors should consider. These factors include but are not limited to the fact that the company's business in the offshore drilling sector depends on the level of activity in the offshore oil and gas industry, which is significantly affected by, among other things, volatile oil and gas prices, and may be materially and adversely affected by a decline in the offshore oil and gas industry, and the fact that an over-supply of offshore drilling units may lead to a reduction in daily rates and therefore may materially impact our revenues and profitability.
Conclusion
For those of you who may be considering a position in the Seadrill Limited, I strongly recommend keeping a close eye on the firm's recent trend performance, its ability to continue to maintain its dividend, and its ability to continue to enhance shareholder value over the next 12-24 months, as each of these factors could play a role in the company's long-term growth.
Disclosure: I am long SDRL. I wrote this article myself, and it expresses my own opinions. I am not receiving compensation for it (other than from Seeking Alpha). I have no business relationship with any company whose stock is mentioned in this article.