In my previous article, I discussed about the future release of a hybrid Apple (NASDAQ:AAPL) media streaming/gaming box for the living room. However, Jeff Bezos already beat Tim Cook to the finish line. Amazon (NASDAQ:AMZN) may soon unseat the Apple TV from its leadership position in the streaming devices market. Apple currently enjoys a healthy 43% share of the said market.
However, the new $99 Amazon Fire TV with its support for Android games and apps offers a serious challenge to the current non-gaming compatible Apple TV. Based on the comparison chart below, the Fire TV offers more features than other existing streaming devices. It has the same price that of the Apple TV, but Amazon's product has better technical specs and offers more features.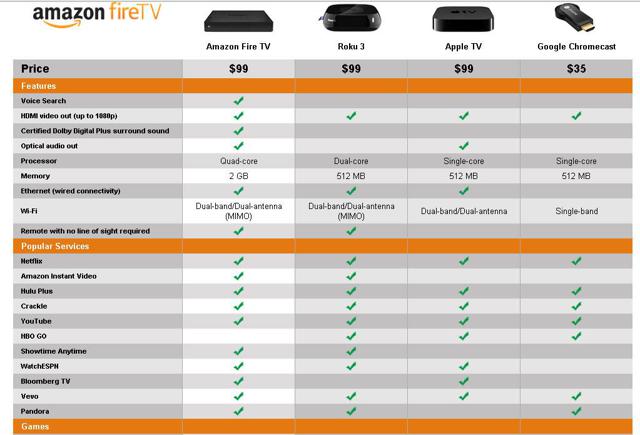 Source: Amazon
The Amazon Fire TV Is A Clear and Present Threat to Apple TV, Roku and Chromecast
I believe that the Fire TV will enjoy the same success that the Kindle HDX tablets enjoyed last year. Amazon already showed it can compete with Apple and Samsung (OTC:SSNLF) in the tablet market. Bezos wants to show Tim Cook that the Fire TV can also challenge the Apple TV in the living room.
Amazon, despite it not being a real hardware company like Samsung and Apple, is ranked #3 in terms of tablet sales, well ahead of Asus (OTC:AKCPF) and Lenovo (OTCPK:LNVGF).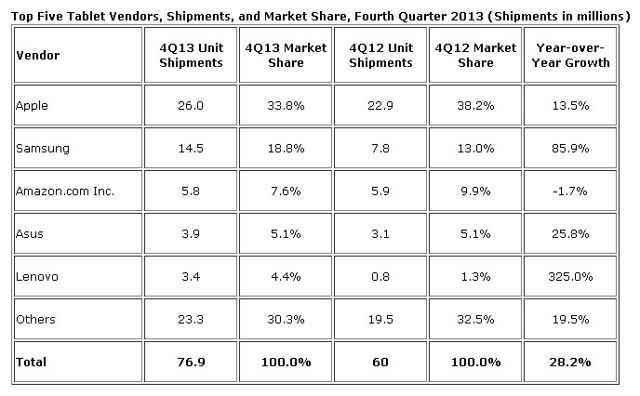 Source: IDC
Amazon is well positioned to sell a lot of the Fire TV. Bezos is a master tactician, his release of this product while Apple is recently rumored to be talking with Comcast (NASDAQ:CMCSA) for a set-top deal, is great application of marketing psy-war.
Amazon may not make much money from Fire TV sales, but Bezos is well aware that more people are now streaming movies rather than buying DVD copies from Amazon.
Having a cheap inhouse streaming product kicks Google (NASDAQ:GOOG) and Apple TV out of more U.S. households. The Amazon Fire TV can induce more people to sign up for Amazon Prime instead of Netflix. The vast 200,000-strong movie/TV series library of Amazon leverages the Fire TV.
Amazon will also derive new money from Fire TV's gaming feature. There's a $40 wireless game controller for the Fire TV. The hardware gaming controller makes the Fire TV a cheap alternative to the Xbox One and PlayStation 4. The 100++ Android 3D games that the Fire TV supports should give the living room enough fun. The commissions from game downloads is another good bonus for Amazon.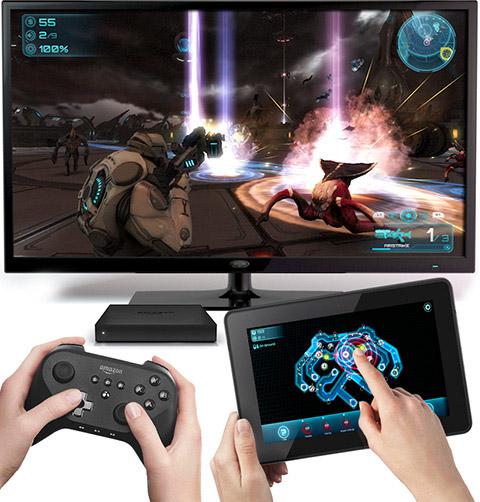 Source: Amazon
The $99 Fire TV's technical specifications are impressive - many U.S. customers will buy this gadget on specs alone. It has 2GB of RAM, 8 GB of flash storage, Quad-core 1.7 Ghz SnapDragon 600 CPU and a dedicated GPU.
Source: Amazon
Conclusion
The Fire TV poses a threat that will greatly derail Apple's ambition to become a leading player in the streaming TV business. Jeff Bezos wants some of that $1 billion worth of Apple TV units that Apple sold last year.
Unless Tim Cook works faster in bringing out the new Apple TV 4, Amazon's streaming/gaming box will already be in millions of U.S. homes by summer.
More billions of dollars from streaming TV monthly subscription fees is also up for grabs. The Fire TV's low price and great technical specs and features, will help Amazon steal market share from Apple and Netflix (NASDAQ:NFLX). The early bird advantage belongs to Amazon now.
The Apple TV crowd isn't as loyal to the Apple brand as the iPhone lovers are. Many existing Roku, Chromecast and Apple TV owners may consider defecting to the Amazon Fire TV.
As an Apple long, I fear that Bezos may also be plotting for an Amazon Phone which looks and performs like the iPhone 6, but at half the price tag.
AMZN is a good hold. Bezos is a master salesman with a nose for high-growth products. The Fire TV is another winning formula that helps Amazon Prime invade more households. Ignore the high P/E of Amazon and just believe that its Price/Sales ratio of 2.11 validates Bezos' sales-growth-first-before-profit mantra.
Disclosure: I am long AAPL. I wrote this article myself, and it expresses my own opinions. I am not receiving compensation for it (other than from Seeking Alpha). I have no business relationship with any company whose stock is mentioned in this article.