Are you looking for a best of breed global apparel company with a diversified portfolio of impressive brands, supported by powerful distribution platforms, with the right strategies and the right people for long-term growth? If so, you should be buying VF Corporation (NYSE:VFC).
VF is currently a global powerhouse with $11.4 billion in annual revenues. The company owns over 30 dynamic brands sold in more than 150 countries through 47,000 retailers and more than 1,100 of their own retail stores.
If you're not familiar with VF you're likely familiar with many of their leading brands shown below.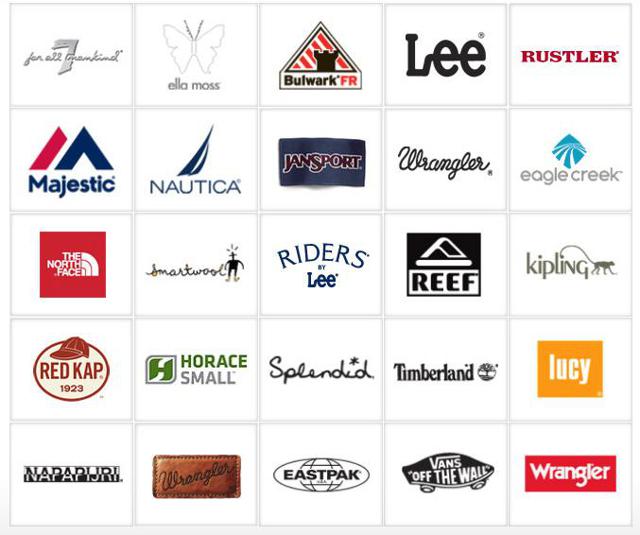 17x17
I love companies with clear and ambitious strategic plans to create shareholder value. Last year, VF announced their growth plan "17x17" and established its revenue target of $17.3 billion by 2017.
This represents a five-year CAGR of 10 percent, with eight percent organic growth an two percent growth anticipated from acquisitions. VF also announced its earnings per share target of $4.50 for 2017, representing a five-year CAGR of 13 percent.
There are many factors that will contribute to VF's overall growth but I especially like that the company is highly diversified, not only across brands and product offerings, but especially geographies where they sell products. VF currently derives 37 percent of its revenues from outside the United States, primarily in Europe, Asia, Canada, Mexico and Latin America.
International growth is a key pillar of VF's overall growth strategy, and the company is expecting international sales to comprise 43 percent of total revenues by 2017. I was impressed to recently learn that VF plans to aggressively expand in China where they plan to increase their store count to 6,000 through 2017 from approximately 2,300 stores in 2013.
A Look Inside VF
VF's core businesses are organized into operating segments for financial reporting and referred to as "coalitions". These coalitions consist of the following: Outdoor & Action Sports, Jeanswear, Imagewear, Sportswear and Contemporary Brands.
VF's Outdoor & Action Sports coalition is expected to continue to be the key driver in the company's growth in the coming years, with revenues expected to reach $11.1 billion by 2017. As shown below, the Outdoor & Action Sports coalition is expected to reach 64 percent of VF's total revenues by 2017.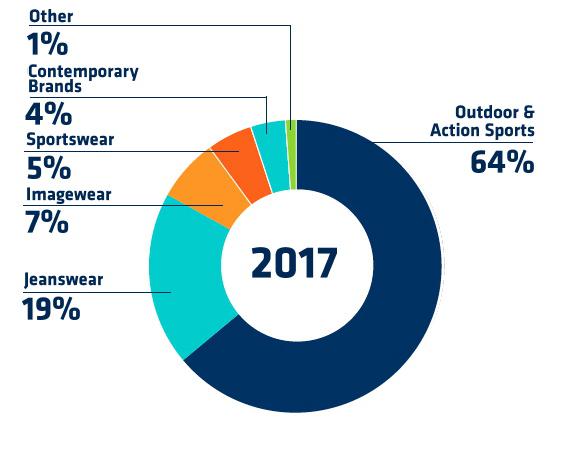 The Outdoor & Action Sports coalition is comprised of product offerings that include outerwear, performance wear, snow sports gear, sportswear, footwear, equipment, backpacks, luggage and accessories. Of the many brands under this coalition, I want to highlight a few of the most important.
The North Face is the largest brand in our Outdoor & Action Sports coalition, and is sold around the world. The North Face brand is anticipated to grow at a 12 percent annual growth rate, with revenues reaching $3.3 billion by 2017.
The Vans brand is anticipated to grow at 15 percent annual growth rate, with revenues reaching $2.9 billion by 2017.
The Timberland brand, now in its second full year of VF ownership, is anticipated to grow revenues at an annual CAGR of 10 percent over the next five years, increasing to $2.3 billion by 2017.
I decided to test the 17x17 projected growth rates for the brands named above against their performance in VF's most recent quarterly report. I found that revenues for The North Face brand rose 12 percent, revenues for the Vans brand were up 14 percent, and revenues for the Timberland brand were up 13 percent. All three of these brands met or surpassed the VF's 17x17 target growth rates.
Buying On Any Weakness
I believe VF will deliver on its five-year growth plan and the stock represents a great long-term investment. For 2014, VF projects adjusted earnings to rise 11-13 percent year over year to $3.00-$3.05 per share. I think VF's estimates are low and most of the analysts covering the stock agree. The average estimate for 2014 is $3.06.
I also want to note that in 2014 VF will generate $1.65 billion in cash flow from operations. The company has announced that more than $1 billion will be returned to shareholders through share repurchases and dividends.
My analysis of VF sees promising top-line growth as well as margin expansion, that will enable VF to increase EPS to nearly $3.50 by 2015. Factoring in the 1.9 percent dividend yield and a P/E multiple that's lower than its peer group, I'm buying more VF to add to my position on any pullbacks.
Sources: VF Corporation's financial filings and investor materials.
Disclosure: I am long VFC. I wrote this article myself, and it expresses my own opinions. I am not receiving compensation for it (other than from Seeking Alpha). I have no business relationship with any company whose stock is mentioned in this article.
Additional disclosure: This article is intended to provide information to interested individuals. As I have no knowledge of individual investor circumstances, goals, and/or portfolio concentration or diversification, readers are expected to complete their own due diligence before purchasing any stocks mentioned or recommended.