In my recent article on Potash Corp. (NYSE:POT), "The Impact of Indian Demand, Natural Gas Prices And The Canadian Dollar," I had mentioned weak Indian demand for potash due to a rising fiscal deficit and weakening of the Indian rupee (or INR) against the U.S. dollar (or USD). India's fiscal deficit in the first eleven months of 2013/14 (April 2013 to March 2014) was $100.03 billion (INR 5.99 trillion), or 114% of the 2013/14 target. This has led the Indian government to cut its subsidy on potash to $157 (INR 9,400) per tonne for 2014/15 (April 2014 to March 2015).
In January 2014, Chinese buyers had signed a contract to import 700,000 tonnes of potash from Uralkali (OTC:URALL) at $305 per tonne for first half of 2014. India pays a higher price than China due to additional freight and shipment in small consignments. Recently, Indian Potash Limited signed a contract to import 800,000 tonnes of potash from Uralkali at $322 per tonne on a cost and freight basis (or CFR) for 2014/15. The import price is the lowest paid by India in the last seven years, and 25% less compared to last year.
Canpotex, owned by Potash Corp., The Mosaic Company (NYSE:MOS) and Agrium Inc. (AGU) are yet to sign a contract with Indian importers. However, the price at which Uralkali is exporting to India could be considered as the floor price by Indian importers. Canpotex may have to export potash to India at the same price as Uralkali. Indian potash demand for 2014/15 is expected to be around 3.5 million tonnes or Mt, which is slightly higher than 3.3 Mt in 2013/14. Apart from Uralkali and Canpotex, Israel Chemicals, Arab Potash and K+S AG also export potash to India.
Indian Potash demand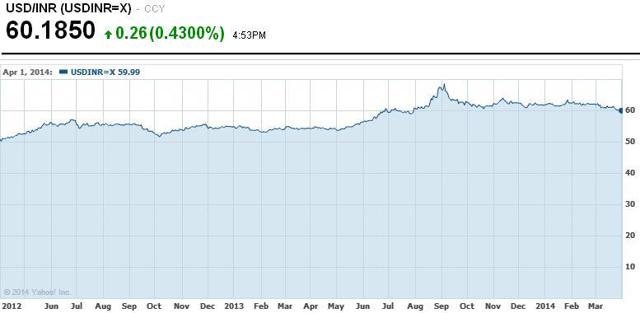 Source: Yahoo Finance
The reduction in government subsidies and weakening INR has led to an increase in retail potash prices in India in the last two years. Indian potash demand was reduced from 6.3 Mt in 2010/11 (April 2010 to March 2011) to 3.3 Mt in 2013/14. The term of the ruling Indian government ends in May 2014, and a new government is expected to hold office by June 1, 2014, as India heads into central elections. A lot depends on the economic policies of the new government. Indian potash demand may change if there is significant improvement in India's fiscal situation as well as the strength of the INR against the USD. The INR has appreciated 3.17% against the USD since the beginning of 2014, but a significant improvement is required to reduce retail potash prices.
Conclusion
Global potash prices have fallen in 2013. The Indian demand is yet to pick up due to the country's weak currency, and the reduction of subsidy on potash imports. Low Indian demand and lower import price will affect the revenue of Potash Corp. as well as the remaining owners of Canpotex.
Disclosure: I have no positions in any stocks mentioned, and no plans to initiate any positions within the next 72 hours. I wrote this article myself, and it expresses my own opinions. I am not receiving compensation for it (other than from Seeking Alpha). I have no business relationship with any company whose stock is mentioned in this article.