By Steven Carroll, Independent Commentator
In just over two months, Brazil meets Croatia in the opening match of that global obsession known as the football (soccer to Americans) World Cup. With the month-long tournament taking place at various Latin American locations, passions are sure to run high. We try to take a dispassionate look at a major athletic footwear brand that's a perennial underachiever - Puma SE (OTCPK:PMMAF).
From a short-term timing perspective the stock remains challenged, as we noted in this story last fall. It has an ARM score (which measures change in the level of analyst sentiment) of 1 - meaning it is in the bottom 1% for developed Europe.

Jogging down the road
Longer term, the outlook's no better. For December 2014, there is currently an 18% predicted surprise at the EPS level, so unless one of Puma's sponsored athletes or teams picks up the silverware, there is a significant chance of continued downward EPS revisions throughout the year. The FY 2015 EPS SmartEstimate is also 7% below consensus - again, no sign of a sudden turnaround.
StarMine scores look discouraging across the board - with scores in the bottom decile in intrinsic and relative valuation terms, price momentum, analyst revisions (as discussed) and lastly Smart Holdings - which measures the likelihood of an increased holding from institutional investors based on the company's investment metrics.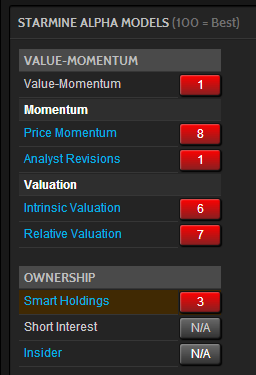 Ready for a yellow card
With such poor scores across the board, investors could be forgiven for hoping for a sudden white knight to end the agony - but with majority shareholder Kering holding 82.99%, that's unlikely to happen. One noteworthy factor: despite the poor price performance, the company's now trading at the high end of its P/E range, a level last achieved in 2000.

Wishing for a goal?
Hope springs eternal, obviously, and with eight teams in the World Cup round of 16, perhaps you could envisage a surprise outcome from, say, Italy - but shareholders are generally not known for relying on hope as a strategy. Metrics that can be measured - sales growth, free cash flow, margins - are all starting from a low level with free cash flow and net margins in particular hovering near 10-year lows.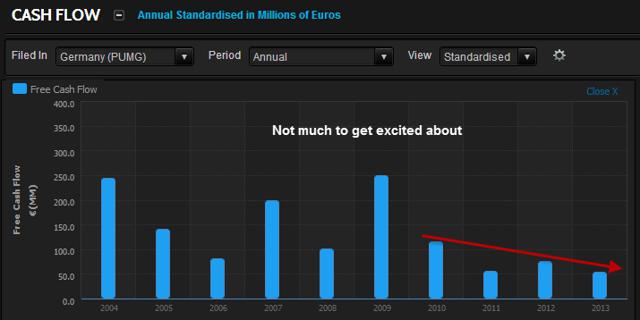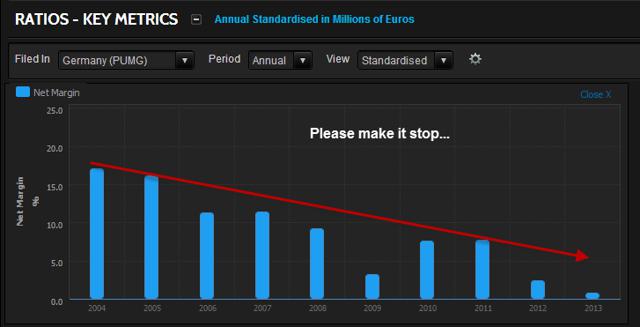 May need better coaching
Puma's difficulties have at least been fairly accounted for by the sell side - there are currently 14 holds, 11 sells and a solitary buy - highlighting just how unlikely a sudden turnaround has become. To give the company its due, it has now consolidated its efforts on sports where it can win (having dropped sailing and rugby) and the new sponsorship with Arsenal from July 2014 will help with football, with Arsenal currently ranked 4th in the Barclays Premiership.
While success on the field may provide some assistance, it seems there's little to give shareholders any immediate cheer. You may be true to a lovable but losing team, however masochism might not be a good portfolio strategy.
Disclosure: I have no positions in any stocks mentioned, and no plans to initiate any positions within the next 72 hours.
Business relationship disclosure: Alpha Now at Thomson Reuters is a team of expert analysts that are constantly looking at the financial landscape in order to keep you up to date on the latest movements. This article was written by Steven Carroll, independent commentator and analyst. We did not receive compensation for this article, and we have no business relationship with any company whose stock is mentioned in this article.