(Editor's Note: Investors should note that Paladin's Australian and Canadian listings of PDN.AX and PDN.TO respectively offer greater liquidity than the PALAF listing in the U.S.)
Note: All amounts in US dollars, unless otherwise stated
Last year, things didn't look promising for Paladin Energy (OTCPK:PALAF): losing money quarter after quarter, cash running out, the uranium spot price at an 8-year low. What was once a profitable company had turned into a money pit. This increasingly dire situation forced management into conducting an equity issue last August, selling 125 million shares for a net $78 mil to keep the ship afloat. That investors weren't rushing to buy these shares was evident from the 30% discount relative to the Australian market price. But better to keep the doors open than be washed down the drain.
Since then, Paladin's outlook has gotten sunnier. Management has taken steps to give the firm some time, with the hope that the flatline price of uranium finally finds a pulse. These steps include:
Sale of a 25% interest in the company's profitable Langer Heinrich Mine (LHM) to China Uranium Corp. for $190 mil. Proceeds will be used to pay down debt.
Placing its money-losing Kayelekera mine (KM) on care & maintenance by May or June 2014. This translates into improved cash flow for 2014 of $7-$10 mil, $20-$25 mil for 2015. Cost of the care & maintenance will be $12 mil per year. They will maintain the mine so that, if prices improve, production can be restored quickly.
Negotiating a revision with its project financing lenders resulting in a principal payment reduction of $35.5 mil for 2014 and $23.7 mil for 2015.
An ongoing cost reduction program that has so far reduced the cost per pound at LHM to $27.50 in December 2013 from $29.60 the previous year. KM's cost was reduced to $33.10 from $43.50. A dramatic reduction, but $3 a pound gross margin still makes for unattractive results, hence the mine mothballing.
The above measures have given the company some breathing room while they wait for higher commodity prices. But there is debt on the balance sheet that, absent a sustainable rise in uranium, will bring considerable pain. Here's the financial picture:
After the KM suspension announcement in February of this year, PDN revised its annual production forecast from 8.3-8.7 mil lbs to 7.8-8.0 mil lbs, which implies revenue of about $292 mil at $36.50/lb, a slightly lower price than the average selling price of $38.40 for the 6-month period ended December 31, 2013.
For the 6 months ended December 31, 2013, cash flow from operating activities was $4.3 mil. With the estimated cash flow improvement of $7-$10 mil in 2014 from the curtailment of activity at KM and the reduced payments of $35.5 mil required for debt servicing, cash flow should increase significantly this year and next. As of December 31, 2013, Paladin had $99.4 mil on hand (.10/share based on 964 mil shares outstanding).
Working capital stood at $164.7 mil (.17/share), with a current ratio of 2.62 at December 31. For the short term. the financial picture is sound.
Book value was .42/share for the most recent quarter.
Projected price/sales for the coming year is about 1.5.
Debt is the black cloud hanging over the company. There are two convertible bonds totaling around $520 mil that are due November 2015 ($280.9 mil) and April 2017 ($240.7 mil). There is also outstanding project financing of approximately $125 mil.
The convertibles will have to be re-negotiated, if the firm is to survive. The company's auditors prepared the latest financial statements on a going concern basis, noting that Paladin has successfully raised equity in the past and has been able to arrange financing revisions on favourable terms.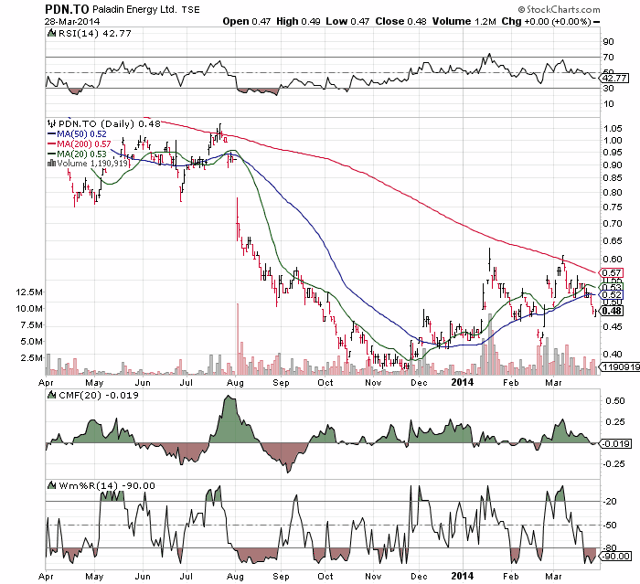 The chart above (PDN.TO, CDN dollars) shows the 52% decline over the past year as losses continued and debt concerns intensified. The large drop in August was, of course, the equity placement of 125 mil shares at .65 CDN. There appears to be good support in the .45 CDN area, as the dip below that lasted just 3 days, followed by a 1 mil plus volume day taking the price back over .50 CDN.
Paladin is followed by several analysts, and their estimates for the
Mar '14 quarter range from a loss of 2 cents to a loss of 4 cents. For the fiscal year ending in June, the range is wide: a loss of 17 cents to a profit of 2 cents. It's difficult to see how the company could be profitable, as it has lost 5 cents over the past two quarters and a repeat performance is almost a certainty for the next. For the fiscal year ending in June 2015, the consensus is break-even. The earnings revisions are all down for the next quarters and the next two fiscal years. Apparently, these analysts have a dim view of the uranium market. There have been a couple of price upgrades in January and February: TD Securities from .60 CDN to .70 and Scotia Capital from .70 CDN to .75, a 40%+ move from current levels. Insiders do not share the two brokers' enthusiasm, as there have been no buys in the last six months. But neither are they fearful. There have been no insider sells for that period either. (Estimates provided by Thomson Investors Network).
U3O8 Could Be Great
Paladin has gone a few rounds, and right now it looks like a TKO or even a knockout, unless it can find renewed strength from a rising uranium price. And that is the investment thesis. The current spot price of yellowcake is below the cost of production for many of the world's mines. The supply response is what one would expect: mines are shutting down, waiting for better prices. Eventually, the price must increase as demand picks up. The time frame for this is uncertain, of course. But over the next couple of years, a move into the $40-$45/lb range is certainly possible. This price increase would feed directly into Paladin's bottom line, adding over $50 mil gross profit if the price per pound rose $7. Such a trend should allow the miner to re-negotiate or retire (with new financing) its $280 mil bond, which is due in November 2015. With a continuing upward move in uranium over the next three years, the second bond (due in April 2017) shouldn't sink the ship, either.
Forecast: Cloudy, chance of rain, then sunshine
Keeping in mind that taking a position in a company such as Paladin is highly speculative, PDN has several things going for it:
Its stock has been severely beaten down. Last year at this time, it was $1.00 CDN. Now, it's .47. Cheap can always get cheaper, but this looks to be a solid entry level.
It is highly leveraged to the spot price of uranium. A U3O8 rally would push the stock much higher, at least for a short while.
Paladin's resource estimate is extremely large: 390 mil lb at .07% of Measured and Indicated U3O8, and 180 mil lb at .06% in the inferred category. Even though it is low-grade, all that yellowcake means a long mine life for LHM and KM, which could make for an attractive target. A takeover of the company would be in the area of $1.00-$1.20, based on market value plus debt. The acquirer would be paying around $3/lb for the M&I resource.
It has put the threat of liquidation on hold, buying time to get back to profitability.
A possible risk/reward scenario:
Entry at .46 CDN with a stop at .38, for a 17% loss
Exit at .75 CDN for a 63% profit
Upside is 3.62 times the downside
Things unfolded (just not as I thought they would)
One of my favourite sayings is: "Predictions are the weak link in investing". In PDN's case, the predictions revolve around two positive outcomes: the uranium price goes up and/or the miner gets bought out. Neither one has undeniable certainty, although it seems likely that uranium will increase sooner or later. The question is, of course, will later be soon enough for PDN? It is losing money now, and three more years of bleeding might be fatal, absent a takeover. But in the short term, PDN looks like a potentially rewarding speculative buy as Japan re-starts some reactors and buyers finally return to the spot market.
Conservative Speculation
That sounds like a contradiction, but it is merely meant to inject some caution:
Buying PDN is extremely risky. Without some help from the U3O8 price, the company could disappear. Use a stop loss.
Put up no more than 5% of your capital, preferably only 2%-3%. If you launch without a stop loss and lose your entire investment, you haven't jumped off a bridge but merely slipped on the ice.
As always, do your own research. Analysts currently rate the stock as a hold, with one exception which is underperform (otherwise known as sell).
Paladin is an interesting situation. A depressed stock of a company that produces a depressed commodity. We uranium bugs believe it is almost certain that the commodity will see a significant price increase. It may take longer that most market observers forecast. Will Paladin be there when the party really starts humming?
Disclosure: I have no positions in any stocks mentioned, but may initiate a long position in PALAF over the next 72 hours. I wrote this article myself, and it expresses my own opinions. I am not receiving compensation for it (other than from Seeking Alpha). I have no business relationship with any company whose stock is mentioned in this article.
Editor's Note: This article covers one or more stocks trading at less than $1 per share and/or with less than a $100 million market cap. Please be aware of the risks associated with these stocks.