Part 3 of our analysis of the memory industry will take a closer look at Samsung Electronics (OTC:OTC:SSNLF). Because Samsung is the largest member of what I have termed the Memory Industry Producers Organization (MIPO), its actions have an enormous impact on the other members of the organization and thus will have direct impact on the financial outcomes of Micron (NASDAQ:MU), SK Hynix (OTC:OTC:HXSCF) and SanDisk (SNDK). As readers may recall, Part's 1 and 2 analyzed the three other members of MIPO in order to ascertain their intentions regarding adding capacity by investing in building more fabs. We found that, by their public statements, they have no such intentions within the foreseeable future. We then went on to offer a theory of the industry and its outlook as follows:
The industry is basically a four member oligopoly that has the power and the motivation to control the supply of NAND and DRAM memory offered to the market. It is important to note that Micron and SanDisk have joint ventures with Intel (NASDAQ:INTC) and Toshiba (OTC:OTCPK:OTCPK:TOSBF), respectively, which both sell NAND memory in the merchant market.
In a business environment that features strong secular demand for memory of all types but in particular NAND flash, limiting supply will result in relatively higher prices that offer MIPO members the opportunity to harvest much higher margins going forward.
Excluding Samsung, which has not been closely examined as yet, MIPO members are on record that no new fab construction is contemplated in the foreseeable future - only incremental new wafer capacity will be added.
Memory supply will thus increase only to the extent that tech node transitions are productive. Because tech node transitions are stretching out, this means that forecasts of bit growth over the next five years will be lower than historical norms, declining to the mid-to-high-twenty percent range for DRAM and thirty to thirty-five percent for NAND. This will lead to additional price pressure in 2015 and beyond.
MIPO will use price as a tool to shape demand in order to meet its twin goals of higher profitability and demand control. The outcome: closely aligned demand and supply, with demand always slightly exceeding memory supply.
Sounds good if you're an investor - especially for SanDisk and Micron. But what about Samsung? They've got to be onboard with this strategy if it's going to work, right? The Korean business juggernaut is a much different company than the three other principal members of MIPO and could, quite reasonably, have motivations for actions in the memory business that are not necessarily aligned with the oligopoly. For one thing, it is much bigger, with memory production being only a part of one of its four main business units. Last year, 2013, Samsung reported consolidated sales of $213.3 B, of which its Semiconductor Segment was only $34.9 B, or 16.4%. Of that total, memory constituted $22.1 B.
Everything about Samsung is big - its DNA, as a part of the largest chaebol in the South Korean economy, the Samsung Group, drives the company to enter, grow and dominate markets. Samsung has been the world's largest maker of LCD panels since 2002, the world's largest television manufacturer since 2006 and world's largest manufacturer of mobile phones since 2011. Samsung Electronics displaced Apple (NASDAQ:AAPL) as the world's largest technology company in 2011. It is the largest manufacturer of OLED and utterly dominates AMOLED with a 98% share of the market. As we will see, is also the largest supplier of DRAM and NAND with about a 40% share. Again and again reviewers of Samsung's investor communications encounter the themes of size, technology leadership and vertical integration. Perhaps not since the days of Henry Ford's River Rouge Plant has the world seen such an example of the drive to be completely self-sufficient in the manufacturing value chain of end-user mass products. Samsung's strategic thrust in the memory business must be seen through this lens if it is to be understood.
So at this point, if we stop to compare the four MIPO enterprises in terms of 2013 reported financial stats and wafer capacity, with Micron normalized for a full year with Elpida based on Q1 2014 results, here's what we'd find:
| | | |
| --- | --- | --- |
| Company | Revenue | Wafers (Kpm) |
| Samsung | $22,117,537,313 | 830 |
| Micron | $16,168,000,000 | 613 |
| SK Hynix | $13,213,619,403 | 460 |
| SanDisk | $6,170,003,000 | 208 |
So yes, Samsung is big. They produce at a scale unmatched in the industry and they certainly have the capital resources to invest in increased wafer output if they choose to do so. But let's take another look. Samsung IS different - memory is just one relatively small cog in a big machine that serves major consumer markets worldwide. One look at their income statement will provide us with some clues into their future strategy for the memory business. (Note: Samsung does not list on a US exchange and is thus free to report financial and production data in a way that is much more opaque than US companies do. They do not, for example, provide data on their production statistics so much of what I will be talking about below is gathered by industry consultants and statistics vendors who are reading between the lines and providing their best guesstimates.)
Samsung FY 2012

Total Samsung

$ 213,330,223,881

Semi Segment

$ 34,925,373,134

% Company

16.4%

Memory Revenue

$ 22,117,537,313

"Intercompany Revenue

$ 10,603,710,630

Net Memory Revenue

$ 11,513,826,684
Note the entry "Intercompany Revenue." While I did not see any comment regarding the accounting treatment of intercompany sales, if Samsung is like most manufacturers they are "selling" their memory to other company units at a transfer cost which is very close to manufacturing cost plus some factor accounting for R&D and CAP/EX charges. While Samsung does not provide information about their margins in the memory business, it is likely at least 35%, and probably much higher. Using 35% however, and translating their intercompany elimination into fab output, it is clear that less than 40% of their unit output serves the merchant market. Let's consider the relative MIPO capacity share now in terms of merchant market capability using what I feel is a very conservative 40% number for Samsung.
Merchant Memory Revenues

Micron

$16,168,000,000

613

SK Hynix

$13,213,619,403

460

Samsung

$8,847,014,925

332

SanDisk

$6,170,003,000

208
A different looking chart, to be sure. Micron, even if we took off the board the roughly 40% of its NAND that it supplies to its SSD business, is clearly the largest capacity producer to the rest of the memory consuming world that doesn't include Samsung. Even SanDisk, with their relatively small 2.5 M wafer per year of capacity in NAND, is probably bigger than Samsung in terms of merchant production. Now granted, with Samsung's roughly 33% worldwide market share in both smartphones and SSD's, the merchant TAM has narrowed considerably to two-thirds of the total, but the roughly $36.B of available market is still a very nice target for the three remaining players. And oh, by the way, that two-thirds is growing by a blended 35% a year in 2014 and 2015.
So put on your Samsung strategy hat for a moment and consider the world from their perspective. Clearly memory cost advantage is an important component of many of Samsung's products. Given this situation, is it likely that Samsung would drive industry pricing down and thereby reduce their pricing advantage on their smartphones and SSDs? Or, conversely, would Samsung like to see to it that their new cost-focused Chinese competitors pay higher prices for the memory that goes into their phones? To me, this point alone is persuasive, but let's not jump to conclusions. Let's listen to Dong-Soo Jun, President of Samsung's Memory Business, as he presents at last year's investor day. Take a look at this slide.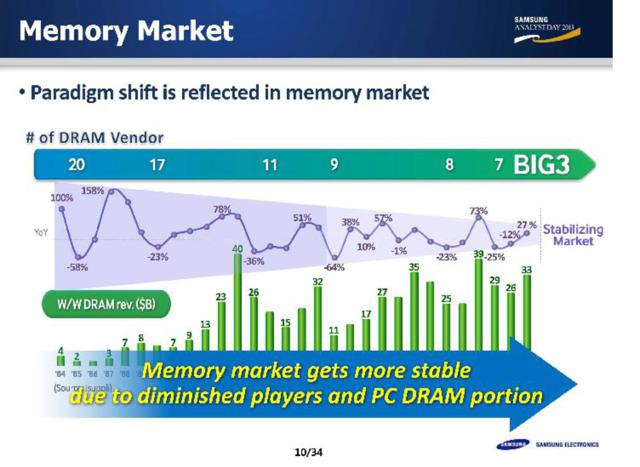 After showing an industry history slide that illustrates beautifully the industry's vertiginous roller-coaster ride from profitability to steep losses on almost a yearly basis, he shows how the industry has consolidated to only three suppliers. He goes on to say:
"I have shared what Samsung sees in the IT environment and how the paradigm has shifted from PC to mobile and how this has affected the market. Samsung will align to the paradigm shift with the three strategic directions: Stay One Step Ahead as an Ecosystem Leader, Exploit Technology Breakthroughs, Extend Core Competencies. To summarize, we are getting better at what we do now, and we will expand what we can do. By focusing on innovation, by driving the market growth, we would like to leave the unstable environment to realize stable and steady growth." (Ed.- bolding emphasis added by author)
Dong-Soo Jun, President of Memory Business, Samsung Semiconductor Segment
Again and again Dong Soo Jun stresses Samsung's strategy is to wring premium prices from a qualitative, not quantitative, advantage. The objective - "achieve stable and steady growth." So, not necessarily the most - but the best, and therein is the key as they see it to wringing premium pricing and maximum profits out of the memory business. This slide from the same presentation seems to encapsulate their thinking: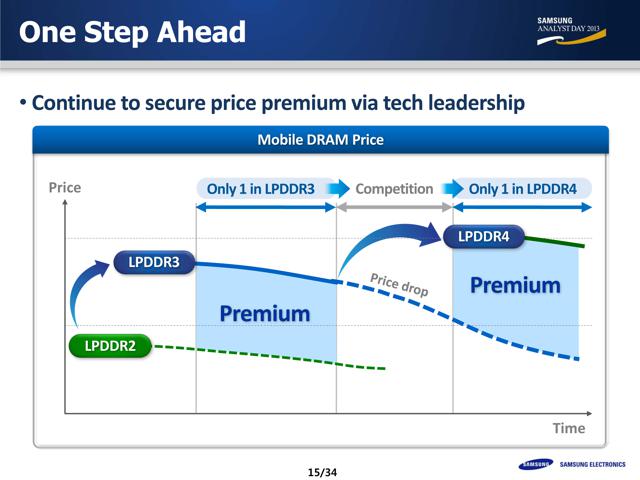 Samsung, in both its investor and its marketing-related communications, stresses the same kind of "paradigm shift" factors that are seen by the other three members of MIPO. In summary:
From commodity to specialized product, either in configuration or packaging.
Longer, less productive, tech node transitions.
Higher risk from tech node transition due to high CAP/EX costs.
From spot-market pricing to contract pricing driven by customer product release schedules.
From generic product to highly differentiated solutions involving product.
From a PC memory dominated environment where the large OEMs took the lion's share of the profits from memory to an environment dominated by mobile applications that allow MIPO to retain a much larger piece of the profit pie.
From a buyer's market to a seller's market - pricing power has shifted to the producers.
From quantity pricing to "value-added" pricing.
From "glut/famine" capacity cycles to stable steady growth.
Does this mean that Samsung is fully on board with the industry's desire to hold down capacity increases? No one can know for sure but I would argue that the preponderance of the evidence indicates that they will. There is one large possible contra-indicator. They are building their Xian NAND Fab which is expected to eventually be their largest which will start coming online this year and will be dedicated to new 3D NAND technology. Only half of the space, amounting to almost 5 million square feet, will be brought online with spending amounting to $3.3 b committed from the $7.5 b they say they will ultimately spend on the facility in upcoming years. Digitimes reports that production from this plant is projected to be 100 Kwpm at capacity. Now, this is a lot of capacity to bring on market, on the order of 5 percent to 10 percent, depending on how fast Samsung will be able to ramp this facility. What makes the question especially interesting is that the ramp depends on the productivity of their new "V-NAND" 3d process, which many industry observers (and both SanDisk and Micron execs) have speculated is uneconomic because it will be difficult to scale.
Beyond the question of how much NAND product is coming to market is the question of whether industry over-production really matters anymore outside of the PC market. Samsung marketing executives, like their other MIPO counterparts, make the case that ultimately the supply/demand factor matters less and less as time goes on because memory has become so specialized, so tailored to a specific use case driven by the mobile OEM. There may be lots of excess DRAM and NAND capacity, but is that excess capacity the quality and type of memory that the OEM needs configured into the package that is precisely what that model of mobile device needs? Can it be delivered on the required schedule by a committed partner that will be prepared to address any and all issues that arise? If there is qualified memory available at a lower price that meets the OEM's stringent requirements, can the OEM be sure there is a sufficient supply for their requirement?
So there are really two issues we must confront when we consider the risk that MIPO faces from over-supply. One is Samsung willing to discipline itself when it comes to capacity? Two, even if they are not, how much impact will specific over-production have on industry economics? Xian, for example, is a NAND plant. DRAM supply is obviously unaffected by excess production by that plant. Micron and SK Hynix, which are DRAM dominant (Micron 60/40, Hynix 70/30) are only marginally affected by potential NAND oversupply.
Be that as it may be, it still doesn't shed light on the resulting impact of Xian on the NAND market so let's drill down further into Samsung's numbers to ascertain what we can about Samsung's position and likely actions.
Consider the following information gleaned from IC Insights memory industry survey. Converting the 200mm wafers to 300mm capacity, and modifying Samsung's total wafer output to subtract Digitimes estimate of their wafer supply dedicated to logic chips, we get the following:
Vendor

IC Insights Dec 2013 Survey (200 mm wafer equivalents)

300 mm kwpm

DRAM

NAND

Source

Samsung

1867

830

402

268

60/40 split minus estimated 160 Kwpm for logic (Digitimes source)

Micron

1380

613

368

245

Micron Q1 10-k

Hynix

1035

460

322

138

Hynix Q4 2013 Earnings Statement

SanDisk

208

0

208

SanDisk Q4 Earnings Statement
But what do they consume internally? Let's take a stab at that. Let's start with the four big product categories that consume the most memory.
Samsung Estimated Internal Memory Consumption

Category

Avg. DRAM

Avg. NAND

Est. Qty Sold 2014

Smart Phones*

2,000,000,000

18,000,000,000

330,000,000

Tablets

2,000,000,000

80,000,000,000

18,000,000

PC's

6,000,000,000

32,000,000,000

80,000,000

SSD's

0

228,000,000,000

24,000,000

*Sources - smartphone estimate - Digitimes, PC's & Tablets - Canalys, SSD's - Samsung, Avg mem/device - SanDisk
Extrapolating the above level of sales into bits, we get the following:
| | | | | |
| --- | --- | --- | --- | --- |
| Total Dram Bytes | Total DRAM Bits | Total NAND Bytes | Total NAND Bits | Category |
| 6.60E+17 | 5.28E+18 | 5.94E+18 | 4.75E+19 | Smart Phones |
| 3.60E+16 | 2.88E+17 | 1.44E+18 | 1.15E+19 | Tablets |
| 4.80E+17 | 3.84E+18 | 2.56E+18 | 2.05E+19 | PC's |
| 0.00E+00 | 0.00E+00 | 9.94E+18 | 7.95E+19 | SSD's |
| | 9.408E+18 | | 1.5904E+20 | |
Now, lets translate the total internally consumed bits into thousands of wafers per month (Kwpm):
| | | | | | | | |
| --- | --- | --- | --- | --- | --- | --- | --- |
| Product | Est. Die Density | Est. Die per Wafer | Bits per wafer | Total Wafers | Internal Demand Kwpm | Total Production Kwpm | Pct. Merchant |
| NAND | 128,000,000,000 | 360 | 4.608E+13 | 3,451,389 | 288 | 268 | -7.5% |
| DRAM | 4,000,000,000 | 950 | 3.8E+12 | 2,475,789 | 206 | 402 | 48.8% |
So, focusing on NAND, the model (admittedly very crude), shows Samsung actually sourcing non-captive NAND. I doubt that is the case but Samsung is on record as wanting to remain a supplier to the OEM market - their challenges in doing so was one of the stated rationales for building the Xian plant. Now admittedly this is an immature model based on a myriad of challengeable assumptions that is a work in progress. I welcome the community's input in perfecting it. The larger point that I am making, however, is that it does point out how invested Samsung is in a reliable source of low cost memory to feed their voracious appetite for market share in their consumer businesses without entirely disappearing from the OEM markets.
The final point worth pointing out is the widespread skepticism outside of Samsung that its 3D "V-Nand" process will actually scale to be cost effective. Xian is dedicated to V-Nand production. This is an enormous wild card in the deck that I would argue is almost all upside and very little downside for the industry.
One last point that a skeptic might make is worth considering, and that is the argument that Samsung's consumer businesses are fickle and subject to swings in demand which may well negatively impact the internal consumption of memory. They are, after all, in the "hits" business, especially with smartphones and consumer wearable tech like the "Galaxy Gear Watch." They want to make sure they have enough to serve rapidly growing markets and market share gains but they do not want to give their competitors a leg up when it comes to memory prices. This is obviously a balancing act that can go wrong.
What happens if this balancing act fails? That's a fair question to ask and we do not know the answer. I have not been able to find a Samsung executive on record seconding Mark Durcan's vow to hold inventory if need be in order to support prices. But again, why would Samsung provide its competitors with cost relief if the company could help it?
Where does all this, ultimately, leave the industry? My take on all the information I have seen on Samsung based on its history and its strategy going forward is that they see memory technology as absolutely central to their drive to dominate the consumer technology and IT business in the segments they choose to enter. They want to have an unmatched technical advantage with industry leading costs when it comes to the products that they bring to market. Memory (especially NAND) and display technology (OLED and AMOLED) are vital to achieving this goal. But their focus is internal, not external. Metaphorically, they have the old Microsoft mindset toward OS features (these days, Apple and Google (NASDAQ:GOOG) (NASDAQ:GOOGL)) - what was yesterday not included in OS features is added today in their drive to capture more and more of the value chain through vertical integration. (This is, not so incidentally, the same strategy being used by SanDisk and Micron with SSDs, just not on the same scale.)
In service to this single-minded strategy they see the same game board (in the memory market) as do the rest of the MIPO players. Higher memory prices (relative to the ongoing shrink of the technology) and the resulting MUCH higher margins will be the outcome that best serves their drive for world domination.
My next (and last) article in this series will attempt to quantify the impacts this strategy, if successfully executed, will have on the businesses of SanDisk and Micron. I'll also try to think through three scenarios that could be expected to challenge MIPO solidarity, especially the challenge that will be provided by the transition to 3D.
So please, stay tuned, and stay long MU and SNDK. I look forward to your comments and feedback.
Disclosure: I am long MU. I wrote this article myself, and it expresses my own opinions. I am not receiving compensation for it (other than from Seeking Alpha). I have no business relationship with any company whose stock is mentioned in this article.
Additional disclosure: I am also long SNDK.