Russia continues to use their natural gas to bully Ukraine, and this has to worry the rest of Europe, especially Western Europe, which has shied away from developing their own production to instead rely on Russian natural gas delivered over pipelines. Pipelines which travel through the Ukraine and could be cut off due to tensions. We are not trying to be alarmists here, but these are important facts to understand in this high-stakes game of chicken. With Russia raising natural gas prices for Ukraine, we could see the situation escalate, as it has in the past, with supplies to Europe basically cut off.
Also of importance right now are Chile and South America, where earthquakes have been hitting as of late and potentially interrupting the copper supply chain. Copper prices have perked up a bit, but without any mine closings or damage; it appears the producers there have dodged a bullet.
Chart of the Day:
The price of copper is back above $3, however, we have not heard of any serious damage to copper producing facilities resulting from the earthquakes in Chile. This is something that we are watching closely, however.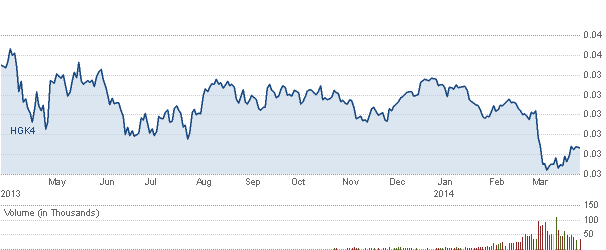 Source: CNBC
Commodity prices this morning are as follows:
Gold: $1,287.60/ounce, down by $3.20/ounce
Silver: $19.845/ounce, down by $0.205/ounce
Oil: $100.09/barrel, up by $0.47/barrel
RBOB Gas: $2.9017/gallon, up by $0.0349/gallon
Natural Gas: $4.448/MMbtu, up by $0.084/MMbtu
Copper: $3.0275/pound, down by $0.018/pound
Platinum: $1,442.20/ounce, up by $3.50/ounce
European E&P
There are not many ways to play the European natural gas market here in the US, but one company that we have followed for years does, in fact, offer an interesting play in the space. We have discussed it before, but with Russia raising natural gas prices for Ukraine, we thought it worth it to once again mention FX Energy (NASDAQ:FXEN) to readers. The company is not a pure-play, but with 94% of its reserves in Poland and the other 6% in the United States, it offers more than enough exposure to Europe for American investors.
If the Ukraine/Russia tensions continue to escalate and potentially affect European supplies, then attention in the investing community could quickly shift to this nearly $200 million market cap company.
LNG Players Still Benefiting
With news continuing to trickle out showing that Russia is using its natural gas as a political weapon, the LNG players have remained strong. Perhaps none stronger than Cheniere Energy (NYSEMKT:LNG), which has defied skeptics and continued higher, despite continued calls from the talking heads that the valuation does not make sense.
This has been a long-time indicator of the risk-on/risk-off trade, and right now, it is telling us that investors are looking to add risk in the energy sector.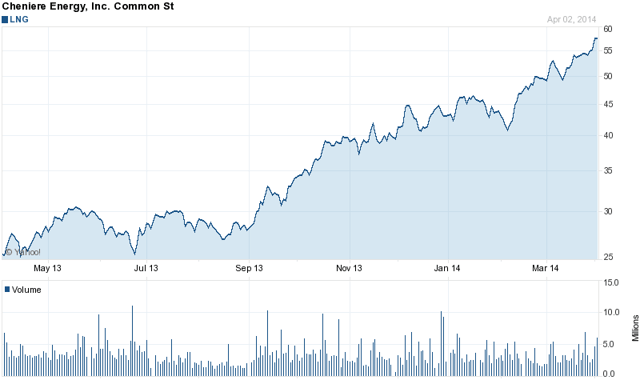 Source: Yahoo Finance
We have pointed out numerous times that this name is one which will benefit from talk about the US potentially moving to use its natural gas as an exportable political tool, and we continue to believe that. Yes, any exports are down the road in the future, but the fact that we are now having these conversations shows how far we have come in the past few years as an energy producer.
Whereas Cheniere is a momentum play and a good barometer on the energy risk-on/risk-off trade, Dominion Resources (NYSE:D) is also a good LNG name to look at. It is by no means a pure-play in the sector, but it offers investors the opportunity to diversify that risk out, while still potentially benefiting from an export boom of LNG. Two stocks on opposite ends of the spectrum as far as risk, but two names which should also benefit.
SAC Capital To Blame
With Steven Cohen's SAC Capital winding down its operations and switching to an entity to run only his personal money, along with some of the staff's, there have been more than a few victims in the market. As we found out yesterday, one of them is PDC Energy (NASDAQ:PDCE), which has greatly underperformed peers in recent weeks as many of them have moved towards fresh highs.
Look for this recent trend to reverse, as PDC shares have been impacted by a 5% shareholder essentially closing their position.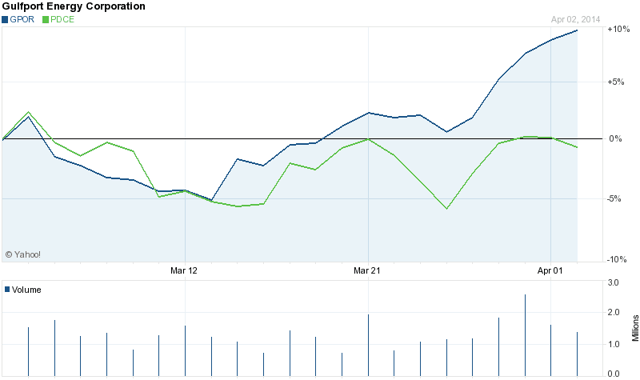 Source: Yahoo Finance
We knew that something was up with the inability of the stock to advance, and when it did get momentum, it quickly met selling. We are believers in the stock and the company's prospects, so we held our personal positions and waited. We now know that SAC Capital has sold nearly all of its 5.1% stake in the company and that those shares must have been part of the big overhang on the stock. Knowing this, we now think that the company could see further upside later this year, when it announces updates on production from the Wattenberg and drill results from the southern portion of its Utica acreage. While Gulfport Energy (NASDAQ:GPOR) has outperformed PDC Energy in recent weeks, look for the opposite to happen in the next 3-9 months. As we own both stocks, we want to make clear that we will not be selling either to take a larger position in the other, but could increase our position in PDC Energy.
Disclosure: I am long PDCE, GPOR. I wrote this article myself, and it expresses my own opinions. I am not receiving compensation for it (other than from Seeking Alpha). I have no business relationship with any company whose stock is mentioned in this article.