As one of the most hotly anticipated IPOs of 2014, Alibaba is rumored to go public next month at a valuation north of $130 billion. However, disclosures from Yahoo (YHOO) and Softbank (OTCPK:SFTBF), which have investments in the company, show signs of slowing growth. Can the company still justify such a massive valuation? Based on YipitData, which tracks every transaction on Alibaba's marketplaces, there's reason to believe Alibaba could be worth substantially more. Alibaba has several business units, including Alibaba.com (B2B marketplace), Taobao.com (C2C marketplace), and Aliyun (cloud services) -- but its jewel is Tmall.
Tmall 101
Alibaba launched Tmall in April 2008 for brands and large retailers to sell their products directly, leveraging the shopping community in its hugely successful Taobao C2C marketplace. According to YipitData, Tmall has since grown to 90,000 stores including Apple (apple.tmall.com), Nike (nike.tmall.com) and Procter & Gamble (pg.tmall.com). Like Amazon Marketplace, Tmall provides a host of shopping services on top of this experience like search, merchandizing, marketing, payment, and shipping. Tmall primarily makes money through sales commissions (or "take rates") charged on these transactions.
What drives Tmall's value?
In less than six years, Tmall has grown its annual marketplace volume (GMV) from zero to nearly the same scale of eBay, so investors are focused on how quickly Tmall will continue to grow. However, if Tmall continues to grow its marketplace volume, investors may not realize there is an opportunity for compounding revenue growth as Tmall may also increase its takes rates.
But can Tmall actually increase take rates?
Tmall's take rates actually vary widely by category, from 0.5% to 5%. In its merchant center, Tmall publishes a schedule of take rates for each category. They vary from 0.5% for Video Games to 5% in Apparel, Home and Kids. Since YipitData tracks every transaction, we can line up GMV and market share for each category to show that Tmall sets the highest take rates in categories it has the highest share.
Click to enlarge images.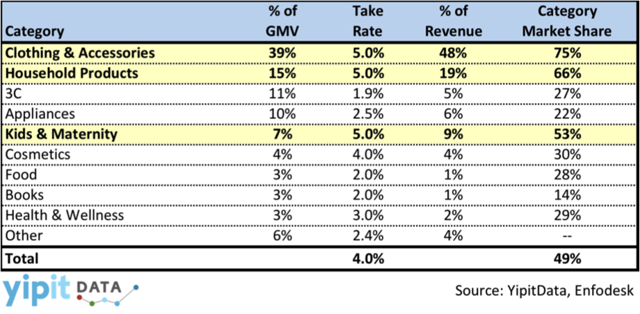 YipitData's Tmall product allows us to understand GMV and revenue by category. A few observations from this data:
Clothing, Household and Kids make up over three quarters of Tmall's revenue
In categories where Tmall has more market share (show here above 1/3), Tmall charges a 5% take rate
Two of its biggest categories, 3C and appliances, monetize half or less as well
If Tmall can grow these lower share categories, it may bring take rates in line with its dominant categories from ~2% to 5%, improving Tmall's overall weighted average take rate.
Would Tmall increase take rates even further than 5%?
Tmall's take rates are actually lower than competitors overall: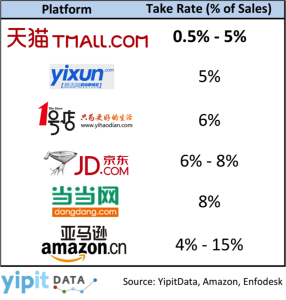 JD.com, which leads in 3C and Appliances, charges 6% for those categories. Amazon.cn charges 7% for food. If Tmall starts to dominate these categories and raises its rates as a result, there's reason to believe it may do so beyond 5%.
Are these fledgling categories even a strategic focus for Tmall? Tmall is heavily investing in an array of initiatives to grow these categories:
3C (Cameras, Computers and Cell Phones) Initiative: "Electric City"
Tmall has recently rolled out "Electric City" for its major 3C products, a set of shopping guarantees surpassing those of market leader JD.com, including:

Free shipping
Delivery date estimate
Direct to door delivery
Returns within seven days, exchanges within 15 days
Nationwide customer service guarantees
3C is Tmall's second largest category, but it holds a 27% market share according to Enfodesk. If the Electric City initiative successfully allows Tmall to take 3C share, it will benefit from the enhanced GMV growth, but it would also be well positioned to bring its take rate in line with its other leading categories. Tmall charges a 2% commission on 3C purchases, compared to 5% in its leading ones. JD.com charges a 6% take rate for 3C transactions.
Appliances Initiatives: JVs with Midea and Haier Logistics
Source: Bloomberg.com.
Tmall also lags in appliances, where JD.com holds a 63% category market share. JD.com's logistics and delivery guarantees are a key differentiator versus competitors. To counter this, Tmall invested $360m in December into a joint venture logistics business with Haier, providing Tmall access to Haier's 17,000 service points across greater China (vs JD.com's 1,453 distribution stations mentioned in their S1).
Alibaba also entered into a three year partnership with appliance manufacturer Midea to create a line of smart appliances, beginning with an air conditioner line that can be controlled from a mobile device, sold exclusively on Tmall.com starting March 19, 2014.
If these exclusive manufacturing and logistics partnerships allow Tmall to take share, it may raise take rates in line with its leading categories.
Food Initiative: Pre-Sales
Tmall has 22% market share in Food and charges a take rate of 2%, which lags competitors such as Yihaodian (yhd.com) and Caiguanjia (962360.com). International food brands are growing in popularity due to perception of higher quality and safety. For Food and other major categories, Tmall has introduced a demand batching technique called "Pre-Sales," where shoppers can prepay for an opportunity to participate in a large bulk purchase at a discount.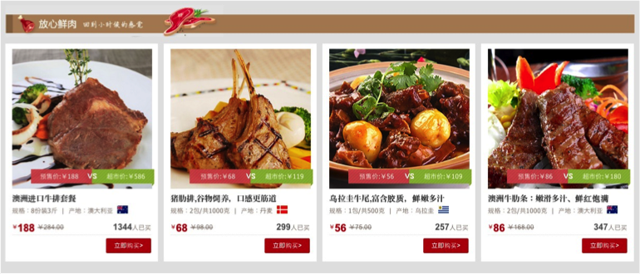 Source: Tmall.com.
Last summer, Tmall announced a joint initiative with the U.S. Department of Agriculture to import more U.S. food via Pre-Sales. Northwest Cherry Growers sold 155 tons of cherries at 3x U.S. prices via Pre-Sale format. The United States Meat Export Federation executed a similar pork initiative in March. Last week, Alibaba CEO Jack Ma went on a global tour and met with many foreign governments about expanding Pre-Sale food partnerships.
If Pre-Sales allow Alibaba to gain share in Food, they would be well positioned to raise take rates 2% in line with other leading 5% categories. In comparison, Amazon China charges a 7% commission in Food purchases.
Cross Category Initiative: Tmall Global
In February 2014, Tmall launched a dedicated marketplace for international brands, dubbed Tmall Global (tmall.hk). The top items on Tmall Global are from lower market share, lower rate categories: Baby (4% Take Rate), Food (2%), Health (3%) and Beauty (4%).

Source: Tmall.hk.
International brands are often seen as higher quality and safer for Chinese consumers. While these items are mostly cross sold on Tmall.com, a dedicated shopping destination for international brands may give these categories a boost.
What impact would raising take rates have on Tmall's value?
If Tmall's category initiatives drive gains in market share for its fledgling categories, the business will experience not only growth in commissions from enhanced transaction volume, but may take a greater share of that volume as well.
The following analysis illustrates Tmall's revenue opportunity at various market share and take rate levels.

With only modest gains in market share, Tmall's revenue would grow substantially if it made its take rates uniform across categories. If Tmall were to raise take rates in line with competitors JD.com or even Amazon, Tmall's revenue could more than double. Alibaba's investment narrative focuses on GMV growth, but take rate is equally important to valuation.
When YHOO's recent filings implied that annual revenue growth for Alibaba decelerated to only 51%, YHOO's share price fell as investors were concerned that Alibaba may be saturating its opportunity. However, Tmall charges substantially lower take rates than its competitors, and its growth initiatives appear to be focused on categories with the most room to increase take rates.
In the short run, Tmall's weighted average take rate may even decline if these investments in low take rate categories pay off. But in the long run, if Tmall brings commissions for these categories in line with their competitors, Tmall and would realize meaningful GMV growth and compounded revenue growth, likely leading to meaningful upside for IPO investors.
Disclosure: I have no positions in any stocks mentioned, and no plans to initiate any positions within the next 72 hours.
Business relationship disclosure: YipitData is a team of research analysts and engineers that aggregates online data to track key performance indicators for internet companies. This article was written by James Moran, our President. We did not receive compensation for this article (other than from Seeking Alpha), and we have no business relationship with any company whose stock is mentioned in this article.