By David Aurelio, Analyst at Thomson Reuters
This isn't the first time news of a potential merger between the two companies, DirecTV (NYSE:DTV) and DISH Network (NASDAQ:DISH) has made headlines. Regulators blocked a previous attempt in 2002. On March 26th, Miriam Gottfried of the Wall Street Journal reported, "DISH may think it will be easier to get a deal past regulators while they are also weighing the merger of Comcast (NASDAQ:CMCSA) (CMCSK) and Time Warner Cable (TWC)." Gottfried adds, "Even if that doesn't fly, a DISH-DIRECTV bid could inspire regulators to reject both deals, stymieing the competitive threat from the cable merger." While we have no insight into how talks are progressing, if at all, this story should draw investor attention to the fact that DTV has sustainable earnings and looks to be undervalued.
Relatively inexpensive
When DirecTV last month reported 4Q2013 earnings per share of $1.53, it beat analyst estimates by 19.5%. Over the past year, EPS has increased 15.3% compared to its peer median of 7.4%, and shares are up 12.5% YTD. Unlike your cable bill, the stock still looks relatively inexpensive. DTV ranks in the top 4% of North American companies on StarMine's Relative Valuation (RV) model, which ranks based on price and enterprise multiples. Compared to its peers, DIRECTV has the lowest forward EV/Sales and P/E ratios and the second lowest forward EV/EBITDA ratio.
Relative Valuation Ratio comparison of DirecTV to peers

High quality reception
DirecTV's profits seem to be coming from sustainable sources, which means it is showing signs of strong earnings quality, as indicated by a StarMine Earnings Quality (EQ) model score of 77 out of 100, placing it within the top quartile of North American companies. Over the past eight quarters, DTV has remained consistently strong in two of the model's four components: cash flow and operating efficiency.
DirecTV Earnings quality component score history

Earnings are backed by strong cash flow from operations, with CFO reaching a five-year quarterly high of $2,039 million. When earnings are backed by strong cash flows, they tend to be more sustainable.
DirecTV cash flow from operations compared to net income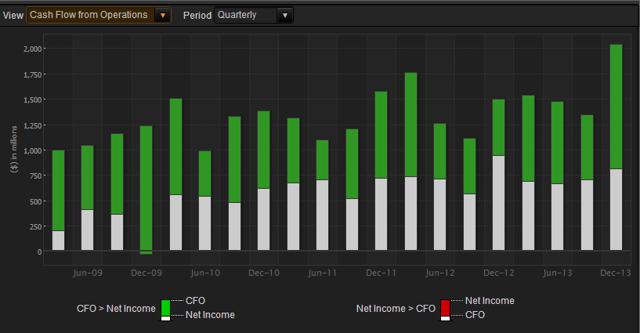 Clear signals
Another area of strength for DirecTV is its ability to efficiently generate returns on its assets, continually outperforming the industry in return on net operating assets. While operating profit margins track relatively close to the industry, 16.7% compared to the industry's 16.0%, net operating asset turnover drives this performance at 2.87 vs. 0.84 for the industry.
DirecTV quarterly TQ4 return on net operating assets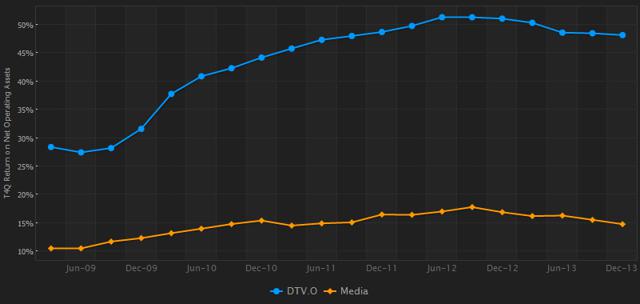 Attractive package
DirecTV is likely to be attractive to institutional investors, with a score of 83 out of 100, placing it within the top 20% of all North American companies on the StarMine Smart Holdings (SH) model. This model ranks stocks based on the predicted future increase, or decrease, in institutional ownership and measures 25 fundamental factors popular among institutional buyers, such as growth, value, leverage, profitability, momentum and sentiment. SH matches these factors to those of each stock.
The Eikon screenshot below shows the latest scores of the 25 Smart Holdings components for DirecTV, which scores within the top quartile in eight of these components. Scores are based on a scale of 1 to 100, with 100 being the highest.
DirecTV Smart holding factor scores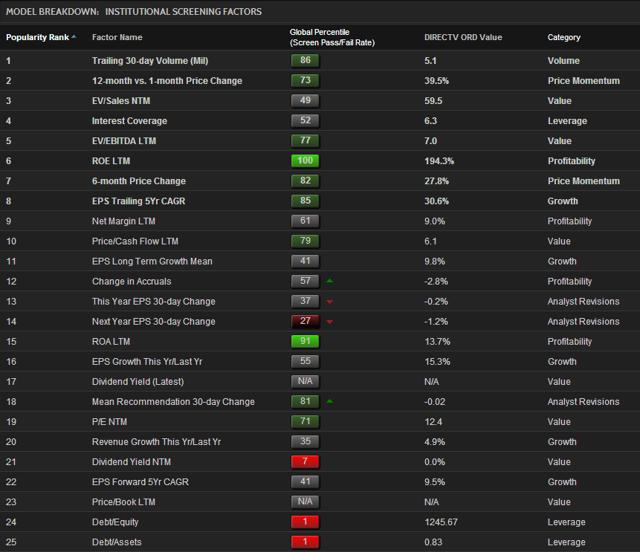 Offer ends soon
With shares up 12.5% YTD, DirecTV still appears to be trading at a discount. Backed by strong cash flow from operations and ROA, profits look to be coming from sustainable sources. This is a stock that is likely to attract the attention of institutional investors. With the additional potential of a merger down the line, this offer may run out soon.
Disclosure: I have no positions in any stocks mentioned, and no plans to initiate any positions within the next 72 hours.
Business relationship disclosure: Alpha Now at Thomson Reuters is a team of expert analysts that are constantly looking at the financial landscape in order to keep you up to date on the latest movements. This article was written by David Aurelio, research analyst at Thomson Reuters. We did not receive compensation for this article, and we have no business relationship with any company whose stock is mentioned in this article.