Atlas Copco (OTCPK: ATLKY) is Stockholm, Sweden based company with 2013 combined revenues of 83,888 MSEK (Million Swedish Krona), which is almost equal to $12.926B in US dollars (using rate of $1USD = 6.49 SEK). The figures used in this report would be in Swedish Krona, converted into US dollars as need be. Atlas Copco is a 140 year old firm whose products are used by manufacturing, construction and mining companies. Atlas Copco AB ("Atlas", "the company", or "the firm" for this article) is involved in manufacturing, selling & renting of compressors, air treatment systems, construction & mining equipment, power tools and assembly systems. The company has more than 40,000 employees in over 90 countries.
For a solid company as Atlas Copco AB, it is interesting to note that there has been only a single article on Seeking Alpha that has ever been written about this company and that was even in Aug. 2012. In the US, when investors look into heavy machinery and construction equipment publically traded companies, they mostly tend to think of Joy Global (NYSE:JOY), Caterpillar (NYSE:CAT), John Deere (NYSE:DE) and Komatsu Ltd. ADR (OTCPK:KMTUY); to name a few major companies. However, given the diversification of products from Atlas Copco AB and the fact that it derives 20% and 33% of its revenues from North America and Europe, respectively, should make it an attractive investment choice for North American investors. Furthermore, about 31% of revenue comes from Asia/Australia and about 7% from South America, and these are also stable and growing jurisdictions. The revenue is divided such that only 57% of revenue is derived from actual equipment sales and a whopping 43% comes from its service business. The following table shows company's 4 segments and percentage of revenue that is derived from each segment.

2013 Revenues by Business Segment
Atlas is a highly innovative company with 3400 active patents - Forbes magazine ranked it among 100 most innovative companies in the world. The company invests heavily into its workforce and makes sure that they remain on the cutting edge of the technology. Atlas' philosophy is that there is always a better way to do things than what is being done currently and that's why it spends a fair amount in R&D every year, about 3% of operating cost. The firm is highly customer focused and stresses on building relationships with customers via its services business.
President and CEO, "Ronnie Leten" has the following to say about the importance of service business in company's 2013 annual letter to shareholders:
"Atlas Copco' s service business has made great progress since establishing its first dedicated service division in 2008 and the reorganization in 2011 that created a devoted service division in each business area. Service revenues continued to grow and represent 43% of our business. For the first time in our history, since last year we have more people in service than in manufacturing."
The company performed a survey of its employees in regards to their satisfaction working for Atlas, and the response was overwhelmingly positive, with than 74% of respondents saying that they are very satisfied with their current jobs. The company makes a mention of this fact on its website and annual report. How many companies do you know of, who actively survey their employees and have the courage to put this information on public domain? My guess would be not too many.
Now let's give you a brief over-view of various segments of the company. Please note that company derives its revenues from equipment sales by "direct sell" model to end customers for about 80% of its products.
Compressor Technique:
This segment manufactures and sells industrial compressed air and gas equipment. Compressors are used in industrial processes, where clean, dry and oil-free air is needed such as in food, pharmaceutical, electronics and textile operations. The new equipment orders were soft in 2013 for stationary industrial compressors and air treatment equipment such as compressed air dryers, coolers and filters. However order volume was stable for medium sized compressors. The company has recently expanded into vacuum solutions by acquiring "Edwards" in Jan 2014.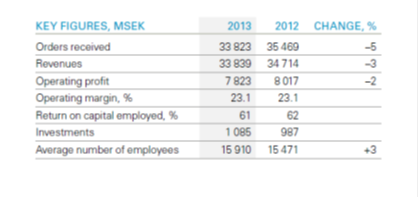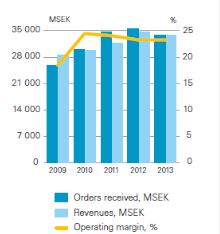 Industrial Technique:
This business unit provides industrial power tools, assembly systems, quality assurance products, software and service through a global network. The company sells its products in automotive, aerospace, industrial manufacturing and vehicle service industries.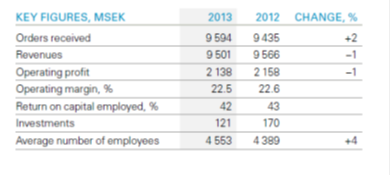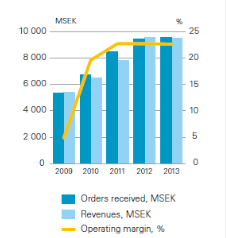 Mining and Rock Excavation Technique:
This business unit sells equipment used in drilling and rock excavation, related consumable product and complete servicing facility for its customers. The equipment is also used in underground mining, infrastructure, civil works, well drilling and geotechnical applications. Mining & Rock excavation has a leading market position globally in most of its operations. Important thing to note here is that the company strives to achieve growth via means that are economically, environmentally and socially responsible.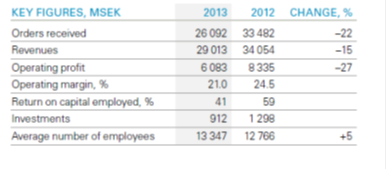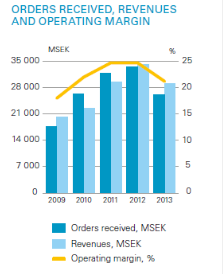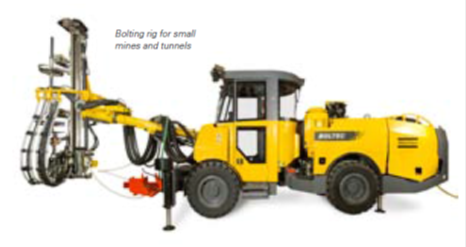 Construction Technique:
This business unit provides construction and demolition tools, portable compressors, pumps and generators, lighting towers and miscellaneous use paving equipment. The industrial customers of Atlas include civil works, oil & gas, drilling and road construction. The company constantly strives to produce competing products in this segment with unique value proposition of each product for its customers.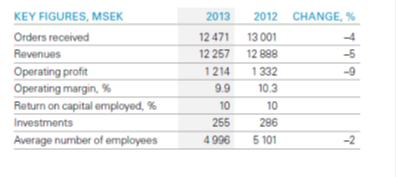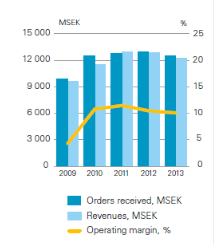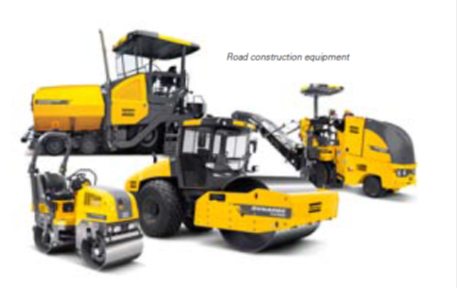 Valuation:
The company is trading at P/E of 19. 6 which is higher than its historic low of 15 in 2008-09 time frame. But this P/E ratio of 19 is sustainable for such a high quality business in our opinion. It should be noted that forward P/E ratios of Caterpillar , Joy Global and John Deere are 14.50, 11.97 and 15.39 respectively, which are significantly lower than Atlas. The dividend yield for the company at present prices is about 2%.
Let's now focus on FCF (free cash flow) analysis and see where we end up. The company has been a cash cow with free cash flow in 2013 of 9.6 billion Swedish Kronas (net of capital expenditures).
Our base assumptions are as follows:
Stage-1 Growth (year 2014 - 2018): 6% CAGR
Stage-2 Growth (year 2019 - 2023): 4% CAGR
Perpetual Growth Rate after 2023: 3%

So the fair price given 8% discount rate is US $29.83 - with stock of Atlas Copco (OTCPK: ATLKF) currently trading around $29.19, this is exactly what the market is assuming. But we see an issue with this assumption and we will explain this in the conclusion section.
Now we will assume different discount rates and see what fair market values we get: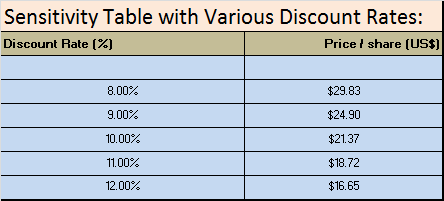 Conclusion:
With the current market price of $29.83 for Atlas Copco (OTC: OTCPK:ATLKF) as of this writing, market is painting quite a rosy picture for the future of this company. True it is a high quality company which is on solid footing and is more diversified than your typical mining equipment manufacturer, it should be noted that the revenues actually dropped more than 7% in 2013 from the prior year. Furthermore, full 34% of company's revenue is derived from mining equipment sales (as noted above in the article) and mining sector has been in a perpetual decline in recent history. After a sorry year in 2013, the precious metal stocks (Gold, Silver) kept declining until a recent rally, and now they are back into a declining mode as of this writing. Just to name a few large miners who have seen their fortunes dwindle are Barrick Gold (NYSE:ABX), Goldcorp (NYSE:GG) and Newmont Mining (NYSE:NEM). The miners with smaller market caps are down even more in the last year such as Yamana Gold (NYSE:AUY), New Gold (NYSEMKT:NGD), Iamgold (IAM), Pan American Silver (NASDAQ:PAAS), Endeavour Silver (NYSE:EXK) and list goes on. Many US mining related stocks such as Joy Global and Cliff Natural Resources (NYSE:CLF) have also been hurt for the past year due to lower prices of coal and iron-ore respectively.
In our opinion, investors are giving Atlas Copco AB a little more leeway in its stock price than it deserves. We think that being conservative might be a more prudent course of action and investors should wait for a better entry point before initiating a position in this stock. The above price sensitivity table might help you decide at what price you feel comfortable to buy in depending on how bullish or bearish you are on this company's prospects.
Notes & Disclosures:
This is not an investment advice. Please perform your own due diligence before making an investment.
This article was written by "Syed Saqib," a portfolio manager at Netwall Investments LLC. I don't intend to portray that Netwall Investments LLC is either invested in above securities or going to invest in the future. Investing or not investing in any security is solely upon our discretion and it can change without notice. Furthermore, we can get out of a position at any time as we deem fit. This is our foremost fiduciary duty to our clients who have invested their capital with us.
Disclosure: I have no positions in any stocks mentioned, and no plans to initiate any positions within the next 72 hours. I wrote this article myself, and it expresses my own opinions. I am not receiving compensation for it (other than from Seeking Alpha). I have no business relationship with any company whose stock is mentioned in this article.