GrubHub Inc (NYSE:GRUB), an online and mobile platform for restaurant takeout orders, plans to raise $168.7 million in its upcoming IPO.
The Chicago, Illinois-based firm will offer 7.0 million shares, including 43% insider shares, at an expected price range of $23-$25 per share. The firm had previously planned to offer shares at an expected price range of $20-$22 per share.
GRUB filed on February 28, 2014.
Lead Underwriters: Citigroup Global Markets Inc, Morgan Stanley & Co LLC
Underwriters: Allen & Company LLC, BMO Capital Markets Corp, Canaccord Genuity Inc, Raymond James and Associates Inc, William Blair and Co LLC
GrubHub Overview
GRUB offers an online and mobile platform to facilitate restaurant takeout orders.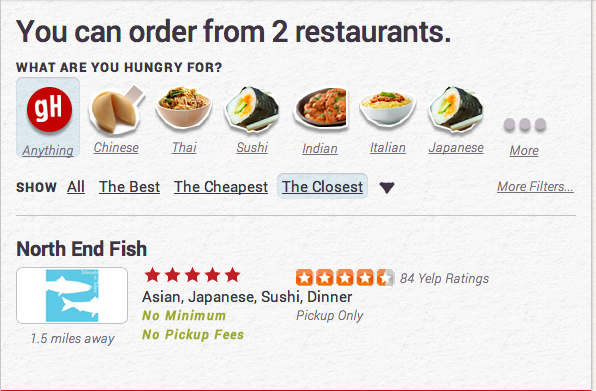 (Grubhub.com)
The platform allows diners to order from over 28,000 restaurants, spread across more than 600 US cities. GRUB generates revenue through commissions on orders placed through its platform, making it an extremely attractive proposition for the independent restaurants that it targets, since they aren't forced to pay any up-front or subscription fees. It also permits restaurants to avoid the costs of marketing and distributing menus. Some restaurants choose to pay higher rates in order to receive increased exposure on GRUB's platform.
Valuation
GRUB offers the following figures in its S-1 balance sheet for the year ended December 31, 2013:
Revenue: $137,143,000.00
Net Income: $6,747,000.00
Total Assets: $762,812,000.00
Total Liabilities: $187,022,000.00
Stockholders' Equity: $557,375,000.00
A Tasty-Looking Business
GRUB's primary competition is the traditional takeout distribution and print marketing performed by many independent restaurants. Though GRUB's platform may offer a more efficient method of takeout distribution, restaurants are often reticent to change longstanding, already functional takeout practices.
Management
CEO Matthew Maloney has served as CEO of GrubHub and its predecessor since co-founding the predecessor in 2004. He also sits on the board of Merge Healthcare Incorporated (OTCPK:MRGE). He holds an MBA and MSCS from the University of Chicago.
Positive Conclusion For Hungry Investors
We rate this IPO a buy.
GRUB has seen massive revenue expansion-approximately 67% from 2012 to 2013-and is firmly in the black.
Both the firm's commission-based revenue generation and marketing potential should allow it to continue to grow as more and more independent restaurants opt for an online and mobile presence.
Despite its success, GRUB has continued to pay its executives at reasonable rates.
Though we're somewhat put off by the high percentage of insider shares offered in this sale, we believe that GRUB remains a strong buy.
Disclosure: I have no positions in any stocks mentioned, but may initiate a long position in GRUB over the next 72 hours. I wrote this article myself, and it expresses my own opinions. I am not receiving compensation for it (other than from Seeking Alpha). I have no business relationship with any company whose stock is mentioned in this article.