A revolution in surveillance technology is quietly taking place at this very moment. If you're an urban dweller, your image is being captured, analyzed and stored on more than 400 different occasions in a single day, according to a startling Wall Street Journal report. Behavioral analysis software monitors your movement in a crowd, satellites take photos of your home, and every credit card purchase you make is logged for data mining companies to analyze.
Considering that there are more than 30 million closed-circuit video cameras in the U.S. alone, shooting 4 billion hours of footage a week, it's fair to say that Big Brother means big business. Roughly $200 billion is spent annually in the U.S. on surveillance and monitoring, and the industry continues to see rapid growth.
Do you know who's watching you? Here are some Big Brother stocks to have a closer look at (click for expanded images):
Acxiom Corporation (NASDAQ:ACXM)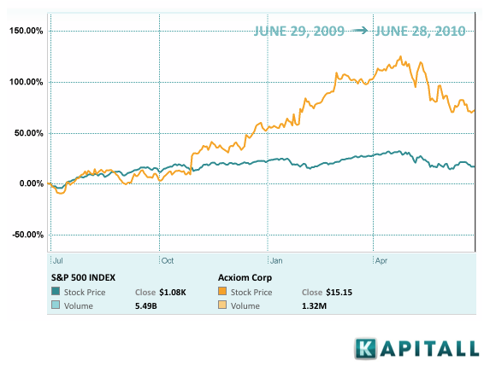 Almost every time you make a purchase with a credit card there is a record of your transaction. Bought the latest best seller at Barnes & Noble? There's an electronic record of that. Did you go see the latest Iron Man movie? There's a record of that too. Subscribed to Wine Spectator Magazine? Someone's got their hands on that data, and they're using it to figure out what you'll be buying next.
Acxiom is one such data-collecting company. Combining their proprietary data with the vast storehouse of public data, the company is able to paint an accurate portrait of the American landscape: where we live, how many kids we have, how many car accidents we've been in, where we travel, where we shop, what we buy...and the list goes on.
Acxiom uses that information to identify the individuals most likely to be receptive to a particular product, and then sells this data to other companies. More than 27% of the company's 2008 revenues came from their main product InfoBase-X, a marketing information database containing over 40 billion data entries, with stats on almost every household in the U.S.
NICE Systems (NASDAQ:NICE)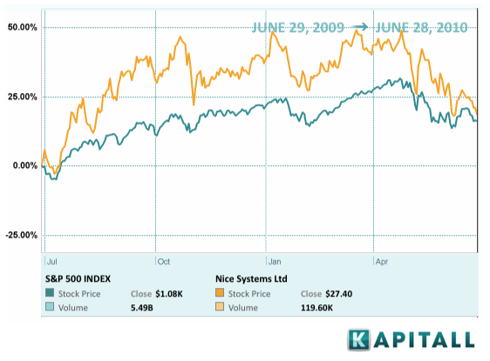 If you've ever strolled down a busy street in a big city, you've likely been monitored with technology developed by NICE Systems. The company sells motion detection products that can detect unusual behaviors in large crowds of people--think video cameras with artificial intelligence.
Cameras connected to NICE Systems' analytic software can pay attention to hundreds, even thousands, of people at a time. These behavioral analysis programs can learn "normal" human patterns in a location--in an airport queue or crowded sidewalk, for instance--and notify authorities when someone exhibits behavior that deviates from the "norm".
Websense (NASDAQ:WBSN)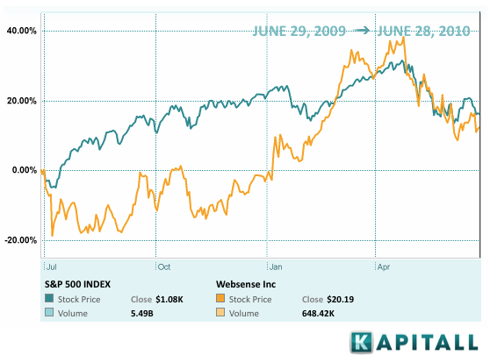 If you're working for a S&P 500 company, chances are that your Internet and email usage is being monitored with technology developed by WebSense. Approximately 50% of S&P 500 companies use the company's products, from web filtering to email monitoring and keystroke tracking.
Digital Globe (DGI)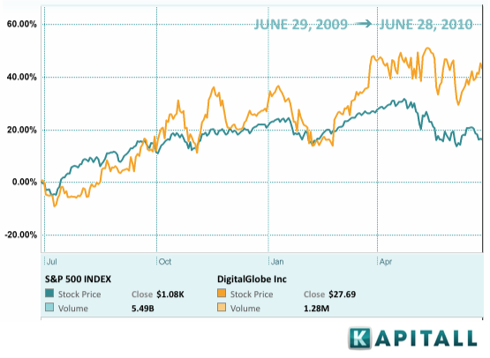 Digital Globe is a satellite imaging company that derives more than 67% of its revenue from the U.S. government. Your home and office is imaged each day by the company's cameras orbiting in satellites. Think Google Earth, but for the military.
GeoEye (NASDAQ:GEOY)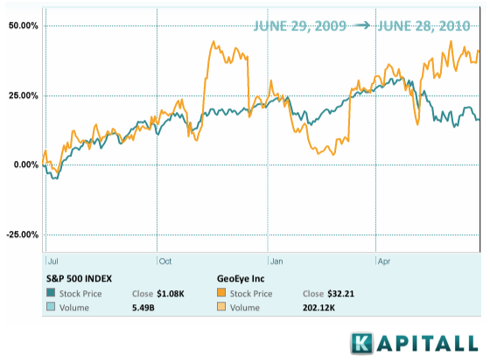 Similar to Digital Globe, GeoEye also provides satellite imaging services to United States and foreign government defense and intelligence organizations. Unlike Digital Globe, the company derives most of its revenues from abroad. It has invested in Eastdawn Group (Japan, Middle East, US, Canada), Beijing Earth Observation, Inc., Indian Remote Sensing satellites, and CosmosSkymed (Europe).
L-1 Identity Solutions (NYSE:ID)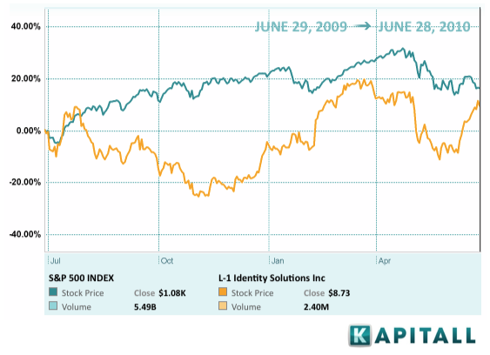 L-1 makes computer software that can verify the authenticity of passports and other identifying documents. The Stamford, Connecticut-based company also makes biometric products used for fingerprint id's, facial recognition and iris scanning.
Ituran Location and Control (NASDAQ:ITRN)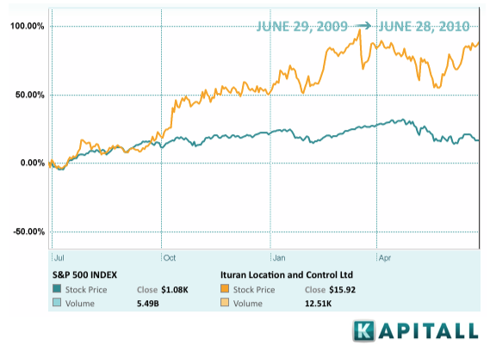 There is an upside to surveillance technology. For instance, Ituran Location & Control has developed a GPS locating system for cars and valuables capable of recovering a stolen vehicle in under 20 minutes. Although most of its revenue comes from its home country of Israel, it also has significant market share and room to grow in Brazil, where in Sao Paolo a car is stolen every 3 minutes.
China Security and Surveillance Technology (NYSE:CSR)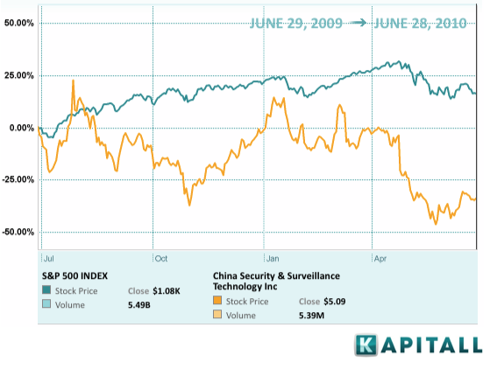 Aka, Big Brother of the Far East. CCST sells automated surveillance systems all over China. According to its website, the company has built a diversified customer base through an extensive sales and service network that includes over 150 branch offices and distribution points throughout the country.
Disclosure: No positions