By Dee Gill
Shares of companies like Zillow (NASDAQ:Z), Trulia (TRLA) and Move Inc. (NASDAQ:MOVE) have been hit hard in recent months as investors worried that a slump in the housing market would cut into business. But considering the damage was done in large part by snowstorms that will surely end soon, perhaps it's time to take a look at these shares. Does one of these falling chart lines depict a nice buying opportunity?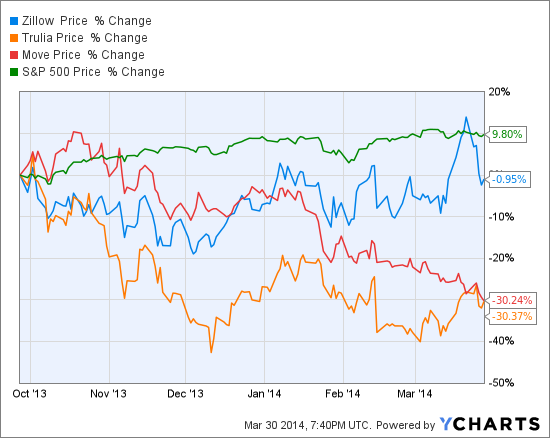 Z data by YCharts
The companies each run websites aimed at people who want to buy or sell homes. Together, their listings cover the vast majority of homes for sale at a time when 90% of would-be homebuyers start their shopping online. And although we can debate the exact timing of a more robust housing market rebound, most agree that there's one on the way in the near future. So which website will be busiest?
The websites of these three companies are so similar that a Morgan Stanley analyst recently found little difference in return on investment for real estate brokers who advertised on them. Real estate professionals are the feedstock for each company's growth as they buy the advertising and specialized marketing tools each site offers.
From an investment standpoint, however, there are some key differences.
Zillow and Trulia are often lumped together in investment discussions because they have the closest business models. Both offer photos and details like estimated market value and neighborhood characteristics for thousands of homes, regardless of whether they're for sale or not. Both companies are growing fast, especially compared to Move.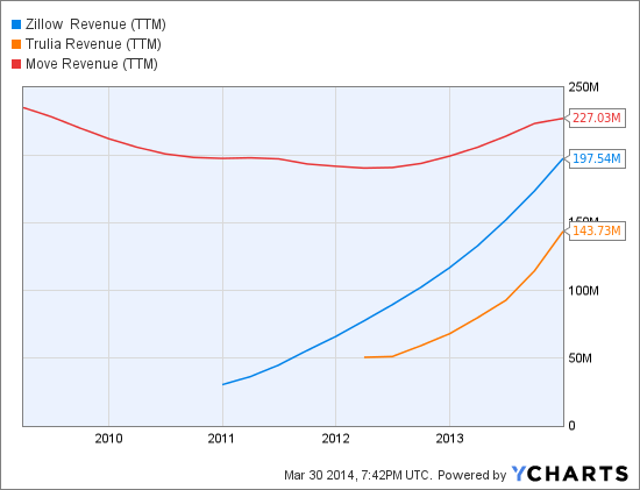 Z Revenue (TTM) data by YCharts
Zillow has quickly come to dominate the space, helped in part by a partnership with Yahoo (YHOO) Real Estate. According to comScore, Zillow gets about double the traffic on mobile devices as Trulia and Move combined. (Mobile is the holy grail of the space because shoppers like to access listings sitting in cars in front of homes for sale.)
But the valuation on Zillow shares has led several analysts to question the wisdom of buying them now. With a forward enterprise value to EBITDA ratio of about 63, Zillow shares trade on expectations of rampant growth for many years.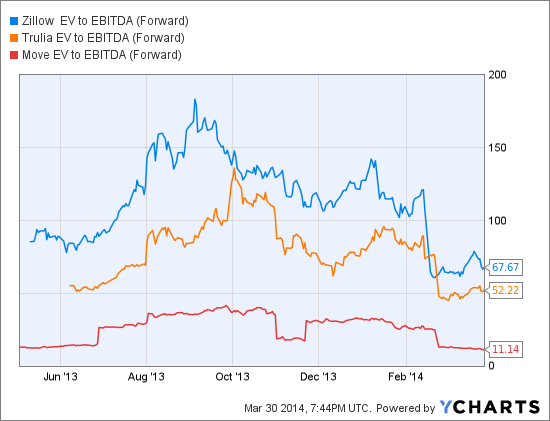 Z EV to EBITDA (Forward) data by YCharts
Trulia shares, as we can see in that chart, are also preciously priced. It, too, does well with mobile apps. But some revenue misses lately have dampened enthusiasm for the shares. Without any meaningful differentiation in share valuation, it's hard to see why any investor intent on real estate sites would pick Trulia over Zillow. One time investor Sequoia Capital no longer holds Trulia shares.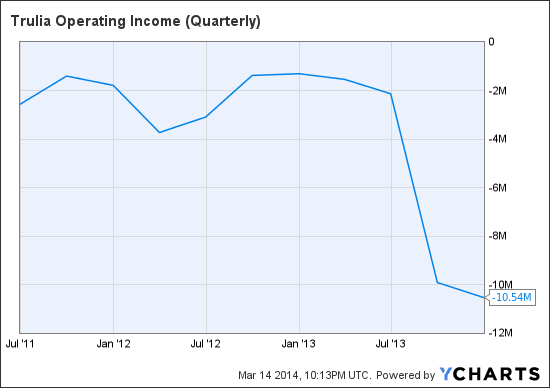 TRLA Operating Income (Quarterly) data by YCharts
Move's Realtor.com site is comparable to Trulia and Zillow, but it shows almost exclusively homes listed by Realtors with a capital R. The National Association of Realtors, which is charged with protecting that profession, has significant control over content. Realtor.com traffic still lags both those competitors, according to comScore's March report, and the fact that Move has traded for nearly a decade without making significant money might lead any investor to question its ability to create as much value as its competitors now.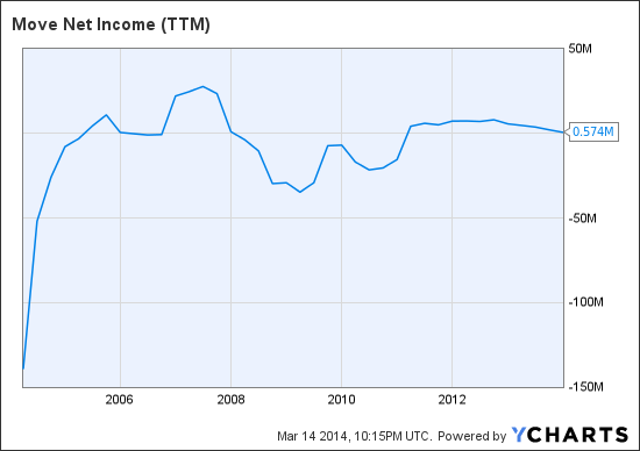 MOVE Net Income data by YCharts
That said, Move runs a half dozen sites that Realtors pay for with advertising and subscription fees. Those revenues were up only about 6% last year, even with acquisitions. The company's best feature may be that it gets a growing portion of earnings - about 23% last year - from software aimed at the profession.
Zillow, Trulia and Move are at a critical juncture for establishing dominance in the listings business. Each company is launching costly marketing initiatives this year to try to distinguish itself among the home-buying public. Move's website, Realtor.com, is running the first television ads in its history. The real winner may be decided by a smart acquisition - they're all on the hunt - rather than by its credentials so far.
Disclosure: None.