Coca-Cola (NYSE:KO) has certainly hit a growth headwind over the past two years, amid declining soda consumption in North America and the emerging markets not growing fast enough to make up for that.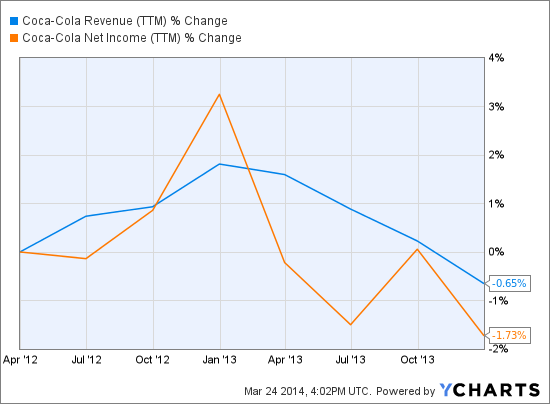 KO Revenue (TTM) data by YCharts
During that stretch Coca-Cola stock has failed to keep pace with the market: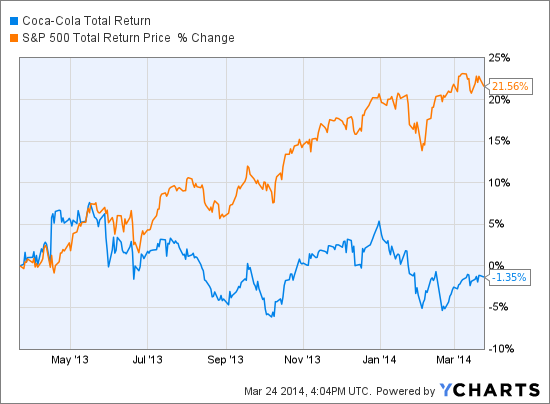 KO Total Return Price data by YCharts
But at this juncture in the bull market, Coca-Cola is an interesting rare duck: a global behemoth that will provide relative strength in down markets (see the 2008-09 sell-off and the 2011 slide) and currently trades at (for it) a not-high valuation that isn't much different than where it landed during the financial crisis.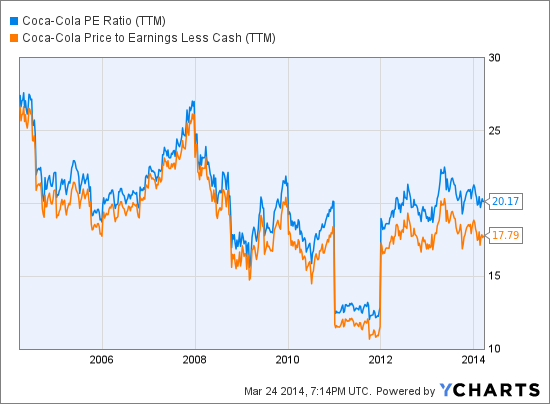 KO PE Ratio (TTM) data by YCharts
While Coca-Cola has hit a growth headwind, we're still talking about a flush operation: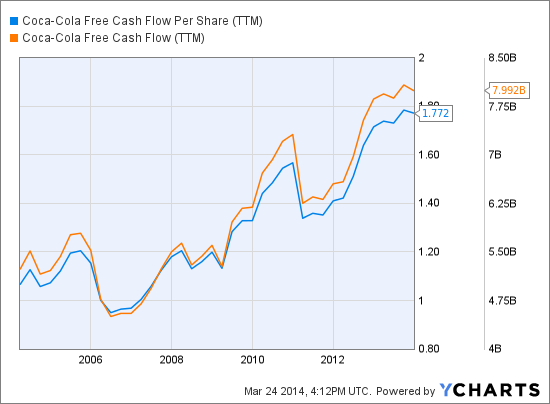 KO Free Cash Flow Per Share (TTM) data by YCharts
That chunk of free cash flow is a pretty good indicator that Coca-Cola will have no trouble continuing consistent dividend growth that has clocked in at nearly 6x the rate of inflation over the past 10 years.
While the yield for the S&P 500 has fallen from above 2% a year ago to just 1.7% today, Coca-Cola's stalled stock price has created an uncommon opportunity for income investors: a dividend yield above 3%. During the past 10 years a 3%+ yield came only during the big selloff in 2008-2009, which sent all stock yields (among payers that didn't have to cut) rising: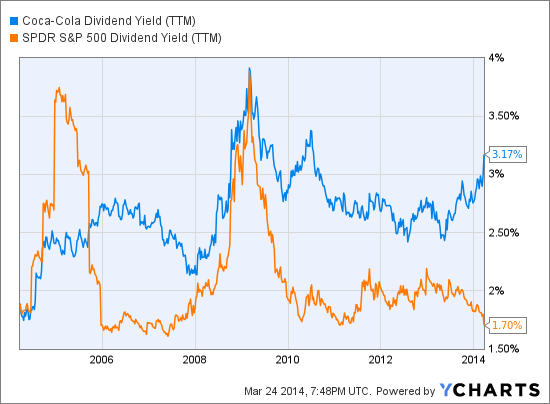 KO Dividend Yield (TTM) data by YCharts
Add in the value of stock buybacks and Coca-Cola's shareholder yield is more than 4%. A growth stock it ain't. But for income investors looking for a not-too-pricey stalwart, Coca-Cola's 3% yield and near 80% increase in shareholder payouts over the past five years might be worth some further investment research.
Carla Fried, a senior contributing editor at ycharts.com, has covered investing for more than 25 years. Her work appears in The New York Times, Bloomberg.com and Money Magazine.
Disclosure: None