The ongoing 2010 World Cup fever is bringing surging traffic to Web portals, bars and restaurants across the world. However, I believe this mega sporting event has taken significant eyeballs and time share away from Chinese online games due to the overlapping audience of soccer and online games: According to my estimate, China currently has 50 million online gamers, and at least half of them are soccer fans.
Four years ago, when China's online game industry was growing explosively, the top three companies, Shanda (NASDAQ:SNDA), NetEase (NASDAQ:NTES), and The9 (NASDAQ:NCTY), admitted in 2Q06 earnings calls that the 2006 FIFA World Cup did slow down their growth in Q2. Using history as guidance, I believe the 2010 World Cup (scheduled for June 11-July 11) has hit the online game industry again in 2Q10.
In fact, this year's World Cup has had an even greater negative impact on game usage. The reason is: For the 2010 World Cup, 55% of the 64 World Cup games are scheduled between 7PM and 12AM China time, which happens to be the prime time for online games in China. For the 2006 World Cup, this ratio was only 38%. This comparison means that the 2010 World Cup generates 46% (=55%/38%-1) more competition to online games than the 2006 World Cup.
Based on the analysis above, I forecast that the current top four Chinese online game companies, Tencent (OTCPK:TCTZF), Shanda (NASDAQ:GAME), NetEase (NTES), and Perfect World (NASDAQ:PWRD), will be unable to achieve significant sequential growth in 2Q10: Their quarter-over-quarter growth for Q2 will be between -2% and +2%, primarily due to negative impact of World Cup and school exams.
For Changyou (NASDAQ:CYOU) and Giant Interactive (NYSE:GA), the fifth and sixth largest game companies, I believe they had more significant game content updates in Q2, and will therefore grow faster than the top 4 companies. Specifically, Changyou launched the open beta of TLBB 2 and Chinese Hero, and Giant launched the open beta of King of Kings III and the unlimited closed beta of XT Online (Xian Tu) in Q2.
These major launches have more than offset the negative impact of the World Cup and school exams, according to my research. For Q2, I forecast that Changyou and Giant will grow revenues by 6.8% and 8.5% QOQ, to $77 million and $48.4 million respectively. Giant is expected to grow the fastest among the "Big Six". This partly explains why it has been the best year-to-date performer among Chinese online game stocks (Table 1).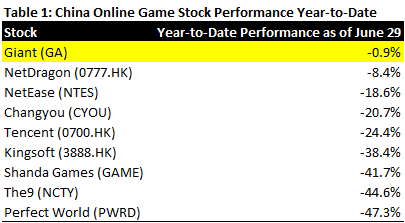 Disclosure: No positions