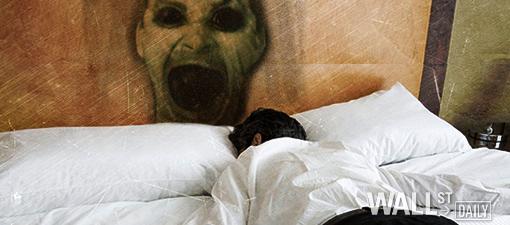 When Friday rolls around in the Wall Street Daily Nation, we roll out the charts. After all, a picture is supposed to be worth a thousand words, right? Plus, at this point in the week, you're probably tired of reading my longwinded analysis.
So without further ado, I'll (mostly) shut up now, as we serve up a few timely and telling graphics on the most pressing concern facing business owners, first-quarter earnings season and the outlook for stocks in the coming month.
A New Situation to Worry About
Remember when every CEO, analyst and stock market bear had us freaking out about lackluster top-line sales figures? They swore it was an indication that American consumers would never get back to their buying ways. And it's impossible for an economy to grow if people and corporate entities aren't buying goods and services.
Well, we can all chill out now. Sales figures are on the mend – rising 1.8% last year for S&P 500 companies. And top brass at corporations aren't worried about the situation anymore.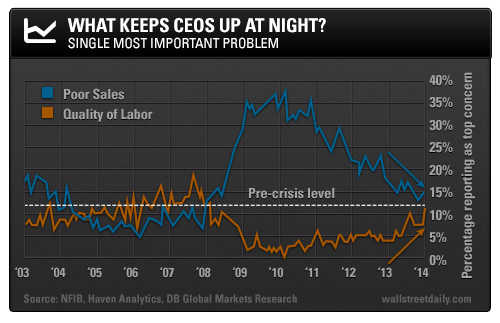 The latest National Federation of Independent Business (NFIB) survey confirms that their top concern is now high-quality labor. That's an indication of tightening labor market conditions, which means that wage inflation might be around the corner.
As I pointed out last week, wage growth is a trend that could squeeze corporate profit margins if it accelerates fast enough. By all means, keep an eye on it.
What's the Excuse This Time?
With the first quarter in the bag, it's time to prepare for an onslaught of earnings reports. And as you know, companies in jeopardy of putting up disappointing results always look for a scapegoat.
Last quarter, unseasonably cold weather provided the perfect cover.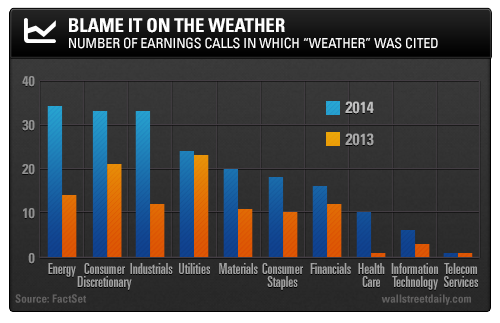 After "searching through all earnings conference call transcripts for S&P 500 companies between January 1, 2014 and March 12, 2014, the term 'weather' was mentioned at least once in 195 conference calls," says FactSet's John Butters. That represents an 81% increase year over year. The only companies that couldn't blame poor results on bad weather appear to be in the telecom sector.
What will the most popular talking point be this quarter? Submit your best guess. I bet you the weather still dominates.
April Showers? Not for Stocks!
Economic uncertainty. Valuation concerns. More tapering. And the first predicted dip in corporate profits since the third quarter of 2012. Sounds like the perfect recipe for a stock market selloff, doesn't it? Don't bet on it! April is historically the best-performing month for stocks.
The S&P 500 Index averaged a gain of 1.7% over the last 40 years, according to Schaeffer's Investment Research.
The Dow has put up similarly strong results. In fact, over the last 20 and 50 years, April has been a standout month – with average gains of 2.7% and 2.2%, respectively.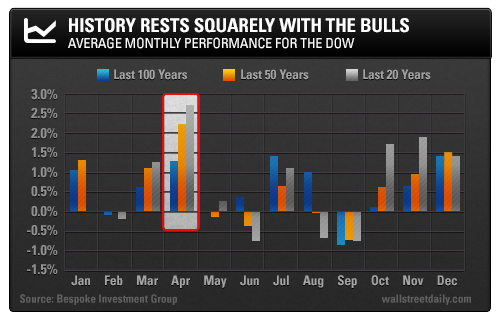 Of course, blindly assuming stocks will rally is a mistake. But if you believe in betting with the odds strongly in your favor, bet on stocks in April.
Disclosure: None