There are many ways to value a bank and investors and analysts take a shot at it with virtually any metric you can think of. Some of them are more popular and useful than others but one that most agree on, for banks any way, is book value. In light of that, we'll take a look at Bank of America's (NYSE:BAC) book value history of the past decade to see if we can gain any insight into a fair value for BAC shares under normalized conditions. Since the crisis valuations for BAC have been anything but normal so by doing this, we can gain some insight into what BAC's valuation could be once it returns to steady state earnings like its TBTF brethren Wells Fargo (NYSE:WFC) and JPMorgan (NYSE:JPM).
In order to do this analysis, I first pulled BAC's traditional and tangible book values from the company's SEC filings for the past decade. I then calculated the price to book and price to tangible book ratios you see below. It should be noted these are year-end values only. This analysis could be done with average book values as well if one so chose. The data would look very similar so there isn't a lot to be gained from doing both.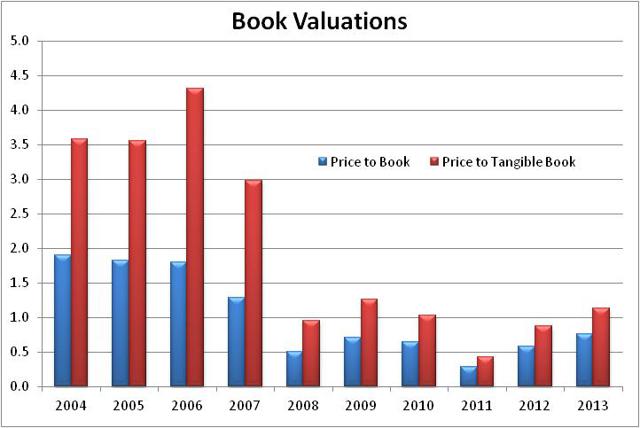 I find these results to be quite interesting as it tells a couple of stories. First, BAC's price to tangible book was astronomical leading up to the crisis, with the stock trading for more than four times tangible book value in 2006. The reason is simple; BAC was highly leveraged with debt issuances on its balance sheet in the years leading up to the crisis. This leverage allowed BAC to produce an enormous amount of profit without corresponding capital you'd traditionally associate with a large bank. BAC was leveraging its capital several times in order to make more and more loans that we know much of which eventually soured and cost the bank billions. This chart highlights how wacky things were before the crisis with BAC trading for nearly 4.5 times tangible book value. BAC was earning lots of money but as we all found out, this was not sustainable once the economy began to suffer.
The traditional book value measurements were more in line with reality as BAC traded for roughly 1.75 times traditional book value before the crisis and as it began to become clear things were going wrong, we see both of BAC's book value measurements get absolutely crushed. BAC eventually traded for under half of tangible book value in 2011, an insane number in hindsight but recall the issues BAC was having; some thought the bank was headed down the road to bankruptcy. Those numbers were just as extreme as the ones leading up to the crisis, albeit on opposite ends of the value spectrum. BAC's book value metrics have improved substantially since the bottom in 2011, and for good reason, but I believe there is a lot more left on the table. The traditional book values before the crisis aren't so different from what Wells trades at today, widely regarded as the "safest" TBTF bank, so I think we can use those as a starting point for our projections going forward.
BAC's traditional book value was consistently in the 1.7 range before the crisis, even back when Bank of America was mostly just a bank (remember those days?). The company was earning steady, high profits and the valuation showed it. I believe BAC will get back to that one day but it is certainly not there yet. However, history can be a guide to valuing a company on a forward basis and with competitors JPM and WFC trading at 1.14 and 1.69 times book value, respectively, there is obviously some room for expansion in BAC shares.
So what does this mean for a potential valuation of BAC's shares going forward? Given BAC's own historical values and those of its competitors, I think a fair, steady state multiple on BAC's traditional book value is around 1.3 to 1.5. It may take a while for that kind of valuation to materialize, perhaps a few years, but I do believe it will happen. Tangible book is a much more difficult metric to use in BAC's case because there was so much leverage going into the crisis that the only thing I'm sure of there is that the fair multiple is a lot lower than 4. In that case, I'll use traditional book value for this exercise.
If we apply the midpoint of my range, 1.4, to BAC's current book value of 20.71, we get a target price of $28.99, or 69% higher from today's share price. As I said, this will take a while but even if BAC fails to grow book value at all in the next, say, three years, we could still see shares up nearly 70% based simply on increase faith on the part of market participants that BAC's troubled days are behind it. And even if I'm wrong, I think it's pretty clear BAC is worth more than its current 0.75 times book value so there is significant upside even if I don't know what I'm talking about (and I freely admit that is a possibility!). That's the beautiful thing about a stock that is as undervalued as BAC; you don't necessarily need to be right regarding the magnitude of the move in order to participate in the upside.
BAC is still clearly undervalued in my view but it is for good reasons. BAC has had a rough six years or so and has plenty of hurdles ahead such as never ending litigation and shareholder distrust. But BAC has done an exemplary job of mending broken pieces of its business model and is well on its way to continued profitability growth and with that, book value will continue to rise as well as its price to book multiple. I think there is significant upside, perhaps as high as 70%, in BAC over the next three years or so based simply upon book value multiple expansions so that BAC is more in line with its peers. If BAC continues to grow book value and achieves multiple expansions, the gains could be even higher. Even if I'm too optimistic, 30%+ seems like an easy target given BAC's undervaluation.
Disclosure: I am long BAC. I wrote this article myself, and it expresses my own opinions. I am not receiving compensation for it (other than from Seeking Alpha). I have no business relationship with any company whose stock is mentioned in this article.