Not too long ago, I wrote an article describing the shift that's unfolding in the advanced wound care sector. Until last year, scaffolds acting as skin substitutes, such as Shire's Dermagraft and Organogenesis' Apligraf, dominated the advanced wound care market. These tissue based wound care products accounted for an approximate 60% of the $400M market. In 2013 however, a new trend emerged that saw the rise of competitors crowding out legacy products. By understanding the underlying shift towards a new wave of wound care products, flourishing names like MiMedx (NASDAQ:MDXG) and Osiris (NASDAQ:OSIR) aligned operations to benefit accordingly. Looking ahead, this same trend is expected to solidify further in 2014 and beyond. Below, I will explain how Alliqua (NASDAQ:ALQA) will leverage its position to become a major player in the advanced wound care segment.
Dermagraft: A Wounded Future
For 2013, Organogenesis' new acquisition, Dermagraft, had sales of $90M. Dermagraft sales were down 42% from the $154M figure in 2012. With a bleak future, Shire sold the struggling graft to Organogenesis for pennies on the dollar and took a $650M loss on the product it acquired less than three years ago. Receiving no upfront payments and only settling for up to $300M in milestones conditional on sale targets indicate the lackluster future prospects of Dermagraft. As I will explain below, the new Medicare reimbursement system essentially destroyed any value Dermagraft may have had. Dermagraft's fall presents an opportunity for other products to emerge.
New wave of Products Taking Advantage of Opportunity
MiMedx
MiMedx saw its top-line double in 2013 to $59.2M as its placenta-based products AmnioFix and EpiFix continued their surge to become a first line wound therapy option. With demand for placenta-based products on the rise, MiMedx reaped the financial rewards as it ended the second half of 2013 with positive cash flows from operations, a first time milestone for the company.
CEO Pete Petit attributed the substantial revenue growth to the expanded MiMedx sales force which grew from 33 to 76 sales professionals during the year. Hiring was influenced by very favorable CMS reimbursement situation that increased coverage for MiMedx products, thus making them more affordable to end consumers.
2014 is expected to bring in much of the same growth due to the CMS reimbursement system (discussed below) benefiting MiMedx. As a result, MiMedx accelerated direct sales force hiring for 2014 by hiring another 34 sales professionals (bringing total to 110). By the end of 2014, MiMedx expects somewhere between 130-150 sales professionals which contribute to a ramp in relative sales. MiMedx projects top-line growth to continue accelerating at a remarkable pace to hit the $100M annual sales mark. This expansion of a sales organization indicates the acceptance of placenta based treatment products over conventional grafts produced by Organogenesis.
Osiris
Similarly, 2013 was the year Osiris transformed to a fully integrated commercial enterprise tripling annual sales to $24.3M. Osiris started with a sales force of 10 representatives as the clinical trial for its reproducible stem cell wound healing product, Grafix, was still underway. The company wanted to first complete the trial before making significant investments in commercial infrastructure.
In August of 2013, Grafix demonstrated efficacy for treatment of DFU which caused OSIR to rally. This data release also accelerated the commercial expansion efforts as a total of 58 sales representatives were on payroll by the end of the year. As a result of the expanded commercial infrastructure, Osiris saw top line traction.
During the earnings call, CEO Lode Debrabandere hinted that the accelerated expansion is expected to continue into 2014 with strong demand. "Our inventory is turning over very, very rapidly, and we presently have less than 30 days sale in inventory."
Osiris' 2014 commercial strategy is to obtain full market access and Medicare reimbursements for Grafix with most carriers. Before investing any further into building a competitive commercial infrastructure, Osiris will have to show evidence of its Protocol 302 study through published peer-reviewed manuscript. Osiris submitted its study in Q1 2014 and expects it to be published by 1H 2014. Once published, the peer reviewed data can be leveraged by the company to secure broad Medicare and commercial coverage to build on the infrastructure expansion of 2013.
Criticism
Both MiMedx and Osiris have faced criticism for the clinical studies each company has presented which compare their products to the standard of care. Critics (example here) make their case arguing that studies are skewed and misleading. Though some points make for a strong argument, the sales growth of these products, as mentioned above, paint another picture. Both companies have aligned operations to continue their commercial expansion into 2014 which further indicates that demand for their products is expected to continue. There is a shift underway in the advanced wound care market as new technologies are stealing market share from conventional products that have been regarded as the standard of care. Thus far, the sales figures are proving critics wrong.
CMS Reimbursement System Change
Beginning in 2014, The Centers for Medicare & Medicaid Services (NYSE:CMS) introduced a new two tiered reimbursement system that has altered the competitive landscape in wound care. The old system incentivized standardized sized grafts used as skin substitutes which attributed to the market leading status of Dermagraft and Apligraf. These standardized sheets produced by either Shire or Organogenesis would be purchased to treat wounds of all sizes (including a small wound just couple of inches). As a result, sales were inflated, but so was the waste of these products which were rendered useless if only a quarter of the sheet was actually used.

The new system (explained above) benefits product offerings of different sizes to treat a variety of wounds. The current CMS reimbursement has provided a favorable change that has allowed MiMedx and Osiris to continue their growth as both offer products in different sizes that will maximize coverage. This implemented system, however, further contributed to Dermagraft's decline as CEO Ornskov commented during the divestiture.
"Due to the recent Medicare ruling regarding reimbursement for DERMAGRAFT, the business environment has changed, and the prospects for the product have reduced significantly."
Overall, the impact of the reimbursement situation can be analyzed by comparing the future operations of legacy product and growing names like Epifix and Grafix. The emerging companies are ramping up sales forces to drive revenues whereas conventional Dermagraft was sold off at a discount. The direction of the future of wound care can be easily predicted from recent developments.
Alliqua: The Next Wound Care Company to Experience Explosive Growth
By the end of April, Alliqua is expected to launch Biovance, a decellurized wound covering derivative of human amniotic membrane. Alliqua entered into a licensing agreement with Celgene (NASDAQ:CELG) to develop and market the placenta based treatment. Through Biovance, both Celgene and Alliqua will penetrate the same market segment as MiMedx, which also happens to be the fastest growing segment in advanced wound care.
The new reimbursement rules, described above, are a positive for Biovance, considered a "high cost" product. Alliqua has applied to CMS for permanent outpatient reimbursement (Q-Code) of Biovance, which would be effective in 2015, if approved. In the meantime, Alliqua will apply for a temporary Biovance reimbursement (C-Code) for Biovance, which will be effective in 2H 2014 upon approval. Though no official decision, the company's recent announcement indicate that Alliqua is confident it will receive at least a temporary reimbursement for Biovance.
Alliqua appointed 20 direct sales representatives to strengthen brand awareness and drive greater penetration as the company prepares to launch Biovance. Though Alliqua had 40 independent agents across the US selling their hydrogel products, these agents represent multiple products from various manufacturers so they are not fully dedicated to Alliqua's offerings. The new representatives will be 100% dedicated to Alliqua products. As seen with the growth of MiMedx/Osiris, an expanded sales force is key in deriving top line traction.

The above chart shows the added revenue each additional sales representative added to MiMedx and Osiris during their growth periods. It is quite extraordinary that top line growth was impacted by at least $418,965. Using this low range figure, I will try to project the effects of an additional 20 sales representatives to Alliqua's top line in 2014. Revenue of $8.38M (20 x $418,965) could be added to Alliqua's top-line as a direct result of the expanded sales force.
Given the surge in demand for placenta-based treatments, as verified by MiMedx's triple digit revenue growth since 2011, an explosive 2014 could be in line for Alliqua. The company has entered into distribution agreements with wholesale distributors, has ramped sales force and is led by the same CEO (David Johnson) who grew ConvaTec's sales from $600M to $1.7B before its sale for $4.1B. All the right steps have been aligned for a successful launch of Biovance. Going by the success of MiMedx's placenta-based products and Osiris' stem cell product, Biovance's natural healing capabilities suggest lucrative future prospects.
Valuation
Alliqua sports a market cap just over $100M. When compared to the other two companies mentioned above, Alliqua trades at fractions of MDXG and OSIR. Although this can be justified as Alliqua is behind the other two in the commercialization stages.
The advanced wound care market is a $400M market growing at approximately 15%. To get an idea of Alliqua's possible position in the future, I make some assumptions that can speculate the company's present value. Three years out, by end of 2016, the advanced wound care market is expected to be approximately $600M. Assuming Alliqua has a market share that can range from 2-10% and an industry sales multiple of 10 is applied, the below sensitivity table lays out Alliqua's present valuation.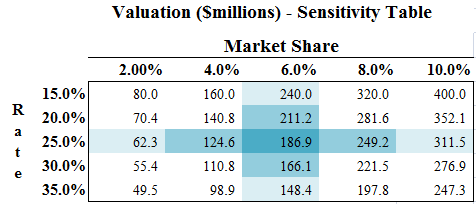 The above table assumes Alliqua has a market share of 6% of the advanced wound care market, a conservative figure that would equate to 2016 sales of $36M (6% x $600M market). Discounting this figure back three years with 25% rate, I come to a valuation of $187M. Of course, this is only a speculative calculation. Even with the seemingly realistic assumption I have made, Alliqua presents potential upside of 70%.
Alliqua had a $12.1M cash balance by 2013 year end. With the upcoming launch of Biovance and increased efforts to complement commercialization, financing will be a reality investors may have to face sooner rather than later. Taking a longer term perspective, Alliqua depicts a company that has developed quite an impressive commercial footprint in less than a year after realizing that back in May of 2013, there was no team to speak of. Substantial value has been added in the last 12 months and the same trend is expected to continue as the company prepares to launch an exciting placenta based wound treatment. As the growth trajectory of comparables MiMedx and Osiris presented above, Alliqua is well positioned to take full advantage of the shift occurring in the wound care market.
Disclosure: I am long ALQA. I wrote this article myself, and it expresses my own opinions. I am not receiving compensation for it. I have no business relationship with any company whose stock is mentioned in this article.