The markets are getting very close to giving us the Dow Theory indication that we need to exit a majority of our positions. Yesterday, the Dow Jones Industrial Average closed at 9870.29 which is 53.80 points above the June 7, 2010 low of 9816.49. Falling below 9816.49 would be one half of the bear market signal needed to indicate that the market will fall precipitously.
To make matters worse, the Dow Jones Transportation Index (BATS:
IYT
) closed down today nearly twice as much as the Dow Industrial Index. This doesn't bode well for the Transports because, in order to trigger the second half of the bear market signal, the Transport Index would only have to fall 248.61 points. After yesterday's decline of 169.52 points in a single day, the remaining 79.09 points needed would not be all that difficult to come by.
The chart below displays a critical reason why we would be bearish on the market at this time. The dashed black line extending from B1 was supposed to be the upside target from point C1 in our last
Dow Theory article
calling for a Dow at 9800. However, neither the Industrials nor the Transports were able to come close enough to be misinterpreted as an indication that the bull market run was likely to continue. The inability of the market to breach point B1 was a major non-confirmation according to Dow Theory.
(Click to enlarge)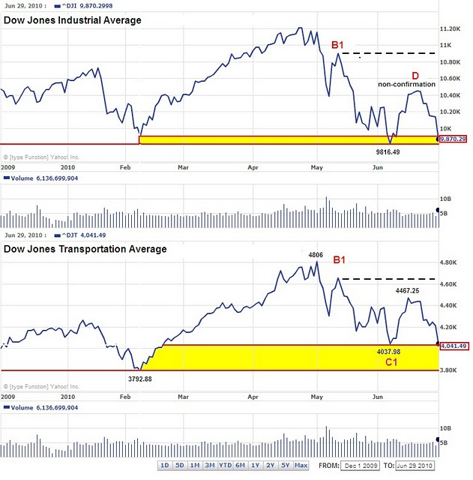 Finally, any simultaneous declines of the Industrials and Transports below the yellow zones on a closing basis would tell us for certain that the bull market has run its course and that an additional correction of 15% on the Dow Jones Industrial Average is likely.
We're being generous by not considering the June 7th lows for both indexes as the critical points for a bear market indication. For some Dow Theorists, waiting for the Transports low on February 5th is akin to playing with fire. However, we must adhere to the extremes to ensure quality buy and sell signals.
The only holdout is that either the Transportation Index or the Industrial Index gives us a downside non-confirmation by not going below the Feb. 5th or the June 7th lows, respectively. If we get a downside non-confirmation then we will consider selling a small portion of the portfolio on any strength.
Disclosure: No Positions