Introduction
In the wake of the recent legalization of marijuana in Colorado and Washington, marijuana-related stocks have experienced an unprecedented surge in popularity. In the first quarter of 2014 alone, stockholders of companies like Medical Marijuana Inc. (OTCPK:MJNA), Growlife Inc. (OTCPK:PHOT), Tranzbyte Corp. (OTCPK:ERBB), to name a few, have achieved capital gains ranging from 100%-3000%!
Despite the significantly optimistic valuations, many of these companies are poised to validate their current share prices. With the marijuana industry's revenue appraised to be in the tens of billions of dollars, all that is needed is a narrow profit margin on a small slice of that pie. As a result, many companies in the industry, regardless of quality, have seen massive positive price action in Q1 2014.
To be clear, the goal of this article is not to promote speculation into the marijuana revolution. Rather, I aim to expose some particularly frightening truths about a fundamentally unsound company engaged in misleading the public and benefiting interested executives ahead of shareholders. The company in question is Cannabis Science Inc. (OTCPK:CBIS).
1. Background Part I: Before Cannabis Science
In the period between 1996 and 2009, the company that we now know as Cannabis Science operated business in a variety of industries under multiple aliases, "Patriot Holdings" in 1996, "National Healthcare Technology, Inc." in 1999, "Special Stone Surfaces" in 2005, "Brighton Oil & Gas" in 2007, and "Gulf Onshore, Inc." in 2008. These scattered and unsuccessful business ventures ranged from biotechnological R&D, oil and gas exploration, mineral leasing and significant M&A activities.
In 2009, the company purchased the tangible assets and intellectual property of pioneer and entrepreneur Steven W. Kubby from his company Cannex Therapeutics, LLC for shares of common stock in Gulf Onshore, Inc.
On April 7, 2009, the company changed its name to Cannabis Science, Inc., a biotechnology company "at the forefront of medical marijuana research and development." As a part of the agreement with Cannex, Mr. Kubby was appointed president and CEO, Richard Cowan as director and CFO and Robert Melamede Ph. D. as chief science officer.
Very shortly thereafter, in July of 2009, CEO Steven Kubby, COO Ray Carr, VP of R&D Mary Ruwart and Director of Communications Lee Wrights resigned "[a]fter receiving legal counsel concerning the "appearance of fraud" by CSI board members."
2. Background Part II: Major Transaction of Cannabis Science
On August 18, 2010, Cannabis Science entered into a license agreement with Rockbrook, Inc., a licensed Colorado medical marijuana dispensary. As of December 31st, 2012, the license agreement and all business dealings with Rockbrook were discontinued.
On August 10, 2011, Cannabis Science became a distributor of all Prescription Vending Machines (PVM) products and services in all regions excluding the United States of America, United Kingdom, South America and Antarctica in exchange for $250,000 of CBIS common stock. PVM has yet to commence operations.
On January 1st, 2012, the company entered into a 25-year management agreement with Dr. Mohammad Afaneh, and subsequently terminated the agreement in Q4 2012.
On January 1st, 2012, Cannabis Science entered into a 25-year agreement with Bret Bogue to act as director of horticulture and head of research and development for $299,250 in stock compensation, as well as a $185,000 bonus.
On February 9th, 2012, Cannabis Science acquired GGECO University, Inc. for $626,450 in common stock.
On February 9th, 2012, Cannabis Science entered into a license agreement with Apothecary Genetics Investments LLC to head their research and development facilities.
Finally, on March 21st, 2012, the company acquired Cannabis Consulting Inc. ("CCI Group") consisting of "a group of businesses operated by Robert J. Kane."
As stated in the most recent 10-K filing,
"The businesses of GGECO and CCI acquired during 2012 have minimal operations and the Company's other activities under license agreements, MOU, and joint-ventures have not commenced operations in 2012; therefore, the Company remains as previously defined as a development stage entity as of December 31, 2012."
3. Fundamentals of the business

Table 1: Notable Earnings Items, Specifically Expense Items
One does not need to look very long at the fundamentals of Cannabis Science to appreciate the mismatch between the operational effectiveness of the corporation and the compensation of self-interested executives and associated professionals. Updated to the latest quarterly filing received by the SEC; a couple striking details are worth highlighting (see Table 1):
Accumulated Deficit of $(90,467,180.00)
Accumulated Revenue of $198,867.00
Investor Relations Expense of $1,354,776.00 (6.7 times total revenue generated)
Professional Fees dealt to business partners of $33,115,476.00 (166 times total revenue generated)
General & Administrative expenses, including managerial compensation, of $29,725,362.00 (150 times total revenue generated)

Table 2: Notable Assets
Drawing again from the latest filing, Cannabis Science is clearly at risk of both insolvency and illiquidity. With only $462 of cash in the bank, a poorly performing portfolio of marketable securities in Endocan (OTCPK:ENDO) (formerly X-Change Corporation, a company with many personal ties to Cannabis Science) and total net liabilities of $3,554,551, shareholders harbor a deficit of almost $3 million.
Quoting an excerpt that can be found in almost every single quarterly and annual SEC filing since the birth of Cannabis Science:
"In view of the matters described, there is substantial doubt as to the Company's ability to continue as a going concern without a significant infusion of capital. At [present date of each filing], the Company had minimal operations. There can be no assurance that management will be successful in implementing its plans. […]

We anticipate that we will have to raise additional capital to fund operations over the next 12 months. […]

Any future financing may involve substantial dilution to existing investors."
At this point, it is worth wondering where the money has come from to fund all of these expenses, salaries and bonuses. The answer is that the company's most successful department, its Investor Relations, though costly, has kept the company afloat.
As a small aside, I was also curious to see what the company's headquarters look like from Google Maps, but was unable to find the exact location (see Figure 1):
Figure 1: Cannabis Science Headquarters (somewhere between these two establishments), 6946-B N Academy Blvd, Colorado Springs, CO 80918, USA
From the 10-K filing for the year ending 2010:
"We currently lease a laboratory and office space at 2422 S. Trenton Way, Unit H, Denver, CO 80231, under a five year and three month lease, which ends on February 14, 2016."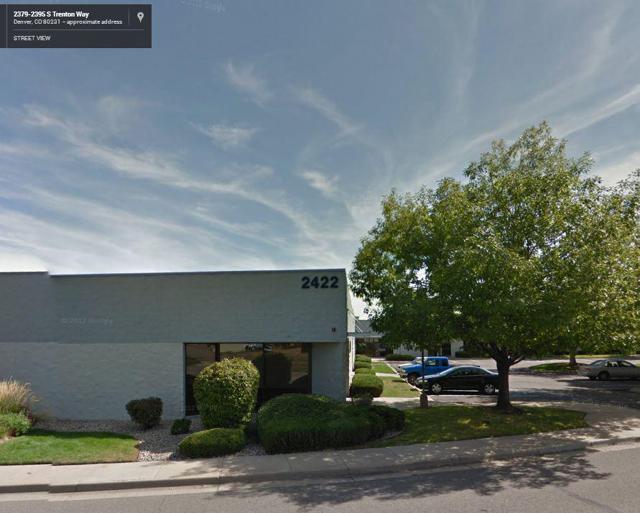 Figure 2: Denver Headquarters, 2422 S. Trenton Way, Unit H, Denver, CO 80231
Finally, a year earlier, in 2009, Cannabis Science resided back in 6946-B N Academy Blvd, Colorado Springs, CO (figure 1).
Sources: 10-Q2013, 10-K2012, 10-K2011, 10-K2010, 10-K2009
4. Drug Pipeline
Seeing as how Cannabis Science has cleverly remained a development-stage enterprise, despite owning many operating branches working in the fields of distribution, sales and education, one must appreciate that the company's high valuation implies massive future growth potential.
Specifically, Cannabis Science and its executive team are standing behind its two flagship products to catalyze this future growth.
First, the CS-S/BCC-1 drug program was launched in 2011 due to the "apparent success in 4 skin cancer patients who have self-administered cannabinoid based extracts topically to their skin cancers. These patients have experienced shrinking and apparent eradication of their skin cancer lesions."
Second, the drug CS-TATI-1 aims to target patients with drug-resistant HIV strains. The earliest article I could find relating to the launch of this program was in June 5, 2012, where the company loosely described a mission to "explore the commercial development of Phytocannabinoid-based therapeutics for drug resistant HIV infection."
Aside from the myriad of articles released by Cannabis Science's Investor Relations department and its affiliates touting the revolutionary nature of these drugs, I can find no solid evidence that either of these drugs has even begun to enter clinical investigation. In fact, as of March 31st, 2014, the company has been unsuccessful in penetrating these products into the clinical pipeline: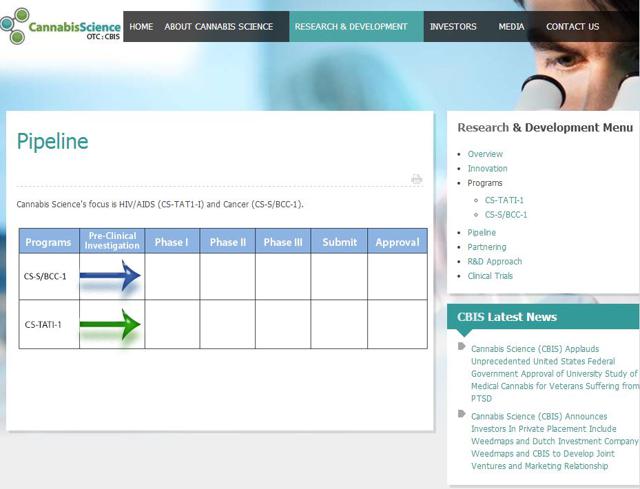 Figure 2: Cannabis Science Drug Pipeline
Additionally, aside from the licensing agreement with Apothecary Genetics Investment LLC, the company has not reported any substantial research and development expenses as of the latest SEC filing. If this research is being conducted out-of-house, then it is likely that the patents to these products will not ultimately fall in the hands of Cannabis Science, but rather the institution in charge of the above-mentioned R&D.
5. Executive Compensation Scheme

Table 3: Beneficial Ownership of Executives (in shares)

Table 4: Beneficial Ownership of Executives (value of position based on closing share price)
Though the number of outstanding shares has increased at a rate of roughly 300% per year since 2009, it is clear that executives have not allowed their level of ownership to be diluted, though outside shareholders have been put in charge of absorbing the losses of the said dilutions.

Table 5: Compensation of Executives
Additionally, despite increasingly substantial losses and shareholder deficits, executive compensation has become more and more generous in recent years.
One of the most frightening aspects of the executive team is that, in light of reporting to shareholders that the company requires significant capital infusions to continue operating as a going concern, key executives are selling their shares as of January 2014 and effectively up-streaming the sale of common stock to new investors.
To clarify, an executive is legally required to act in good faith and in the best interest of the company. By stating that the company is in dire need of raising capital by issuing stock, it is downright unacceptable for executives who have better knowledge of the operating status of their company to then jump to the front of the line and cash out shares.
Table 6 shows the recent sale of shares from two key Cannabis Science Executives, Dr. Robert Melamede and Chad S. Johnson Esq.: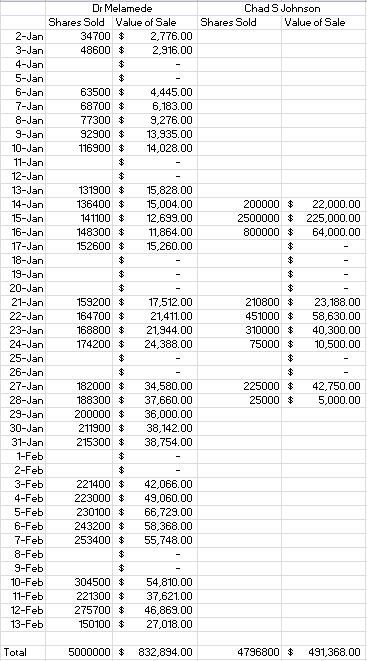 Table 6: Shares Sold by Executives in 2014
6. Marketable Securities owned by Cannabis Science: Endocan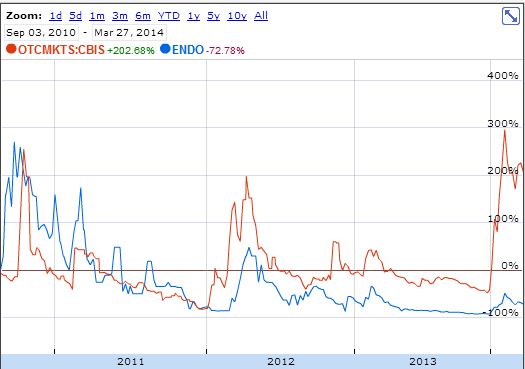 Figure 3: Price Action of CBIS and ENDO
Briefly, Endocan also works to develop cannabis-based drugs. The company's latest filing shows $59 in cash as its only asset and roughly $1.5M in liabilities, with an accumulated operating deficit of $32.9M and counting.
Additionally, it is worth mentioning that Chad S. Johnson and Robert J. Kane each have a 6.78% stake of the company valued at a market cap of $6.18M.
Dorothy Bray is the president, Robert Kane is the CEO, Chad S Johnson is the COO and Alfredo Dupetit is the vice president of European operations.
7. Mr. Kubby, the silenced whistleblower
I can find no better way to conclude this comprehensive investigation, then, by including some quotes from the previous CEO and president of Cannabis in his letter of resignation when "it became clear that [his] company had become entangled in fraud and deception."
Enclosed herewith are notable excerpts from Mr. Kubby's letter relating to the questionable activities of Mr. Dabney, who represents the Bogut Family Trust, a major beneficial shareholder of Cannabis Science:
-"Our COO wanted to determine what stocks had been issued and to whom. When Mr. Carr attempted to get details about certain unusual consulting contracts, Dabney refused to provide answers and told our COO, "it's none of your business.""

-"One paragraph in an SEC report, dated August 8, 2008, on Dabney is especially disturbing [...]

I then advised our COO that we had a fiduciary responsibility to conduct an immediate, confidential internal investigation of Raymond Dabney […]

The results of that investigation are in and it appears that the level of fraud and illegal activities, as well as bogus or incompetent filings, appears to be systemic."

-"Also, I've learned that Dabney et al have issued themselves preferred stock, without my knowledge, any proper authorization, placing themselves in a majority position. If the CEO and COO are being left out of such fundamental actions as the issuance of stock, then the Dabney group is acting so far out of the law that I am again compelled to remove myself."

-"There is also the matter of the Dabney group directing one of our investors to deposit $200,000 into our company lawyer's CDN Trust account. However, the account to which our investor was told to deposit the $200,000 was NOT our corporate attorney's trust account, but was actually Mr. Dabney's own private attorney's trust account."

-"Mr. Dabney had attempted the same illegal diversion of funds a few days prior and had been warned by me that he had no authority and to cease any further activities, yet he brazenly repeated his attempt to divert these funds with the assistance of two of our CSI Directors, Richard Cowan and Robert Melamede."

-"So from my point of view, this attempt to divert funds appears to tie Mr. Dabney and his group to bank fraud, stock fraud, violation of the BC SEC order against him and attempted embezzlement. Not just once, but twice."

-"As long as my name is associated with Cannabis Science, innocent investors who know me and my reputation, will be investing their hard earned dollars into a company that is deceptive and fraudulent. Given what I have learned about the activities of Dabney, Melamede and Cowan, I believe it is my duty to resign and call attention to what I believe is a criminal conspiracy to defraud our investors."
The full letter can be found here, and a follow up interview can be found here.
Conclusion
If you have invested in CBIS in the past, here is a rough idea of where your money went (see expense table):
Figure 4: Breakdown of Investment Allocation
I'm not sure if Cannabis Science is a biotech firm, an oil and gas exploration company, an educational university or a pot distributor, the only thing I am certain of is that Cannabis Science is in the business of moving money from public investors to executives' pockets.
Companies like these survive because of the asymmetric information between insiders and outsiders. With over a million dollars spent on investor relations, and millions more on professional third-parties whose jobs are to fill the internet with positive advertisement and news pumps, it is easy to become a victim.
However, it is ultimately up to us to read to the SEC filings, educate ourselves and propagate accurate information about these potentially dangerous and risky investments.
I am working with many others to initiate a new SEC investigation of this company. I urge each and every one of you to report this company to the SEC and to seek representation if you have incurred damages from trading this security based on misleading information.
Disclosure: I am short CBIS. I wrote this article myself, and it expresses my own opinions. I am not receiving compensation for it (other than from Seeking Alpha). I have no business relationship with any company whose stock is mentioned in this article.
Editor's Note: This article covers one or more stocks trading at less than $1 per share and/or with less than a $100 million market cap. Please be aware of the risks associated with these stocks.