Introduction
I am a fervent believer that the equity portion of a retiree's portfolio should be built based on making decisions one company at a time. Therefore, unlike many investors, I tend to eschew basing my equity investing decisions on opinions or forecasts based on the overall valuation or level of the stock market. My long experience has proven to me that in every market their will be overvalued, fairly valued and even undervalued individual stocks always available. Of course, there will be more undervalued stocks during a raging bear market, and more overvalued stocks during a raging bull market. However, not all stocks will be valued according to the general level of the overall market.
In a previous article, I stated my position as follows: "I prefer to forecast the intrinsic values of individual businesses based on their earnings justified fundamental values. I hold this position because I believe that it is not only possible, but also quite practical to analyze a specific business and then make an intelligent forecast (not a guess) but a rational estimation, based on the assimilation of fundamental facts, as to its past, present and future intrinsic value. Importantly, I'm not suggesting this can be done with absolute perfect precision down to the precise penny, rather I am suggesting it can be done within a reasonable range of rational probabilities."
Nevertheless, and with the above said, I do not believe there is no value in having an understanding of the valuation level of the general market. Instead, I believe that a basic knowledge of the market's current valuation can alert the prudent investor to the practical opportunities or difficulties facing them regarding finding attractive equity investments. In this context, I do believe that the general market as measured by the S&P 500 is fully valued today, if not moderately overvalued. On the other hand, I do not believe that the overall market is dangerously overvalued, nor do I believe that good equity selections are not available today. Furthermore, I will add that market corrections can occur in all environments because of investor psychology dominating the short run.
Therefore, since a picture is worth a thousand words, I offer the following earnings and price correlated F.A.S.T. Graphs™ of the S&P 500 since 1996 (Note: that because of the long duration of this graph, that only every other year is typed in, although data for all years is plotted). The orange line represents a P/E ratio of 15, which serves as a long-term proxy for fair value. Consequently, since the black monthly closing stock price line is moderately above the earnings justified valuation line (P/E 15), we see a clear perspective of the S&P 500's moderate overvaluation today. Certainly, not at bubble levels, but the S&P 500 index is not cheap either.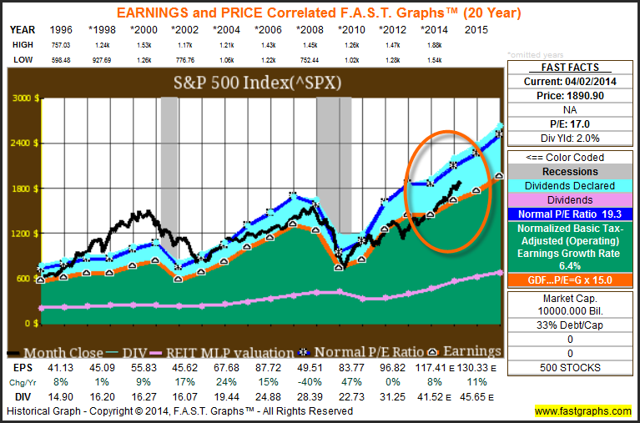 Finding Value in Today's Moderately Overvalued Market
Moreover, the overall stock market is much bigger than just the S&P 500. One company that has currently caught my eye is not in the S&P 500; instead it is in the S&P 400 mid-cap index. The company is Tupperware Brands Corporation (NYSE:TUP) and was founded in 1996. It was formerly known as Tupperware Corporation and changed its name to Tupperware Brands Corporation in 2005. The following earnings and price correlated graph since its founding paints an interesting historical picture. Following its initial debut, the company's earnings tumbled dramatically, and then were very flat until 2005 when earnings growth accelerated, as evidenced on the graph below.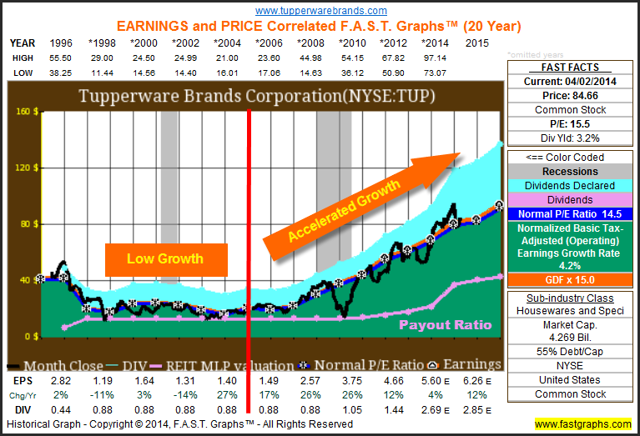 However, coinciding with their name change, the prospects for this dividend growth stock seem to have changed for the better. Since fiscal year 2005, earnings growth has accelerated averaging over 13% per annum. Later, I will present my views on why I believe this accelerated rate of growth has occurred, and why it is likely to continue. Furthermore, although this company has paid a dividend since inception, initially there was virtually no dividend growth as it paid a constant dividend of $.88/share from 1997-2008. Then, in 2009 their dividend was moderately increased to $.91/share. However, since 2010, we see evidence of a radical change in Tupperware Brands' dividend policy as its payout ratio and dividend growth rate have begun to increase dramatically.
The following excerpt and comment by Rick Goings -Chairman, Chief Executive Officer, from their 2013 earnings call transcript published January 29, 2014 provides some additional color on management's commitment to a strong dividend policy as follows:
"We're pleased with our full year cash flow. Came in at $263 million. Was way ahead of our guidance. And also particularly pleased in the way we're returning cash to our shareholders. And this combination of doing it by raising dividend and share repurchase, often on these individual meetings, you'll ask why we have this particular kind of mix. And it's -- it basically is for this reason. You don't do it all in dividends because I never want to have a time we reduce -- have to reduce the dividend, because things are happening in the world that you can't support it. And yet, if we feel that we get to a certain point and there's enough cash, we'll buy in shares. It gives us a relief valve and management the flexibility of what to do."
Additionally, the following slides from the same earnings call, further illustrates the management of Tupperware Brands' current posture on dividends: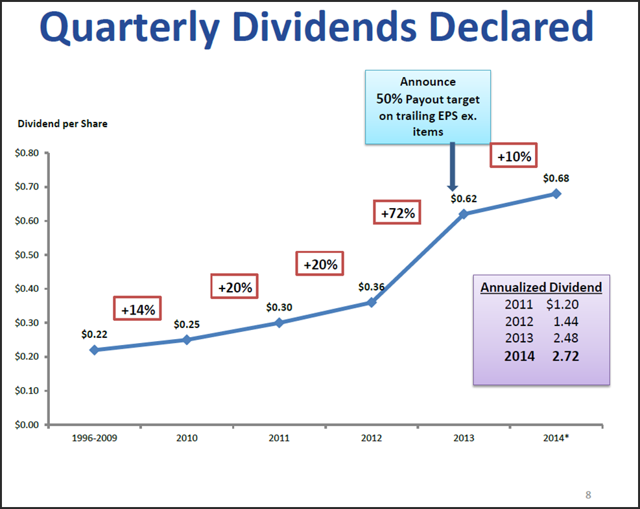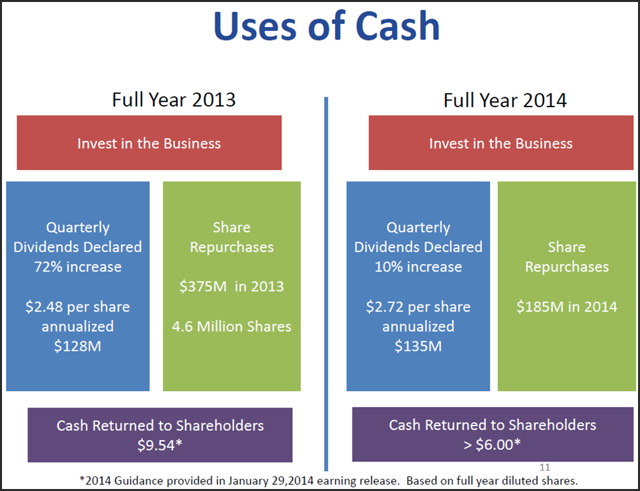 Additionally, the following FUN Graph (Fundamental Underlying Numbers) clearly illustrates that Tupperware Brands' management has recently been true to their word. The dark green line on the graph plots dividends (DV) illustrating the accelerated growth mentioned above. The lighter green line plots common shares outstanding (csho), showing that share count has fallen from 60 million shares outstanding in 2006 to 50 million shares outstanding by year-end 2013.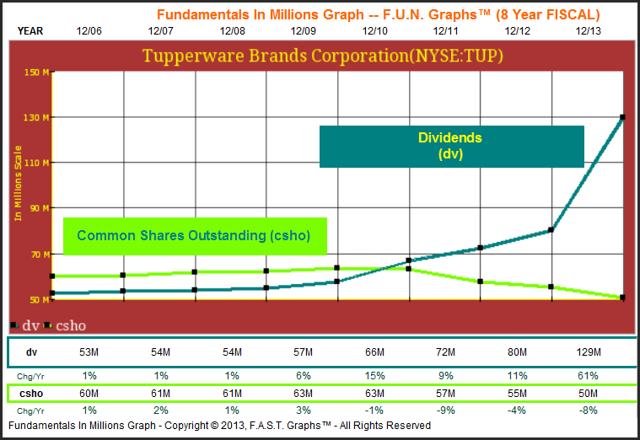 The Tupperware Story
According to research provided by Standard & Poor's Capital IQ:
"Tupperware Brands Corporation operates as a direct seller of products across multiple brands and categories. Their principal products include:

Tupperware: The company offers design-centric preparation, storage, and serving solutions for the kitchen and home. It also has an established line of kitchen cookware and tools, microwave products, microfiber textiles and gifts. In addition to its traditional kitchen and home lines, such as the Modular Mates and FridgeSmart containers and Tupperware Impressions serve ware, the Tupperware line has evolved towards truly lifestyle-oriented products and has leveraged its research and development expertise to bring new concepts to market, such as the Power Time Savers Extra Chef food processor system, which simplifies and speeds up everyday meal preparation. In 2012, key launches contemporized Tupperware classics, utilizes the company's design, engineering and manufacturing expertise to bring consumers the next generation of serving, fridge storage and microwave products. These include the Blossom serving range, Crystalwave Generation II microwave reheatable line, Tupperware MicroCook microwave cooking line and VentSmart fridge storage line.

Beauty: In Beauty, the company manufactures and distributes skin care products, cosmetics, bath and body care, toiletries, fragrances, jewelry and nutritional products.

New skin care products launched in 2012 include Bio Joven Ginseng Energizing Anti-Wrinkle Facial Treatment, Armand Dupree Revitalizing Anti-Wrinkle Treatment, Armand Dupree Eye Contour Gel, Armand Dupree Reductive Body Sculpting Gel and Herbal 3 Body Creams by Fuller Mexico; Regeneration Tight, Firm and Fill Extreme Tri-Peptide Complex, Regeneration Tight, Firm and Fill Extreme Lip Treatment and the BC Spa Bright line by BeautiControl; Nutrimetics Ultra Care+ Extreme Hand Repair, Nutrimetics Ultra Care+ Facial Rejuvenation Kit and Nutrimetics Restore Anti-Aging Serum by Nutrimetics; as well as the Sun Caring UV Protector Face Lotion and Natur Radiance Moistrich Base by NaturCare.

Numerous new fragrances were also launched, such as Armand Dupree Red, Tour Collection New York, Scappare Fly and celebrity fragrances, Espinoza Paz and Galilea, by Fuller Mexico; Sexy Red, BeautiControl Fancy, Summer Mist, BC Man and BeautiControl Spirit by BeautiControl; Pink Diamond, Avroy Shlain Delite Me, After Midnight Gold and Be Mine Tonight by Avroy Shlain; and Armand Dupree Acqua, Ornella Piü Fresh and Bella fragrances by Nuvo.

New additions to the company's cosmetics ranges include Armand Dupree Extra Glossy Lipstick from Fuller Mexico; BC Color Hydrating Lip Color from BeautiControl; Nutrimetics Hydra Brilliance Lipstick, Colour Impact Eyeshadow and Pure Touch Blush from Nutrimetics; as well as a color cosmetics line under the brand name Colorfull, which includes lipsticks, lip pencils, nail enamels, mascara, eye pencils and eye shadow, from Avroy Shlain.

Category expansions included baby care and jewelry by BeautiControl, with the BC Spa for Baby Collection and BC Jewelry which includes four jewelry collections, customized to correspond with BeautiControl's eBeauti Style online fashion diagnostic tool; and a family range, including Camphor Cream, as well as a Naturals range which includes body butters by Avroy Shlain.

Markets

The company operates its business under five reporting segments in three geographic regions: Europe (Europe, Africa and the Middle East), the Asia Pacific and the Americas. Tupperware Brands' products are sold around the world under eight brands: Tupperware, Armand Dupree, Avroy Shlain, BeautiControl, Fuller, NaturCare, Nutrimetics, and Nuvo.

Distribution of Products

The company's products are distributed worldwide primarily through the direct-to-consumer method, under which products are sold by an independent sales force to consumers outside traditional retail store locations. Products are primarily sold directly to distributors, directors, managers and dealers (sales force) worldwide.

As of December 29, 2012, the company's distribution system had approximately 1,800 distributors, 86,000 managers and 2.8 million dealers worldwide. In 2012, the company continued to sell directly, and/or through its sales force, to end consumers via the Internet. It also entered into a limited number of business-to-business transactions, in which it sells products to a partner company for sale to consumers through the partner's distribution channel, with a link back to the core business.

Research and Development

For the year ended December 29, 2012, the company incurred $18.9 million on research and development activities for new products."
Earnings and Price Correlated F.A.S.T. Graphs™: Tupperware Brands Corporation
The following earnings and price correlated graph with dividends vividly reveals Tupperware Brands as a powerful dividend growth stock post calendar year 2005. Clearly, there is more to the story than just a name change. After experiencing a modest down year of reported earnings in 2005, earnings growth has consistently grown each year since, averaging 15.5% per annum (not shown on the graph). More importantly, we see that stock price has correlated very closely to earnings over that time frame. In every occasion where price deviated from earnings justified value, over or under, it soon returned to its fair value (the orange line on the graph). But most importantly we see that the stock is currently fairly valued.
As to dividends, by reviewing the pink line on the graph, we see the first sign of growth in 2009 as referenced above, and then a clear acceleration from that point forward. We also see a vivid depiction of the company's change in dividend policy as expressed in the slide above. Note: the green shaded area below the pink line illustrates the portion of earnings (dividend payout ratio) paid out as dividends.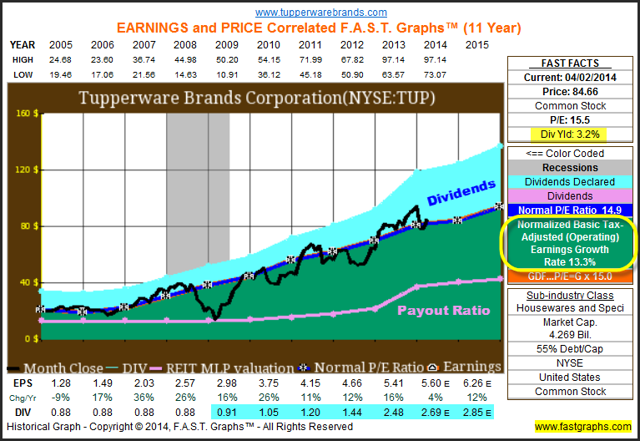 When examining the performance results associated with the above graph we discover the powerful performance that Tupperware Brands has produced on its shareholders' behalf since fiscal year-end 12/30/2005. Not only has capital appreciation dramatically exceeded the average company as measured by the S&P 500, total cumulative dividend income has also dwarfed the index dividend performance.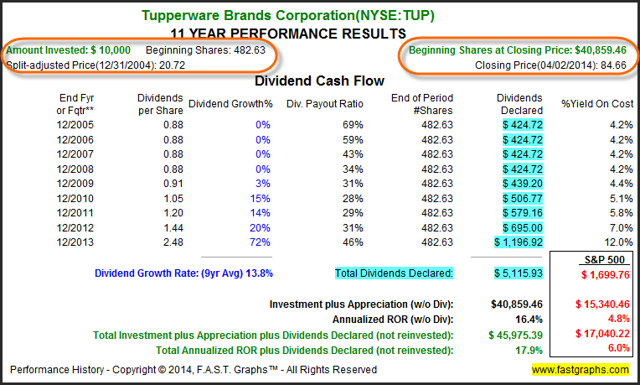 This next graph plots price to cash flow where we again see a high correlation between the two. More importantly, we also see that the company's recently strong cash flow generation supports and protects the dividend.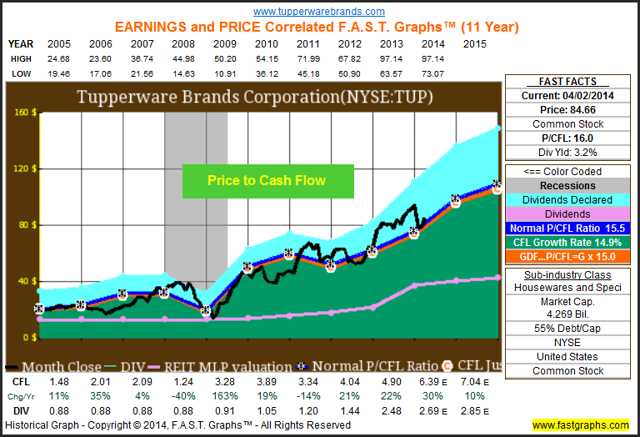 Tupperware Brands : Thesis for Future Growth
Based on the historical evidence presented above, Tupperware Brands appears to have entered a strong growth phase since 2005. I believe that insights into both the company's recent past and future growth prospects can be attributed to their achieving greater geographic diversity. The following graphic taken from their most recent annual report illustrates Tupperware Brands' deeper penetration into the opportunistic emerging markets. Especially noteworthy is the growth in the Asia Pacific and Latin American markets.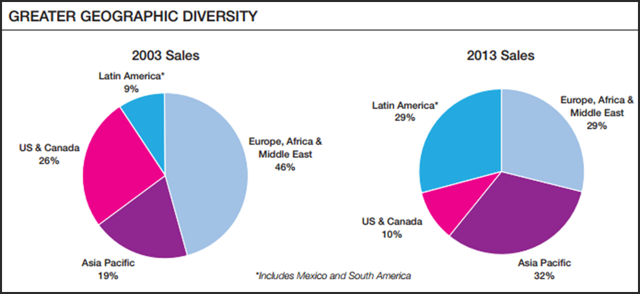 Consequently, the balance of Tupperware Brands' prospects for future growth has shifted greatly to emerging markets as evidenced below. I believe this augurs well and supports the company's prospects for continued above-average growth of earnings and dividends. As the company states on their website:
"For over 60 years Tupperware Brands has made a difference in the lives of women around the world by offering an independent business opportunity."
Therefore, it seems logical that providing business opportunities to women in emerging markets represents a great long-term growth opportunity. Tupperware Brands has evolved into a true multinational company, which has greatly expanded their opportunities for growth.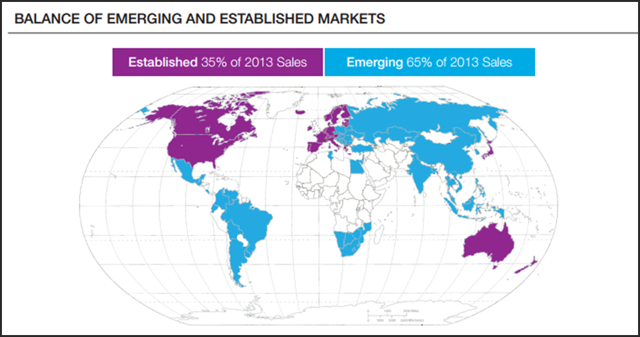 Tupperware Brands' management seems both cognizant of and focused on the enormous opportunities for growth that the emerging markets potentially offer. Management anticipates that future long-range growth will be low in established markets, but grow by 10% in emerging markets. The following two slides illustrate management's views and articulate the growth that Tupperware Brands has been achieving in these important markets.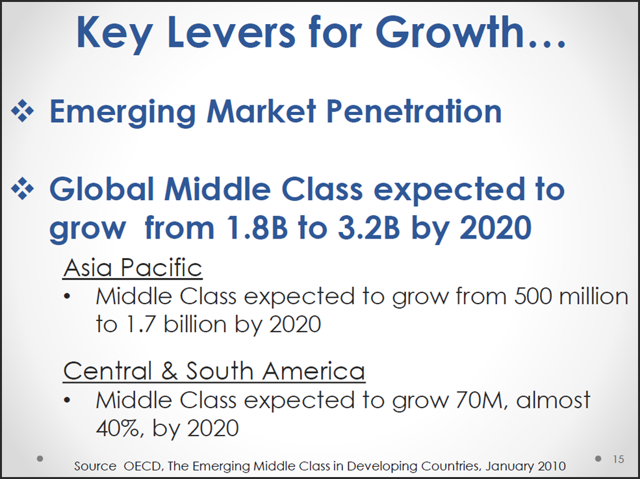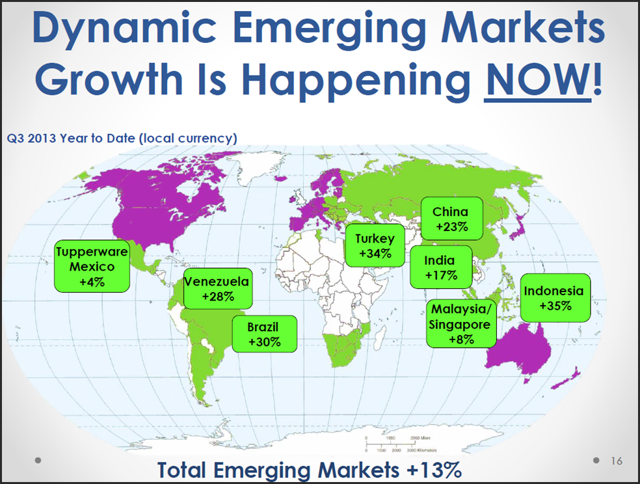 However, Tupperware Brands' recent and future growth potential is not just limited to new markets. Product expansion and innovation are also major contributing factors. Beauty products and offerings now comprise a significant and growing portion of their sales and growth.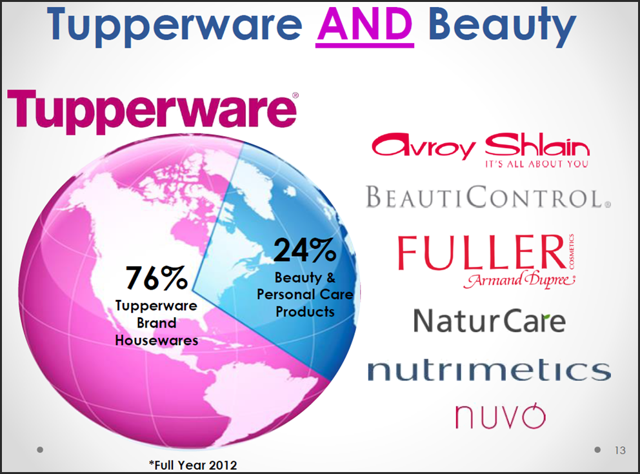 In addition to product extensions, product innovation has also generated significant sales growth. I believe this is a testament to management's understanding that innovation is a key contributing factor to future success. The following slide validates my contention.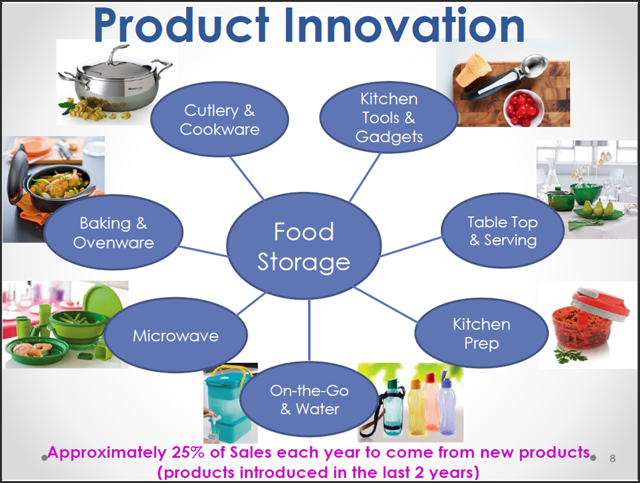 Tupperware Brands- Summary of Positive Attributes
· For the seventh consecutive year, Fortune recognizes and names Tupperware Brands Corporation one of the Most Admired Companies In the World
· Earnings growth and dividend estimates appear reasonable
· Had a frozen dividend for quite some time - but recently started to increase it (never cut since 1996)
· Solid current dividend yield exceeding 3%
· Quite consistent above-average earnings growth since 2005
· Reducing share count - Management estimates a 4% to 5% earnings benefit in 2014
· Expect to buy back 4% of company in 2014 (authorization to buy back ~20% of current)
· Cash returned to shareholders expected to be greater than $6 (7.2% cash return yield)
· Targeting 50% payout ratio - future Div growth likely to be in line with earnings growth
· Use of independent sales force
· Balanced between the world - Europe / Asia / North America / South America
· Only 14% of sales come from Tupperware North America
· Only 9% of sales come from US
· Very strong growth in the less developed countries - makes sense as a longer-term trend
· Long range, expect double-digit EPS growth, low growth in established markets, 10% growth in emerging (Example, 70% of selling in Italy is through parties)
· Established Markets = 35% of sales, Emerging Markets = 65% of sales
· 76% of sales from Tupperware Brand Housewares
· 24% of Sales from Beauty & Personal care Products
· Direct sales force model = no rent, minimal advertising
· Strong emerging market middle class expected to growth robustly
Tupperware Brands - Summary of Negative Attributes
· Direct sales force model potentially associated with MLM (multilevel marketing)
· Very low book Value (~$5 / share)
· Paying out roughly half of profits leaving little room for expansion
· Moderately high debt to capital ratio
Summary and Conclusions
As the title of this article indicated, Tupperware Brands might just be the perfect dividend growth stock for retirement portfolios in today's low interest rate environment for the following reasons. First of all, the company's current dividend yield of over 3% meets the minimum requirement that many dividend growth investors look for. The current P/E ratio just slightly above 15 based on blended earnings (a weighted average of the most recent earnings reported and the most recent forecast earnings) indicate sound current valuation. This is especially attractive given the moderate overvaluation of the general market (S&P 500) as discussed in the introduction.
Additionally, the management team with a renewed focus on returning value to shareholders through dividends and share buybacks supports future growth and total return potential. However, I believe the extraordinary marketing opportunities available from developing markets represent the greatest support and prospects for continued above-average earnings and dividend growth.
Consequently, it appears that Tupperware Brands at its current quotation offers everything that the prudent dividend growth investor might desire. High-yield, solid expectations for growth and sound current valuation all indicate it as an attractive research candidate given today's moderately frothy stock market. Therefore, it potentially offers a continuation of above-average total return and a growing dividend income yield that appear to be available at reasonable levels of risk.
As a cautionary note, the company announced it will release its first quarter 2014 earnings at 10 AM April 23; consequently, prospective investors might be wise to wait and review the next earnings report before starting a position. As always, further research and due diligence is suggested.
Disclaimer: The opinions in this document are for informational and educational purposes only and should not be construed as a recommendation to buy or sell the stocks mentioned or to solicit transactions or clients. Past performance of the companies discussed may not continue and the companies may not achieve the earnings growth as predicted. The information in this document is believed to be accurate, but under no circumstances should a person act upon the information contained within. We do not recommend that anyone act upon any investment information without first consulting an investment advisor as to the suitability of such investments for his specific situation.
Disclosure: No position at the time of writing. I have no positions in any stocks mentioned, and no plans to initiate any positions within the next 72 hours. I wrote this article myself, and it expresses my own opinions. I am not receiving compensation for it (other than from Seeking Alpha). I have no business relationship with any company whose stock is mentioned in this article.