Share price of Altria (NYSE:MO) has risen by almost 10% since reaching its recent low in early February, outperforming a 7% return for S&P 500 Index over the same period. In my view, the share price has an ample room for further appreciation as the company's fundamentals and growth prospects continue to look very solid and the stock valuation remains compelling on a relative basis.
Altria has long been a strong cash flow generator. Over the past 3 years, the company has managed to grow its operating cash flow by 10.5% CAGR, exceeding revenue CAGR of 3.1%. Operating cash flow margin expanded from 21.5% in 2011 to 24.8% in 2013 during the period largely driven by expansion in operating income margin from 40.1% in 2011 to 42.2% in 2013 thanks to operating leverage and steady operating income to cash flow conversion. Given the business' limited capex requirement, Altria was able to generate 20%+ free cash flow margin in the past 3 years, which allowed the company to increase dividend by 8.2% CAGR since 2010 and buy back approximately $3.0B value of shares between 2011 and 2013.
Looking forward, I expect the superior cash flow performance to continue in 2014 and 2015 given the reasons below:
The development of Altria's Smokeable Products segment has been very solid. In 2013, market share of the Marlboro brand gained additional 0.1% and reached 43.7% in the US market. With the help from Marlboro NXT and Black in capturing share in young-adult market, I believe the Marlboro franchise should continue to see healthy market share increase over time. In addition, management's continued cost containment effort should support a better margin performance for the Smokeable segment.
On the Smokeless front, volume growth continued to be strong at 5% in 2013. Given increasing limitation of smoking in public areas and consumers' increasing awareness of lower healthy risk from Smokeless products, I believe the volume growth has more room to go. Further, Altria has done well in price realization for the Smokeless segment. The company was able to implement a 6% price increase in 2013. As the volume momentum continues to build, I expect a better price realization ahead, which would benefit the segment's margin performance.
I have performed an analysis to gauge Altria's capacity to sustain further dividend growth and my conclusion is very positive. My calculation is based on current consensus revenue estimates for 2014 and 2015, which call for a CAGR of 2.9% from 2013 to 2015 and appear to be fair in my view. I applied operating cash flow margins of 25.5% and 26.3% for 2014 and 2015 (implying a margin expansion of just 1.5% from 2013), respectively. These assumptions are based on current consensus estimates which call for an operating margin expansion from 1.5% to 3.5% over the two years and the steady EBIT to operating cash flow conversion rate (i.e. the conversion rate trended within a tight range between 50% and 52% in the past 3 fiscal years, meaning that EBIT margin expansion should translate well into operating cash flow margin expansion). I assumed capital expenditure to stay at $175M level, which is notably above the average of $120M in the past 3 years as I have factored in higher investments for E-cigarette development. Based on current consensus EPS estimates for 2014 and 2015 ($2.56 and $2.76), management's target dividend payout ratio of 80%, and the most recent share count (approximately 2.0B), dividend payment in 2014 and 2015 should be about $4.0B and $4.3B, respectively, representing a growth of 9.4% in 2014 and 8.9% in 2015. Aside from the dividend spending, Altria would still have $1.0B in cumulative cash surplus in the 2 forecast years, which can be deployed for share repurchase (see chart below).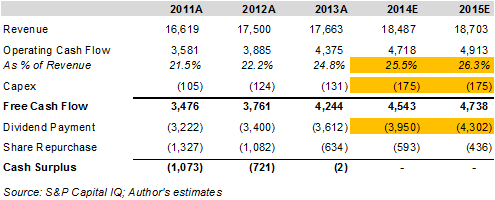 At ~$37, Altria trades at 13.6x consensus 2015 EPS estimate, which is at 16% discount to the same multiple of S&P 500 at 16.1x. In my opinion, this valuation gap should be buy signal provided that 1) Altria's consensus long-term earnings growth estimate of 8% is close to the average estimate of 9% for S&P 500 companies; 2) the company's strong profitability margin and free cash flow margin are well above market averages; 4) the stock offers a 5.1% dividend yield, compared to S&P 500's average at just 1.9%; and 5) management is also committed to share repurchase. It is noted that Altria's valuation was fairly in line with the market prior to 2014 (see chart below).

Altria is also inexpensive compared to its US peers. The stock's 2015 forward EV/EBITDA multiple trades at 4% premium over peer average while its 2015 forward P/E multiple is at 7% discount. The relative valuation appears to be reasonable as Altria's long-term EPS growth potential, profitability margins, and dividend yield are fairly comparable to peer averages (see chart below).

In conclusion, Altria is a very solid dividend play with high fundamental stability and good visibility on the healthy dividend growth prospects. Investors are recommended to accumulate some shares at the current level as the inexpensive valuation still presents a good entry point.
All charts are created by the author, and data used in the article and the charts is sourced from S&P Capital IQ, unless otherwise specified.
Disclosure: I am long MO. I wrote this article myself, and it expresses my own opinions. I am not receiving compensation for it (other than from Seeking Alpha). I have no business relationship with any company whose stock is mentioned in this article.