Sales of the Arena Pharmaceuticals (NASDAQ:ARNA) anti-obesity drug Belviq have closed out the quarter on a positive note. Sales improved throughout the quarter and are pacing well ahead of the previous quarter. Though this week's sales only take us to March 28th, there is enough here for us to assess the sales activity, project some revenue, and look to the pace. With television ads rumored to be starting in a couple of weeks, and a bigger sales force following close behind that, there is potential here for us to see continued sales growth.
Industry channel checkers IMS Health and Symphony Health both showed script sales in positive territory this week. IMS was up but relatively flat, while Symphony showed a week over week gain of about 5.3%. My IMS Health adjusted sales stand at just over 7,800 for the week, a bit over 84,000 for the quarter, and about 220,000 since launch. Meanwhile I have Symphony at just over 9,100 for the week, just under 95,000 for the quarter, and at about 240,000 since launch. Please bear in mind that IMS and Symphony track prescription sales to consumers and not warehousing sales.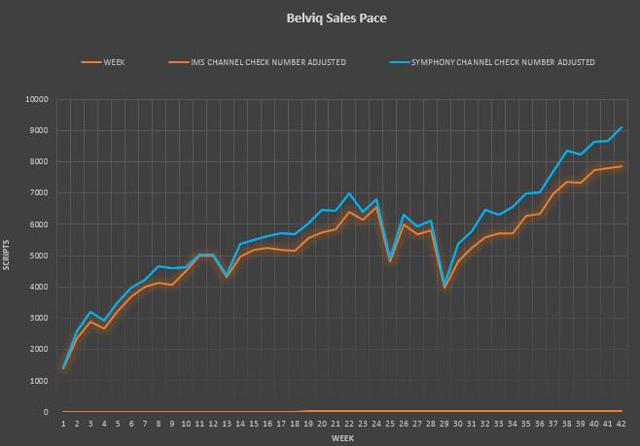 Chart Source - Spencer Osborne
Looking at revenues, we can see that the trajectory of Belviq sales is tracking well. The sales of Belviq continue to climb in an increasing fashion, adding to the cumulative sales estimates. The chart below represents cumulative sales since launch. As you can see, overall sales are now just below $45 million at the 42nd week of sales. In 10 weeks we will be able to assess gross sales for the first year.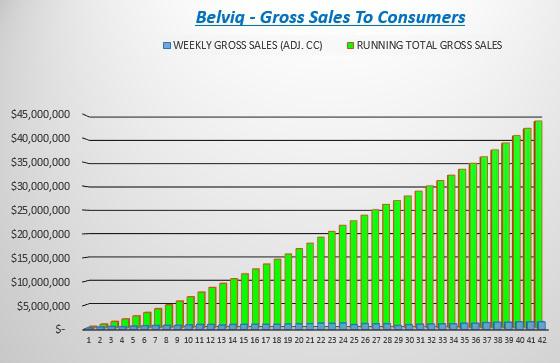 Chart Source - Spencer Osborne
If we shift focus to the current quarter and year we can assess the path of Belviq as a more established drug on the market. What we are seeking here is sales growth at a pace that can deliver a minimum of $100 million in sales and hopefully about $150 million in sales. In my opinion, if sales can top $150 million in 2014, it would be a big positive for the Arena stock and speak volumes regarding the potential. This is especially true considering that in many circles this drug is still unknown. In the chart below note that gross sales are now pacing above $1.5 million per week. On an annualized basis, sales of $1.5 million would equate to $78 million. Growth that is simply modest should deliver $100 million in sales without much pressure.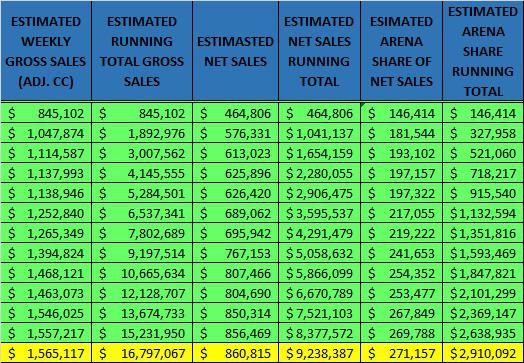 Chart Source - Spencer Osborne
On a quarter over quarter basis things are looking quite positive. This dynamic is mostly because of the fact that the holidays in Q4 of 2013 had a direct impact on sales. The chart below shows that impact rather nicely. Overall, sales in Q1 were up 28% over last quarter with consumers buying 15,000 more bottles of Belviq during this most recent quarter. Quarter over quarter growth excluding holidays seemed to pace at about a 17% gain. This is respectable considering that the television ads have not yet started.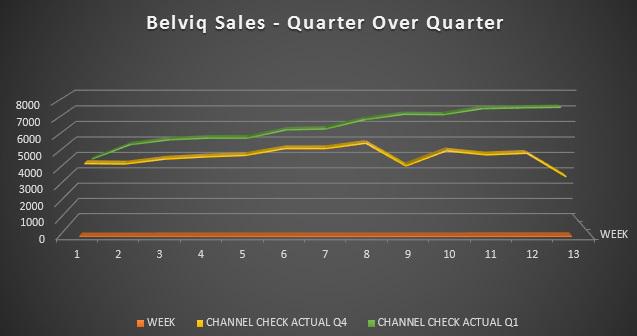 Chart Source - Spencer Osborne
Looking at the overall pace of prescription sales vs. an informal company guidance that equates to about $100 million, and my expectations of $150 million shows that Belviq is well paced for both. My IMS and Symphony estimates are both tracking above a pace for $100 million. Symphony sales are tracking just above the $150 million outline, while my IMS estimate is just below the $150 million pace. Again, television advertising and additional sales reps should help ensure that growth follows a good trajectory. Please note that the pace for $150 million is a reasonable pace and not something that would translate to television ads carrying a huge impact or spike. The difference between $100 million in sales and $150 million is about 250,000 bottles of Belviq.

Chart Source - Spencer Osborne
The big picture here is that sales tracking at the current pace are indeed good enough to deliver at least $100 million in gross sales this year. At this point the street should be expecting these numbers. If sales can increase above the $150 million pace and remain there, we could see the equity be rewarded. One current challenge is seeing Belviq sales pass the 11,000 script plateau that Qsymia has been stuck at for weeks. Vivus' (NASDAQ:VVUS) Qsymia has been on the market longer, but lacks a strong direct to consumer presence. In theory, the marketing efforts of Eisai (OTCPK:ESALY) should allow Belviq sales to avoid a plateau. Thus, step one is surpassing the 11,000 threshold, step two is continuing growth, and step three is avoiding a plateau of its own. As sales demonstrate that some of the worries with Qsymia do not apply to Belviq, the street will more easily reward the equity.
Near term catalysts include television ads, which I feel will generate an "excitement push" for the equity, and any approvals in other countries. Belviq has long standing applications pending in Canada, Mexico, Switzerland, and a more recent application in Brazil. If approval in another country happens, the sales pace will accelerate faster. Thus, we want to see U.S. sales deliver the goods and other sales on top of that be an added benefit. Stay Tuned!
Disclosure: I am long ARNA. I wrote this article myself, and it expresses my own opinions. I am not receiving compensation for it (other than from Seeking Alpha). I have no business relationship with any company whose stock is mentioned in this article.
Additional disclosure: I have no position in Vivus or Eisai