Lululemon Athletica Inc. (NASDAQ:LULU) was once a preferred choice among yoga enthusiasts and growth investors. However, a run of poor choices such as banning customers who resell clothes online and making conspiracy products like see-through pants that led to 17% of those being recalled have forced the customers to move away to competitors. The company's share price fell 18% in one year. Lululemon completed its fiscal year 2013 this week and gave quarterly results that do not deserve applause but annually speaking the company showed improvement.
In this article, we will analyze recent performance and then have a look at how Lululemon is rekindling the spark it once had.
The Quarter

Source: Earnings Release
Total revenue for the period jumped by 7% to $521 million despite having one less week than the corresponding quarter in 2012. The increase was driven by the addition of 43 net new corporate stores. Comparable store sales declined by 2% but total comparable sales including physical stores and e-commerce increased by 4%. The company observed a strong trend in consumers buying online as DTC sales improved by 25% this quarter.
While, quarterly results gave a mixed impression the annual sales figure was satisfactory with comparable sales rising 4% and DTC receiving an additional boost of 33%.
Gross margin fell 300 bps to 53.5% as a result of product margin decline nearing 270 bps attributed to a shift in product mix, lower seasonal margin items, increased air freight usage, higher inventory provisions, and bad foreign exchange due to weaker Canadian and Australian currency. The rest came from higher fixed expense that included items related to occupancy, depreciation as well as product and supply chain.
Annually, gross margins also followed a similar downwards trend. While SGA fell 120 bps as a percentage of sales this quarter further analysis showed that the improvement came from a nonrecurring impact of a $9.1 million reversal and true up of management incentive bonus and stock based compensation together with a foreign exchange gain from Canadian operations. So excluding that, we would have seen a poorer performance due to these costs, which of course may persist in the future.
Adding everything up brought a diluted EPS figure that was same as that of the corresponding quarter in 2012. The figure of $0.75 wasn't very important since investors received no dividends. All the returns are based upon price appreciation that, I believe will receive an upward momentum soon given the following reasons.
The Future
Lululemon Does Not Have a Strong Presence Abroad
The company currently has a total store count of 254 and most of these are located within North American and Australia. This is a small number even if you consider the domestic presence. That being said, there is potentially a lot of room for Lululemon to develop outside and within the U.S. and it has begun this process. The company is making its grand entry in Europe by opening its first store in London next week. Marketing activities have already started which include hosting yoga at the Royal Opera House. The response has been quite impressive with some 700 people queuing up for the event two hours before it started. This will definitely add a boost to the top line as the company expands more in the upcoming period. To establish additional popularity there are complementary yoga classes being carried out throughout the city of London. This will likely attract demand as Lululemon opens another store there by the end of fiscal year 2014.
Additionally, there is robust evidence of demand both in Asia and Canada with several countries ready to open new stores. Lululemon has currently sent its Asian sector managers to manage the Vancouver based openings, the company is presently involved in. An important point to note is that the increase in DTC sales, I talked about above could be explained by the popularity of the new stores that Lululemon is opening. Word of mouth spreads and this is likely to boost online sales.
Secondly, Lululemon has finally learned a lesson and is correcting the mistakes it made. The company will no longer ban online shoppers who resell items. This will give a boost to the sale of old as well as new products the company is selling online. The firm introduced its new & Go women's clothing line recently that has been well received by the market and six of the 12 products available online sold out in less than a day. This reveals two things: first, that Lululemon's brand is still very pertinent and is not disappearing and second, the new management employed by the company possesses the expertise needed to deliver what consumers like.
Lululemon is also promoting their business by building relationships with yoga instructors and sponsoring workshops, classes, and similar activities. These factors mean that the company can get out of the depressing share price very soon. It holds enough cash resources and has no debt so it can carry out its recovery and expansion plans without worries. Last year, Lululemon ended the year with nearly $700 million in cash and equivalents.
Bottom Line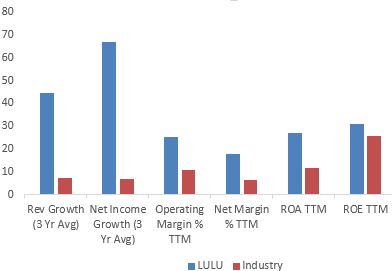 Source: Morningstar
Lululemon is already successfully ahead, if we see it from an industry wide perspective. Last year, it had a net margin ratio 18%, three times more than the industry (see graph above). Return on assets also stood at more than double the industry average together with return on equity. The company operates at zero debt level that makes all the above prospects even more achievable given no financial constraint. Based upon that I think Lululemon is a good investment. Therefore, I recommend buying the stock.
Disclosure: I have no positions in any stocks mentioned, and no plans to initiate any positions within the next 72 hours. I wrote this article myself, and it expresses my own opinions. I am not receiving compensation for it (other than from Seeking Alpha). I have no business relationship with any company whose stock is mentioned in this article.