Deeply-discounted Volaris (NYSE:VLRS) with the 8.7x forward P/E multiple has already been a great value for me. Today, I find even a better stock in a simple nut industry selling at only 8.25x P/FCF. Instead of the 8.7x forward P/E multiple demanded by VLRS, investors are paying an even cheaper 8.25x FCF when buying this undervalued company, John B Sanfilippo & Son (NASDAQ:JBSS). In other words, it only takes 8.25 years for JBSS to return all the money back to you as a shareholder. As one of the Warren Buffett rules state, "Never invest in a business you can't understand." I am positive that almost all investors should have no trouble understanding JBSS.
Business Overview
JBSS is one of the largest nut processors in the world with sales in excess of $730 million. It has brands, such as Fisher, Orchard Valley Harvest, and private brands. It has expertise in all nut types with 18% market share in peanuts, 16% in pecans, 19% in cashews and mixed nuts, 12% in walnuts, 17% in Almonds.
JBSS operates five high-capacity, state-of-the-art production facilities, four of which are strategically located in primary nut growing regions. The five processing facilities include the Elgin headquarters, peanut processing plants in Bainbridge, GA and Garysburg, N.C.; a pecan processing plant in San Antonio; and a walnut and almond processing plant in Gustine, CA. The multiple locations provide both manufacturing and distribution capabilities to better serve their customers.
Fisher Recipe continues to gain momentum with nut pound volume and sales dollars increased by 22% and 5% in the second quarter of 2014 and last year, respectively. The Fisher brand has continued its sponsorship of the Food Network and celebrity chef Alex Guarnaschelli. The program includes branded vignettes on the Food Network, print advertising in Food Network Magazine and other publications, as well as social media effort.
For Orchard Valley Harvest brand, it is non-GMO project verified, and the following sheds more color on this brand:
Orchard Valley Harvest brand decreased 13% in dollars and 27% in pound sales, mainly due to a holiday promotion that was not repeated at a major customer. Although our volume was down in the quarter, our sales and marketing teams were successful in executing 2 critical elements in building our Orchard Valley Harvest brand in the first half of fiscal 2014. The team increased distribution by over 20%, gaining new retailers around the country. And although the pound shift declined, unit sales velocity actually increased by 1.4% in the first half of the fiscal year. The early results on the grab and go smaller sizes in key retailers are positive which we will leverage for future distribution gains.
The management of JBSS stressed the importance of expanding its retailer footholds and the profitability in the "grab and go smaller size" packages for the Orchard Valley Harvest brand, which I believe is strategically importance for JBSS in the long run.
Financial and Business Strengths
Since JBSS can generate healthy free cash flow per year, it can utilize the proceeds to reduce outstanding debts as shown below: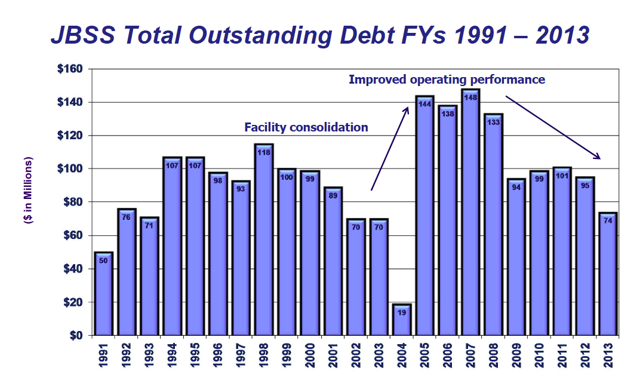 Source: Company Presentation
JBSS is a forward-looking company. Back in March 2010, JBSS has already realized how to deal with the challenge of planning and forecasting for more than 3,500 product stock-keeping units or SKUs. The leadership team had the vision to see that reducing forecasting error was one of the fastest paths to carrying less inventories, and thus key to increasing profitabilities. Hence, JBSS implemented Demand Foresight's best-of-breed demand planning and supply chain management system, which had executive-level forecasting capabilities with real-time and actionable insight for multiple facilities, product lines and customers.
In addition, JBSS understands the importance of social media for its brands, and the following is its achievements: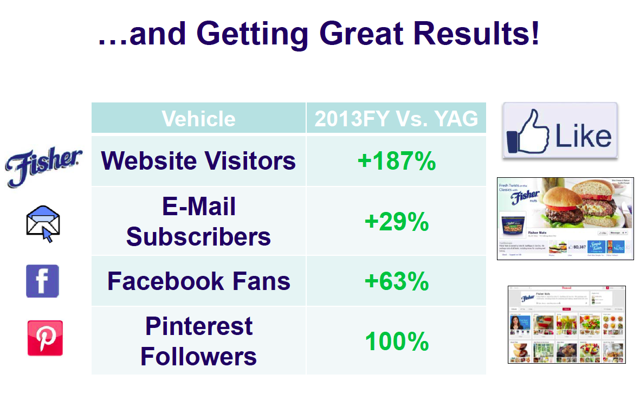 Source: Company Presentation
Growth Potential
As Jeffrey T. Sanfilippo, the CEO and chairman, said below:
A key highlight of the second quarter and the first half of the fiscal year is the significant increase in sales volume measured as pounds sold. In Q2, sales pounds increased 7.1 million, or 12%, and sales volume increased 14.1 million pounds, or almost 13% compared to the first 26 weeks of fiscal 2013.
There is great potential for positive momentum in the nut industry as illustrated by a recent Harvard study, published in the New England Journal of Medicine, which describes the health benefits associated with nut consumption. Health and wellness continue to be a significant factor in consumer purchase behavior around the world, and we believe information from research such as the Harvard study, is contributing to long-term global growth in the stack, recipe, produce, and ingredient nut categories.
The sales volume, which increased by 13% year-over-year, is a testimony to the uptrend in nut consumption. We can also infer the increasing demand in nut consumption by witnessing the uptrend in the total bearing acreage for tree nuts since 2010. In fact, it is natural for consumers to consume more nuts since more research studies have already indicated the health and wellness benefit of nut consumption.

Source: Cornell.edu
In order to ensure sufficient nut supplies, JBSS is vertically integrated. As the 10k excerpt below shows:
We are generally vertically integrated with respects to pecans, peanuts and walnuts and, unlike our major retail competitors who purchase nuts on the open market, we purchase a substantial portion of our pecans, peanuts and walnuts directly from growers.
We sponsor a seed exchange program under which we provide peanut seed to growers in return for a commitment to repay the dollar value of that seed, plus interest, in the form of farmer stock inshell peanuts at harvest. Approximately 51% of the farmer stock peanuts we purchased in fiscal 2013 were grown from seed provided by us.......Our peanut seed is not genetically modified
As consumers consume more nuts, it is wise for JBSS to sponsor seed exchange programs and vertically integrate; thus JBSS can secure its supply sources.
In addition, JBSS stated global expansion as one of the top three strategies management would focus on. JBSS aims to be a leader in health and wellness nut/fruit snacks in key international markets, which include Russia, U.K., Saudi Arabia, Dominican Republic, Colombia, Mexico, Panama, China, South Korea, Japan, Malaysia and Australia. It has already made a goal to double its international market sales from $34 million in 2013 to $70 million by 2016. With the capacities of JBSS to produce nuts, it is logical for JBSS to expand globally to fulfil the demand in the U.S. tree nut exports. The chart below shows the significant growth in the U.S. tree nut exports from 2007 to 2011. In my opinion, this growth trend should continue since the population around the world become more informed about the health and wellness benefit of nuts. As consumers become more and more health oriented, nut consumption should be able to maintain its positive momentum.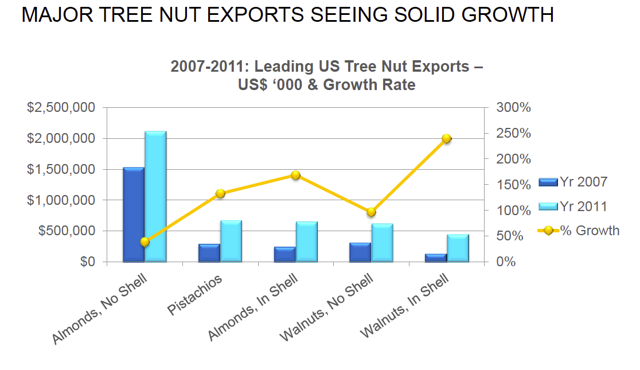 Source: Agfoodsafety.org
JBSS also understands the importance of economies of scales in the nut industry. From 2004 to 2007, JBSS spent in excess of $100 million to develop a state-of-the-art facility in Elgin, IL while closing a handful of small manufacturing facilities around Chicago. Nowadays, JBSS reaps the benefits of being competitive in the private label business by having a world class facility with 1 million square feet, comprehensive allergen prevention programs, robust quality systems, as well as being organic certified.
Buy alongside the Gurus
As shown below, Jim Simons from Renaissance Technologies LLC and Pioneer Investments both held stock in JBSS.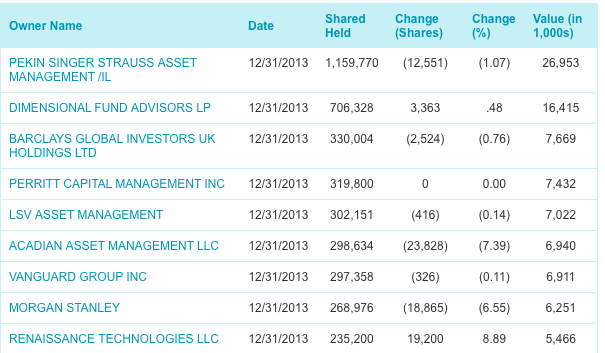 Source: NASDAQ
Analysis under Different Scenarios
The Base Case Scenario
| | |
| --- | --- |
| In Millions of USD (except for per share items) | Base Case |
| Revenue | 763.70 |
| Cost of Revenue, Total | 638.94 |
| Gross Profit | 124.76 |
| Selling/General/Admin. Expenses, Total | 81.47 |
| Operating Income | 43.28 |
| Interest Expense | 4.70 |
| Rental and Miscellaneous Expense, Net | 1.50 |
| Income Before Tax | 37.08 |
| Tax | 14.22 |
| Income After Tax | 22.86 |
I make the following assumptions for my base case scenario: revenues increase by a 4% normalized rate annually; gross profit margin stays at the 2013 level of 16.34%; SG&A stays at the 2013 level of 10.67%(while SG&A had been 10.57% in 2012); tax will be 38.36%, which has already been the highest for the past 4 years. My net income comes to $22.86 million with the implied 11.2x P/E and 8x P/FCF. Under this scenario, investors can expect to get their money back in 8 years and make a nice return.
The Best Case Scenario
| | |
| --- | --- |
| In Millions of USD (except for per share items) | Best Case |
| Revenue | 778.39 |
| Cost of Revenue, Total | 643.42 |
| Gross Profit | 134.97 |
| Selling/General/Admin. Expenses, Total | 83.04 |
| Operating Income | 51.93 |
| Interest Expense | 4.70 |
| Rental and Miscellaneous Expense, Net | 1.50 |
| Income Before Tax | 45.73 |
| Tax | 17.54 |
| Income After Tax | 28.19 |
For the best case scenario, I don't want to be too aggressive in my assumptions as JBSS is a more or less mature company with a stable business model. As a result, I simply increase the revenue growth rate to 6% annually and the gross margin to 17.34%. The rest of the assumptions remain the same as my base case scenario. My net income now becomes $28.19 million with a 9.14x P/E and 6.84x P/FCF. Under this bullish scenario, investors can even expect to get their money back in less than 7 years.
The Worst Case Scenario
| | |
| --- | --- |
| In Millions of USD (except for per share items) | Worst Case |
| Revenue | 697.61 |
| Cost of Revenue, Total | 610.41 |
| Gross Profit | 87.20 |
| Selling/General/Admin. Expenses, Total | 74.42 |
| Operating Income | 12.78 |
| Interest Expense | 4.70 |
| Rental and Miscellaneous Expense, Net | 1.50 |
| Income Before Tax | 6.58 |
| Tax | 2.52 |
| Income After Tax | 4.06 |
For the worst case scenario, I assume that revenues decline by 5%. However, I would like to point out that the CAGR of revenues for the past decade has been 5.75%. What's more, I utilized the worst gross margin in the past 4 years (12.5%) to come up with my $4.06 million net profit. Even under these stringent assumptions, JBSS is capable of generating $4.06 million net profit and $13.57 million FCF. Relatively speaking, if the worst scenario does become a reality, the competitors of JBSS might undergo even more severe losses. This in fact might create opportunities for JBSS to steal market share and strengthen its market position in the nut industry since JBSS has been financially prepared to weather any macro adversities.
Valuation
JBSS achieved consistency in growing its revenues and EBITDA per pound sold as below: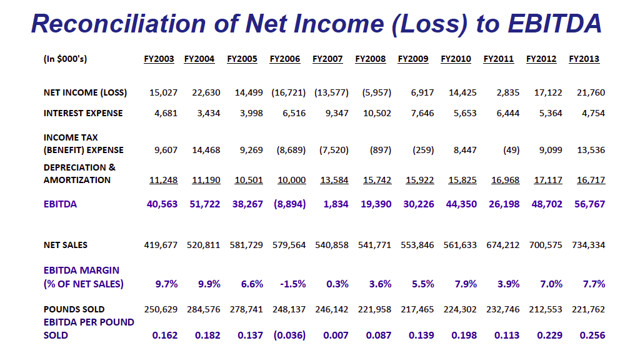 Source: Company Presentation
Based on peer comparisons below, JBSS has the lowest 5.4x EV/EBITDA.
| | |
| --- | --- |
|   | EV/EBITDA |
| DMND | 25.08 |
| LNCE | 12.94 |
| HSH | 9.84 |
| THS | 11.74 |
| SHVTF | 13.26 |
Source: Yahoo Finance
| | | | | | |
| --- | --- | --- | --- | --- | --- |
|   | 2013 | 2012 | 2011 | 2010 | 2009 |
| Net income | 21.76 | 17.12 | 2.84 | 14.40 | 6.90 |
| Depreciation and amortization | 16.72 | 17.12 | 16.97 | 15.80 | 15.90 |
| Cap Ex | (7.21) | (7.53) | (5.20) | (8.30) | (5.90) |
| FCF | 31.27 | 26.71 | 14.61 | 21.90 | 16.90 |
| Average 5-year FCF | 22.28 |   |   |   |   |
Source: 10k
From a free cash flow perspective, the average 5-year FCF is $22.28 million. However, due to the positive momentum underneath the nut industry, the competitiveness advantage of JBSS with the $100 million state-of-the-art facility, and the uptrends in both the net incomes and EBITDA per pound sold, I am confident that JBSS can at least maintain its $31.27 million FCF in 2013. This will result in an attractive 8.25x P/FCF. When investors realize the strengths and potential of JBSS, I believe that they are likely to pay around 11x P/FCF. This will result in excess of 30% upside potential for JBSS shareholders.
Risks
First, as a small cap stock with about $258 million market capitalization, JBSS can experience high volatility in price fluctuations, and the daily trading volume is only around 33,000 shares. Second, JBSS has risks related to the volatility in the cyclical nut industry. JBSS experienced low single digit gross margins in the past when nut prices were very high. Currently, JBSS trades at around normalized 16% gross margin levels. Third, forward estimates show steady-to-growth in FCF and rising net incomes, which could end up being aggressive as revenues and margins could decline. Fourth, due to different share classes of ownership in JBSS with respect to voting rights, the Sanfilippo family and the Valentine family both own virtually all the company's voting rights. Nevertheless, the management has demonstrated discipline in acquisitions, return of shareholders' money through special dividends, and paydowns of debt. Based on the management track record, I believe that JBSS has been managed properly.
Great Strategic Moves
From a strategic point of view, I enthusiastically support what JBSS has already accomplished. First, it has expanded its sales under flagship brands of Orchard Valley Harvest, Fisher Recipe, and Fisher snacks. Since sales with brands can demand a higher premium than private label sales, this results in revenue growing faster than pounds sold. As we can see from above company presentation, JBSS has almost doubled its EBITDA per pound sold to $0.256 in 2013. In order to fight against the cyclical natural in the nut industry, the best strategy should be to establish great brands with power to demand premium pricing for their nuts. Second, JBSS strives for what they can control, which is SG&A. The SG&A has gradually declined from 11.59% in 2010 to 10.67% in 2013. I attribute the SG&A achievement to the best-of-breed demand planning and supply chain management system and the state-of-the-art facility in Illinois.
The Bottom Line
JBSS is a simple business with great strategies and an easy to understand business model. I consider myself fortunate to have a chance to invest in JBSS at low valuations of 8.25x P/FCF and 5.4x EV/EBITDA. For long-term investors, JBSS is a great buy-and-hold candidate.
Disclosure: I am long JBSS. I wrote this article myself, and it expresses my own opinions. I am not receiving compensation for it (other than from Seeking Alpha). I have no business relationship with any company whose stock is mentioned in this article.
Additional disclosure: I am not a securities broker/dealer or an investment adviser. You are responsible for your own investment decisions. All information contained in my blog or on my web site(s) should be independently verified with the companies mentioned, and readers should always conduct their own research and due diligence and consider obtaining professional advice before making any investment decision.