By Sumit Roy
Precious metals, soybeans and corn were the big winners in commodity markets this week, while oil, copper and wheat fared poorly. Stocks touched all-time highs, but finished the period off their best levels. The S&P 500 increased 0.8 percent, bringing its year-to-date gain to 1.3 percent. On Friday, the index briefly touched 1,897-a new intraday record.
Macroeconomic Highlights
The biggest economic release of the week was the monthly employment report in the U.S. According to the Bureau of Labor Statistics, private employers added 192,000 jobs in March, just a tad below the 200K that was expected. At the same time, the unemployment rate held steady at 6.7 percent.
In other news, ISM reported that the manufacturing sector in the U.S. accelerated slightly in March. The ISM manufacturing index rose from 53.2 to 53.7 in March. Meanwhile, ISM reported that its U.S. non-manufacturing gauge for March rebounded from 51.6 to 53.1. Levels above 50 represent expansion, while levels below 50 represent contraction.
Elsewhere, the ECB kept its benchmark overnight interest rate steady at a record-low 0.25 percent, as was widely expected. Speaking to journalists after the policy decision, ECB President Mario Draghi said the central bank does not exclude further monetary easing. He also said that ECB officials were unanimous on using unconventional policy tools if necessary - including quantitative easing.
The ECB has kept monetary policy extremely accommodative amid low levels of inflation and high levels of unemployment. Eurostat reported that the CPI in the eurozone in March grew by only 0.5 percent year-over-year, down from 0.7 percent the previous month and the slowest pace since 2009. The core CPI, which excludes food and energy prices, grew by 0.8 percent in March, down from 1 percent in February.
Finally, in China, the government released its official manufacturing PMI for March. The index edged up from 50.2 in February to 50.3, close to expectations. At the same time, HSBC's manufacturing gauge for China - which measures smaller firms in the country - edged down from 48.1 to 48, also close to expectations. Levels above 50 represent expansion, while levels below 50 represent contraction.
Commodity Wrap
| | | |
| --- | --- | --- |
| Commodity | Weekly Return | YTD Return |
| Platinum | 2.48% | 5.60% |
| Soybeans | 2.30% | 11.96% |
| Palladium | 1.70% | 9.99% |
| Corn | 1.02% | 17.77% |
| Silver | 0.71% | 2.57% |
| Gold | 0.61% | 8.09% |
| WTI | -0.36% | 2.93% |
| Copper | -0.66% | -11.18% |
| Natural Gas | -0.89% | 5.20% |
| Brent | -1.25% | -3.68% |
| Wheat | -4.60% | 9.75% |
Gold bounced back this week as bargain hunters entered the market following recent losses. As we wrote earlier this week (see Rising Interest Rates Won't Push Gold To New Lows; Buy On Pullbacks), the recent $112 decline in prices was a short-term reaction to the Fed's hawkish outlook for interest rates laid out in its last meeting on March 19.
However, gold is not at risk of falling into a major downtrend or hitting new lows below the cycle low at $1,180. We remain buyers on the dips and see the likelihood of another rally to $1,400 or higher later this year.
GOLD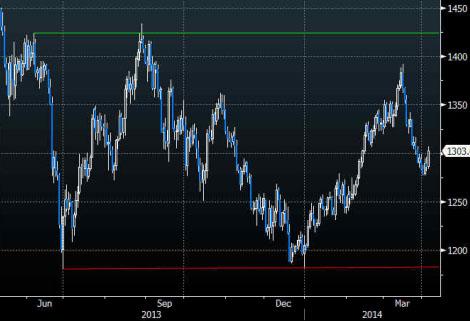 SILVER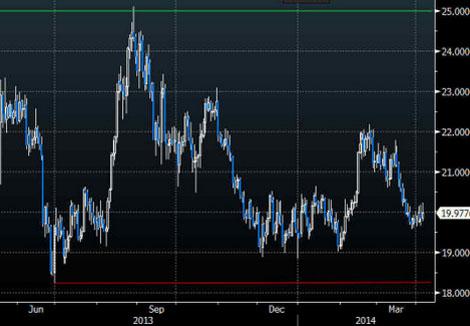 PLATINUM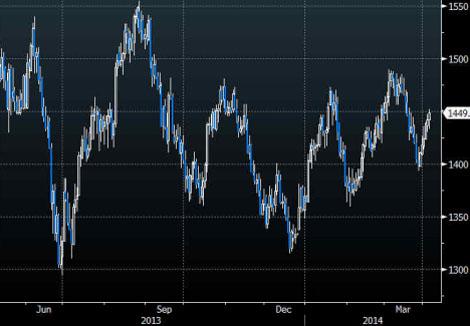 PALLADIUM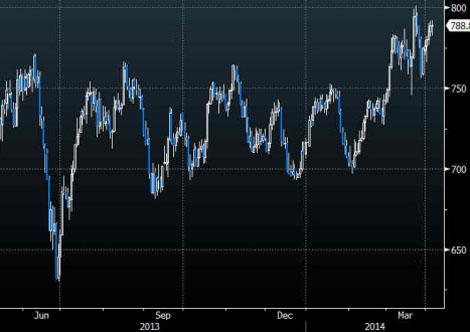 Oil prices sagged this week amid hopes that some of Libya's shuttered production could come back online. Earlier in the week, Brent fell to a five-month low below $104, but prices rebounded after rebel sources claimed there was no compromise with the government and that the oil ports would not be reopening.
It's impossible to say how events will develop in Libya, but the potential for increasing supplies from that country remains the biggest downside risk for oil prices this year (see Brent Falling To $100 After Prices Breach Key Support Level - Outperforming WTI Supported By Cushing Draws).
BRENT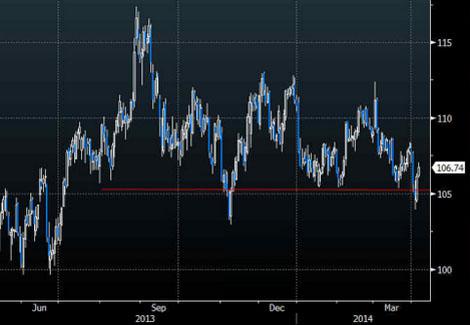 WTI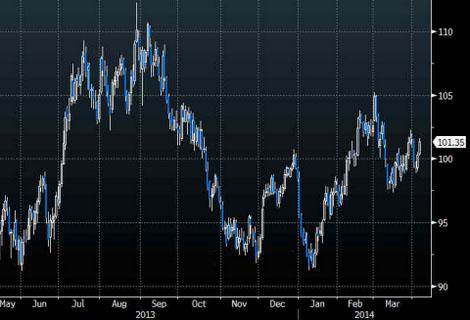 The grain complex was mixed as corn and soybeans rallied, while wheat tumbled. On Monday, the USDA reported that corn inventories on March 1 totaled 7.006 billion bushels, below the 7.098 billion that analysts were expecting. Soybeans inventories totaled 992.3 million bushels - the lowest level since 2004.
"Corn and soybean inventories are coming down, and that's why prices have been ratcheting higher this year," Don Roose, president of U.S. Commodities Inc., said. "There are no shockers in this report like we have seen in the past three years, and that may have been enough to bring in some buying."
Meanwhile, wheat fell sharply this week as traders speculated that rain and warmer temperatures in U.S. growing regions could help salvage the wheat crop that had been damaged from adverse weather conditions during the winter.
CORN

SOYBEANS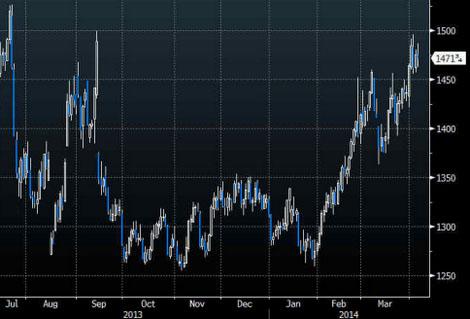 WHEAT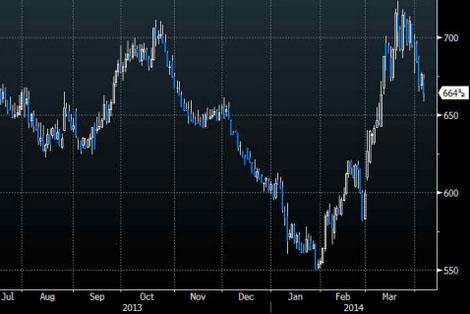 Copper continued to consolidate just above the $3/lb mark. We remain cautious on prices and see downside risks outweighing upside risks.
COPPER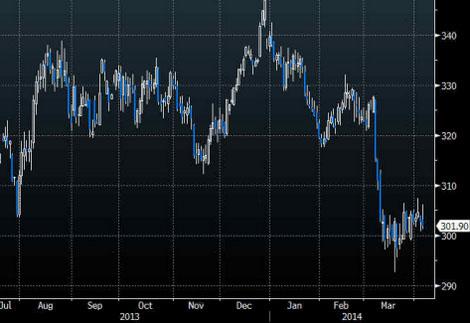 Natural gas prices edged lower for the week as a whole, but rallied on Thursday after the EIA reported a much-larger-than-normal withdrawal from inventories. As we wrote earlier this week, the next several inventory reports will be crucial in determining where prices go from here (see NatGas Inventories Poised To Rise From 11-Year Lows, Rig Count Doesn't Matter).
NATURAL GAS