The world has become instantaneous.
At any time of the day or night, on any day of any week during any month, companies have developed technology that allows any person anywhere in the world, to communicate with any other person, anywhere in the world.
Consider that for a minute.
How many of you have seen the live feeds coming from the Deepwater Horizon disaster in the Gulf of Mexico? We just took a look and there is approximately 40 seconds of delay between our computer and the camera taking the pictures which is located 5000 feet below the surface of the ocean. To us, that is just incredible.
A couple of days ago, we came across an article about Tellabs, Inc. (Nasdaq: TLAB), a company we had not thought about since the dot com bubble of the late 1990s.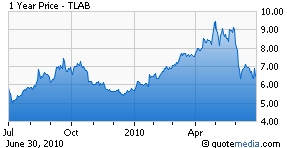 Curious, we looked up the price of the stock and were a bit surprised to it trading below $7.00. Granted, we have been out of the broadband loop for a good while, and during that time much has changed with the world economy, but below $7.00. Could that be right?
Here we thought is one of the reasons that we were able to watch a live video feed originating from the bottom of the ocean, and the reason was selling for less than $7.00. Could there be something wrong with this picture?
Basis
Financial information related to Tellabs, Inc., contained in this report, is based on the company's most recent SEC Form 10-K filing, for year ending December 31, 2009, as filed with the Securities and Exchange Commission on March 01, 2010.
What They Do
Tellabs, Inc., is engaged in the design and marketing of equipment and services to communications services providers worldwide. The company's products and services enable its customers to deliver wireline and wireless voice, data and video services to business and residential customers.
The company sells its products domestically and internationally through its field sales force and distributors/partners. The company's customers are primarily communication services providers, including local exchange carriers (LECs), global wireline and wireless service providers, multiple system operators (MSOs) and competitive service providers (CSPs). Its customer base also includes distributors, original equipment manufacturers (OEMs), system integrators and government agencies.
The company was incorporated in 1975 as an Illinois corporation. In 1992, shareholders approved the formation of a holding company structure. Under that new structure the shareholders of Tellabs, Inc., an Illinois corporation, became the shareholders of a new holding company, Tellabs, Inc., a Delaware corporation.
In December 2009, the company acquired WiChorus, Inc. (WiChorus), a supplier of infrastructure products for the mobile Internet. This acquisition will enable the company to quickly enter a large and fast growing market with a purpose-built 4G, LTE, and WiMax mobile-network solution that can be used in today's 3G networks and complements the compan's IP mobile backhaul portfolio.
In November 2004, the company acquired Advanced Fibre Communications, Inc. (AFC) of Petaluma, California, a supplier in North America of "last-mile access" products, over which are delivered residential voice, data and video services.
In addition, in December 2004, the company acquired Vinci Systems, Inc. (Vinci), a privately held developer of customer-premises equipment used for fiber access. This acquisition accelerated the company's ability to deliver cost-reduced and feature-enhanced components.
While the company retains its residential access business, in 2008, the company shifted its focus to more profitable opportunities in the mobile, optical, and business markets.
Short-Term Investment
To us, it appears that the stock price may be at a bottom. The MACD is at its lowest point in over a year, and the Stochastic trend is now reflecting the stock's Oversold position. Barring an foreseen event, this would be the perfect point to take a position in the stock.
With a recent close of $6.37 and First Resistance at $6.97, a 9% increase from a recent close, the upside appears extremely limited. Couple that with First Support at $4.96, a 22% decline from a recent close, and it almost appears that shorting the stock would be the order of the day.
But it is important that short-term investors keep their eye on the ball here, and realize that Short-Term means a trading period based on a 13 day moving average, not a 50 day moving average or a 52 week high or low.
Long-Term (5 Year Hold) Investment
We reviewed the company's FY09 financials which seemed to us quite solid given the upheavals of the world economies. The company's Current Ratio, a Quick Ratio, and Cash Ratio, were all what we consider investment quality.
In addition, the company has kept its Debt at near zero, finishing FY09 with a total Debt of $0.02 per share, and at the same time, managed to turn its Inventory over almost 6.5 times during the year. Both of these things are, to us, outstanding achievements, considering yet again the economies of the world.
Yet all is not perfect. Over the past several years the company has acquired several companies. The results of these acquisitions, at least to us, do not seem to have improved the company's bottom line. They have however, managed to increase the company's Intangibles and Goodwill to a little more than 12.5% of Total Assets.
This may not be a big deal to many investors, but for us it is of some concern, since we tend to examine the balance between risk and reward when considering a company for investment.
One other item of note centers around management, and is something we see often. The company's Accounts Receivable are outstanding an average of 99 days, while the company's Accounts Payables are outstanding an average of 32 days.
What irritates us about this sort of situation is why management would allow the company to make a 60+ day interest free loan to its customers. Management needs to get a grip and realize they are in the electronics business and not the electronic banking business.
Valuations
Based on our preliminary review of the company's FY09 financial information, we believe a Reasonable Value Estimate for the company, assuming a 5 year hold, is in the $12 to $15 range.
Considering our discussion regarding the stock as a short-term investment, we think starting a position at this time may be a wise move. Certainly we would not take a full position, which to us is between 2.5% and 3%, but would instead take a 1% to 1.5% position at current levels, adding to our position on pricing pullbacks and economic uncertainty.
Final Thoughts
The world continues to change, to evolve, perhaps according to some strategic plan put in place eons ago, perhaps according to the wants of the people that inhabit it. Regardless of the reasons why, the demand for information, for entertainment, for communication, continue to grow.
Recent changes in mobile technology have created the latest craze, 4G Technology, which is supposed to deliver greater content rich communications, something we admit, is completely lost on us.
And while we personally may not be interested in watching an Orangutan drive a submarine through a traffic light in Manhattan, or spend 24 hours a day watching oil spew from a pipe at the bottom of the sea, we realize we are in the minority with our thinking.
So line up America, and please continue to spend your money on glitter and gadgets, as we appreciate your contribution to our retirement efforts.
Worksheet
To download the Tellabs, Inc. Raw Vale worksheet, please click here.
Disclosure: No position