From 1990 to 2005, the average CEO saw salaries increase by 300 percent. This might sound excessive, but it's worth pointing out that this increase happened during a time when the S&P 500 moved from 330 to 1,250.
But correlation does not imply causation. Top paid CEOs don't always create value for their shareholders, and there are many examples where the stocks of highly paid CEOs actually underperform competitors. In today's post, we'll be focusing on these lagging stocks.
To compile this list, we looked at S&P 500 stocks with the highest paid CEOs, and compared their 1-year return to related companies. Yes, this is a very crude method of analyzing CEO compensation, but our intention here is to create a starting point for you to do more thorough evaluation of these management teams. CEO compensation data is sourced from Capital IQ.
If you want to access these interactive graphics, just click on the images.
Overpaid CEO #1: J. Elliott, Boston Scientific (NYSE:BSX)
According to Capital IQ, Boston Scientific's J. Elliott received $33.5M in total compensation over the last year, which is much higher than related companies like Medtronic (NYSE:MDT), Baxter (NYSE:BAX) and Stryker (NYSE:SYK). The chart below, which compares one-year return to CEO compensation, shows how Boston Scientific underperformed its competitors.
It's also worth pointing out that the smart money is running away from Boston Scientific. Insiders, who currently own 3.19% of the company, reduced holdings by 10.06% over the last 3 months. Institutional investors, who own 79.85%, reduced holdings by 3.85% over the same period.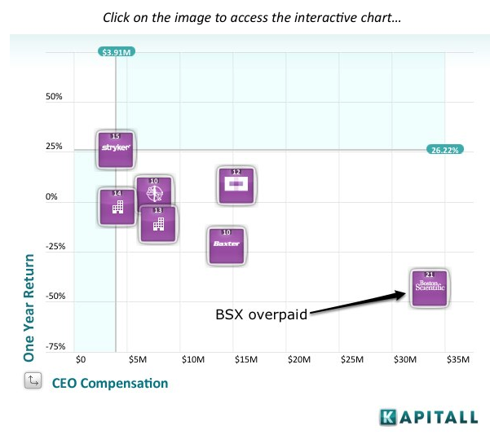 Overpaid CEO #2: Rex Tillerson, Exxon Mobil (NYSE:XOM)
Tillerson received $27.2M over the last year, while Exxon's stock tanked by more than 16%. Annual sales growth over the last 5 years stand at 0.83%, while the company's EPS has grown by 0.47% over the same time.
Exxon's trailing P/E stands at 12.97, forward P/E at 8.31, and PEG stands at 1.50. Dividend yield is currently at 3.08%.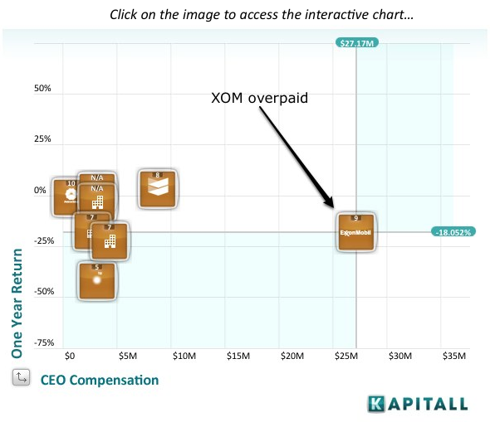 Overpaid CEO #3: Ahmad Chatila, MEMC Electronics (WFR)
According to Capital IQ, Chatilla received $16.8M over the last year, significantly more than AMD's Derrick Meyer ($4.5M) and LSI's Abhijit Talwalkar ($3.5M). Is this justified when considering that WFR lost more than 40% over the last year, underperforming both AMD (+90%) and LSI (+0.88%).
Institutional investors, who currently own 89% of the company, don't seem to mind Chatila's pay package. They've boosted holdings by 9.12% over the last 3 months.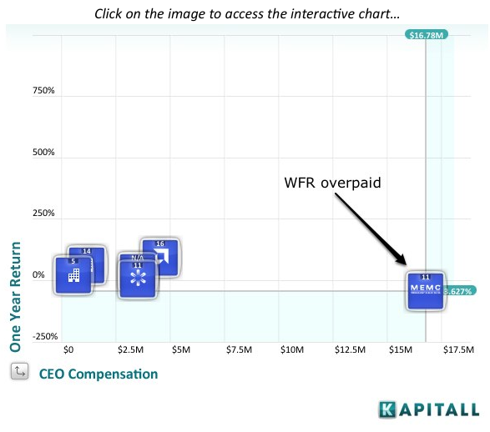 Overpaid CEO #4: Paul Jacobs, Qualcomm (NASDAQ:QCOM)
Jacobs earned $18.9M over the last year, while the stock slipped by more than 26%. Institutional investors, who currently own 79% of the company, seem to be worried, reducing holdings by -5.29% over the last 3 months.
Qualcomm has a trailing P/E of 17.56, forward P/E of 13.08 and a PEG ratio of 1.11. Analysts expect a 9.1% increase in EPS over the next year.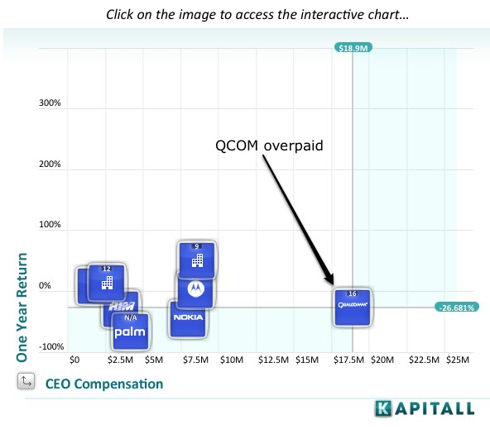 Overpaid CEO #5: Carol Bartz, Yahoo (YHOO)
Bartz earned more than $47M over the last year. Not bad, considering that the stocks has been crushed over the last year (-11.62%).
Jim Cramer disagrees with the notion that Bartz is overpaid. During a recent show, he said: "A lot of people are thinking that she is overpaid because she has got a plus $40m salary… I say wait a second, she has already done a lot to unlock value… selling the companies non core assets, like Hot Jobs and Zipper … with more on the block… outsourcing its search function to Microsoft in a deal that could create mega synergies… perhaps create an online powerhouse that one day could rival Google… we know from Com Score that Yahoo is now taking share search… Bartz is working wonders at Yahoo."
What do you think?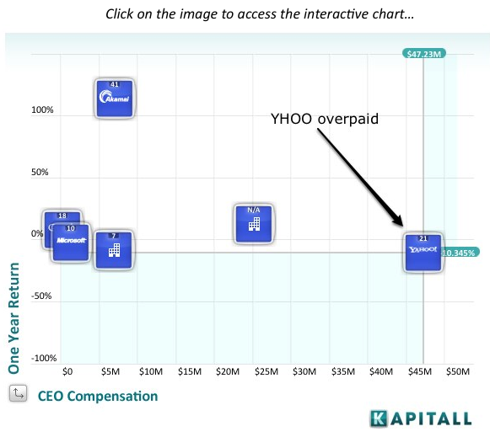 Disclosure: No positions