The Alerian MLP index gained 2.27% for the week with the YTD total return for the index 3.65%. In comparison, the S&P 500 gained 1.44% YTD. There were 27 new 52-week highs against 3 new lows from the MLPs tracked on MLPData.com.
The below chart illustrates the relationship between expected distribution growth, yield and total return performance. The chart plots the units with the highest Trailing Twelve Month total returns using a mean 3 year CAGR growth rate plotted against the forward annualized distribution yield.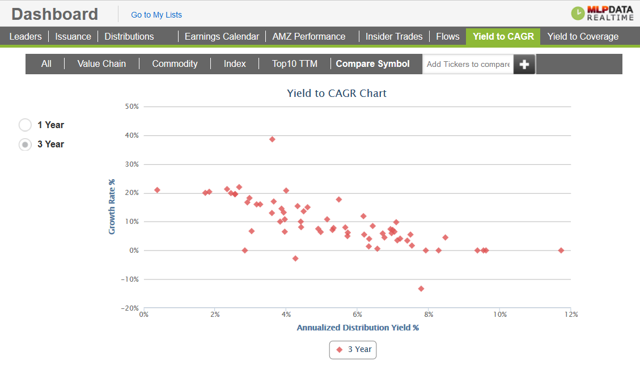 Unit Value Winners and Losers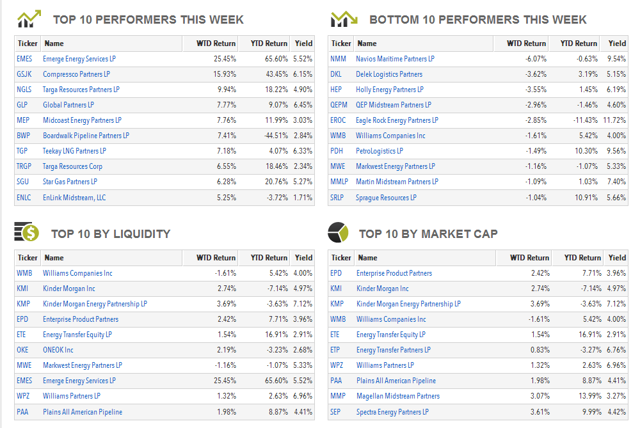 Emerge Energy Services LP (NYSE:EMES) continues to soar on the market's feedback of proppant shortages and booming demand which is pushing frac sand price + 12-14%. Baird issued a Friday upgrade which drove units up another 9% to close out with a 25.45% WTD return. Compressco Partners LP (GSJK) and their production enhancement equipment is also expecting to benefit from the proppant trends with units up 15.93% WTD. Targa Resources Partners LP (NYSE:NGLS) issued a revised 30-40% EBITDA upside due to higher volumes and exports, driving up the GP Sponsor and IDR owner Targa Resources Corp (NYSE:TRGP). Global Partners LP (NYSE:GLP) guided 12-24% higher for 2014 EBITDA and finished 2014 with a strong quarter and restated 2013 Distributable Cash Flow due to RIN accounting. Kinder Morgan Energy Partners LP (NYSE:KMP) and Kinder Morgan Inc (NYSE:KMI) had their first positive week since January.
The Navios Maritime Partners LP (NYSE:NMM) had a strong run due to the Baltic Dry Index hitting 1600 in previous weeks, only to see a decline back to 1205 with units failing -6.07%
Distribution Rate Changes
Four of the monthly pay, upstream MLPs announced dividends in the past week, with an increase from BreitBurn Energy Partners LP (BBEP).

Insider Trading
Constellation Energy Partners LP (CEP) and Sanchez are interrelated parties that just announced final settlement to a lawsuit against the two.

Share Issuance News
An active week for new issuance with three Sponsors filing to register new Master Limited Partnerships units. The IRS issued a new Private Letter Ruling for a frac sand operation similar to that or Emerge and Hi-Crush. Get the details of any offer of interest by clicking on the specific issue on the Issuance page of the MLPData Dashboard.

ETF, CEF and Mutual Fund Money Flows
MLP focused funds money flows jumped up to $912 million this week, compared to $238 million last week. Mutual funds took in most of the haul, gathering $852 million and ETFs picked up $60 million, similar to the ETF flow last week.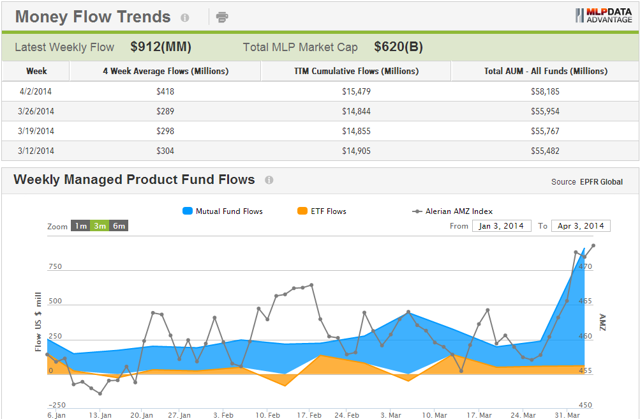 Next Week's Earnings Calendar
It's now less than two weeks until Q1 earnings kick off on April 15 with the Kinder Morgan companies reporting.
To receive this round-up each week, please follow MLPData here on Seeking Alpha. Interactive versions on MLPData.com of the charts used here allow you to further dig into the numbers.
All charts and tables provided by MLPData.com
Disclosure: I have no positions in any stocks mentioned, and no plans to initiate any positions within the next 72 hours. I wrote this article myself, and it expresses my own opinions. I am not receiving compensation for it (other than from Seeking Alpha). I have no business relationship with any company whose stock is mentioned in this article.