This is a follow-up to my article the other day about Dividend Champions.
Dividend Contenders are stocks that have raised their dividends for 10 to 24 years in a row. Most of these companies would appear to have adopted a managed dividend policy and are committed to raising their dividends every year if they can. We infer this because of the consistency and frequency with which they have raised their dividends.
As of the end of March, there are 222 Contenders. The source for this and all data in this article is David Fish's most recent Dividend Champions document (aka CCC).
The periodic table here follows the same ground rules as the earlier one.
Down the side are current yields. Yields on the Contenders range between 0.21% and 7.43%. In dividend growth investing, yield answers the question, "How much?" Each investor will have a different answer to how much yield they want to receive (or insist on receiving). The sufficiency of a dividend is obviously a different question for each investor. The average yield for the Contenders is 2.65%.
Across the top are dividend growth rates (DGR). I am using the 3-year DGR (covering 2011-2013) in order to eliminate the end of the financial crisis. (The 5-year DGR would include 2009.) DGRs in this group range from 1.0% per year to 53.4% per year, with an average of 8.4%. I rounded DGRs to the nearest percent for placement in the table.
Cells containing the stocks of least likely interest are shaded. Of course, interest will vary from investor to investor, and it will often be determined by factors other than yield and DGR. This is how I chose what to shade:
Yield: I shaded stocks with yields under 2.0%. That is my generic definition of insufficiency.
DGR: I used a "stepped" approach to DGRs:
All stocks with yields under 2% are shaded no matter what their DGR is.
Stocks with yields of 2.1% to 2.4% are shaded unless their DGRs are at least 9% per year.
If a stock's yield is 5% or more, there is no shading even if the DGR is miniscule. With a 5%+ yield, the investor may not care much about the dividend's growth rate.
This table has been broken into sections for display purposes, but it should be read as one continuous table.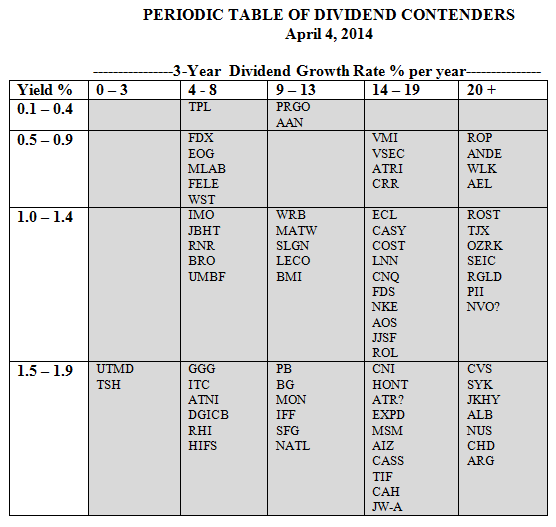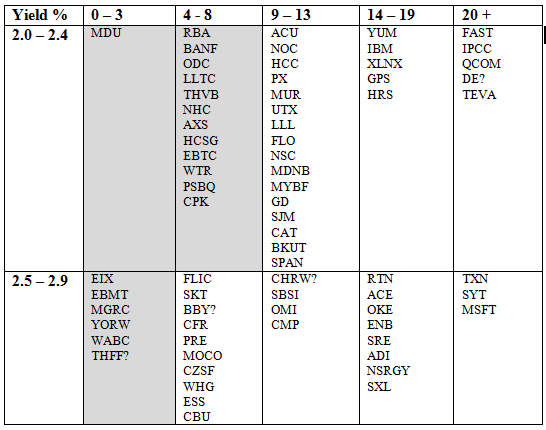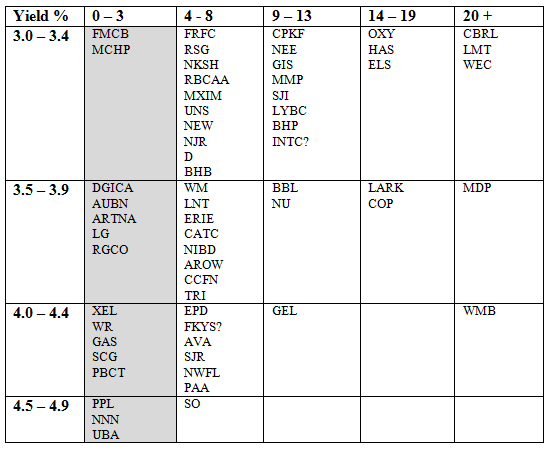 Comments and Observations
Many of the stocks in the white area are very familiar to dividend growth investors. Some of the well-known names include General Dynamics (NYSE:GD), Caterpillar (NYSE:CAT), International Business Machines (NYSE:IBM), Qualcomm (NASDAQ:QCOM), Microsoft (NASDAQ:MSFT), Dominion Resources (NYSE:D), General Mills (NYSE:GIS), Wisconsin Electric (NYSE:WEC), Southern (NYSE:SO), and Realty Trust (NYSE:O).
Of the 222 Dividend Contenders, 114 are in the white area, a much higher percentage than we saw with the Dividend Champions. Please use the shading in the spirit in which it is intended. Being shaded is not a criticism, and being unshaded is not an endorsement. This table covers only two metrics - yield and DGR - which by themselves do not constitute sufficient due diligence for any stock investment.
Ten of these stocks have gone more than a year since their last dividend increase. They are still on the CCC document because their total payouts haven't frozen or declined in a calendar year yet, but clearly their streaks must be considered to be in danger. These are denoted by "?" after the ticker symbol.
In contrast to the Dividend Champions, where no stocks in the white area have gone more than a year without an increase, several of the overdue Contenders are in the white area, including Deere (NYSE:DE), Best Buy (NYSE:BBY), C.H. Robinson Worldwide (NASDAQ:CHRW), and Intel (NASDAQ:INTC).
Many of these companies have already announced dividend increases for 2014. There are too many to list here, so I show here only the ones that are in the white area and whose most recent increase is significantly smaller than its 3-year DGR. That may raise a red flag. On the other hand, quite a few of these companies are REITs or MLPs (see right-most column). They may have multiple increases during the year, so by the time 2014 is done, their annual total increases may not be a significant drop from their 3-year average.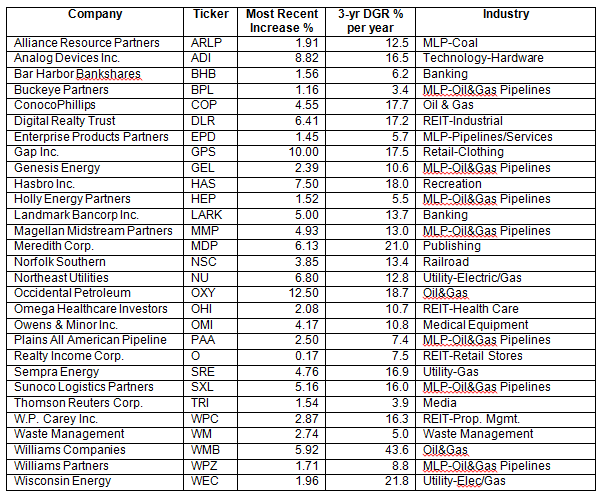 Disclosure: I am long MSFT, O. I wrote this article myself, and it expresses my own opinions. I am not receiving compensation for it (other than from Seeking Alpha). I have no business relationship with any company whose stock is mentioned in this article.