Gevo (GEVO) is a renewable chemical and advanced biofuel company. The synthetic biology and chemistry company utilizes corn mash within industrial fermentation vessels in order to create isobutanol. Isobutanol is a platform chemical capable of addressing multiple applications in the fuels and chemicals market. Using established processes, Gevo can create jet fuel and other feedstocks used for the production of synthetic rubber, plastics, and polyesters.
(Image source found here on the company fact sheet)
Gevo has historically struggled to scale up its proprietary technology platform named GIFT. As a result, the company had to previously pause its operation at Luverne as it sought to refine the process. To date, progress has continued although the results have been far from impressive. Here are a few key thoughts from the company's latest conference call found here.
Gevo shifts to ethanol. The company expects to arrange three of its fermenters to produce ethanol. Gevo stated that it will be able to concurrently produce isobutanol along with ethanol. This should allow for increased cash flow through an optimized usage of manufacturing capacity as the company attempts to scale up its technology.
Gevo's moves closer to its goals. In terms of the company's goal for targeted gallons per batch, Gevo has stated it was able to achieve 71% of that goal to date. The produced isobutanol met all quality targets. Product purity requirements were met and animal feed can be produced.
Contamination continues to affect the process. While overall process consistency has increased, infections continue to plague the technology's development. Gevo is still looking to improve the sterility, water recycling, and cleaning techniques. Gevo has already been able to get the right quantity and quality when it comes to biocatalyst production. However, when it comes to fermentation the company has been able to match lab results up to 90% of the recycled water.
Gevo currently maintains a market capitalization of $58.7 million based on the closing price of $1.18 as of April 4. Based on the 2013 year-end results, the company now has total assets of $116.4 million of which cash and cash equivalents make up $24.6 million. Gevo also has $45.4 million in total liabilities. Gevo maintains a current ratio of 1.17 as the company has $30.7 million in current assets compared to the $21.1 million in current liabilities.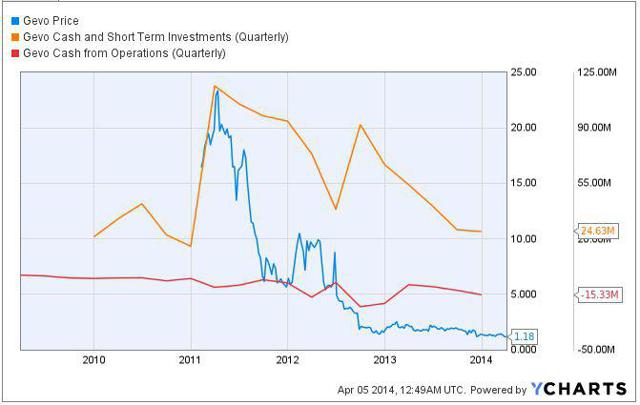 For the quarter ending in December, Gevo experienced a gross loss from operations of $13 million. Altogether, the company experienced a net loss of $17.3 million for the quarter. The company expects to continue taking in losses while it attempts to scale up its technology. Cash flow continues to be a problem, and Gevo may require additional capital unless it is able to ramp up its cash flow in the very near future.
Final Thoughts
While investors may not have liked the news that Gevo was looking to add ethanol production back into its near-term objectives, the reality is that the company needs to dramatically improve its cash flow. Corn-based ethanol remains a prosperous business in the present in light of lower feedstock costs and improved margins. However, it remains to be seen how much longer it will take before the GIFT platform can reliably meet all of the company's objectives and commercially produce isobutanol at scale.
When one considers the outlook of Gevo's technology, the company remains a tempting long-term investment in the present. However, there remains the question of whether the company can scale its technology on its current reserves of cash. Gevo continues to take in losses and success will be very dependent on how fast it can ramp up its ethanol and isobutanol production. Barring an infusion of additional capital, getting operations up to speed will be the deciding factor for the this promising company.
Disclosure: I have no positions in any stocks mentioned, and no plans to initiate any positions within the next 72 hours. I wrote this article myself, and it expresses my own opinions. I am not receiving compensation for it (other than from Seeking Alpha). I have no business relationship with any company whose stock is mentioned in this article.
Editor's Note: This article covers one or more stocks trading at less than $1 per share and/or with less than a $100 million market cap. Please be aware of the risks associated with these stocks.