Many retail investors are apprehensive about dipping into offshore rig lessors. Personally, I first bought shares of Transocean in mid-2008. Business seemed to be booming, and I wanted to "get in" on global-growth fueled commodity spikes. Instead, I got clobbered before Christmas of that year due to plummeting day rates. In late 2009 I tried my hand with Transocean once again, only to once get clobbered, this time by the Macondo incident. From then on I vowed never again to invest in offshore drilling.
But offshore drilling in 2014 is much different than in 2010. Its a safer business now, and fleets are being modernized. And thankfully there are choices other than Transocean, many of which are better operators in my opinion.
One of those is Ensco (NYSE:ESV). In fact, I would go so far as to call Ensco the blue-chip offshore rig lessor for a couple reasons: Its relatively low and manageable debt level. Its dividend dependability and low payout ratio. Its conservative management and tendency to "under promise and over deliver." This article will look at how Ensco differs from other offshore rig lessors, and will also explain why Ensco is a compelling alternative to some other lessons. Finally, I believe that Ensco is trading at a nice discount right now, and should be bought by investors looking for a consistent, meaningful stream of income.
Low Leverage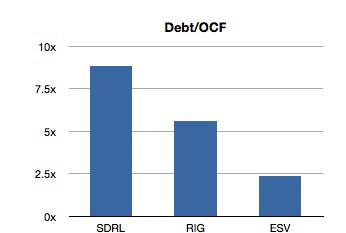 Data by Morningstar
First and foremost on the minds of risk-averse retail investors is debt. As we can see here, Ensco is significantly less levered on a cash flow basis. This also holds true regarding the company's capital structure. Ensco's debt to capital ratio of only 27% is the lowest in its group.
But it gets better than that. A few offshore lessors have some pretty complicated balance sheets, with not only bonds but also credit 'facilities' with individual rigs listed as collateral. These facilities usually vary according to LIBOR, and companies holding these facilities must buy rate swaps in order to 'fix' the interest rates of these facilities. Thankfully, investors in Ensco don't have to worry about any of this, as Ensco's debt is only in bonds, and the rates on all of those bonds are fixed.
Low Payout Ratio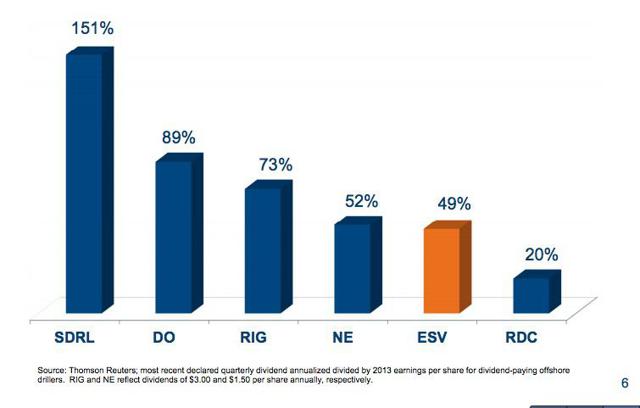 Courtesy Ensco Investor Relations
Those who want an ironclad dividend in offshore lessors should look no further than Ensco. As of 2013, Ensco paid less than half of its earnings per share in dividends. This is no inconsequential number. In fact, both Diamond and Transocean have had to cut dividends in the past due to the volatile and cyclical nature of this industry.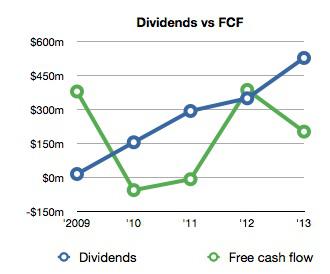 A better method in which to measure a company's ability to pay dividends is by free cash flow because free cash flow is much more difficult for a company to manipulate with, say, depreciation and amortization. Here, we see dividends well in excess of free cash flow. However, this should not be cause for concern. The drop in free cash flow over 2013 was due not to decreasing operational cash flow but to increasing capital expenditures. In other words Ensco, like other operators in this industry, is building new ships to meet increasing demand. More on this later.
Lego Rigs
One of the most innovative, or perhaps just common-sense, aspects of Ensco as a business is the company's use of a standardized fleet. In operating only Ensco 8500 series ships, which tend to be of uniform design, the company benefits in so many ways: Common equipment makes many operational aspects of these ships transferable and interchangeable. Repair and maintenance is much less complicated for any crew, as all Ensco rigs basically have the same mechanics. Spare parts can be obtained quicker and less expense than for rigs of other companies. Finally, crew training is far less cumbersome: If one has worked on one of the Ensco 8500 series rigs, one may as well have worked on many Ensco 8500 rigs.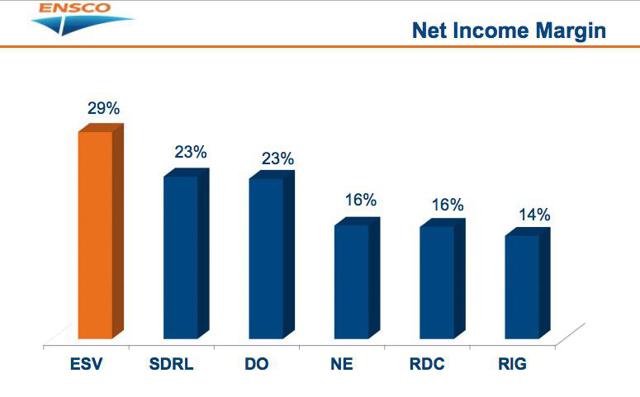 It should come as little surprise, then, that Ensco's net income margin is significantly above that of its peers. Ensco's drive to uniformity has lowered operational costs in many ways, and I believe that it shows in Ensco's higher net income margins.
Growth Case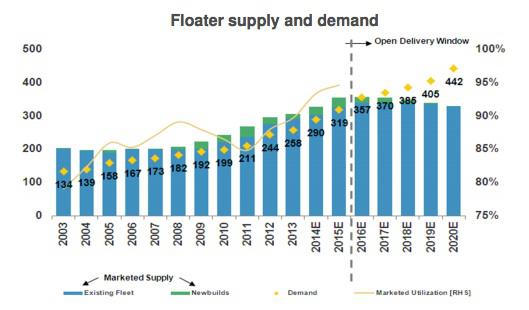 Courtesy of Seadrill Investor Relations
This chart above shows forecasted demand for offshore rigs (as the yellow diamond). As we can see, demand is growing steadily. While there is more than adequate supply right now, in the coming years many older, 90s era rigs will be retired just as demand continues to grow. This will lead to a flattening of supply despite the heightening building activity going on today.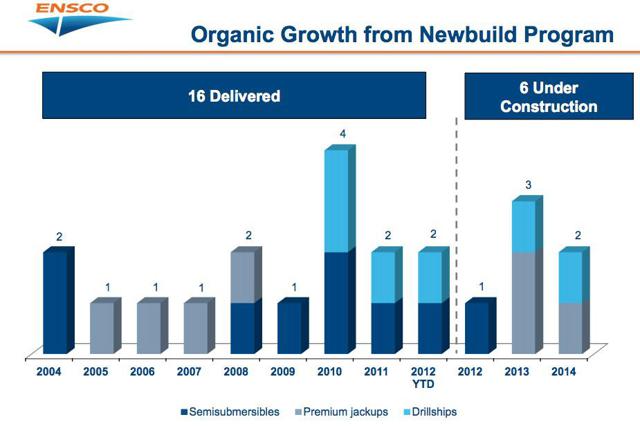 While not building as feverishly as other operators, for example Seadrill or Atwood Oceanics, Ensco is still no exception to norm: Lessors are building many new ships in order to satisfy what experts believe to be higher future demand for offshore rigs.
Valuation and Conclusion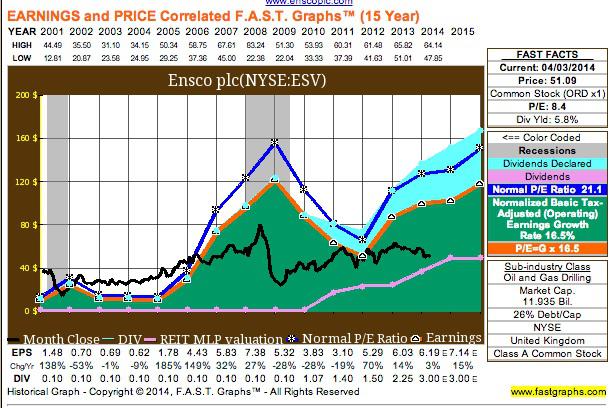 FAST Graphs
The market is and has been discounting (or just disbelieving) the growth story in the offshore rig leasing industry for the previous three years, as this chart from FAST Graphs so clearly shows. Ensco trades at only 8.4 times earnings, well below its 'fair value' as determined by the PEG ratio. But after seeing dayrates plunge in 2008 and then getting burned by the Macondo incident, many are no longer willing to give this industry a second look. Alternatively, many may simply believe that neither oil prices nor dayrates will not stay at current levels, and therefore feel that the lessors will be left 'holding the bag' when dayrates drop.
That indeed could happen. Such a prospect is unlikely, but entirely possible and has happened before. From what I can see here, however, this expectation is already well baked-in to the price.
Ensco has all the hallmarks of a 'blue chip' company: A conservative balance-sheet, a reliable dividend that is only a fraction of total earnings, and most of all a commitment to best practices and exceeding expectations. Also, Ensco is quite a bargain trading at only 8.4 times earnings. Finally, the company's meaningful 5.8% dividend, which is very well covered, provides a solid way for long-term investors to build dividend income.
Disclosure: I have no positions in any stocks mentioned, and no plans to initiate any positions within the next 72 hours. I wrote this article myself, and it expresses my own opinions. I am not receiving compensation for it (other than from Seeking Alpha). I have no business relationship with any company whose stock is mentioned in this article.