Silver Wheaton (SLW) remains trapped in its "crisis" trading range, which is roughly between 15x and 25x TTM EPS. When the stock reached a PE ratio of 25, it marked a short-term top in its share price, which coincided with a short-term top in gold (NYSEARCA:GLD) and silver (NYSEARCA:SLV) prices. Gold and silver have benefited recently from a confluence of positive factors: safe heaven demand caused by the Russia-Ukraine crisis, continued strong demand for physical gold and silver and the fact that ETF outflows stopped in 2014. However, gold and silver reversed lower in mid-March and ended the rally in gold and silver stocks, including Silver Wheaton. Silver Wheaton is trading at a TTM and forward P/E of 21, which puts the stock close to the mid-range of its "crisis" pricing, and the future price will be largely dependent on the overall trends in gold and silver.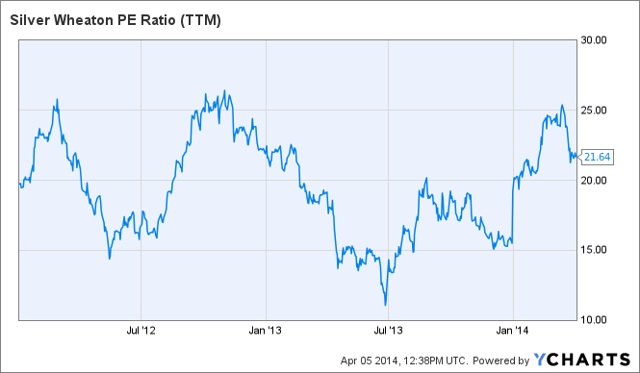 Source: ycharts.com
Outlook for gold and silver
Gold and silver are always a determining factor for Silver Wheaton's share price and valuation. The abrupt end of gold and silver price advance caused Silver Wheaton's share price to go down from its mid-March highs. The before mentioned confluence of positive factors has driven gold and silver higher in the first two and a half months of the year. A negative reversal in those trends in mid-March was primarily caused by the calming of the Russia-Ukraine crisis and by the Federal Reserve's comments about potential rate hikes. Another possible culprit for falling gold and silver prices is inflation and inflation expectations, which reversed lower once again, after showing signs of life earlier. A pickup in inflation and inflation expectations might cause a meaningful increase in gold and silver prices.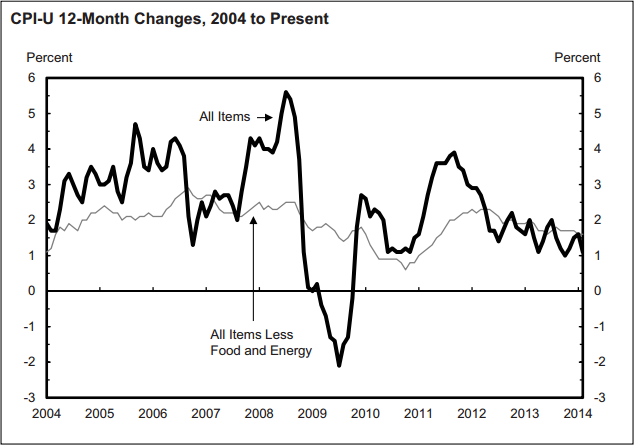 Source: February CPI report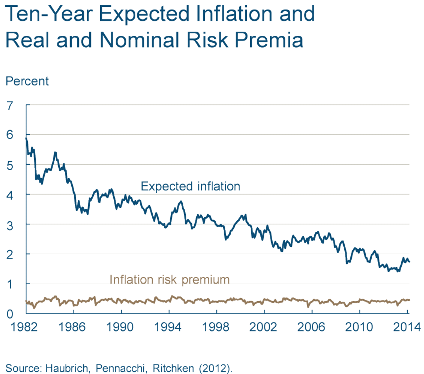 Source: Cleveland FED
Another factor that may be having a negative effect on gold and silver are the recent negative comments about gold from SocGen and Goldman Sachs. SocGen reiterated its bearish outlook for gold this year and said that prices could drop below $1,000, while Goldman reiterated its $1,065 PT for gold, noting that the probable rate increase will act as a headwind for gold and silver.
On the other hand, ETF inflows have been positive year-to-date. SPDR Gold ETF saw net inflows of $588 million year-to-date, while iShares Silver Trust had $188 million in net inflows this year, according to ETF.com. ETF outflows had the most profound effect on falling gold and silver prices last year, as noted in my previous article on Silver Wheaton.
The overall situation seems mixed, as the potential headwinds (low inflation, potential rate hikes and the absence of save heaven buying) weigh on gold and silver prices, but the continued strong physical demand and ETF inflows might offset those headwinds. However, as I said, the inflation and inflation expectations outlook might be the most important factor here, and a possible pickup could have a more meaningful impact on future prices.
A 35% increase in silver equivalent production to put a floor on Silver Wheaton's share price
In its Q4 2013 earnings report, Silver Wheaton gave a positive outlook on silver equivalent production. The company expects 2014 attributable production around 36 million silver equivalent ounces (including 155,000 ounces of gold), and 48 million ounces of silver equivalent production in 2018 (including 250,000 ounces of gold), which represents an increase of 35% from 2013. Silver Wheaton is increasing its gold production, which is mostly responsible for the overall increase in production in recent quarters, and these trends are expected to continue, with the gold production expected to rise from 155,000 ounces in 2014 to 250,000 ounces in 2018. This should help reduce the overall volatility of revenue and earnings, since silver is more volatile than gold. The increased production might help the company offset falling gold and silver prices, and at the same time, provide more upside for the share price if gold and silver prices rebound significantly.
Balance sheet was burdened in 2013 with $2 billion being invested in four precious metal streams, and the long-term debt increased to $1 billion at the end of 2013 from around $20 million in 2012, and the cash position was reduced from $780 million in 2012 to $95 million at the end of 2013. However, this should not be a problem since Silver Wheaton's cash flow generation continues to be strong.
Conclusion
Silver Wheaton remains trapped in its "crisis" valuation range. There is potential for 20% upside from here, to a TTM P/E ratio of 25, and should gold and silver prices continue to go down, Silver Wheaton could revisit its summer 2013 lows. In my opinion, the latter situation seems unlikely at the moment, unless there is an adverse change in inflation expectations towards deflation. Investors should continue to closely monitor inflation expectations which might be a determining factor for the prices of gold, silver and Silver Wheaton in 2014.
Disclosure: I have no positions in any stocks mentioned, and no plans to initiate any positions within the next 72 hours. I wrote this article myself, and it expresses my own opinions. I am not receiving compensation for it (other than from Seeking Alpha). I have no business relationship with any company whose stock is mentioned in this article.