The market on Friday gave investors a good old fashioned thumping. The NASDAQ lost 2.6% for the day, its worst one day decline since 2011. The small cap Russell 2000 also took a shellacking. The S&P 500 and DJIA held up much better.
Friday accentuated a major rotation that has been going on in the market for the better portion of a month. This migration could be in the early innings and has the potential to continue to upend the equity landscape. Investors are tossing out all the momentum stocks and sectors that the market rode to better than 30% gains in 2013.
Stocks like Tesla Motors (NASDAQ:TSLA) and Netflix (NASDAQ:NFLX) have broken down in the last month as have speculative sectors like Biotech. Social media stocks also have taken some big hits but still are no bargains. In Part I of this two part review, we will take a look at the carnage in the once high flying social media space.
On Monday, we will look at some of value stocks with solid dividends that funds are rotating towards. This could a major theme to investing in the second quarter and a prudent investor should be aware of and positioned for such an eventuality.
The stock of Facebook (NASDAQ:FB) ~tripled over nine months before encountering substantial headwinds over the past several weeks (See Chart).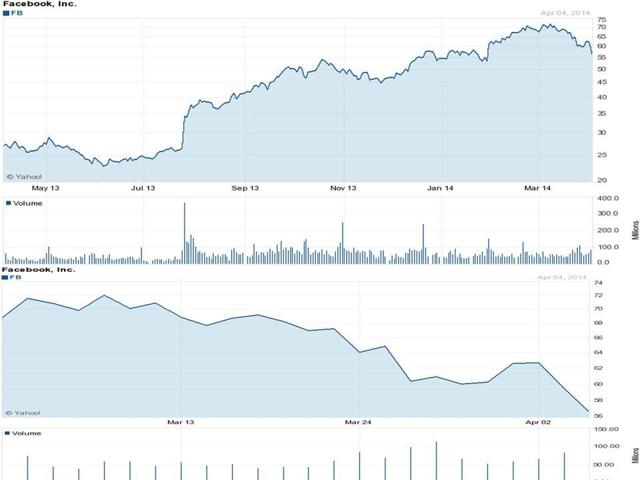 Even after a significant decline, the shares are no bargain. The stock sells for 45x this year's estimated consensus earnings of ~$1.25 a share. Revenue growth is expected to decline in FY2015 over FY2014's levels. Even after pullback, the shares sell for almost 20x trailing revenues.
I would also be concerned about the company paying $19B for WhatsApp, a company with little revenues let alone profits. Although that might be better than the $2B it paid for virtual reality play Oculus: a company that not only has no revenues but does not have a product yet.
Marc Zuckerberg seems to be willing to use stock to pick up assets at questionable valuations. I doubt he would be willing to do this if he thought the stock was fairly valued. Of course, with super voting rights and a compliant board; who at Facebook is going to say no? As I stated last week, I think Barron's was right on its pessimistic assessment on the outlook for the shares over the near term.
LinkedIn (LNKD) should have been the "canary in the coal mine" for social media stocks. The stock has been breaking down since late summer (see chart) - a sell-off that has accelerated over past couple of weeks.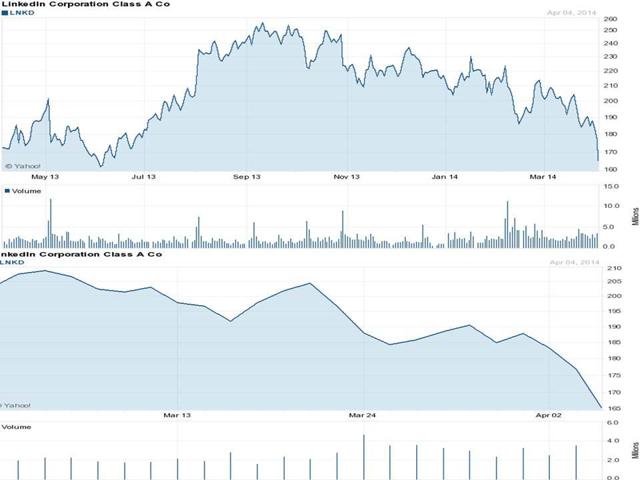 Even after a better than 30% pull back over the past six months or so, the stock is selling at more than 65x projected earnings…in FY2015. At fourteen times trailing revenues and with a projected five year PEG near 3 (2.84), the shares hardly qualified as a bargain. Consensus earnings estimates for both FY2014 and FY2015 have been slashed deeply over the past three months. I still feel this decline has quite a bit longer to run.
Yelp Inc. (NYSE:YELP) has a similar chart pattern to Facebook. The stock tripled over the past year before being "taken out to the woodshed" since March (See Chart).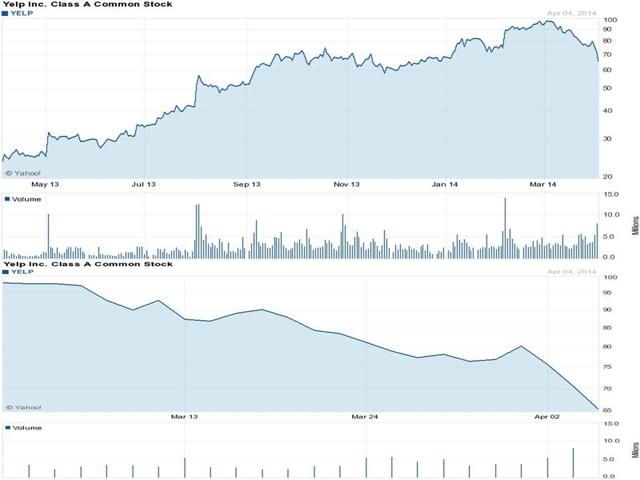 There are no Price/Earnings ratios on this social media concern as the company lost money in FY2013 and the consensus calls for the company to lose a few pennies a share this fiscal year. Not to worry though, the shares are only priced at approximately 180x FY2015's estimated EPS after a ~25% decline over the past month. Although I love the service, I think I will pass on the stock at this time.
Finally, Groupon (NASDAQ:GRPN), which staged a big rally in 2013 as the company appeared to be coming back from a huge post IPO decline, has fallen on hard times in 2014 and given up two thirds of its gains last year off its bottom (See Chart).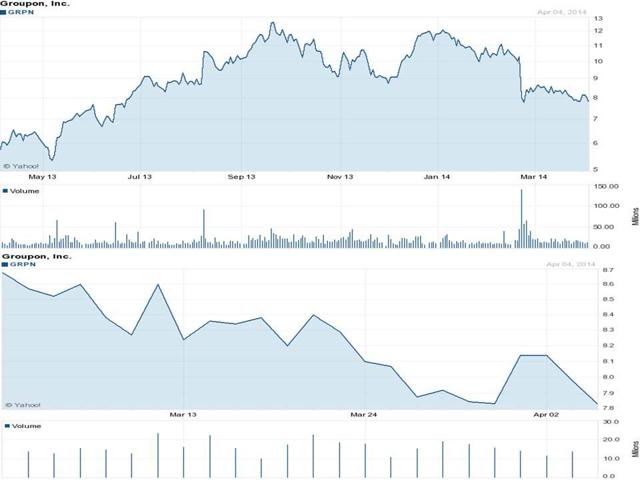 The stock trades at some 70x this year's expected earnings but does have approximately 20% of the market capitalization in net cash on the balance sheet. The stock also seems to be trying to form a short term technical bottom at ~$8 a share. I will be watching to see if the shares can hold here as it might portend better times for social media stocks, but I am not a buyer here as I still feel the sector has substantial declines still ahead of it.
In summary, social media stocks have seen significant carnage over the past month in the shares. Even with the declines over the past few weeks, they are still no bargain. The sector could suffer substantial further damage if the market is in the start of a significant rotation.
Tomorrow, we will look at the "value" stocks with reasonable valuations, low betas and solid dividends that funds seem to be migrating into.
Disclosure: I have no positions in any stocks mentioned, and no plans to initiate any positions within the next 72 hours. I wrote this article myself, and it expresses my own opinions. I am not receiving compensation for it (other than from Seeking Alpha). I have no business relationship with any company whose stock is mentioned in this article.