I have written about it several times and there's no doubt in my mind - the major computer companies like Microsoft (NASDAQ:MSFT), Apple (NASDAQ:AAPL) and Google (NASDAQ:GOOG) are competing for your home ecosystem.
It's the all-encompassing umbrella of personal electronics that ranges from the obvious - computer, tablet, smartphone - to the things that will soon become much more automated - watches, wearables, kitchen appliances, climate controls, etc.
The importance of ecosystem can be seen in the amount of money companies are pouring into it. Even Facebook's (NASDAQ:FB) recent $19 billion purchase of WhatsApp can be looked at as an ecosystem play. Companies like Amazon (NASDAQ:AMZN) want theirs also - as evidenced by Amazon releasing their new set top box just days ago. The number of products in the "Social TV Ecosystem" has increased exponentially over the last few years.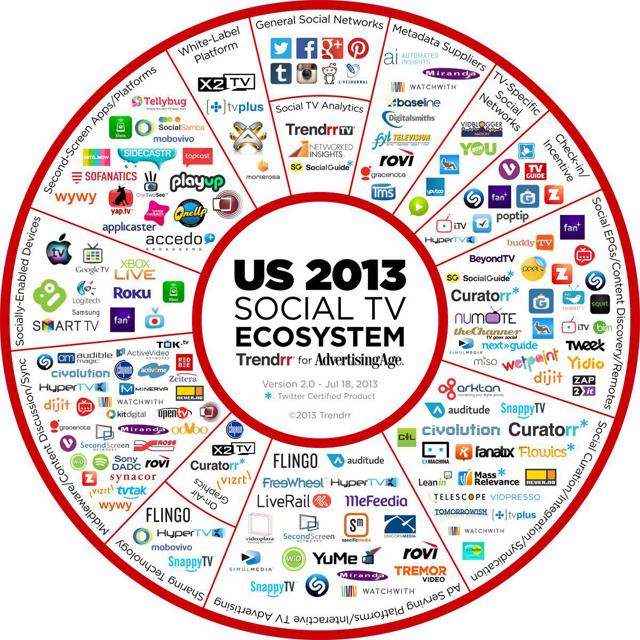 Then, again, you have your household products aside from your TV that companies are also starting to target. As I stated in a recent article regarding Google's purchase of Nest:
Ecosystem, ecosystem, ecosystem. It's all going to be about what OS is eventually going to not only be powering your computer and phone - but running in your vehicle and controlling the appliances in your home. Companies like Apple, Microsoft, Google, and even BlackBerry (BBRY) are duking it out to own your personal ecosystem.

We all recall when Google purchased Nest - the company that makes thermostats and fire alarms - earlier this year for $3.2 billion. Nest was a smaller company, founded by a former Apple engineer in 2010. The purchase price that Google put on Nest was a shocker, as it was "nearly 10 times more than Nest's annual revenue."
Nest would no doubt be one way that Google wants to get itself into your home, aside from the obvious routes of its ChromeCast, ChomeBooks, and smartphones.
It was funny - just yesterday I ran through a personal inventory in my head to see what ecosystem I was using - two computers powered by Windows 8.1, a Surface 2, an iPhone and an Xbox. I live in a mostly predominant Microsoft household, I thought to myself, with a little Apple and zero Google sprinkled in.
When I think about my iPhones and why I haven't surrendered that part of my life, it all comes back to music. Even on my Windows box, I run iTunes - on the Surface, I have no music. Apple has me locked into the iTunes store and is leveraging that; I now use iTunes Radio. [see any of my thousands of articles claiming iTunes Radio will demolish Pandora (NYSE:P)]. Where can Google find this type of leverage?
So, I had concluded that I had zero Google items in my ecosystem; Google was losing the war with me. Then, I went on my computer to write about it, and the first thing I did was open Google Chrome. "Wait," I thought to myself, "I use Google every day." Turns out that it isn't just me - Google is dominating the browser industry and it's taken just a few short years for it to do so.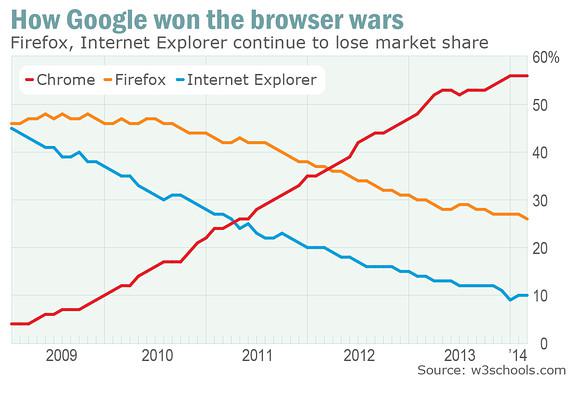 Google's Chrome was kicking serious web browser ass.
This also came to light during the recent controversy with Mozilla's CEO and his donation to Prop 8. Dating site OkCupid was encouraging people to avoid Firefox, but as MarketWatch has already pointed out, there's really no need to:
The dating site urged its members on Monday to boycott the web browser because the chief executive of Mozilla, the company that created Firefox, once donated to a campaign to ban gay marriage. But experts say OkCupid's boycott wasn't necessary-people have been steadily abandoning the Firefox browser all on their own, in most cases switching to Google's GOOG -4.67% Chrome.

OkCupid posted this message for lovelorn singletons logging in with Firefox: "Hello there, Mozilla Firefox user. Pardon this interruption of your OkCupid experience. Mozilla's new CEO, Brendan Eich, is an opponent of equal rights for gay couples. We would therefore prefer that our users not use Mozilla software to access OkCupid." Firefox has around 26% of the web browser market, according to W3Schools.com, a web development site; Google Chrome has 56%, Internet Explorer has 10% and Safari has 4%. After a long, slow decline, Firefox lost its No. 1 position in March 2012 taking 36% of the market versus 37% for Chrome.
One interesting thing I noticed about Chrome was that I was having an immense amount of difficulty adding it to my Surface 2 - you can't do it. Microsoft doesn't want Chrome to continue and pummel the archaic Internet Explorer, so on Win RT models, you can't even have Chrome. However, it's everywhere else, especially on ChromeBooks.
- source prowess.com)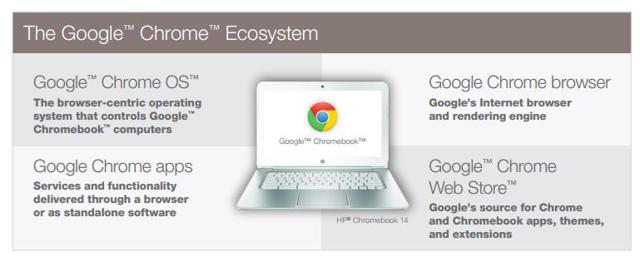 Not unlike my experience with Microsoft, where my Xbox OS semi-prompted me to get a Surface, as opposed to an iPad - and where my two Windows computers work nicely with my Surface without having to do anything.
So, now the question becomes, how is Google going to:
monetize Chrome in people's homes?
use Chrome's leverage to encourage adding more products from the Google ecosystem?
With regards to monetizing Chrome, there was an article published on betanews.com that talks about ways for developers to monetize the software - of which, Google would get a cut:
Google has announced new monetization options for Chrome Web Store apps, extensions, and themes, giving developers a better chance of generating decent revenue from their offerings. The search giant has also introduced new tools and services that are meant to make it easier to automate the publishing process.

The new available monetization options depend on the type of Chrome software. In the case of themes, developers can only list them as paid. Meanwhile, extensions can also get a free trial, subscription and in-app payments. On top of upfront payments and subscriptions, packaged apps now offer a free trial and in-app payments, in the latest change to the Chrome Web Store.

Google says the new monetization options were introduced in order to give developers more time to work on "creating great content and services", and free them as much as possible from "managing overhead".

The tools Google has introduced allow developers to take advantage of region-specific pricing for software, set localized descriptions, and manage in-app products, among other features. The Chrome Web Store API also gives them the option to "programmatically create, update and publish items".
When it comes to leveraging Chrome in order to spread out in home ecosystems, this is another area where Google has some opportunity. Obviously, the ChromeBook is going to come with Chrome. Chrome, as a browser, works nicely with ChromeCast. But, there aren't too many other "killer" ideas that would prompt a Chrome user to go out and take a full foray into Google's ecosystem.
I would contend that Google has a major opportunity that can stem from their getting Chrome into more and more households. The question is going to be whether or not they can tap into that adoption curve now, while the getting is good. But, there's no doubt that Google has a backdoor into your ecosystem in Chrome, one that presents significant opportunity.
I continue to contend that Google, post-split and with its same team at the helm, remains a long-term investment opportunity for growth as the company continues its foothold in the "ecosystem" niche.
Disclosure: I am long BBRY. I wrote this article myself, and it expresses my own opinions. I am not receiving compensation for it (other than from Seeking Alpha). I have no business relationship with any company whose stock is mentioned in this article.