Dominion Resources, Inc. (NYSE:D) is among the nation's largest producers and transporters of energy, with a portfolio of approximately 23,600 megawatts of electric generation, 10,900 miles of natural gas transmission, gathering and storage pipeline and 63,400 miles of electric transmission, and distribution lines. The company operates one of the largest natural gas storage systems in the U.S. with 947 billion cubic feet of capacity and serves nearly 6 million utility and retail energy customers in 15 states. Dominion's generation mix includes 46% from coal electric generation, 41% from nuclear generation, 9% from natural gas, 1% from oil and the remaining 3% from hydro and other renewable resources.
Financial Highlights
Apart from the steady revenue growth in 2013, Dominion's performance remained quite positive. For fiscal year 2013, the company generated $13.12 billion in revenues reflecting an increase of 2.2% compared to 2012. The revenue increase was due to improved sales to retail customers, improved revenues from regulated natural gas transmission, and growth in gathering and storage services. Despite the steady growth, the 20% cost savings proved to be a major earnings growth driver. The reported earnings significantly improved after a major decline in 2012. The GAAP earnings of $1.70 billion or $2.39 per share in 2013 were up from $302 million or $0.53 per share in 2012.
Dominion uses operating earnings as the primary performance measurement of its earnings guidance and results for public communications with analysts and investors. The operating earnings of $1.88 billion or $3.25 per share in 2013 increased from $1.77 billion or $3.09 per share in 2012.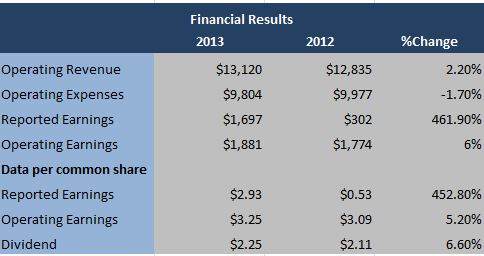 Source: Sec Filling
Explosive Solar Industry Growth in the U.S
Continuing its explosive growth the U.S. solar industry hit record levels in 2013. According to the research report, photovoltaic installation continued to proliferate increasing by 41% in 2012 to reach 4.751 megawatts. In addition, 410 megawatt of concentrating solar power came online. Solar was the second-largest source of new electricity generating capacity in the U.S. exceeded only by natural gas. Additionally, the cost to install solar energy hardware fell throughout the year ending the year 15% below the target set at the end of 2012.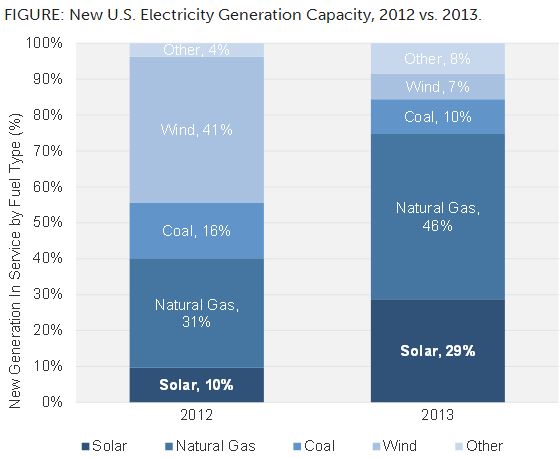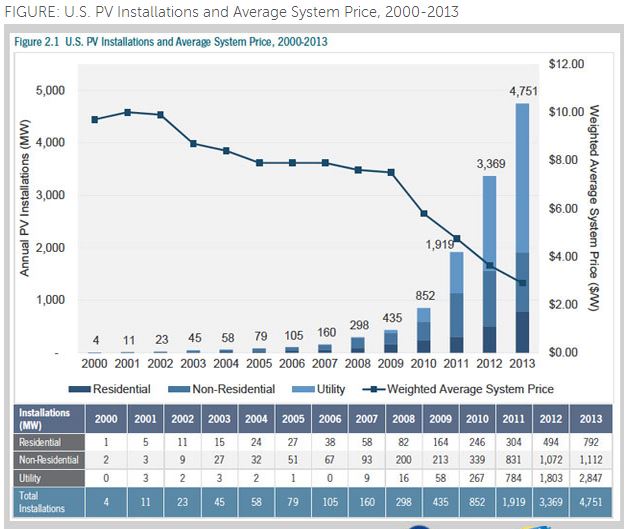 Source: GTM Research, FERC
To increase its renewable energy capacity, Dominion's Azalea solar power facility entered the service late 2013. Dominion entered into a 25-year purchase agreement with Cobb Electric Membership Corporation one of the largest electric cooperatives in Georgia. Two other solar projects came online in 2013; first was the 29-megawatt Indy solar panel with a 15-year power purchase agreement with Indianapolis Light and Power Company and the second was the 5-megawatt Somers solar panel that has a 20-year power purchase agreement with the Connecticut Light and Power Company. This penetration will support the company's top-line growth.
Dominion's Recent Developments
In 2013, Dominion invested $2.5 billion in growth capital for energy infrastructure projects, and the company expects to increase earnings throughout the decade. Dominion continues to improve and expand its regulated electric and natural gas business in accordance with a five-year capital investment plan of $14 billion for new and upgraded energy infrastructure. With this investment, Dominion expects 80% to 90% of future earnings from its primary operating segments to come from regulated and long-term contracted businesses. Through this investment plan the company expects an improvement in its earnings per share growth, dividend increase, and solid return to shareholders.
During 2013, company announced the formation of Dominion Gas, a first tier wholly-owned subsidiary holding company for the majority of Dominion's regulated natural gas businesses. Recently Dominion Midstream Partners LP, a unit of Dominion, filed an IPO to raise $400 million to develop its core gas business activity.
Competitor Comparison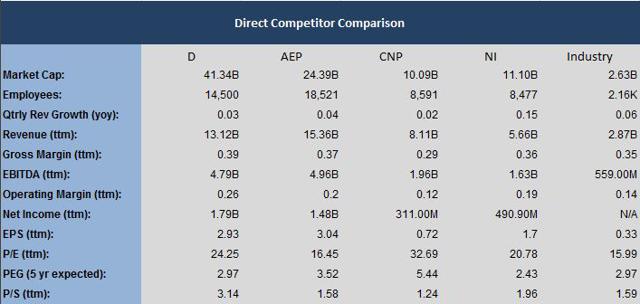 Source: yahoo finance
Dominion is quite strong in many aspects compared to its competitors and the industry average. Dominion's market capitalization of $41.34 billion is much higher than all of its competitors, and this puts the company in a favorable position to expand further while competing effectively. The company's revenues in 2010 were $15.2 billion and declined in 2011 and 2012. However in 2013, the company regained growth momentum, and analysts expect the five year growth rate will be 6.77% compared to AEP's five year growth rate of 4.23% and CNP's five year growth rate of 5.79%. Dominion's gross margins and operating margins are much more favorable than its competitors and the industry average and resulted in a much higher net income of $1.79 billion.
Conclusion
Dominion's total return of 26.81% over twelve months (both from price appreciation and dividends assuming dividends are reinvested) has outperformed the S&P's total return of 20.89%, Duke Energy's (NYSE:DUK) 1.37% and Southern's (NYSE:SO) -3.14%.

Source: ycharts
Dominion's dividend history is quite strong, and the company has now paid 344 consecutive quarterly dividends. Recently, the company increased the annual dividend by 6.67%, resulting in an annual dividend of $2.40 with a yield of 3.38%. Dominion's dividend yield might not be the highest amongst its competitors, but its dividend growth is much better. Exelon Corporation (NYSE:EXC) did not increase the dividend, but slashed the dividend per share to $0.31 in 2013. On the other hand, Duke Energy Corporation's dividend growth has been around 2% over the past few years, and American Electric Power's (NYSE:AEP) dividend growth has also slowed down.
The company is confident about the outlook based on the strong performance in 2013 and expects continued growth due to its investment plan for 2014-2018. Dominion expects its operating earnings to be in the range of $3.35 per share to $3.65 per share. For the first quarter of 2014, the operating earnings are expected to be in the range of $0.85 per share to $1 per share. The new dividend of $2.40 will be based on a target payout ratio of 65% to 70% of operating earnings per share.
The stock is trading at a forward P/E ratio of 18.98X, the stock performance is consistently showing an upward trend, and over five years, the stock price has increased by 133%. The price will increase further based on the strong earnings growth, and this stock should be a profitable addition to your portfolio.
Disclosure: I have no positions in any stocks mentioned, and no plans to initiate any positions within the next 72 hours.
Business relationship disclosure: The article has been written by a Gemstone Equity Research research analyst. Gemstone Equity Research is not receiving compensation for it (other than from Seeking Alpha). Gemstone Equity Research has no business relationship with any company whose stock is mentioned in this article.