(Editor's Note: Investors should be aware that trading of CXUSF offers limited liquidity. Enhanced liquidity is available on the Toronto Stock Exchange as CUS.TO.)
Canexus Corporation (TSX:CUS) (OTCPK:CXUSF) is Canadian chemical manufacturer based in Calgary, Alberta. Canexus produces sodium chlorate and chlor-alkali products largely for the pulp, paper and water treatment industries. The company has four plants in Canada and two at one site in Brazil. The company describes its plants as reliable, low-cost, strategically located facilities that capitalize on competitive electricity costs and transportation infrastructure to minimize production and delivery costs.
Canexus also provides fee-for-service hydrocarbon transloading services to the oil and gas industry from its terminal at Bruderheim, Alberta. It is this transloading service that is at the heart of Canexus current troubles, but, before we dive into that, let's review Canexus' core chemical business lines. Canexus' business is divided in four segments: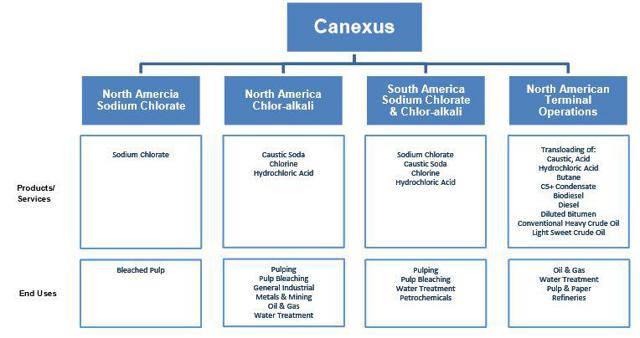 North America Sodium Chlorate
Canexus North American Sodium Chlorate business is the company's largest operating segment. Facilities are located at: Brandon, Manitoba; Beauharnois, Quebec; and Nanaimo, British Columbia, with an aggregate production capacity of 384,250 MT/year. Canexus currently produces just over 20% of the North American sodium chlorate capacity. The top three producers have about 85% of the North American market share: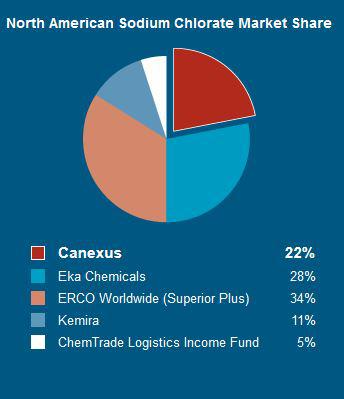 Source: Canexus
The Brandon facility is Canexus' flagship plant, accounting for more than 90% of its North American sodium chlorate EBITDA. It's the world's largest and North America's lowest-cost facility.
Electricity is the single biggest variable cost (70% to 90% of input cost) in producing sodium chlorate in North America. Other major manufacturing components are salt and water. As a result, competitive electricity costs are critical to profitability. Strategically, all of Canexus plants are located in regulated lower-cost hydroelectricity regions, with Manitoba's hydroelectricity being among the lowest. Canexus low-cost advantage at Brandon is evident from this cost curve graph: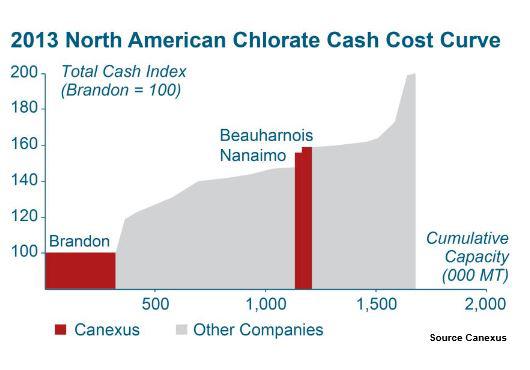 Approximately 95% of North American sodium chlorate production is sold to the pulp and paper industry to produce chlorine dioxide, an environmentally-preferred pulp bleaching agent for paper and tissue products. Therefore, growth in sodium chlorate is driven by growth in bleached pulp production globally. The outlook for bleaching demand globally is positive according to RISI:
Canexus' Sodium Chlorate operations have produced steady cash flow over the last several years, and they are likely to continue doing so for many years to come:
| | | | | |
| --- | --- | --- | --- | --- |
|   | 2010 | 2011 | 2012 | 2013 |
| EBITDA | $58.60m | $63.80m | $68.90m | $61.80m |
According to Scotia Capital (March 2013) Canexus could further increase in Sodium Chlorate EBITDA by $15m to $20m through a $60m to $80m capital investment in its facilities.
North American Chlor-Alkali
Canexus North American chlor-alkali operations are located in North Vancouver, British Columbia. Canexus is the regional low-cost producer of chlor-alkali in Western Canada and the Pacific Northwest. In Western Canada, Canexus has over 50% of the caustic soda market share and approximately 30% of the hydrochloric acid market share.
The chlor-alkali industry's primary products are caustic soda and chlorine. The primary method used to produce caustic soda and chlorine is through the electrolysis of sodium chloride brine. Caustic soda is used in numerous industries and markets, including pulp and paper, soaps and detergents, aluminum, oil and gas exploration and refining, as well as for a variety of chemical processes.
Chlorine is used in a variety of chemical processes, the most significant being the production of polyvinyl chloride, or "PVC", through a chemical process involving ethylene. Other segments reliant on chlorine in the production of its products include the urethanes, fluorocarbons, agricultural chemicals, titanium dioxide and epoxy resins industries. Chlorine is used for potable water and waste water treatment purposes, directly or in directly in the form of sodium hypochlorite as a disinfectant against a broad range of pathogenic micro-organisms.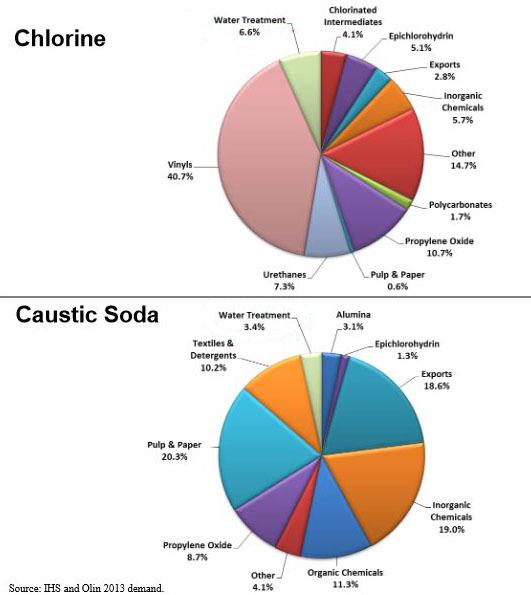 In 2012 and 2013 Canexus undertook a major expansion project in its North Vancouver facility to allow it to convert up to 60% of its chlorine into hydrochloric acid, which is witnessing strong growth due to its usage in the fracturing of oil and gas wells: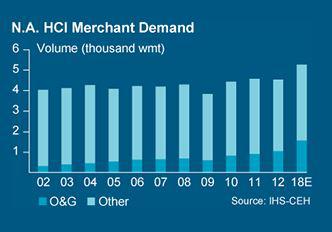 Energy costs are a significant factor impacting relative and absolute profitability of individual chlor-alkali manufacturing facilities, and the specific electrochemical technology employed further dictates overall energy consumption. The energy cost for producers utilizing membrane technology (as is Canexus') accounts for 40-50% of the variable manufacturing cost, whereas in the diaphragm technology process, energy accounts for 45-60% of the variable manufacturing cost.
Canexus' Chlor-Alkali operations have always been profitable (except for a slight loss in 2010 due to a major facility upgrade shutdown), however this segment's cash flow has been much more volatile than results at the Sodium Chlorate segment:
| | | | | |
| --- | --- | --- | --- | --- |
|   | 2010 | 2011 | 2012 | 2013 |
| EBITDA | -$2.23m | $43.24m | $50.36m | $25.70m |
As can be seen from the above, beside the upgrade shutdown in 2010 there was a notable weakness between 2012 and 2013: this was mainly caused by a significant weakening in chlorine, caustic soda and hydrochloric acid pricing; those factors are persisting in 2014, but should improve by 2015.
South American Operations (Brazil)
Canexus has its Brazilian operations located in Espirito Santo, where it has two plants (sodium chlorate and chlor-alkali) on a single site right next to their main customer. More than 75% of revenue comes from this customer, the world's largest eucalyptus market pulp producer: Fibria. Canexus supplies Fibria through a 27-year (renewable) fixed US-dollar margin contract established in 1999. This provides excellent cash flow predictability.
Almost all of the sodium chlorate produced in South America is consumed by the South American pulp and paper industry, with the remainder used for water treatment and other industrial applications.
As for Chlor-Alkali, unlike North American demand, South American demand for chlor-alkali products relates primarily to the need for caustic soda by the local aluminum and pulp and paper industries.
Large quantities of caustic soda are imported to meet the majority of the caustic soda requirements.
The South American division at Canexus has generated very stable cash flows and this is largely due to the fixed margin nature of its supply contract in Brazil:
| | | | | |
| --- | --- | --- | --- | --- |
|   | 2010 | 2011 | 2012 | 2013 |
| EBITDA | $19.54m | $24.17m | $23.80m | $21.14m |
Combined Historic Results
Before we visit the company's North American train terminal operations (NATO), it would be helpful to review Canexus' results over an extended period of time to appreciate the overall predictability and stability of its operations: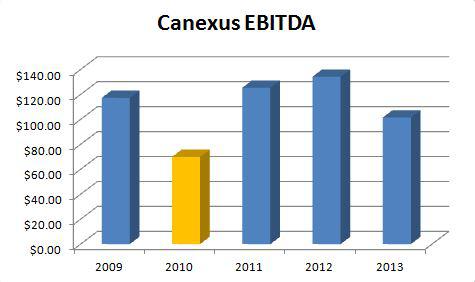 As can be seen from the above, except for a dip in 2010 due to a major upgrade project in North Vancouver (which forced an extended shut down), the company's average EBITDA over the last 5 years is approximately $120m. This stability has permitted the company to pay a stable 55c/share yearly dividend over this period, thus making the company an ideal income stock by virtue of operating a stable business in a mature industry.
North American Terminal Operations (NATO)
Canexus began hydrochloric acid terminal operations at Bruderheim, Alberta in the early 1990s.
Since 2007 infrastructure was expanded to include the capability to transload caustic soda, butane, C5+ condensate diluents, biodiesel, diesel and DBCO products. In 2012, projects were completed to increase transloading capacity of hydrochloric acid to 75,000 WMT. In 2013, further projects were completed to increase truck - to - rail transloading capacity of DBCO products to 1, 420 railcars per month or 30000 barrels per day.
NATO is strategically located at a CN and CP Rail interval, thus making the location highly valuable: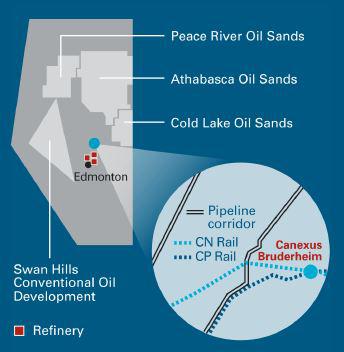 As a result of NATO strategic location, and the increasing bottleneck for transporting bitumen out of Alberta, Canexus commenced an ambitious project in late 2012 to transport crude by rail at the site through a dedicated pipeline connected unit trains (trains as long as 120 cars transporting crude only). Initially the project was designed to transport 7 trains per week (approximately 70000 barrels per train) at a cost of $125m. In August 2013 Canexus opted to expand the terminal capacity to 13 trains per week at a cost of $225m (that was upped from an initial estimate of $190m in May 2013). The unit train facility cost was upped once again by $90m on January 14th, 2014 which brought the total cost to $315m (more on that later). Upon its completion in Q3/2014 this facility is projected to generate a minimum of $50m in annualized EBITDA at a rate of 10.5 trains per week (excluding $8m-$10m EBITDA from the manifest side).
When we consider that the chemical division has historically generated $120m in EBITDA, we can see that this single NATO unit train project can increase the company EBITDA by over 40%: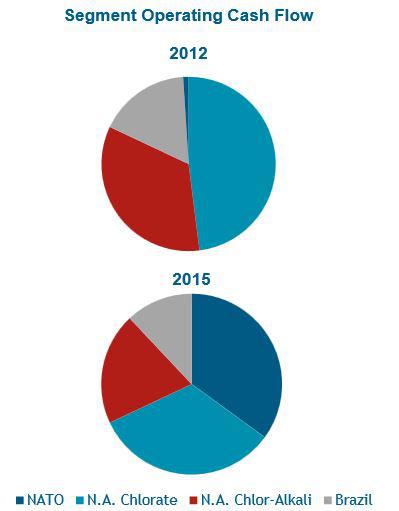 The NATO facility has further unit train expansion potential as well as other complimentary services such as offering oil storage and condensate handling. According to Scotia Capital, for approximately $35m in Capex, Canexus could fully develop its salt cavern oil storage business and generate approximately $15m in additional EBITDA.
As of today Canexus' NATO facility is 60% to 70% contracted through attractive multi-year (3 to 5 years) take or pay contracts with the likes of MEG Energy and Cenovus Energy. The company has also indicated last month that an additional contract for 2 additional trains per week is due to be signed this month, thus bringing total contracted capacity to about 90%.
Canexus Share Price implodes
Over the last 3 years Canexus' stock traded at a price range of $6 to $9.5. The stock price fluctuated around the cyclicality of Canexus underlying chemical businesses. Accordingly the dividend yield has fluctuated between 5.7% on the low end and 9% on the high end. This relative predictability has been shattered over the last few months, due to the stock price diving by over 50% from its 2013 highs and the dividend yield jumping to over 12%.
What caused all this turmoil?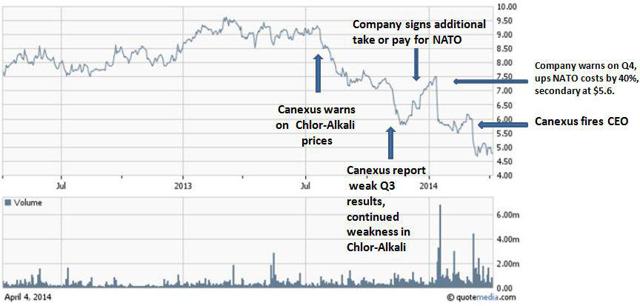 As can be seen from the above, the collapse in Canexus stock price was caused by two factors: a material weakness in one of the company's underlying chemical segments (Chlor Alkali); and a material increase in the construction cost of NATO (Capex upped from $225m to $315m). Yet, we can see that despite the accumulation of negative news between July 2013 and January 2014, Canexus' stock price maintained a level of $6, which is the low end of its trading range; however once the CEO was fired in March 2014 (likely as a result of the poor execution at NATO), the stock took a major leg down and dipped under $5.
Fear Pendulum swings too far
Fearing additional skeletons in the closet, the market sold Canexus' stock heavily subsequent to the firing of the CEO on March 6th 2014. This fear was compounded by a fear of a dividend cut. Yet, merely a week later on March 13th, the company's interim CEO Richard A Ott (ex-Senior Manager at Shell Chemical Company & Kraton Performance Polymers) confirmed that the dividend is maintained and that no cost overrun surprises remain. On March 14th during Q4 conference call and presentation, the company made the following assertions in regards to NATO: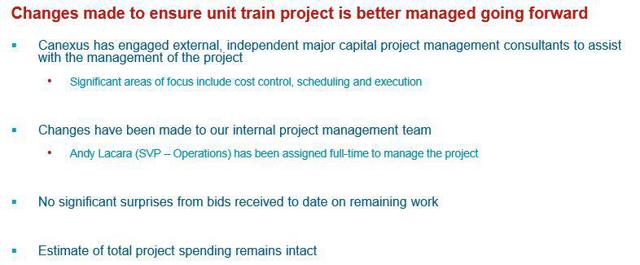 In the March 27th AIF filing, the company made further changes to the staff in charge of NATO:
On March 17, 2014, K. James (Jamie) Urquhart resigned from his position as Vice President, NATO and will leave Canexus in June 2014 to pursue another opportunity. On March 24, 2014, Grant Van Shaik currently Director, Strategic Planning assumed the role of Vice President, NATO.
The actions taken by the board to hold those responsible for the missteps at NATO are to be applauded. As of today there is no reason to believe that the NATO project won't be finalized on time and on budget; this project is crucial to the future of Canexus and the Board seems to have pulled all the stops to make sure this project will be delivered by Q3/2014.
Is the dividend at risk?
The next key question for Canexus shareholders is the safety of the dividend, after comfortably covering its annual dividend for 5 years, Canexus cash payment ratio (80% of the dividend is paid in cash) hit 120% in 2013 and is expected to remain elevated in 2014, however once NATO is constructed and fully contracted it will generate a minimum of $50m in annualized EBITDA by Q4/2014. As BMO Capital Markets indicates in their March 14th report, Canexus' payout ratio has peaked in 2013 and will sharply decline going forward: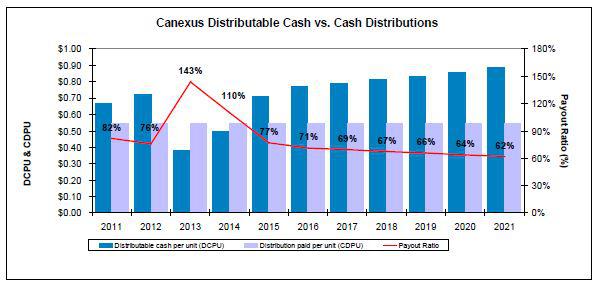 The above seems reasonable when we consider that the company's cash dividend stands at $80m per year ($97m inclusive of the DRIP) this will be easily covered once NATO is fully operational. Most analysts expect Canexus EBITDA to rise sharply once NATO enters into operation by Q4/2014. Following are the 2014/2015 EBITDA projections by BMO Capital Markets, CIBC, TD Securities and Scotia Capital:
BMO Capital Markets (March 14th):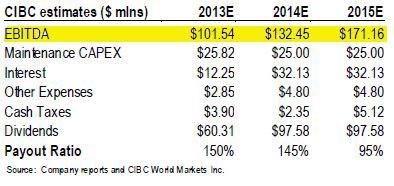 TD Securities (March 17th):


Scotia Capital (March 14th):
(

The average combined projected EBITDA for 2014 and 2015 by the four brokerage houses mentioned above stand at $129.75m for 2014 and $185.14m for 2015. This material improvement in EBITDA in 2015 is derived from an estimated NATO contribution of $50m to $60m, along with a benefit from a lower Canadian dollar (two thirds of Canadian sodium chlorate is exported in US dollars) and an expected rebound in chlorine and caustic soda pricing due to Asian producers curtailing capacity to improve negative margins at prevailing prices.
Thus, by 2015 Canexus won't only cover its dividend, but it will likely hit a historic high in terms of EBITDA for a single year. This record however won't translate into a record per share EBITDA due to the dilution caused by the cost overruns at NATO. It is also worth noting that the net debt to EBITDA ratio will improve materially in 2015 as a result of the NATO contribution and the cession of NATO Capex development spending.
Considering that Canexus raised $150m in equity in January 2014, and has only two more quarters of heavy Capex spending prior to NATO entering full service, it is unlikely that the dividend will be cut. However, should NATO experience additional delays beyond its projected August/September start date, or should NATO fail to deliver the expected rise in cash flows, then a dividend cut in late 2014 or early 2015 is likely.
Oil by Rail is here to Stay
Since so much of Canexus future is dependent on the success of its NATO facility, it might be wise to discuss the economics of oil/bitumen transport by rail vs. pipelines. There are two factors influencing the ramp up in Canadian oil/bitumen rail transport:
The speed of pipeline approvals.
Unit train bitumen transport economics.
Let's take a look at each point with some detail:
Speed of pipeline approvals
The controversy regarding the approval of Keystone XL is well known: it remains uncertain if Keystone will ever be approved, and if so the timing remains murky. While a decision is expected this year, the odds of the pipeline being approved remains 50/50 at best. In January 2014 the US State Department indicated that building Keystone XL won't have a meaningful impact on CO2 emissions and that the oil sands will be developed regardless. This report is one step in a long process: following the issuance of the report, several other federal agencies such as the EPA will have a chance to comment on the report, after which the secretary of state John Kerry will issue his recommendation to the president, and it will be the US president that will ultimately decide the fate of Keystone.
John Kerry is a strong climate advocate, he has stated in February that climate change is as big of a threat as "terrorism, poverty and WMDs". He also stated that climate change is "the greatest challenge to our generation". He further reiterated in March that climate change "will be catastrophic". Thus, it's an open question if John Kerry would recommend the approval of Keystone despite the state department report, and despite the geopolitical considerations that clearly favour the pipeline approval. The same goes for president Obama, who both supports the environmental movement and is supported by it.
Nonetheless, in case Keystone is approved in 2014, it will likely take until 2017 before the pipeline is operational in light of a 2-years construction time and an expected flurry of legal challenges to halt its progress.
Beside Keystone XL, there are three additional proposed Canadian pipelines: Northern Gateway by Enbridge, Energy East by TransCanada and Trans Mountain Pipeline Expansion project. Those three pipelines are in various stages of planning and permitting and none is expected to come into service before 2018 at the earliest.
Meanwhile, oil sands production is expected to continue growing at a brisk rate over the next several years: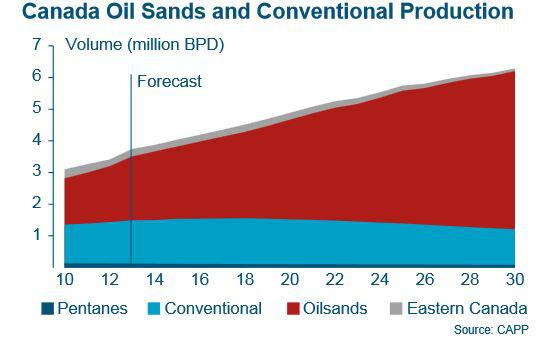 Thus, with the continued delays in pipeline construction and approvals and the continued growth in oil sands supply, oil by rail is the only viable transport solution between today and the end of the decade. This in turns means that Canexus should have no issues contracting NATO at full capacity until at least the 2017 to 2019 timeframe, after that date, it will be a question of pipeline economics vs. unit train shipments. Which takes us to the next point:
Unit Train vs. Pipeline Economics
After an extensive study, ICF international, a well respected industry research organization (ICF was consulted by the state department as part of its evaluation of Keystone) concluded the following:
The results indicate that shipment of bitumen via pipeline from Hardisty/Lloydminster will cost $18.38 per barrel (BBL) for volume shipped on a committed basis, and $25.30/bbl for volume shipped uncommitted These are costs on a bitumen equivalent basis although the crude would be shipped in the form of dilbit, which is comprised of 70% bitumen and 30% diluents .
Rail movements of raw bitumen from Hardisty/Lloydminster to Port Arthur refineries or Houston refineries are estimated as $17.76/bbl and $19.18/bbl, respectively (assuming heated barges from a Port Arthur rail offloading facility). Meanwhile, rail movements of "rail bitumen" or "railbit" (15%diluent/85% bitumen) to these refineries are $21.69 /bbl and $23.27/bbl of bitumen, respectively.
Consequently, the results of this analysis indicate that bitumen movement by pipeline on a committed basis is roughly equivalent to rail movement costs.
The above conclusion is similar to the conclusion reached by Raymond James in May 2013 and shared by Canexus: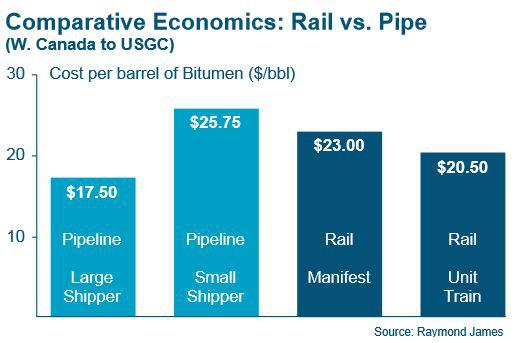 Torq Transloading, another key Canada to the US bitumen transporter has also argued that transporting raw bitumen through unit trains is cheaper than moving bitumen (dilbit) through pipelines, from Torq: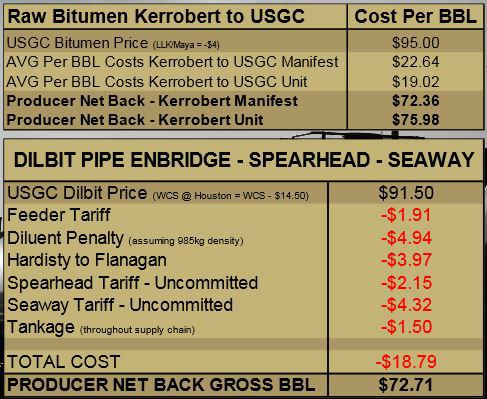 Those various data points seem to argue that the construction of pipelines will not necessary curtail bitumen by rail transport. As a matter of fact, on April 2nd an Enbridge official admitted the following:
"Rail has proven to be very successful in getting [barrels to] some of these refineries on the East and West coasts that are not well accessed from pipeline, and we have now concluded that pipelines are probably never going to get those barrels back"..."The rail business has captured some market that they are going to keep for the long term." ... "Pipeline capacity is not keeping up with the potential production outlook"..."It's going to be a few years before the pipeline capacity takeaway matches up with the supply curve."
Thus in light of the rail's price advantage in certain circumstances and the continued lag in pipeline construction, oil sands producers will be well served to increase their shipments by rail both as a risk mitigation measure and an economic management measure. Hence, NATO will likely be fully utilized over the next 3-5 years and likely heavily utilized for many decades to come.
What's Canexus Worth?
Historically Canexus has traded at an EBITDA multiple of 8 to 10, this is a premium to the chemical sector (7 to 8 EBITDA range). This premium has been attributed to Canexus due to its superior cost structure (especially in sodium chlorate). The introduction of NATO should further underpin Canexus' premium valuation vs. the chemical sector, since the infrastructure space trades at between 10 and 14 EBITDA multiple.
TD Securities argues for a valuation of $6.5 per share for Canexus based on a sum of the parts calculation: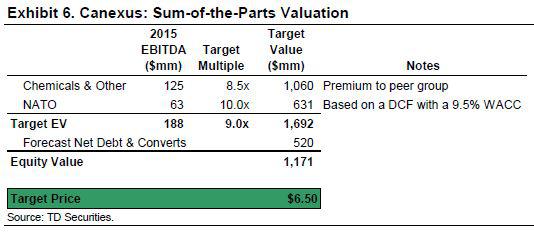 CIBC using a net asset value calculation through a DCF calculation is arguing for virtually the same valuation at $6.40 per share: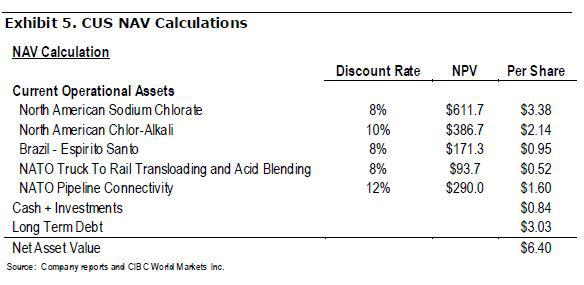 BMO Capital markets using a relative valuation model is arguing for a value at $5.87 per share, this is mainly due to BMO attributing a lower multiple for the Chlor-Alkali business thus their lower target price when compared to the relative valuation value attributed by TD:

The combined average of those three valuations is $6.25 per share* or approximately 31% increase from current levels (excluding a $0.135 quarterly dividend). Longer term there is scope for Canexus to rise further still as the chemical segment pricing rebounds from its trough, and NATO is potentially expanded further to accommodate more unit trains, to accommodate condensate imports or through the development of 1.6m barrel capacity salt caverns located at the site. Canexus may also increase EBITDA through an additional expansion at its Brandon facility.
*Scotia Capital has issued a price target of $7 per share on March 14th, but since no valuation breakdown or analysis was provided in their report. I have opted to exclude Scotia from the valuation average.
Share ownership
Canexus enjoys strong institutional sponsorship; the company is 13% owned by Goodman & Company, one of Canada's most respected fund managers, and a company with a history of strong shareholder action. (The presence of Goodman could explain why the CEO was held accountable and fired promptly after mishandling the Capex at NATO). Canexus has another large shareholder, Franklin Templeton, a 15% owner and a well regarded value orientated institution.
Conclusion & Catalysts:
Canexus is a classic value stock with strong moat presented by its unrivaled cost advantage at its Brandon Sodium Chlorate facility - the largest facility of its kind and the most efficient in the industry, its strategic NATO location, situated at a key CN and CP rail interval at the heart of the oil sands and adjacent to the industry most efficient operators: Cenovus Energy and MEG Energy. Canexus also enjoys a high quality cash flow from its fixed margin operation in Brazil, and finally the company Chlor-Alkali operation makes it the dominant market leader and the regional low cost producer for caustic soda, chlorine and hydrochloric acid in Western Canada and the Pacific Northwest.
The market is applying a permanent discount to Canexus due to a temporary execution problem at NATO. Yet, over the next two quarters this fog of uncertainly is likely to be removed due to:
The signature of additional take or pay capacity contracts at NATO (an additional contract for 2 trains/week is expected to be signed imminently),
Further progress on the construction of its NATO terminal (update expected by May 2014),
The hiring of a new CEO (expected by Q3).
It is important to note, that none of Canexus assets are impaired, the chemical segment is operating within its historic parameters, and NATO once fully operational will further diversify the company cash flow stream, cover its dividend and underpin its valuation.
It is likely that as we approach 2H-2014 the market will switch its focus from the current short-term negative factors and focus instead on the upcoming completion of NATO and its associated increase in cash flows. It is also conceivable that Canexus will consider partnering NATO with an industry partner (Gibson Energy, Torq Transloading, Altex Energy or Nustar...among others) through a joint venture in order to recover some of its investment in the terminal, pay back debt and to position the facility for further growth.
It is worth noting that in December 2013, KKR invested $250m in Torq Transloading for the purposes of funding Torq's capital program and acquisition strategy. Several such strategic investments have been made by a number of US companies, some of which are pipeline operators such as Kinder Morgan. Considering the attractive short-, medium- and long-term economics of the NATO facility, Canexus should have no issue monetizing this asset should it desire to do so down the line.
In conclusion, for investors looking to position themselves in a company with strong cash flows, sustainable long-term dividend, strategic assets and a number of short-term catalysts, Canexus presents an excellent entry point at current levels.
Disclosure: I am long CXUSF. I wrote this article myself, and it expresses my own opinions. I am not receiving compensation for it (other than from Seeking Alpha). I have no business relationship with any company whose stock is mentioned in this article.