In a recent news release, I found out about a group of 28 U.S. attorneys general who are putting efforts into admonishing Wal-Mart Stores Inc. (NYSE:WMT) and four other big U.S. retailers to get them to discontinue selling tobacco products at their stores. They took a stance that tobacco products should not be sold at stores that deal in health care products and services. The group sent a letter to the CEOs of Wal-Mart, supermarket operator Kroger Co. (NYSE:KR), and Safeway Inc. (NYSE:SWY) that operate pharmacies, and drugstore chains such as Walgreen Co. (WAG) and Rite Aid Corp. (NYSE:RAD). Wal-Mart, Walgreen, Rite Aid and Kroger all disclosed that they are looking over the letter while Safeway did not answer to the requests for remarks.
Last month, CVS Caremark Corp. (NYSE:CVS), the second largest U.S. drugstore chain after Walgreens, disclosed that it would stop retailing tobacco products at its 7,600 stores by Oct. 1 turning it into the state's first drugstore chain to refrain from selling cigarettes.
Concerned about these prevailing headwinds for the U.S. tobacco industry due to official moves to discourage tobacco usage, I thought of checking Altria Group Inc.'s (NYSE:MO) position and outlook as it holds the majority of market share in the U.S. tobacco industry.
U.S. Tobacco Industry Trends and Altria's Position
Overall cigarette consumption in the U.S. is declining at a 4% year-over-year rate stemming from contemporary health regulations and an increase in medical awareness. Additionally, with the Food and Drug Administration regulating tobacco consumerism and imposing more and more taxes on tobacco products manufacturers and their products U.S. tobacco industry players are striving to preserve their earnings growth.
However, till now Altria's bottom-line doesn't seem to be affected by these headwinds despite its top-line suffering due to a decline in sales volume. The company's revenue remained flat recording 1.5% average CAGR for the past three years. Nonetheless the company was able to preserve its bottom-line growth making it a worthy investment. One of the reasons behind the company's ability to preserve its top and bottom lines from falling was the company's strong brand portfolio.
Can the Strong Brand Portfolio Withstand Headwinds for Top and Bottom Lines?
As stated earlier, Altria is the biggest tobacco company in the U.S. having more than a 50% market share. The company has effectively built an extensive moat business resulting in the company taking advantage of premier economies of scale in the industry along with great customer loyalty. Due to these strengths the company was able to lead and capture 51% of the 2013 U.S. tobacco profit pool, much higher than its industry peers, as shown in the following graph.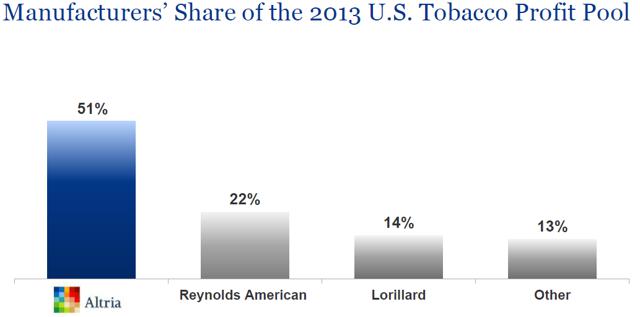 Source: 2014 CAGNY Investor Presentation
From the following chart you can see a 35% price gap between the company's top cigarette brand Marlboro's net price and lowest effective price. Marlboro's retail share for FY 2013 increased by 0.1 share point to 43.7% in comparison to 43.6% recorded for FY 2012 reflecting strong brand loyalty for the product.

Source: 2014 CAGNY Investor Presentation
Now let us have a look at the evolving trends in the industry that will bring growth for the company.
E-Cigarettes and Smokeless Tobacco Markets Offer Good Prospects for the Company
The letter from the attorneys general did not illustrate any concerns regarding electronic cigarettes. E-cigarettes are battery-powered casings that resemble cigarettes and contain a nicotine liquid that, when heated, produces an inhalable vapor. This vapor, according to advocates, is less harmful than conventional cigarette smoke as it does not contain lung-damaging tar.
E-cigarettes are regarded as a new doorway to smoking and an emerging concept by several politicians and scientists and recorded sales of around $2 billion in U.S. in the previous year and are rising in popularity. In contrast, the total U.S. cigarette sales equaled $91.5 billion in the previous year, as stated by Euromonitor International. Recent research at the University of California, San Francisco indicated that e-cigarettes are less harmful to one's health and they do not inevitably assist smokers to quit smoking which is advantageous for Altria.
Altria made a late entrance to the U.S. e-cigarette market in comparison to its peers Lorillard, Inc. (NYSE:LO) and Reynolds American Inc. (NYSE:RAI) but it is striving to gain a better position in the $1 billion market for e-cigarettes. The company has bought Greensmoke Inc. in a transaction of more than $100 million in order to grab a portion of the growing e-cigarette market. The deal is anticipated to close during Q2 FY 2014, expanding Altria's e-cigarette portfolio. The company's MarkTen e-cigarette brand is expected to offset the effect of falloff in tobacco sales due to state initiatives and consumer health awareness along with countering the impact of CVS Caremark Corporation's recent announcement to withdraw selling tobacco products at its stores by October 2014.
Additionally, the company will be capturing opportunities from the growing smokeless tobacco market that has recorded around 5% growth in volume between 2010 and 2013 as shown in the following chart.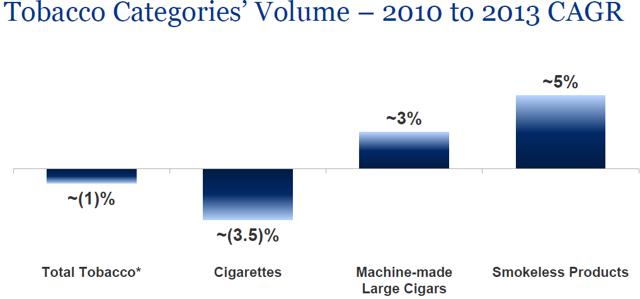 Source: 2014 CAGNY Investor Presentation
The company operates in the smokeless tobacco market through its Copenhagen and Skoal brands and has recorded volume increases that are expected to last till the next decade even if tax rises and regulations try to cut the overall tobacco consumption.
Another one of the company's major strengths that will support its performance and market position in the coming years is the diversified portfolio of products that it holds.
Diversification is the Company's Strength
There is a need to alter the perception about Altria from the fact that it is just a cigarette company. The company owns six varied operating companies that deal in cigars, smokeless tobacco, wine, e-cigarettes, and the management of leased assets in addition to cigarettes. Besides these, the company has a substantial stake in beer manufacturer, SABMiller. Furthermore, Altria's balance sheet reports its 26.9% stake in SABMiller at a much lesser value. This is because Altria is just permitted to disclose SABMiller on its balance sheet in keeping with the brewer's book value rather than its fair value. This greatly understates the real economic value of Altria's stake in SABMiller as SABMiller has a $79.74 billion market capitalization that denotes around $21 billion worth Altria's 26.9% investment in the company. SABMiller's investment is presented by a worth of just $6.637 billion in Altria's balance sheet.
These factors will contribute to the sustainability of Altria's return to shareholder. These returns are a major attraction for most of its shareholders.
Bottom-line and Return to Shareholders
Nonetheless, Altria's pricing power due to brand loyalty will offset the declines in volume for the company's cigarettes. This, along with other factors that include growing smokeless tobacco and e-cigarette market, will preserve the company's top-line. Management's commitment to make returns to its shareholders is notable as around 80% of the company's net income serves to pay dividends supporting a yield of 5.17%. The company made 47 dividend increases in the last 45 years.
Additionally, the company enjoys the positive effects of economies of scale on its bottom-line in addition to a favorable industry structure that supports the bottom-line of all the players. This is the reason why the entire industry has demonstrated strong bottom-line performance despite volume declines. Tobacco companies can earn high margins as they operate in consumer staples sector where there is no need to spend a hefty part of earnings on capital expenditures unlike oil and gas and technology industries.
Analysts expect Altria to grow its EPS by 7.4% per annum over the next five years. This EPS growth when combined with the 5.17% dividend yield gives a 12.57% return to shareholders making it an attractive investment.
Disclosure: I have no positions in any stocks mentioned, and no plans to initiate any positions within the next 72 hours.
Business relationship disclosure: The article has been written by a Gemstone Equity Research research analyst. Gemstone Equity Research is not receiving compensation for it (other than from Seeking Alpha). Gemstone Equity Research has no business relationship with any company whose stock is mentioned in this article.