I strive to keep dividend investing simple, with easy-to-understand profitable and sustainable businesses. It is why companies that produce, transport, distribute, or sell, essential products and services people need every day dominate my portfolio. Demand for food, shelter, and energy increases with each succeeding decade- all of which encourage the growth of basic utilities.
From an investment standpoint, nothing is more boring than utilities. Historically the stocks advance at a snail's pace, distribute decent (though unspectacular) dividends, and always seem to be fighting for rate hikes with overzealous regulators. However, utilities are quintessential to modern industrialized life and worthy of investors' consideration when an outstanding candidate is on sale at a low valuation.
Highly Acclaimed Electric Utility
Cemig (NYSE:CIG), more formally known as Companhia Energética de Minas Gerais, is a holding company with equity interests in more than 170 companies, including 72 power plants. It is the leading integrated power utility in Brazil, servicing more than 7 million users, in 774 municipalities, across 23 states. Cemig manages the longest electrical distribution network in Latin America, and one of the four largest in the entire world. The vast enterprise structure of Cemig operates in three core business segments; Power generation, transmission, and distribution.
2013

Market Share

Approximate %

of 2013 Revenue

Targeted % of

Future Revenue

Power generation

7%

51%

40%

Distribution

12%

41%

40%

Transmission

13%

8%

20%
Source: Cemig presentation at the 2014 Merrill Lynch Brazil Conference
Cemig is the lone Latin American electrical company in the Global DowSM Index of 150 companies, and one of the ten representatives from emerging markets.
The Global DowSM is a 150-stock index of the most innovative, vibrant and influential corporations from around the world. Only leading blue-chip stocks are included in the index.
Cemig is the only Latin American utility included in the Dow Jones Sustainability™ Indices ("DJSI") and has been a member every year since the DJSI's inception, in 1999.
Following a best-in-class approach, the indices measure the performance of the world's sustainability leaders. Companies are selected for the indices based on a comprehensive assessment of long-term economic, environmental, and social criteria that account for general as well as industry-specific sustainability trends. Only firms that lead their industries based on this assessment are included in the indices.
While no guarantee on investment is implied or suggested, membership in both prestigious indices should help alleviate some of the fear U.S. investors often have with a company located south the border. This is a world-class company founded by Juscelino Kubitschek de Oliveira, in 1952. He was the State Governor at the time and served as President of Brazil from 1956 to 1961.
Value Priced at About 4x Earnings
Thanks to a host of factors, Cemig suffered a negative return on its stock price over the last 15 months.
Brazil's fiscal woes, ranging from the near 6% inflation to continuous downgrades of its sovereign debt.
Investors' flight from emerging markets during 2013, without regard for individual companies or sectors.
Regulators imposing mandatory rate reductions for electricity in the spring of 2013.
The government's refusal to automatically renew Cemig's operating licenses at several power plants.
Brazil's downward economic spiral that contributed to Cemig's fall from grace is also an opportunity for value-oriented buyers. History has demonstrated the time to invest is when anxiety runs deep. The cycle Brazil is dealing with today is similar to what all industrialized countries have gone through at various times in history. Recovery is never as quick as one desires, but the patient investor will be rewarded. Brazil is a country rich in natural resources, with a growing middle class, sporting the number one economy in Latin America and the seventh largest in the entire world.
The wholesale dumping of emerging markets in 2013 provides an inviting valuation of Cemig, which historically is nearly twice the current 4.1 PE. Brazil is not a third world emerging market. It is modern, energetic, country emerging on the global stage. It will host the World Cup later this year and the Summer Olympics in 2016. Recently, many of the quality companies in Brazil have begun to witness price appreciation, as investors cull through the ruins looking for the hidden gems.
Regulators mandated steep price reductions in 2013, in a political move to fight inflation and appease a suffering electorate. The drop in electric rates hit the top and bottom lines. Well-managed businesses adapt to new environments, and Cemig has taken cost-saving steps to counter the rate cuts. It is also choosing to bypass the auction process of bidding for new operating contracts, opting instead to tap existing partnerships for development of additional power-generating capacity.
When the company drew a line in the sand over terms stipulated by the Brazilian regulators with respect to renewal of power plant operating licenses, the ensuing court battle left many investors with little appetite to wait on the slow legal process. Too many questions about how and where Cemig would replace the power-generation assets, should the court rule in favor of the government (which is expected), put the stock on life support near the end of 2013.
The final 2013 results reported on March 21st, followed by the March 24th conference call (transcript courtesy of SA), answered some of those questions. Management outlined intentions to move forward with acquisitions and expanded partnerships to replace lost assets and nurture future growth. The strategy provides more favorable return on capital than pursuing renewals on 18 concessionary licenses expiring in the next 18 months.
CEO Djalma Bastos de Morais expanded on the topic with these comments, during the conference call:
So slowly, but surely, we are recovering what we use to have as part of our generating park. More recently, it was a relevant fact we acquired 10% of Santo Antonio, as well. So also, we acquired, just like another Tres Marias inside Santo Antonio. These new acquisitions, including a new Norte Energia, will enable us to set these huge power parks to be operational within the near future.

We are having problems, litigation in courts with Sao Simao and Miranda. So slowly, but surely, we are expanding this generation park so that it will give us a comfortable position for 2014-15, when the concession period of those 18 mills or plants will expire.
In the two weeks following the 4th quarter conference call, Cemig has jumped about 15%. A portion of that can be attributed to the rising tide in the Brazilian market lifting all stocks. Investor confidence in management's ability to replenish sources of electrical production, after digesting the earnings and outlook, has boosted the stock price, as well.
The View from F.A.S.T. Graphs™ 2001 - 2014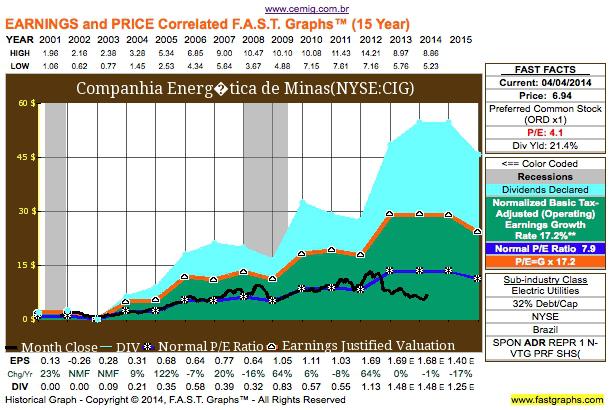 The stock price (black line) has historically trended well below its earnings justified valuation (orange line), but hugged the historical PE (blue line) quite closely. Even with the 15% increase since the earnings were released two weeks ago, the stock price remains comfortably below the historic 7.9 PE level. It is priced at about 4x earnings, which is a reasonable valuation to initiate or add to a holding for an investor with a very long investment horizon seeking to capture growth and dividends.
Best of Breed For Total Return the Last 10 Years
Past performance is never an assurance of what may transpire in the future, but it does provide documented evidence of the company's effort to grow the fundamental business and increase value for shareholders. Over the last ten years, Cemig returned 415%, and that substantial figure does not include the reinvestment of dividends. In comparison, I looked at all the electrical utility companies encompassing David Fish's CCC listing, and none even approached the total return achieved by Cemig.
In the table below is a ranking of the top twelve compared to Cemig, as reported by Stock Split History.com, for the ten years from April 6, 2004 to April 6, 2014.
10-Yr Total Return

Without Dividend

Reinvestment

10-Yr Total Return

With Dividend

Reinvestment

Cemig

415%

482%

CMS Energy

267%

305%

Wisconsin Energy

238%

285%

OGE Energy Corp

234%

313%

UGI Corp

224%

273%

Northeast Utilities

198%

243%

UNS Energy Corp

193%

246%

Edison International

180%

211%

Alliant Energy Corp

168%

221%

Dominion Resources

168%

220%

CenterPoint Energy

158%

209%

Duke Energy

151%

197%

National Grid

149%

216%
Note: ITC Holdings Corp is not included in the above list, because the history only goes back to July 2005. The total returns for ITC in the shortened time frame are an impressive 362% without dividend reinvestment, and 422% with dividend reinvestment.
Cash Dividends Coupled With Stock Distributions
Typical for an international company, Cemig does not follow a managed quarterly distribution schedule customary with U.S. companies. The policy is to distribute 50% of the prior fiscal year's profits as dividends, usually divided into two payments. In addition, Cemig may distribute interest on equity, as well as extraordinary dividends every other year. The extraordinary dividends happen to fall in odd-numbered years.
Investors may receive two payments in some years, and other years, there can be multiple payments because of the interest on equity distributions, and extraordinary dividends. As an extreme example, in 2013, dividends were paid on eleven different occasions, including three times during the month of July. Ten of the dividend distributions were in the form of cash, and one was a 12.85% stock dividend. Though it differs from a true stock split, a stock dividend has the same result for the shareholders as of the record date.
Not all of the dividends are subjected to Brazil's tax. Readers are encouraged to visit the depositary receipt services, provided by Cemig's transfer agent, to view the dividend history, taxes withheld, and ADR fees from 1996 to date, presented in a single table. There is one erroneous omission in that table. The 7/25/2013 dividend is listed incorrectly as $0.00, when it was $0.1309810. (All cash distributions are computed to seven decimal places.)
I compiled the cash dividends paid each year since 1996, minus all ADR fees and Brazilian taxes, in the chart below.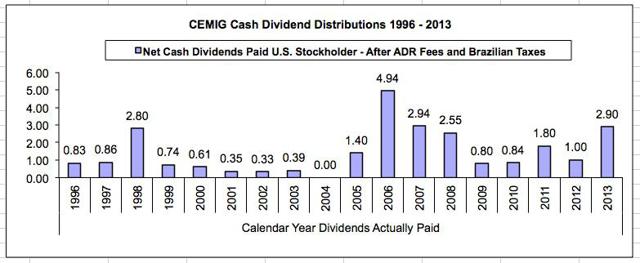 To fully appreciate the generous dividend policy, an investor must take into account the stock dividends in addition to the cash distributions. There were nine stock dividends from 1996 to 2013. In January of this year, a 30.77% stock dividend was distributed. The result of those ten stock dividends is a single share purchased in 1995 has now grown to 9.69 shares.
In the chart below, I applied the stock dividends from 1996 to date, showing the impact on the cash dividends paid over the same period. The stock dividends have a tremendous compounding effect on the cash dividends. A single share bought in 1995 (at a cost of $35) would have earned $18.72 in cash dividends (net) in 2013 alone, and $65.24 over the 18 years. That figure is without reinvesting the cash distributions.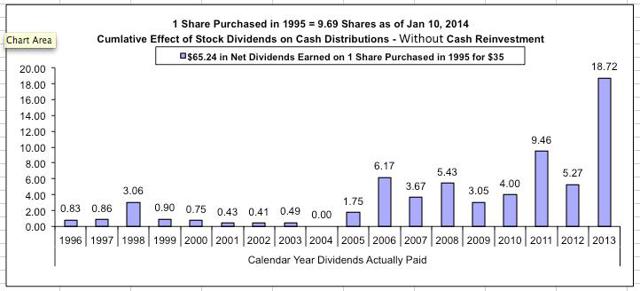 Note: When cash and stock dividend shared the same record date, cash dividend was computed before applying stock dividend.
Unique to Cemig is most of the time there exists an extended lapse between record date and payment date. It usually is a few months and often is many months. As an example, the record date can be in May with the payment date the following January.
Thus, as generous as the dividend history has been, the erratic distributions may not be suitable for the retired investor who requires a more steady and predictable revenue stream. However, investors who can endure the oddities of Cemig's payment distributions will be rewarded generously, especially long-term holders with patience to collect the extraordinary dividends, interest on equity payments, and the stock dividends.
Future Growth From an Expanding Network
Management has stated unequivocally intentions to replenish assets due to expire, and continue the pursuit of new investments. The company has a successful record for expanding all three segments of operation through acquisitions and leveraging its scale and expertise as Brazil's leading integrated power utility.
Many of Cemig's equity stakes are small, offering opportunities to acquire a greater share of existing partnerships.
Recently it has ventured into Chile and is now working to establish a foothold in Colombia.
While 98% of Cemig's power generation comes from hydro, two other renewable energy sources the company is always looking to add are wind and solar power. Cemig built Brazil's first commercial wind farm in 1994. Currently, it holds equity in 82 wind power companies.
Telecommunications and distribution of natural gas are two more areas Cemig seeks to develop as larger percentages of the company holdings.
Unheralded Electric Utility Appealing to Value, Growth or Dividend Investors
Cemig's current price tag offers an excellent opportunity for portfolio diversification into the Latin American economy, with an esteemed company operating a simple and sustainable business. Electricity is a necessity, and the demand for renewable sources will continue to grow for decades.
For the value investor, Cemig's PE may be the most attractive in the sector.
The remarkable total return should continue to thrive with market share growth in Brazil, and expansion into Chile and Colombia.
While variable, the liberal dividends paid from profits are substantially higher than the penny-pinching incremental increases most common with U.S. utilities.
Disclaimer
Always perform your own due diligence, and respect that my enthusiasm for a dividend growth investment may not be suitable for your portfolio.
Disclosure: I am long CIG. I wrote this article myself, and it expresses my own opinions. I am not receiving compensation for it (other than from Seeking Alpha). I have no business relationship with any company whose stock is mentioned in this article.