Facebook Over Twitter:
Facebook (NASDAQ:FB) has had the lead over Twitter (NYSE:TWTR) for some time, as marketers continue to choose the former platform over the latter. Although Twitter is the newer fad, and a huge amount of news breaks on the platform, marketers continue to choose Facebook over Twitter for advertising. Over three times as many marketers surveyed choose Facebook over Twitter for their advertising campaigns.
(Source)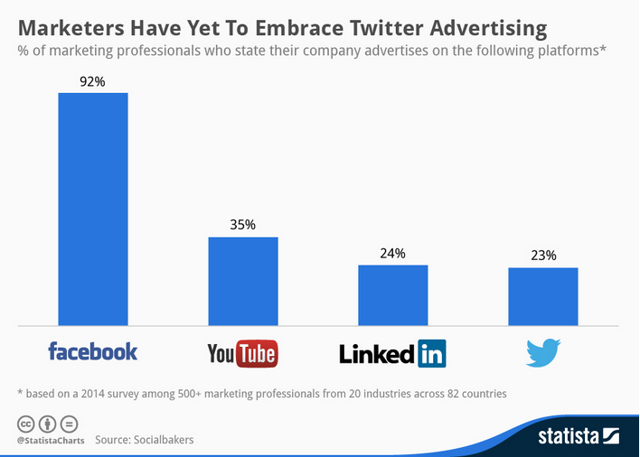 ROI Per Platform:
Marketers have set budgets and are looking for the highest possible return on their investment in the marketing realm. In the fourth quarter of 2013, Facebook offered marketers the highest revenue per visit at $1.22 per visit compared to $0.81 for Twitter. As such, Facebook offered nearly 50% more revenue per visit over the tweet shack.
(Source)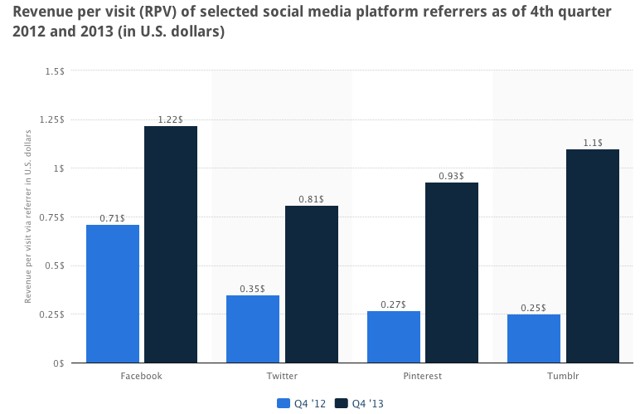 Twitter is going to have to make some serious changes to improve their advertising returns to attract marketers and remain competitive to Facebook.
Twitter's Changes:
Recently, Seeking Alpha reported the WSJ's news that Twitter is planning several new changes to improve its AD landscape.
Twitter -- 2.1% will launch 15 new ad products as well as new targeting options over the next six months, sources tell the WSJ. The first batch, including Twitter's rumored app install ads (will compete against a very popular rival product from Facebook), are due within a few weeks.
Twitter's app install ads will reportedly leverage its expandable card format for tweets, as might a click-to-call button for mobile ads. Meanwhile, Twitter has joined Facebook (previous) is working with marketing data providers such as Acxiom (ACXM -6.1%) and Datalogix to help advertisers leverage offline data to target users.
Lowering customer acquisition costs is seen as a priority for Twitter. Social media ad firm AdParlor estimates the cost of acquiring a new user via Twitter ads is $20, or 5x Facebook's $4.
Twitter has already been busy launching/testing a slew of changes to its core product to help boost user growth and lower churn, and has also made several noteworthy moves to appeal to TV advertisers.
Shares fell today amid a general tech rout, albeit less than many peers.
One of the most interesting additions planned is an application install advertisements. This means that users will be able to download applications featured in ads on Twitter directly from the tweet. This cuts down on time and increases the ease of downloading an advertised application. This can be a very lucrative addition for developers who are looking to increase downloads and application awareness.
Below (I) is how Twitter demonstrates their new app install configuration. Lately on Twitter I have seen it come across with ease, being able to initiate the download directly from the ad.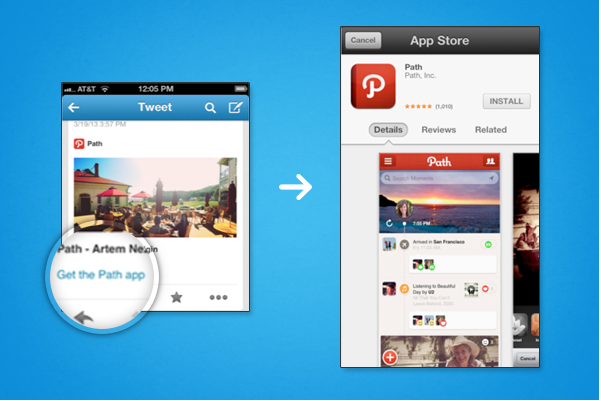 This application install is set to compete against a rival product from Facebook. Twitter may be seen as playing catch-up with Facebook, although they have to get ahead of the curve if they want to remain competitive. The above report demonstrates how expensive it is to acquire a new user for Twitter over Facebook - at $20 over Facebook's much lower $5 cost.
These are not the only changes Twitter has planned. As an aside, Twitter made serious changes such as allowing users to tag their friends in pictures, the test of a photo-driven profile page redesign and changes to allow users to better retain the flurry of information portrayed on the stream. This same report marks that a Hillside Partners analysis found that Twitter sharing has fallen 5% Y/Y in Q1 as Facebook's likes and shares grew 31% and 14% respectively.
Returns:
Technology companies can be tricky to analyze, and as such, certain fundamental metrics can be apples and oranges when comparing in the technology sector. This is due to the growth stage of each technology company since the introductory phase can sport massive growth over the growth and maturity phases. Regardless, we can look at certain returns of both Facebook and Twitter to see how their business plans are translating into shareholder returns.
On a return on equity basis, Facebook is slightly increasing on a TTM over Twitter's declining percentage.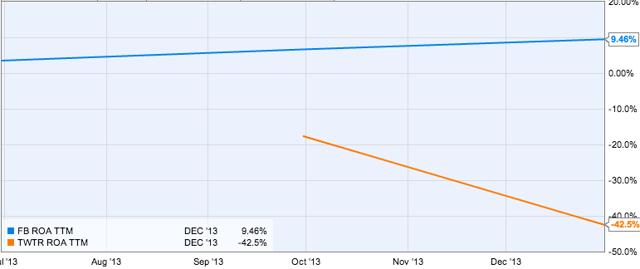 On a return on assets basis, Facebook is also improving its return as Twitter is both declining and negative.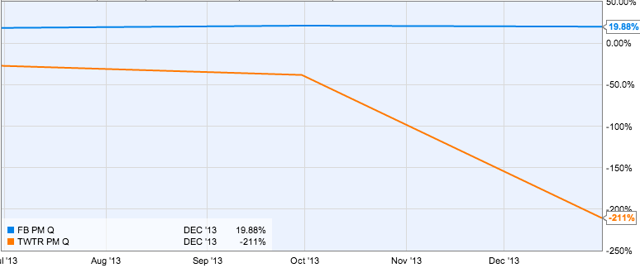 On a more interesting note, Facebook's nearly 20% quarterly profit margin is much greater than Twitter's over 210% negative margin.
As stated earlier, technology companies in the early explosive growth phases are valued more at what their future potential will be over their returns today. Although these metrics need to be viable, and when compared to a direct competitor, it may shed some light on which company is the better play for each investor's situation.
Concluding Thoughts:
Twitter is having a tough time with user growth and a harder time making its advertising platform more attractive to marketers over Facebook's cheaper model. Twitter's new plans, such as install app ads, are a catch-up play with Facebook and need to be successful in order to help Twitter.
Twitter has been the beneficiary of serious growth. In the 4Q of 2013, the company's revenue grew 116% Y/Y from 105% in Q3. Growth has not been a problem for Twitter, as the company is younger than the more established and mature Facebook. On the other hand, Twitter has to be successful in making its marketing platform cheaper for marketers to attract new users and achieve comparable revenue returns to Facebook. If Twitter is able to offer marketers a more attractive return, they can achieve greater profitability and returns.
Although Twitter may be a fad, and a very useful and exciting one at that, Facebook's dominance and strength should not be discounted. Certain key points and pivotal information facts can demonstrate the differences between the two platforms.
Disclosure: I have no positions in any stocks mentioned, and no plans to initiate any positions within the next 72 hours. I wrote this article myself, and it expresses my own opinions. I am not receiving compensation for it (other than from Seeking Alpha). I have no business relationship with any company whose stock is mentioned in this article.
Disclaimer: Always do your own research and contact an investment potential before executing any trades. This article is in my own personal opinion.