BDCs have fallen an average of 6% since S&P announced on February 24, 2014 that it would remove BDCs from its indices and was followed by Russell announcing the same on March 3, 2014. This series will discuss the reasons and potential short and long-term impacts of these changes as well as the opportunities and risks to investors. Many BDC analysts are suggesting that investors stick to higher quality and more efficient BDCs such as this announcement from Wells Fargo: "we believe investors should roll back exposures to lower quartile BDCs in favor of Quartile 1 names-simply due to the fact that Quartile 1 BDCs stand to generate less volatility in light of the pending Russell rebalance" and this Barron's article that discusses Baird's view that more efficient internally managed BDCs such as Main Street Capital (NYSE:MAIN) and Triangle Capital (NYSE:TCAP) will outperform due to smart institutional investors acquiring the shares during the Russell selloff. However in the short-term this is not the case and many of the higher quality BDCs have been hit the hardest. Over the next few weeks investors should be looking for these opportunities and buying on the dips.
The table below shows the change in average daily volume compared to the change in stock price. I have also included the February 24, 2014 stock price as a multiple net asset value ("NAV") per share.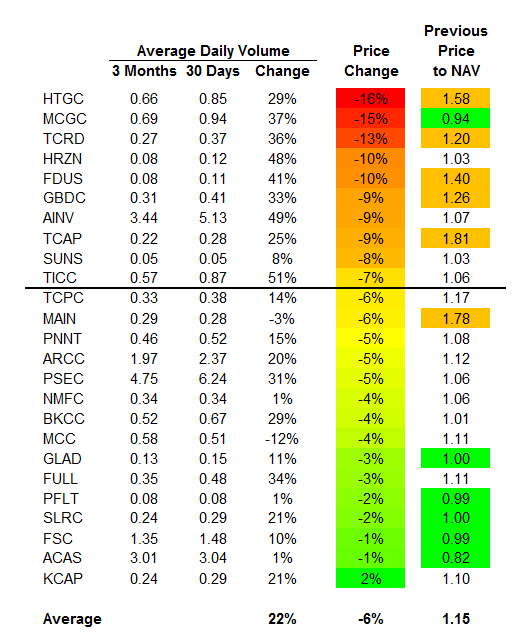 Obviously trading volumes for BDCs that have had the largest declines have increased the most but more importantly is that the higher priced companies, on average, fell the most. MCG Capital (NASDAQ:MCGC) is an outlier and dropped for the reasons discussed in "Hercules Technology Vs. MCG Capital". There are a few reasons I believe that higher NAV multiples and the recent declines are related. I should start off with the difference between retail and institutional investors as related to BDCs because it will be a common theme throughout this series and is the most important issue related to BDCs being dropped from the indices. The key differences are the amount information, research and influence that institutional investors have. This can be a good or bad thing as discussed in "BDC Risk Profiles Part 4: Insider And Institutional Ownership". Basically institutional investors are "smart money" and needed to keep pricing aligned with quality. If management of BDCs starts to make bad decisions these investors can influence them or sell shares. Many of the higher priced BDCs have large amounts of institutional investors especially Hercules Technology Growth Capital (NASDAQ:HTGC) and THL Credit (NASDAQ:TCRD), and to a lesser extent Golub Capital BDC (NASDAQ:GBDC). MAIN has much less but has also not dropped as much. There is a chance that if BDCs are excluded from the indices there will be less institutional investors, above and beyond the ones that track the Russell indexes, and may have already started selling shares but will most likely buy them back in May or June during the rebalance. Another reason for these declines is that retail investors usually price BDCs based only on NAV so many of them consider these BDCs to be overpriced.
The other issue that has led to recent price declines is related to volume. Russell gave the SEC until May 15 to remove the Acquired Fund Fees ("AFF") reporting requirements for BDCs and this will impact BDCs with lower trading volumes because of fears of downward pricing pressure from selling. I will cover the AFF issue later in this series. The following table shows the amount of shares that is related to the Russell rebalance, the last three months average trading volume and the amount of days it would take to trade. Keep in mind that these volumes have gone up as previously discussed and going forward I believe the BDCs that will take longer for the rebalance to finish will see shares trading down as we get closer to the May 15 deadline. It should also be noted that both American Capital (NASDAQ:ACAS) and Ares Capital (NASDAQ:ARCC) have less shares as a percentage of total due to being in the Russell 1000 with only 3% of shares compared to the others in the Russell 2000 with 8% exposure.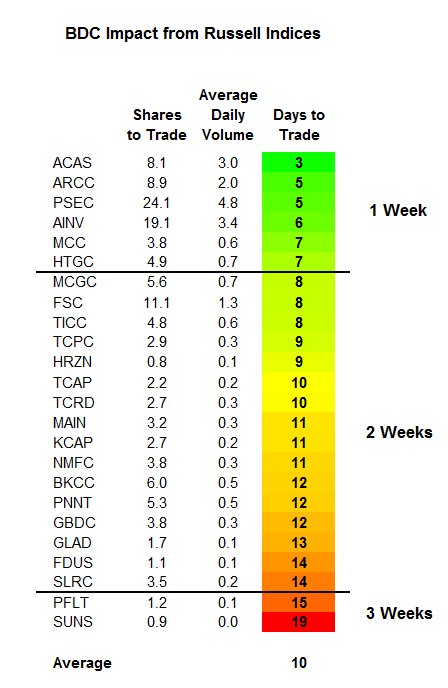 Larger BDCs such as ARCC, ACAS, Prospect Capital (NASDAQ:PSEC), Apollo Investment (NASDAQ:AINV) and Fifth Street Finance (FSC) will not be impacted as much due to higher trading volumes. I believe companies such as Fidus Investment (NASDAQ:FDUS), Solar Capital (NASDAQ:SLRC), Solar Senior Capital (NASDAQ:SUNS) and PennantPark Floating Rate Capital (NASDAQ:PFLT) will start to see higher pricing volatility over the next few weeks.
The rest of this series will continue to focus on the potential impacts to BDCs as well as the current pricing anomalies that investors should be taking advantage of. BDCs such as HTGC, MAIN, ARCC, GBDC, TCAP, TCP Capital (NASDAQ:TCPC) and New Mountain Finance (NYSE:NMFC) will most likely rebound and be the higher quality investments that institutional investors will continue to hold.
Investors should only use this information as a starting point for due diligence. See the following for more information:
Disclosure: I am long HTGC, MAIN, TCPC, FSC, ARCC, FDUS, TCRD, PSEC, NMFC. I wrote this article myself, and it expresses my own opinions. I am not receiving compensation for it (other than from Seeking Alpha). I have no business relationship with any company whose stock is mentioned in this article.