It's been a hell of a week for Citigroup (NYSE:C) - again.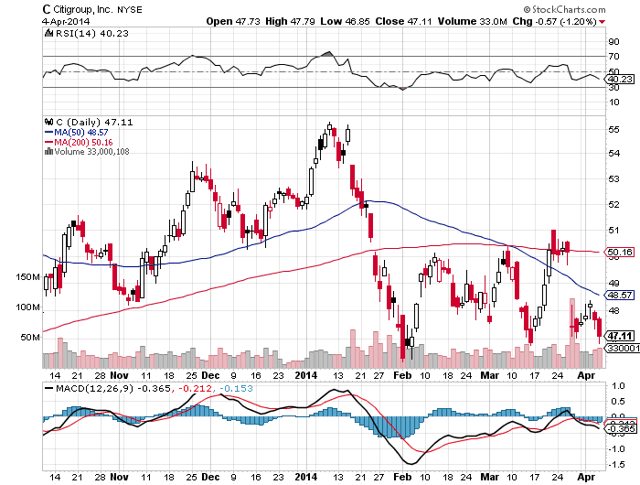 Citi has given back almost all of the gains its picked up over the last year, off 9.6% YTD for 2014 but still up 9.5% for the last twelve months.
Last week it was Citi versus the Fed on the bank's stress tests and shareholder payout results. This week it's more bearishness and a pesky Federal probe with regards to $400 million fraud in Mexico.
Seeking Alpha reported:
The FBI and the U.S. attorney's office are investigating whether weaknesses with Citigroup's internal controls helped facilitate a $400M fraud involving its Banamex Mexican unit, the NYT reports.
The probe adds to a parallel inquiry by the SEC, as well as to an investigation by federal prosecutors in Massachusetts into whether Citigroup lacked proper safeguards against money laundering.
After that was announced, Citi lost its buy rating at Sterne Agee, with the firm citing the Fed's rejection of Citi's capital allocation strategy. Amidst the broad market sell off to end the week, Citi was once again hit and now sits in the $47 range.
But, I'm not expecting this price action to last long.
I think the fundamentals are ultimately going to tell Citi's case. The stock fundamentals, that is. If you think Citi is going to come out of these downgrades and Fed questions without material consequences (very likely), the stock simply looks dirt cheap right now.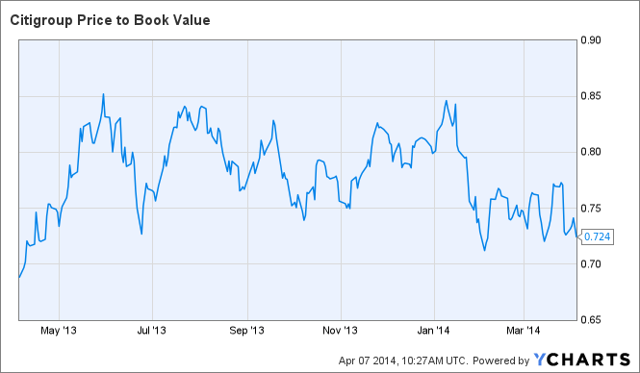 C Price to Book Value data by YCharts
The stock is selling for well under what it's worth on paper, that's the first major positive. In addition, it's relatively cheap to its peers. Actually, it is the cheapest when compared to other large and most regional sized banks.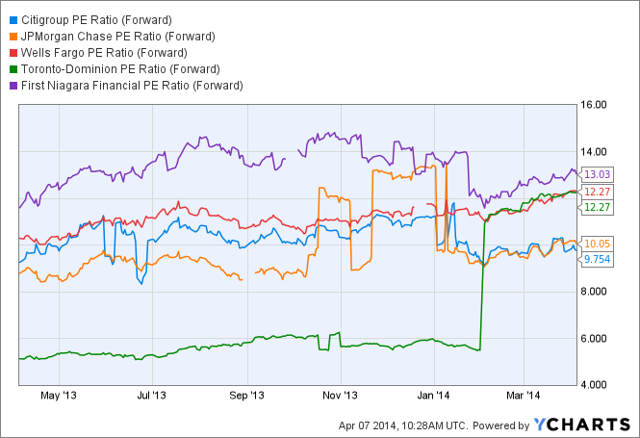 C PE Ratio (Forward) data by YCharts
These are the types of stocks that traders who are moving from speculative into conservative are looking for: long-term potential, fundamentally undervalued.
Further, it doesn't look like I'd be in the minority by suggesting that I think Citi's stock is a buy here. There's some options traders that sound like they agree with me. Despite Citi's troubles, it looks like the option pits are giving the company the bullish nod:
While C has lost 9.6% so far this year to trade at $47.11, the equity has racked up a 10-day International Securities Exchange (ISE), Chicago Board Options Exchange (CBOE), and NASDAQ OMX PHLX (PHLX) call/put volume ratio of 2.69, which ranks in the 71st annual percentile. In other words, option traders have placed bullish bets over bearish at an accelerated pace during the past two weeks. A continuation of Citigroup Inc's losses may cause these option bulls to hit the exits, which could create additional technical pressure on the shares. At least short-term speculators can rest assured knowing that they purchased their bets at a reasonable price, from a volatility perspective -- the stock's Schaeffer's Volatility Index (SVI) of 24% ranks lower than 63% of comparable readings from the past year.
There doesn't seem to be a lot of risk here, if you ask me. Yes, the $400 million fraud is a big headline, but the chances of things playing out so bad that it materially affected Citi are slim. I think Citi's fundamentals make it the exact kind of company that can not only power through these bad headlines, but come out yielding gains for its shareholders.
Investment thesis: Citi appears to remain cheap both for the short and long term here. Short-term traders can do well to buy in and hold for the coming 8-10% gains as it eventually makes its way over $50 again. Long-term traders still get the discount to book here, but will likely have to hold a bit in order to get the security blanket of the dividend. However, I contend that dividend or not, Citigroup is too cheap of a stock to be overlooked on this sell off.
Best of luck to all investors.
Disclosure: I have no positions in any stocks mentioned, and no plans to initiate any positions within the next 72 hours. I wrote this article myself, and it expresses my own opinions. I am not receiving compensation for it (other than from Seeking Alpha). I have no business relationship with any company whose stock is mentioned in this article.