Introduction
Cal-Maine Foods, Inc. (NASDAQ:CALM), which sold nearly 950 million dozen shell eggs in 2013, is the largest producer in the United States. Operating in a single market segment, CALM sales represented about 21% of internal shell egg consumption.
CALM is also one of the largest producers of specialty shell eggs in the country. While being value-added products - nutritionally enhanced, cage free and organic eggs - they accounted for about 24% of company sales in 2013.
With a market capitalization of $1.48B, Cal-Maine has been growing steadily for decades, and sells the majority of its production in 29 states across the south and east regions of the United States.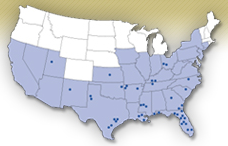 Initially named Adams Egg Farms, Inc., it has been founded in 1957 in Jackson, Mississippi. Fred R. Adams, Jr. was Chief Executive Officer from the formation of the company in 1969 until October, 2010, when his son-in-law, Adolphus B. Baker replaced him.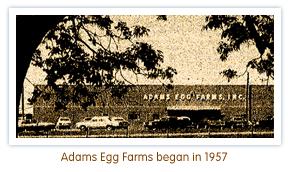 While the family still holds 30.5% of the outstanding shares of common stock and 100% of class A common stock, it collectively owns 67.0% of the total voting power.
It has been a patient and determined long walk that has led the company to develop a total flock of approximately 33 million hens, by far the largest in the United States.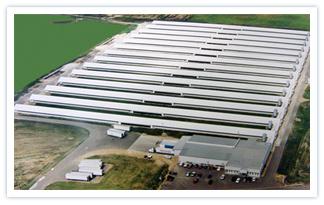 Historical economic and financial situation
The table below shows the evolution of some key financial data in the past few years.
$million
2007
2008
2009
2010
2011
2012
2013
1Q14
2Q14
3Q14
Net Sales
598
916
929
910
942
1,113
1,288
320
354
396
Net Income
36.7
151.8
79.5
67.8
60.8
89.7
50.4
8.8
26.1
42.9
EPS ($)
1.55
6.40
3.34
2.84
2.54
3.75
2.10
0.36
1.08
1.77
Gross Profit
119
299
205
195
185
202
215
45
75
92

Divi

dend ($)

0.05
1.34
1.11
0.95
0.85
1.25
0.75
0.068
0.361
0.591
It's interesting to go back to 2007 in order to analyze the evolution of CALM's economic situation. The exceptional increase of sales and profits in 2008 was due to the rise of the average selling price of shell eggs (per dozen) from $.832 in 2007 to $1.260 in 2008, an increase of $.428, or 51.4%.
It's important to note that between 2007 and 2013 the company has recorded sales growth at a 13.6% CAGR. Moreover, given 3Q14 excellent results sales may reach a value exceeding $1.4M in 2014. Similarly, net income for the last quarter also points out that an annual EPS of around $4 per share can be easily achieved.
It's crucial to clarify a detail concerning 2012 and 2013. In fact, results for 2013 include a one-time charge of $28.0 million related to the settlement of a direct purchaser class claim against the company. Additionally, results for 2012 include a one-time gain of $38.3 million in consequence of a distribution from Eggland's Best, Inc. (CALM is a member of this cooperative) related to the joint venture between Eggland's Best, Inc. and Land O'Lakes, Inc. Excluding these one-time items, net income for 2013 was $67.5 million versus $62.7 million in 2012.
Cal-Maine has paid since the 3rd quarter of 2008 a variable dividend on a quarterly basis amounting to one third of each quarterly net profit.
3Q14 Results
Cal-Maine net sales totaled $395.5 million in 3Q14, +9.8% versus $360.4 million in 3Q13. The company reached net income of $42.9 million in 3Q14, +40.2% versus $30.6 million in 3Q13.
Diluted EPS arrived at $1.77 in 3Q14, +39.4% versus $1.27 in 3Q13.
The company was able to benefit from lower feed costs compared with the same period last year. Sales of specialty eggs have increased over this year and reached 9.0% in 3Q14. Specialty eggs accounted for 17.4% of volume and 23.7% of sales in 3Q14 compared with 16.7% of volume and 23.6% of sales in 3Q13.
Dolph Baker, chief executive officer of Cal-Maine Foods, stated:
We believe the performance of specialty eggs will continue to be a key driver of our growth as we capitalize on favorable consumer demand trends. We remain focused on identifying additional opportunities to market and sell specialty eggs and enhance our product mix."
While net average selling price (dozen) achieved $1.416 in 3Q14 vs. $1,351 in 3Q13, feed cost (dozen) stood at $0.459 in 3Q14 vs. $0.547 in 3Q13.
Those are excellent results for Cal-Maine. While selling prices are up and costs down, demand remains very strong, and specialty eggs are gaining market share.
Even if this profile might slow a bit in some future quarters, these powerful catalysts may lead the company to levels even more robust and profitable.
About the market
This is a cyclical market where shell egg prices can fluctuate dramatically due to seasonal factors. In fact, prices usually rise since the end of summer and have their highest point prior to holiday periods. Typically, Cal-Maine often records better results in its second and third quarters ending in November and February, respectively.
As an important factor for the market, an egg price quotation is published each business day by Urner-Barry Publications. It is used by egg producers, distributors and purchasers for the negotiation of egg prices at various levels in the chain of egg production.
In 2013, the US egg production industry may have produced around 6.590 billion dozen eggs revealing 1.1% annual increase since 2010. It is estimated by the USDA that there were 284 million hens in flocks over 30,000 registering 98.5% of the US total. The top six states had 162.7 million hens in September. With regard to the top-10 U.S. egg producers, they represented around 50.0% of total production with 141 million hens as noted in the tables below.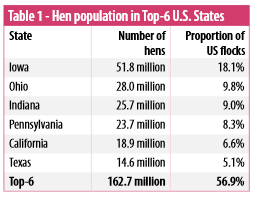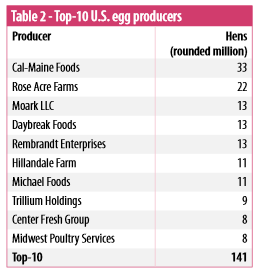 In 2013, Cal-Maine sales of around 950 million dozen shell eggs represented around 21% of shell egg consumption in the United States.
Problems during 2008-2011?
It is somehow puzzling the evolution of sales and profits of the company between 2008 and 2011.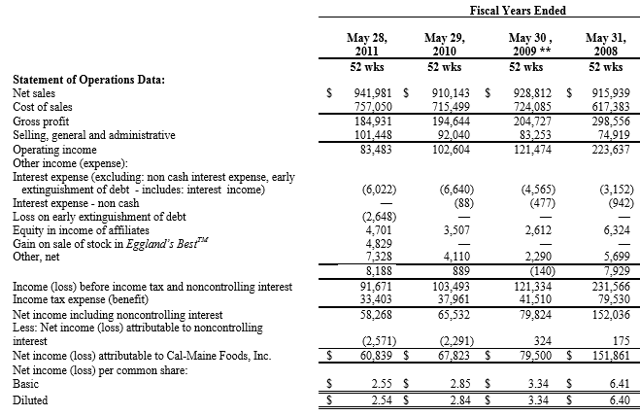 Source: FORM 10-K
In fact, in this period sales have increased only at a 0.94% CAGR and it's essential to explain two crucial aspects:
1. The reasons for this situation
2. The relationship between sales and annual profits
After doing this, we will have a clear idea if what happened is relevant for the future. On the other hand, we will be able to assess if the risk of Cal-Maine's activity has to be considered higher in the future.
| | | | | |
| --- | --- | --- | --- | --- |
| $million | 2011 | 2010 | 2009 | 2008 |
| Cost of sales | 757 | 715 | 724 | 617 |
| Net income | 60.8 | 67.8 | 79.5 | 151.9 |
| Egg market price per dozen ($) ((a)) | 1.13 | 1.12 | 1.21 | 1.38 |
| Feed cost per dozen eggs ($) ((b)) | 0.39 | 0.35 | 0.40 | 0.34 |
| Market price/Feed cost ratio (a/b) | 2.90 | 3.20 | 3.03 | 4.06 |
As already noted, 2008 has continued to be exceptional with regard to profits and the ratio Market prices/Feed costs. The three following years have shown a moderate raise in cost of sales which has led to a slight gradual decrease of net income. Indeed, in these years cost of sales have increased at 7% CAGR, much higher than sales in the same period. It can be concluded that CALM is able to maintain significant positive results even in years that fail to increase sales in a relevant way. It is noteworthy that these years refer to a difficult recovery phase of the global financial crisis.
| | | | | |
| --- | --- | --- | --- | --- |
| $million | 2011 | 2010 | 2009 | 2008 |
| Sales | 942 | 910 | 929 | 916 |
| Net Income | 60.8 | 67.8 | 79.5 | 151.9 |
| Net Income/Sales (%) | 6.5% | 7.5% | 8.6% | 16.6% |
In this period, net income/sales (or net profit margin) never was below 6% which must be considered as very positive.
Let's now analyze the most recent years including the three quarters of CALM's fiscal year 2014.
| | | | | | |
| --- | --- | --- | --- | --- | --- |
|   | 3Q14 | 2Q14 | 1Q14 | 2013 | 2012 |
| Net Income/Sales (%) | 10.8% | 7.4% | 2.8% | 5.2% | 5.6% |
| Market price/Feed cost ratio | 3.09 | 2.74 | 2.27 | 2.50 | 2.60 |
With the exception of 3Q14, feed costs have been high since 2012, but the company has shown strong pricing power helped by growing demand. Thus, net income/sales has been significantly high and gives enough confidence for future quarters.
The key drivers of business growth
As the most important component of production, feed cost have increased over the 5-regions monitored by the USDA, reaching 46.5 cents per dozen in February 2014.
FEED COSTS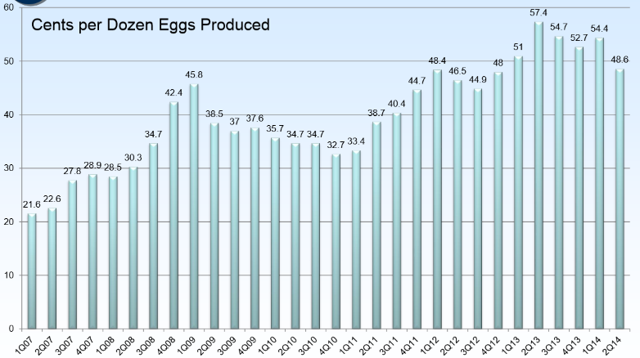 Source: Calm-Maine Foods (Investor Presentation)
This was an increase of 3.9% compared to 44.8 cents per dozen in January 2014. The average monthly feed cost in 2013 was 50.12 cents per dozen.
Urner-Barry Southeastern Regional Large Egg Market Price (per dozen eggs; monthly average)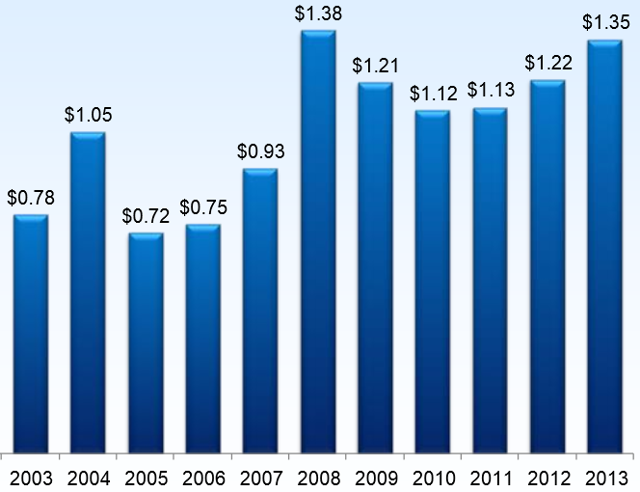 Source: Cal-Maine Foods (Investor Presentation)
The USDA egg price in February 2014 at 111.3 cents per dozen was 22.3 percent higher than the January 2014 value of 91.0 cents per dozen and almost equivalent to the December 2013 value of 112.7 cents per dozen. This data interprets monthly statistics for five regions, respectively representing the Northeast, South East, South Central, Midwest and West (combining the Northwest and California)".
As can be seen in the chart above, market prices for CALM's production are much higher due to egg size and quality. Either way, the high February value is inconsistent with seasonal factors and must be related to increased demand relative to supply. In fact, quality assurance, new eating habits, health care and even weather conditions can help to change consumption propensity and emphasize the increased demand of eggs. This trend has already been observed for some time as shown in the table below (the small red squares indicate forecasts for 2013 and 2014).

Source: Egg Industry Center (Iowa State University)
CALM's specialty egg sales achieved 16% of volume and 24% of sales value in 2013. The average selling price of shell eggs for the quarter was $1.42 per dozen. Specialty eggs, which are distinctive value-added products, averaged roughly $1.96 per dozen representing a premium of 40% over generics.
After this short introduction, we may list the key drivers of CALM's growth:
Selling prices and feed costs
Acquisitions
Strong consumer demand for eggs
Growing market for high-margin specialty eggs
Solid financial position
Item 1 has been sufficiently developed. About acquisitions, it can be said that all egg producer with capacity over 500,000 layers are always potential an acquisition opportunities for Calm-Maine. Therefore, the company plans to extend further the ability to identify, execute and integrate additional acquisitions. More about this subject in a separate chapter.
In recent quarters there has been a strong increase in the consumption of eggs, which seems to be a trend and is an extremely important factor in the medium and long term. On the other hand, it is crucial to have a solid customer base concerning the expansion of the business. In the last quarter, specialty egg sales have continued to rise and gain market share which is imperative as higher margins are concerned.
Finally, it's necessary to emphasize that Cal-Maine has a strong balance sheet. With stockholders' equity of $572.85M, the company has an extremely low debt/equity ratio (0.12), meaning that it primarily finances its growth with equity.
Cal-Maine has a solid position and a secure base to continue to grow steadily. With adjusted ROE of 13% and a solid ROA of 9% it's unquestionable that the company is generating good returns and has potential to achieve much more than before.
Growth and acquisitions
Cal-Maine growth strategy and acquisitions is a long term goal with short term remarkable implications. It has to do with growth as well as value. The possible purchase of a couple of companies of medium dimension may lead to a significant increase in CALM's market value. In other words, these probable acquisitions can become a decisive factor in eliminating the undervaluation of Cal-Maine in the near future.
Cal-Maine Foods' site states:
Despite a market that has been characterized by increasing consolidation, the shell egg production industry remains highly fragmented. According to Egg Industry Magazine, there are currently 54 producers who each own more than one million layers. Calm-Maine has been a leader in industry consolidation. Since 1989, it has completed seventeen acquisitions ranging in size from 600,000 to 7.5 million layers."
Cal-Maine's most recent acquisitions were those indicated below:
Pilgrim's Pride in August 2012, with 1.4 Million hen production capacity at a price of $18.8 million.
Maxim Production Co. in November 2012, with 3.5 Million hen production capacity at a price of $65.0 million.
Remaining 50 percent membership interest in Delta Egg Farm in March 1, 2014, at a purchase price of $17.0 million. The company is now a wholly-owned subsidiary of Cal-Maine Foods with 1.2 million hen production capacity and feed mill, and 0.4 organic egg production capacity."
Keeping up this strategy, CALM will be in an increasingly strong and consistent situation, building a solid foundation for higher sales and profits.
If we want to refer to the controversial 2008 farm animal protection law (also known as Prop 2) which remains on path to take effect in 2015, Cal-Maine advantages are even greater. Indeed, if egg farmers want to do any business in California they will have to meet demanding requirements. The necessary investments are very difficult to satisfy by most companies. Thus, it is another obvious opportunity for Cal-Maine in terms of consolidation in the industry.
There is one aspect of CALM's acquisition strategy that has to do with the current egg market. Cal-Maine is now a much larger company than it was when it acquired the first company back in 1989. Likewise, egg market is larger, more competitive, and Cal-Maine is dominating the segment far ahead of its closest competitor.
Usually, Cal-Maine has been buying relatively small companies. However, as time passes by and the dimension of CALM is much larger now, it only makes sense to buy bigger businesses than before. As the company has enough cash flow and large indebtedness capacity, if a great opportunity arises surely Cal-Maine will not miss the chance. As this is a possibility in the short or medium term, the company's value will rise in line with sales increase, and the ability to get good returns on its investments. Specifically, both through acquisitions and its normal growth, Cal-Maine may have within a year EPS of $5-$5.50. If we apply the current P/E of 20, we'll reach a value between $100 and $110 per share.
Comparative analysis with the Industry
As egg producers are almost all private companies, I chose to compare Cal-Maine with the Industry (Food - Major Diversified). It's not exactly its market segment because it includes many other subsectors.
| | | |
| --- | --- | --- |
| 2013 | Cal-Maine Foods | Industry (Food - Major Diversified) |
| Market Cap | 1.48B | 780.71M |
| Revenue | 1.40B | 1.37B |
| Gross Margin | 0.19 | 0.25 |
| EBITDA | 155.68M | 114.99M |
| EPS | 3.06 | 0.45 |
| P/E | 20.13 | 17.82 |
| P/S | 1.09 | 0.83 |
| EBITDA/Revenue | 0.11 | 0.08 |
From this comparison we can see the favorable position in which the company stands relative to the industry. I think the following points should be noted:
1. For a company like Cal-Maine to show an EBITDA margin of 11% should be considered very reasonable.
2. EPS which is oscillating over the quarters is in condition to provide significant value for this year, pointing to $4 per share.
3. There is no official estimates beyond 2015. It's obvious that Cal-Maine needs more analysts to follow it and produce adequate estimates for the long term (5 years).
It's important to state that this company denotes strength given the ongoing demand for their quality products which are essential goods.
Risks and Threats
The company operates in a highly competitive business subject to risks and threats coming from different situations that can arise from multiple market factors. These can be considered the most important risks that the company faces:
1. Rise in feed costs
These costs are the most important since they represent about 65% of total costs. The most frequently used are corn and soybeans. The fluctuations of these commodities could complicate the company's profitability. However, the active management of these assets in the markets can safeguard and reduce their ups and downs sometimes with advantage for the company.
2. The company buys from outside producers 7% of the shell eggs it needs for its customers.
There are additional 19% of shell eggs which come from assets that CALM owns, but which are not directly produced by the company. I will not worry too much about this parcel. The prices at which the company purchases these products may fluctuate in order to meet the required quantities. Anyway, I think that Cal-Maine's bargaining power is great and it's minimal the risk of not satisfying orders from its customers because of this situation.
It's a very competitive market segment with demand showing a clear tendency to a gradual increase, and where the company is very well positioned. Moreover, the financial basis of the company is extremely solid, and from the economic standpoint the company has the ability to increase sales and profits in a relevant way.
Valuation
After the release of 3Q14 financial results, Cal-Maine will probably achieve EPS of $4 for the full year of 2014. Taking a P/E of 20 we arrive at a current value of $80 per share. However, it is not included here the potential for future growth, and the unique position the company holds in the market. For this reason, I will use another valuation methodology through a basic discounted cash flow (NYSE:DCF) analysis. My model is still very conservative:
FCF at 10% CAGR reaching ~$182M in 2019
Operating margin of 8%
A 15x multiple against FCF in 2019 gives Terminal Value
WACC (Discount Rate): 7.5%
Cash and short-term investments minus debt: $126M
Thus, we get a total market value of ~$2.64B. As there are currently 24.05M fully diluted shares outstanding, we arrive at a value of $110 per share.
If FCF will grow at 12% CAGR, we would get a value of $120.50 per share. Taking FCF growth at 8% CAGR, it would lead to a value of $99.50 per share.
It is clear that the company has great upside potential. In fact, the base case scenario may give a value of $110 per share which leads to 75% upside.
Wondering about the downside risk of Cal-Maine
It will be mentioned in this article that the share price of this company follows its fundamentals. As prices have some volatility when certain limits are reached, corrections either upward or downward balance these movements. This fact makes us believe that, under normal conditions, the strong activity of the company in the long run will only occasionally allow sharp drops which should be regarded by investors as buying opportunities.
At this stage, we are witnessing a significant price increase even in less favorable periods given the demand for quality that Cal-Maine can satisfy. The combination of rising prices and growing demand will boost the activity of the company in a very strong way. In addition, growth by acquisitions of other companies will complement the above mentioned factors, and is a key catalyst that will enable the company to make a significant leap forward.
Short positions
There have been several times when CALM's shares short were quite high in relation to total shares outstanding. This happened in 2004-2005 and especially in 2008-2009. On a smaller scale, shorts still had weight from 2010 to 2012. At these times, the future expectations of the company were good but whenever its share price went up the short positions increased and their intervention was very intense on some trading days. It can be said that short positions have started to decreased steadily when the company has persuaded the market that it had a long-term strategy and that its growth was sustainable. Over the past three years, short positions have declined from 20% to gradually much lower values ​​until it was reached the current powerless level of 2.85%.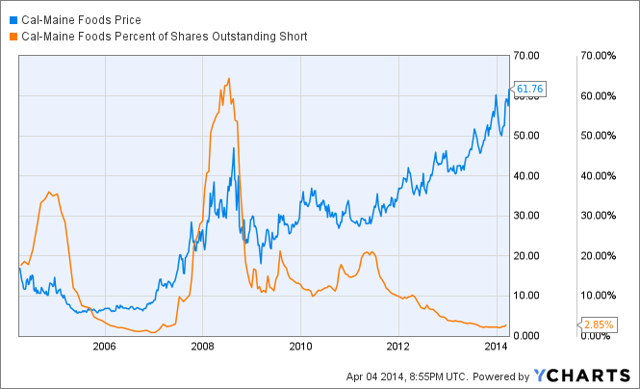 CALM Percent of Shares Outstanding Short data by YCharts
Why Cal-Maine's market value is so far from my review?
The evaluation of a business has to reflect the sum of its value from past results and value from expected future results. In other words, it represents the current value of the company and also the value for its expected growth.
First we have to address a psychological aspect that concerns time decay. An investor easily accepts that the value of a share of CALM may be currently around $60-$70 (it reached $64.22 a week ago). But things become much more difficult to accept when we also take into account the expected growth. As we will arrive at values ​​of $100 or $110 for Cal-Maine shares based on projections for the next five years, investors tend to doubt it. Even when we consider very conservative assumptions for Cal-Maine future. And yet we know that we could do a similar exercise in relation to the past. For example, in 2011, CALM shares were priced at $26-$28 but its total value in fundamental terms would be close to $40. We now know that in 2012 its market value has easily reached $40.
In current times, it's also natural that today's market value may be different from the real value of the company. The reasons for this to happen may vary, but in the case of Cal-Maine are as follows.
1. Supply and demand will establish share price on a permanent daily basis. However, for a number of reasons this value may not be the most correct because:
a) There is little knowledge about the company;
b) The company may be considered unimportant;
c) Investors doubt the forecasts, or longer term estimates fail to exist.
2. The time component is sometimes very difficult to understand. Future earnings are discounted to get their present values because the further in the future earnings are projected to occur, the least valuable they are in the present due to the time value of money and the general risk that they won't occur.
Turning future earnings on present earnings is required for any investor:
The rate that future earnings are discounted at reflects the rate the market is currently offering for the time value of money for a virtually risk investment plus an earnings risk premium which is the general risk that earnings won't be realized due to macroeconomic factors that are unpredictable such as wars and natural disasters."
As with all other methods of stock valuation, the assessment through DCF analysis shouldn't be interpreted as a precise gauge of value but rather as a general estimation of value.
Common sense may lead us to see a DCF valuation as a target value for CALM' stock. This is particularly true if the company is worth far more than its market value. In other words, an undervalued company like CALM needs some time to gradually get close to its valuation price. If one takes into account the characteristics of the company and its market position, we can be almost certain that it will not take too long until market price reaches the valuation price. This will be true if the assumptions will materialize and if nothing unusually negative will happen in the macroeconomic environment of the business.
Thus, based on the assessment carried out above, I establish my CALM's price target of $110 per share for a period of nine months or until another review with new information is produced.
The fundamental and technical aspects are interlinked in Cal-Maine
Over the years the value of CALM shares has retained some typical characteristics. I'm talking about the potential value of the company in the long term compared to the price movement of its shares.
Indeed, we can highlight the following aspects:
There is a clear rising trend line since 2008 which has remained unaffected by natural variations in quarterly results and "attacks" of previous large short positions. However, it is quite interesting to note here that the fundamental and technical aspects are very compatible.
While always keeping an upward direction, when prices reach ​​exaggerated values a correction usually occurs immediately with a relevant extent. This happens often, and it's a healthy way to carry out the price formation.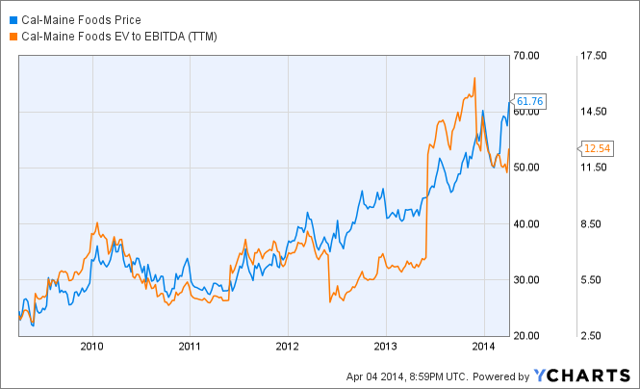 Looking at the chart above we conclude that the mentioned attributes are clearly visible with values ​​of Enterprise Value-to-EBITDA quite adequate over time. It must be said that for this sector a value of 12.5 is satisfactory.
Technical analysis
Charts courtesy of StockCharts.com
At first sight it's evident that after the crisis of 2008, CALM shares have recorded an intermediate low at $18 in early 2009. From there, they have never stopped climbing up with a continuing upward trend notwithstanding some periods of volatility.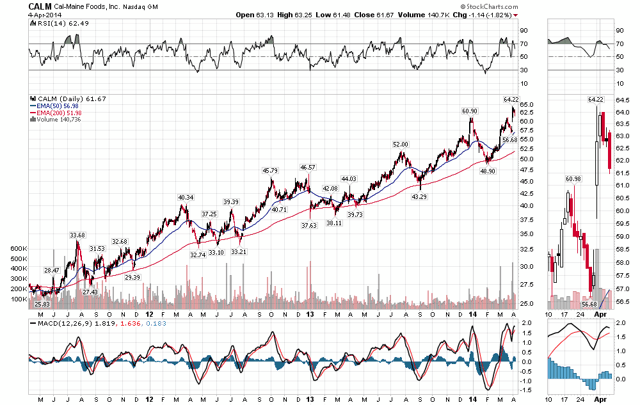 Since June 2011, prices were never below the EMA200 except sporadically. Over the past five months, shares have traded in a range between $49 and $61, as best seen in the chart above. Following the pattern already mentioned, prices were correcting after the last top at $60.98. It's interesting to note that a double top was in place considering that CALM has recorded in late December another similar top at $60.90. Theoretically, this could result in a fall at least as strong as the previous correction. However, it's not going to happen now. The strength of the results that were reported last Monday meant that the strong resistance at $61 has been decidedly exceeded. CALM shares have now made a new all-time high. However, we must bear in mind that the market is not straightforward and corrections should arise. Either way, in a longer term perspective, prices seem to be well supported and, in my opinion, will progress to even higher values​​.
Conclusion
This company is a great long term investment given that it grows steadily every year. Even when the results are not fantastic - considering that its market is cyclical - there is safety in the operations of this company which is rare to find.
Furthermore, I believe that Cal-Maine will progress more strongly and better than before. Its ability to acquire some of its own competitors more easily is another decisive factor to take into account. While selling prices are on a rising trend and costs are falling, the outlook for demand remains robust and value-added products are gradually gaining market share. Even if these conditions can slow down a bit in some future quarters, these powerful catalysts may lead the company to higher levels of activity and profitability.
With a careful assessment and considering the potential for the coming years, we have reached a value of $110 per share which may be achieved until the end of this year. Thus, there is a potential upside of 75%, and a remarkable risk/reward.
Disclosure: I have no positions in any stocks mentioned, and no plans to initiate any positions within the next 72 hours. I wrote this article myself, and it expresses my own opinions. I am not receiving compensation for it (other than from Seeking Alpha). I have no business relationship with any company whose stock is mentioned in this article.