by Raul de Frutos
The monthly Copper MMI® registered a value of 84 in April, a decrease of 4.5 percent from 88 in March.
Copper registered a 4-year low on the LME after dropping below $6,500 per metric ton. The reasons? Well, it could be anything...
First, rising concerns about the world's biggest copper consumer after the release of weak Chinese economic data, followed by China reporting weak trade data for the month of February. Second, the dollar showed new signs of strength in March, which is generally bad for copper. Finally, the metal sector keeps showing weakness overall.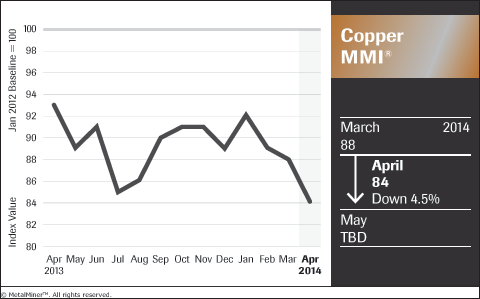 Copper is in a bearish market, and in a bearish market, bad news is exaggerated, while good news is de-emphasized. We already warned of this last December, when we said:
"We expect prices to continue in the major trend, remaining below $7,500 per metric ton and wouldn't be surprised to see prices reaching levels below $7,000 per metric ton."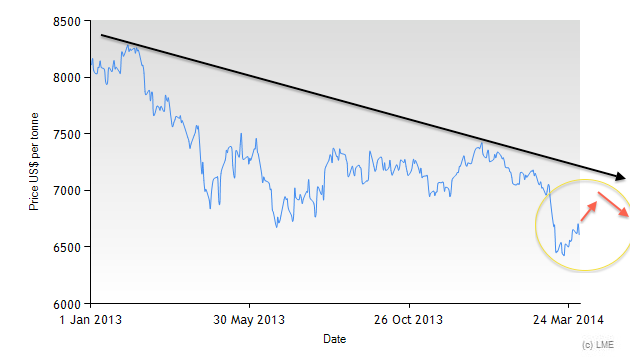 3M LME copper price since 2013
Copper is now trending up since the past few days, but it seems like a normal reaction, as it needs to digest this last drop. We would expect prices to trade below $7,100 for the next few months, and wouldn't be surprised if copper falls to new lows.
What This Means For Metal Buyers
Copper recorded a new 4-year low in March. The picture looks bearish, and we expect copper prices to remain at low levels. Taking long-term positions in a falling market seems like a bad idea. We wouldn't suggest buyers to wait for bullish signals.
On the LME, the cash price of primary copper closed the month at $6,666 per metric ton, after dropping 6.1 percent. Following a 5.3 percent decline, the copper 3-month price reached $6,652 per metric ton on the LME. U.S. copper producer grade 110 dropped 4.8 percent. The Japanese copper cash price fell 4.8 percent as well. The price of U.S. copper producer grade 102 dropped 4.6 percent. The cash price of Chinese copper declined 3.5 percent over the month. Chinese copper wire dropped 3.3 percent.
The price of Korean copper strip held steady last month. Last month was consistent for Chinese bright copper scrap, which did not move.