The insurance industry has always been defensive and stable simply given the nature of its business model. The earnings are fairly predictable and the dividend is consistent, making it a great stock to hold in a diversified portfolio. Recently, however, the rise of interest rates have caused companies in the insurance industry to be more profitable and I believe that trend will continue as rates bounce back up from their historic lows.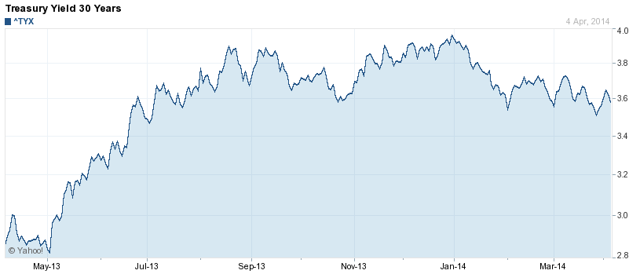 To understand why this correlation exists, it's important to understand how the insurance industry works and more importantly how it makes money at a very high level. When you look at a life insurance contract, for example, actuaries make a series of assumptions about a person's life and also about how markets will act throughout the life of the contract. Since the income that the company receives from insurance premiums need to be invested wisely, the company tends to stick to stable equities and also bonds. As interest rates go down, those bond holdings are subject to reinvestment risk. Because of this, the insurance company cannot realize the investment income its actuaries expected and so earnings are lower.
On the flip side, interest rate increases allow the fund managers the ability to reinvest the interest from their bond holdings at a higher rate than they expected when they priced their policies. As a result, the company is able to recognize more revenue and hence the recent gains in the insurance industry.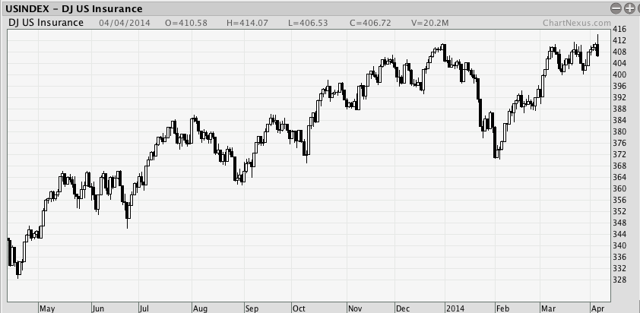 Over the long term, these ebbs and flows will smoothen out but it leaves some short-term gains to be made during specific times in market.
Although interest rates have begun to increase, I believe there is a lot of room for them to continue to climb and thus a solid upside potential for the insurance industry as a whole. This type of opportunity can allow an investor the chance to buy into this potential gain with limited risk. The beauty of this strategy lies in the fact that these holdings have historically been stable, income-producing investments.
In addition, looking at the SPDR S&P Insurance ETF (NYSEARCA:KIE), one can see that the equities held in the fund are trading very close to their book value, and the other main fundamental metrics seem quite reasonable as well.

Source: Yahoo! Finance
If you're looking to get into action, one of best ways would be with the above mentioned insurance ETF, KIE. The fund has over $300M in net assets and it appears to correlate well with the interest rates. As for individual companies that offer the liquidity of a larger company but also exposed to the upside potential, I would recommend one of the bigger players such as Chubb Corporation (NYSE:CB), American International Group (NYSE:AIG), or The Travelers Companies (NYSE:TRV).
With this type of investment, it's hard to argue that now isn't a great time to diversify your holdings into the insurance sector. Hopefully, most individuals see the benefit to holding some insurance stock anyways, but if not, this is a great opportunity to get some exposure to the upside while also getting the stable cash flow of quarterly dividends.
Disclosure: I have no positions in any stocks mentioned, and no plans to initiate any positions within the next 72 hours. I wrote this article myself, and it expresses my own opinions. I am not receiving compensation for it (other than from Seeking Alpha). I have no business relationship with any company whose stock is mentioned in this article.