Just over a year ago I wrote an article on Campus Crest (NYSE:CCG) titled: I Must Confess, There's Plenty Of Zest For Campus Crest. In that article I explained that although Campus Crest wasn't "the biggest player in the specialty campus housing sector", I was attracted to the "more nimble pick" based upon the "uniquely advantageous proposition that rewards investors for higher development yields generated by organic construction and development". I added, "That translates into bigger dividends."
Well since that (February 18, 2013) it's clear to see that Mr. Market saw no "zest" for Campus Crest. Shares in the $1.18 billion (based on assets) REIT have fallen by over 30% in 14 months.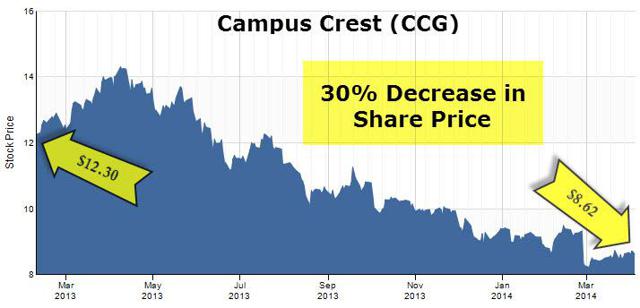 The dividend yield (back in February) was 5.36% and now it's a fat 7.66%.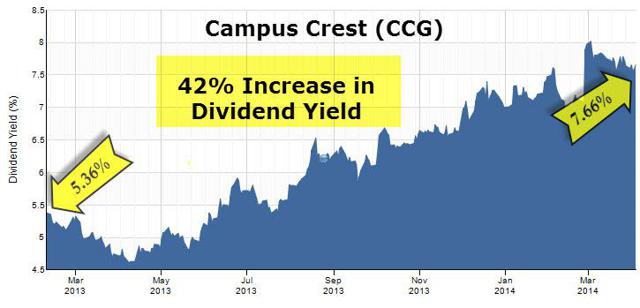 The company's Price to Funds from Operations (P/FFO) multiple has decreased by 40% - from 16x to 11.6x (P/FFO).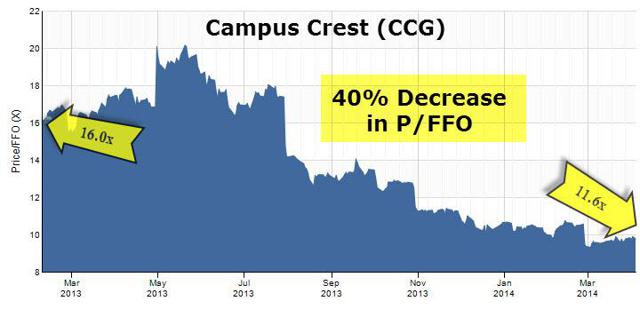 Campus Crest listed its shares on October 13, 2010 and since that time the share price has fallen by 30%.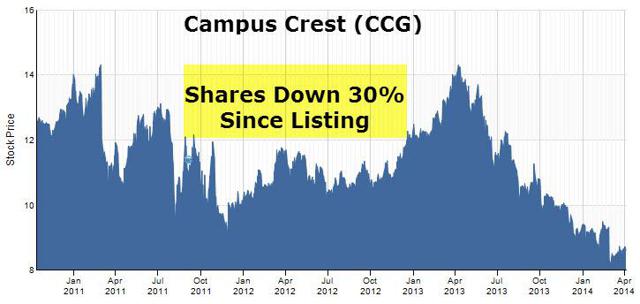 But What About the Growth?
Why is it that Mr. Market has fallen out of love with Campus Crest? Or maybe it was never in love?
Seems odd since the Charlotte-based campus housing REIT has been exceptionally busy growing its brand. The company has grown from 27 properties in 2010 to 71 properties today.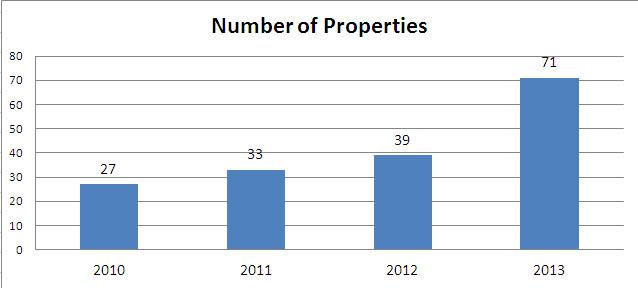 In fact, Campus Crest is the only public vertically integrated student housing platform with a multi-brand strategy of targeting different segments within the college student population. The company has been amazingly scale, quickly, by focusing on a "cookie cutter" development and redevelopment platform. In 2010 Campus Crest had an Enterprise Value of $495 and today (February 2014) the company has an Enterprise Value of $1.351 billion. Here's a snapshot of the terrain in 2010 compared with 2014: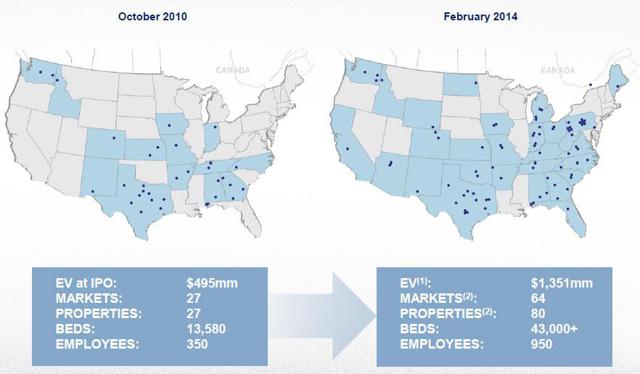 Campus Crest has targeted its "value creation model" on organic development. As one of the few REITs with internal construction expertise, Campus Crest has reduced risk in its model by controlling time, quality, and cost of its growing franchise. By creating a model of "organic asset-level origination" Campus Crest has created a menu of multiple brands that include grove, evo, and CopperBeach products.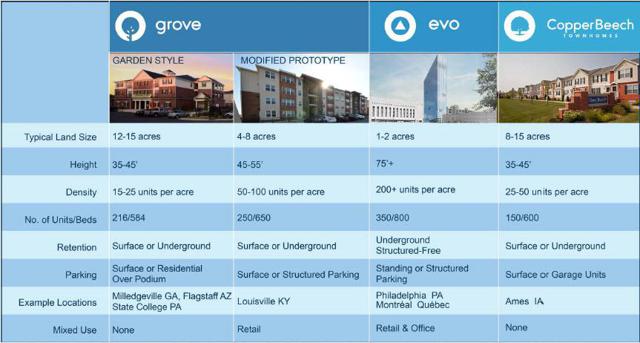 Each of these 3 brands provide different targeted attributes: grove represents a "garden" product, CopperBeach represents a "townhome" product, and evo represents a "High-rise" concept.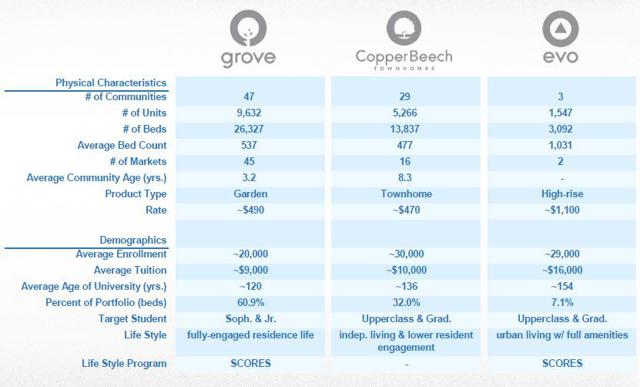 Last year Campus Crest acquired a 67% in 30 Copper Beach properties (and 7 others under a purchase option). In December 2013 Campus Crest sold 4 of the Copper Beach assets in order to improve the overall quality of the portfolio. Here is a snapshot of Campus Crest's historical total assets: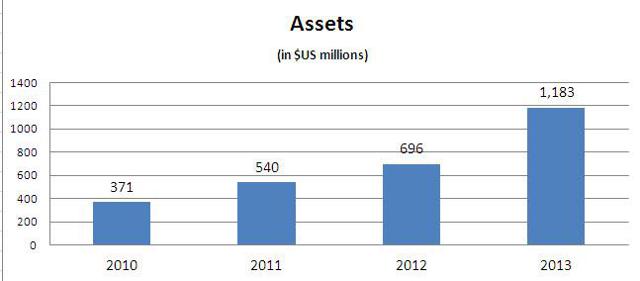 What's Missing Then?
Campus Crest is building a national footprint of high-quality campus housing products and although I see that strategy resonating, Mr. Market doesn't. Why? As we look at the capital stack (below), we can see that Campus Crest has a balanced capital base of debt, equity, JV units, and preferred shares.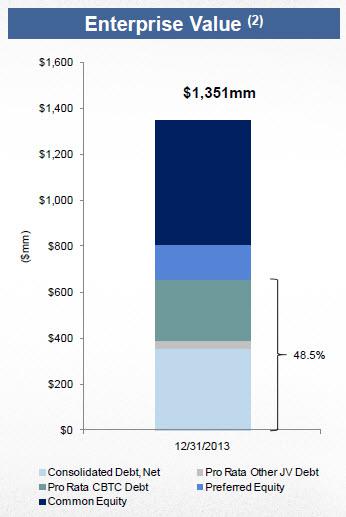 Debt maturity levels are moderately balanced, although I am somewhat concerned with the debt coming due in 2016.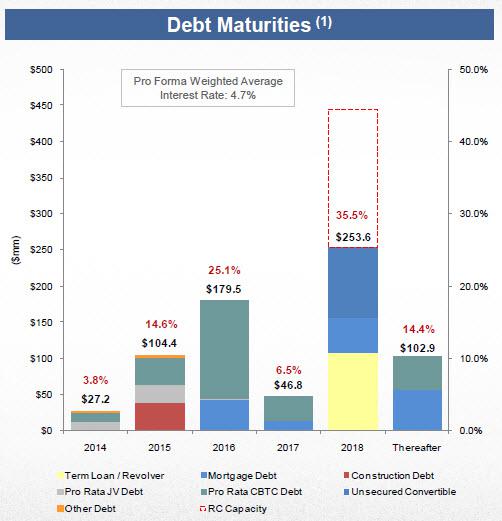 The company's balance sheet is adequately funded with around $177 million of liquidity. However, Campus Crest has around $100 million a year in development (projected to be $118 million in 2013-2014) and that provides more risk to the capital stack. It appears that there is sufficient liquidity from existing financing to fund 2014 commitments.

It appears that Campus Crest will experience short term dilution of around $.17 per fully diluted share due in large part to the closing on the Copper Beach transaction. That has clearly created an overhang on Campus Crest shares and moved the valuation into a more risky category. Campus Crest's P/FFO multiple is 11.6x, much lower than the two peers: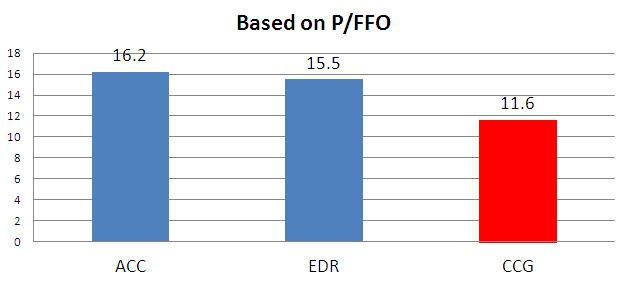 Accordingly, Campus Crest has a much higher dividend yield today of 7.66%.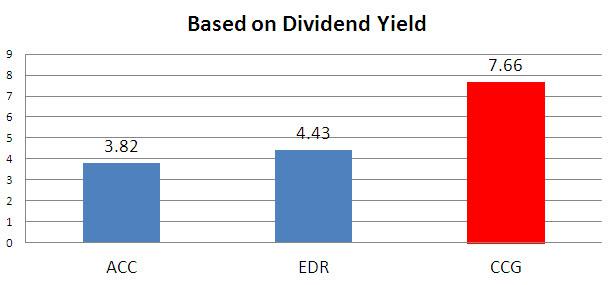 Campus Crest has maintained a steady annual dividend of $.66; however, the company has not increased its dividend since Q1-2013.

Here is a snapshot of the peer group. American Campus (NYSE:ACC) and Education Realty (NYSE:EDR) have recently increased their dividend (ACC bumped its payout from $.3375 per quarter to $.3600 in May 2013).

Should I Ignore Mr. Market and Hit the Buy Button?
As evidenced by the FAST Graph below we can see that Mr. Market has never had much "zest" for Campus Crest. Of course, most companies with market caps under $1 billion rarely get much attention, until there's scale.
In addition, REITs that develop are subject to more risk and especially companies that generate the rental income via a short term lease model. It appears that Campus Crest as been growing quickly to gain scale; however, the latest Copper Beach transaction is perceived to have a dilutive impact, thus driving the price down even lower.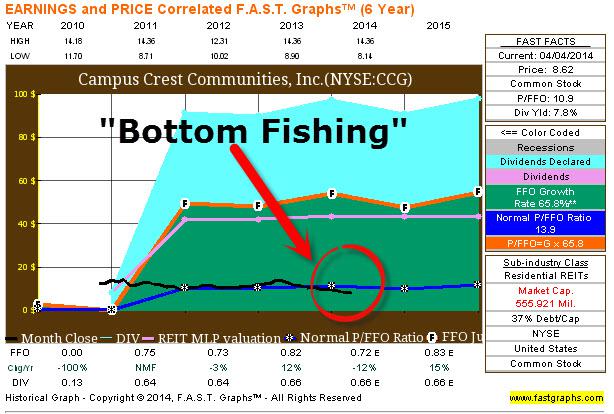 As noted above, Campus Crest has an 8% preferred issue (CCG-A) that's trading just above par (yielding 7.98%). I believe there's more value in owning the common shares today that are priced at $8.62.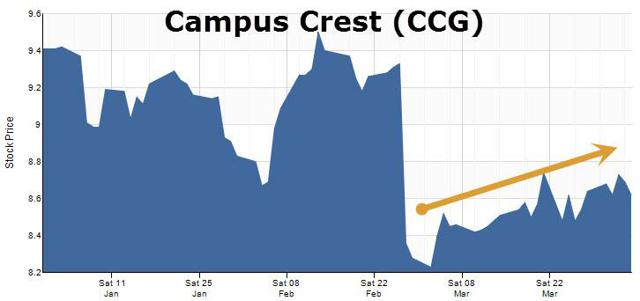 It appears that Campus Crest has started to move back up and trend toward its more normal P/FFO valuation of 14x. Considering that this REIT pays out over 90% of its FFO, I'm not calling this a table pounding BUY. However, at $.73 FFO (mid-point guidance), I believe it's likely that Campus Crest could hit $10.00 by the end of 2014. Even a move to a 13x P/FFO multiple could produce 10% share growth. Oh yes, let's not forget the 7.66% dividend yield. That's why I'm recommending Campus Crest as a BUY at $8.62.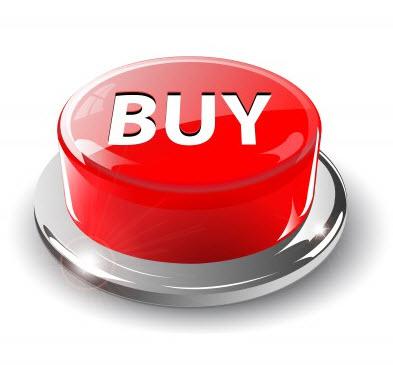 For more information on my "sleep well at night" ("SWAN") REIT picks, check out my newsletter HERE.
Sources: SNL Financial, FAST Graphs, and Campus Crest Investor Presentation.
Disclaimer: This article is intended to provide information to interested parties. As I have no knowledge of individual investor circumstances, goals, and/or portfolio concentration or diversification, readers are expected to complete their own due diligence before purchasing any stocks mentioned or recommended.
Disclosure: I am long O, DLR, VTR, HTA, STAG, UMH, CSG, GPT, ARCP, ROIC, MPW, HCN, OHI, LXP, KIM. I wrote this article myself, and it expresses my own opinions. I am not receiving compensation for it (other than from Seeking Alpha). I have no business relationship with any company whose stock is mentioned in this article.